These bacon wrapped quail with a butter pesto sauce are the kind of fare you might find in a pricey restaurant - but with just 4 ingredients, they're easy to make at home!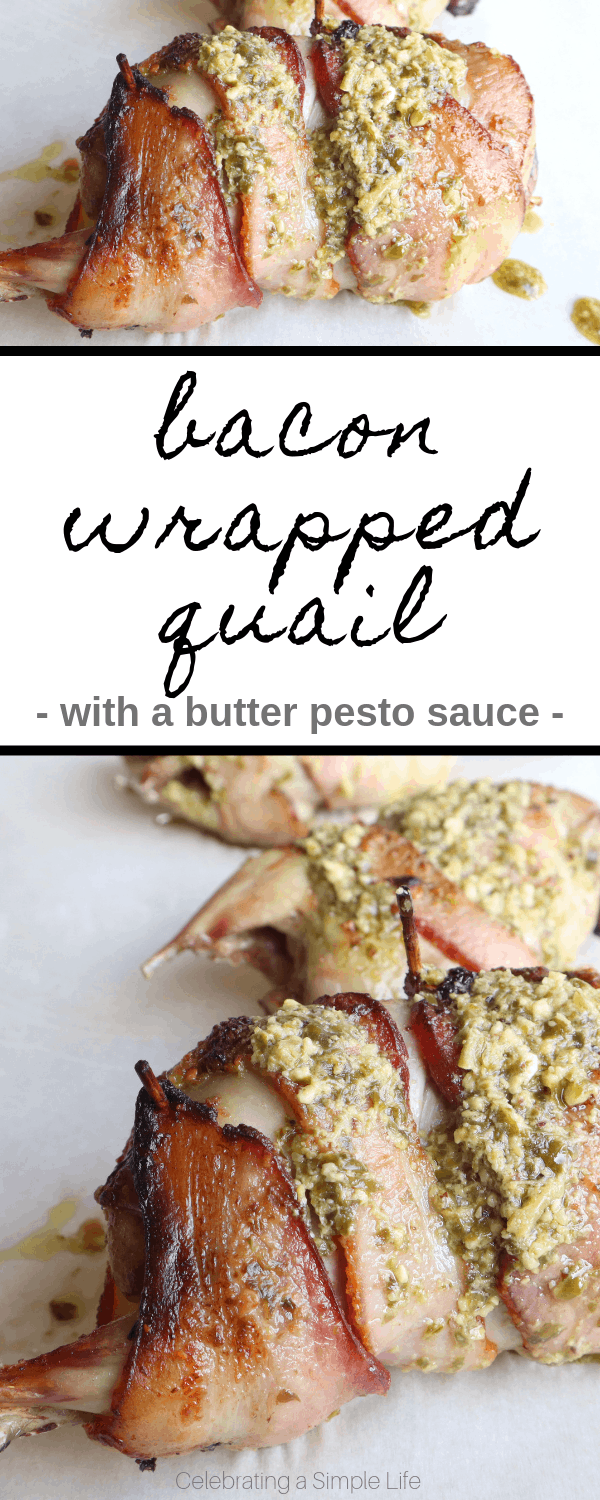 This article contains affiliate links. Click here to learn more.
One of the benefits of raising and growing our own food, is that it's not unusual for us to enjoy meals most folks would only taste at a high-end restaurant. This bacon wrapped quail is one of those stellar dishes.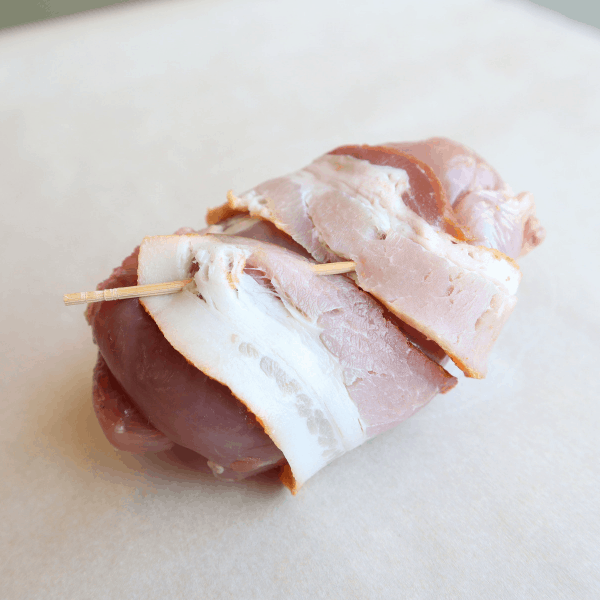 Much like with the ducks that we raise, if our homestead had such a thing as a "private reserve" - quail would be it.
We raise all of our poultry (quail included) on pasture. These are fat, healthy birds, with a prime nutritional profile. Lots of care goes into raising them, and I'd never consider doing it on a large enough scale for market purposes.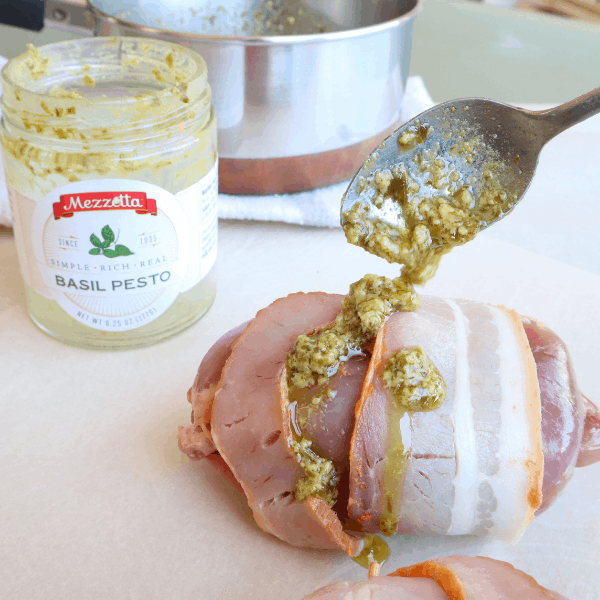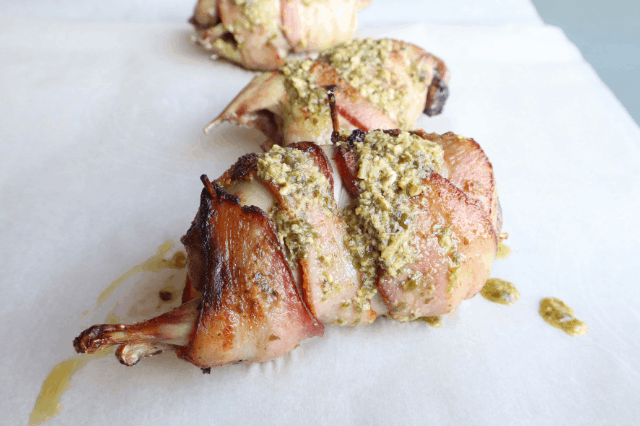 So when we do put quail on our table, it's with a heart full of gratitude and thanksgiving.
When you're blessed with a piece of land, and a lifestyle that permits raising your own meat, I think it changes something about the way we approach food preparation. There's a solemn grace to preparing a meal around a bird that's been nurtured by your homestead since the day it hatched.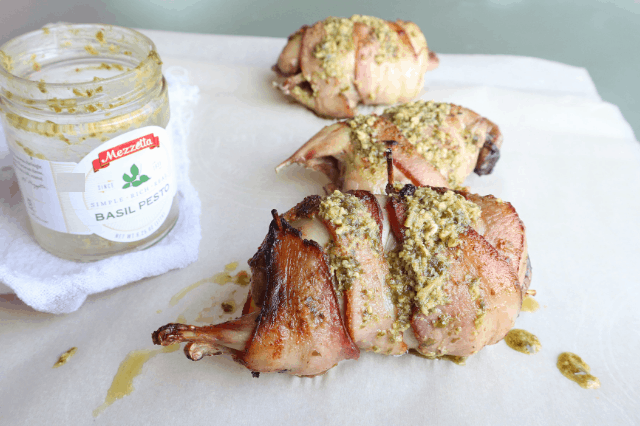 For me, it's an invitation to creativity. It's exciting to find new favorite ways to prepare these "private reserve" meats, and often before butchering day, the kids and I will pull out big stacks of cookbooks, looking for inspiration.
Last weekend, I'd been planning to make bacon-wrapped quail, but actually had a maple reduction in mind to glaze them with.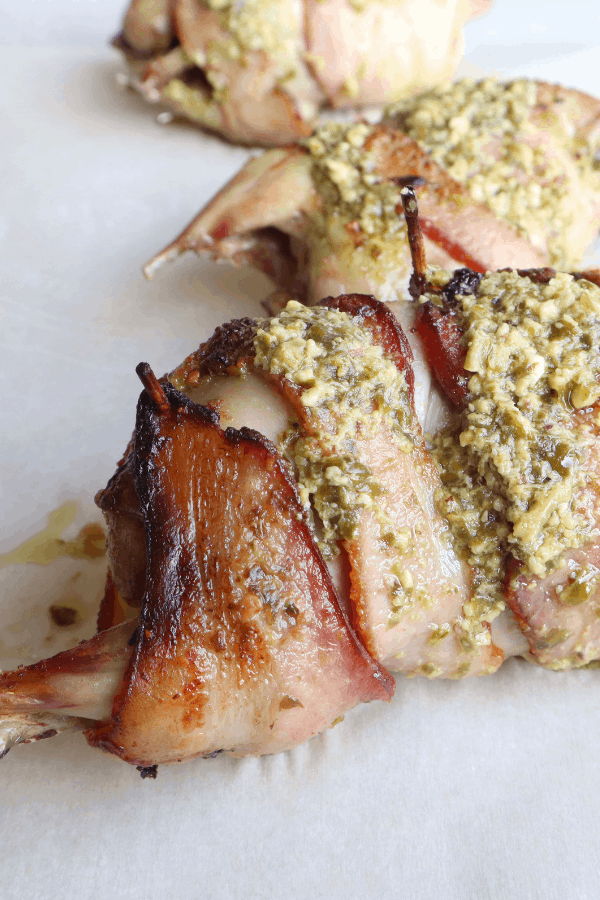 As I reached into the fridge for the bacon, though, I found myself grabbing the jar of pesto. And not just any pesto, but a particular favorite pesto that my Dad recently introduced me to. I couldn't put the jar down...and that's how this recipe was born.
I hope your family loves it as much as we do! While one might not consider this "kid fare" - my little ones find the portion sizes to be charmingly petite. And anything that's wrapped in bacon is a sure winner anyway!
Bon appétit!!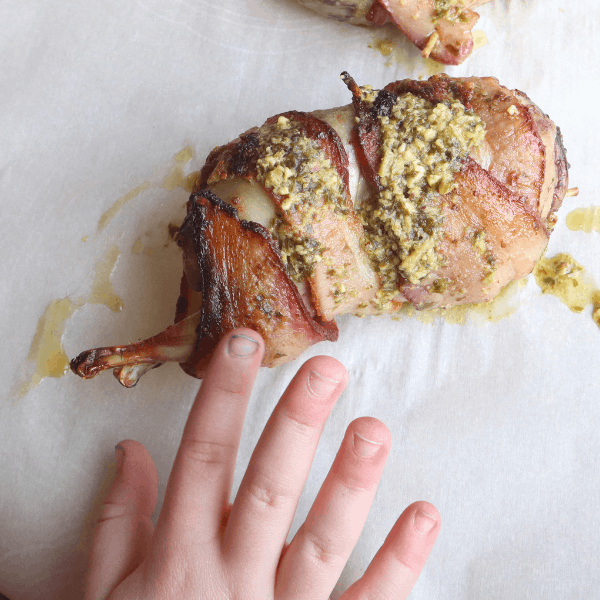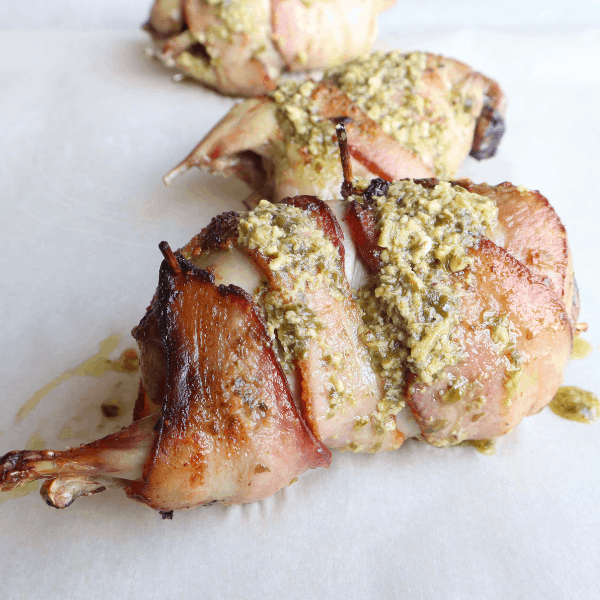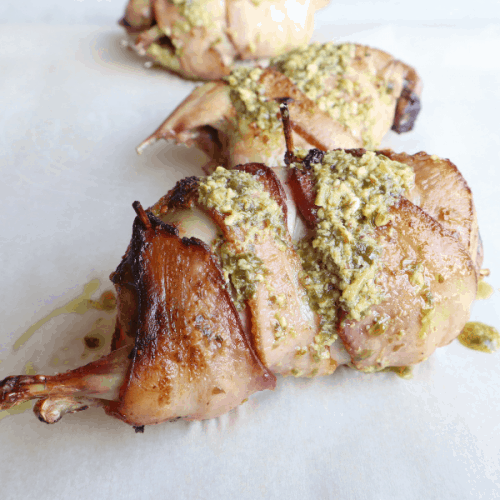 Ingredients
For the quail
4

dressed whole quail (mine average 5oz each)

8

slices

thick-cut bacon
For the butter pesto sauce
4

tbsp

high-quality pesto

3

tbsp

butter (I use salted in this recipe)
Instructions
Pre-heat oven to 450 degrees, and line a rimmed baking dish with parchment paper.


Wrap each quail in 2 pieces of bacon, securing with toothpicks.


In a small saucepan, melt together the pesto and butter. Stir until well melted and fully mixed.


Place bacon-wrapped quail in the baking dish. Drizzle each with a spoonful of the pesto sauce, leaving the remaining sauce for gently garnishing at serving time.


When the oven is fully up to temperature, bake quail for 20 minutes.


Turn quail over in the baking dish, then return to oven and BROIL for about 3 minutes, or until bacon is getting brown, crackly, and crispy.


Turn quail back over (so the side that was up as they baked is now back on top), and broil for about another 3 minutes, until bacon is brown and crackly on this side as well.


Remove from oven, and serve as soon as possible. Use the remaining butter pesto sauce to drizzle each quail as it's plated.


If you're a passionate pesto lover, consider doubling the sauce recipe, and serving the remaining sauce in a small ramekin at the table.