These Blackberry Apple Fruit Rolls Ups are the perfect end-of-summer sweet treat! This post will walk you through how to whip up a batch of super easy Blackberry Apple Fruit Leather in no time!!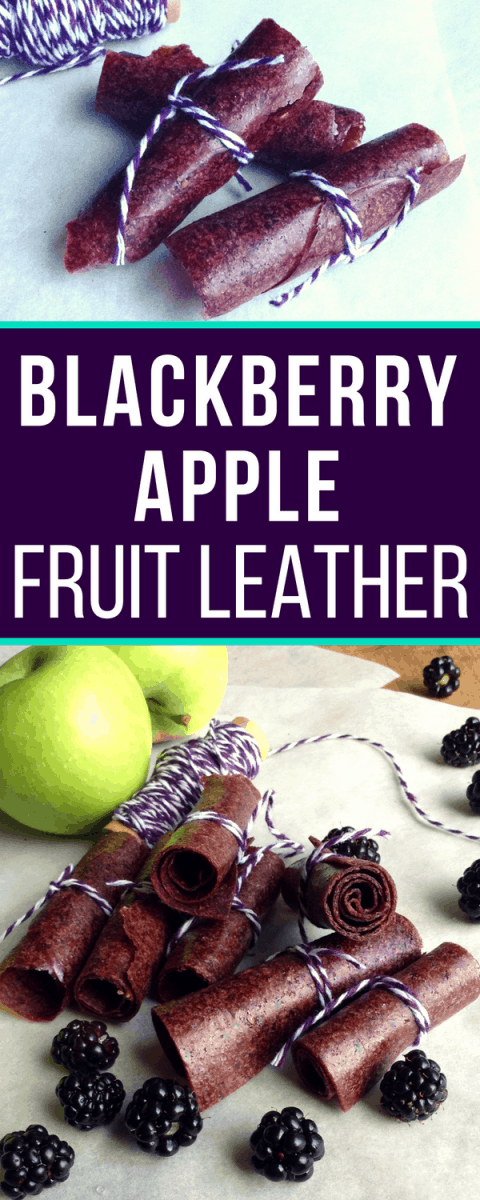 This article contains affiliate links. Click here to learn more.
It's not even the end of August, and already we are up to our ears in apples around here! Our Gravenstein apple tree is an early season variety that always kicks off our apple harvest in August. But this year another of our trees that usually ripens in early September is already starting to drop ripe fruit by the bushel! (Makes me wonder what kind of a winter we are in for...eek.)
So I've already put up nearly as much apple sauce as we really need to get us through another year. That means lots of apples left for other fun winter treats...like fruit leather! With such an early apple season, we still have quite a few blackberries left on our bushes, and I felt like those berries and apples were just begging to make some wonderful recipes together!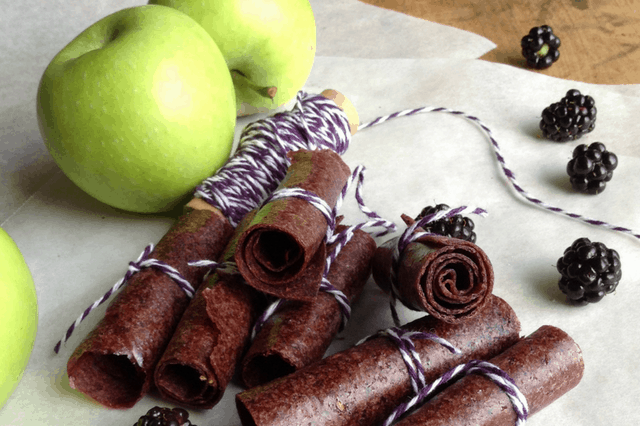 Blackberry apple fruit leather just might be our favorite fruit leather recipe yet!
We've made a lot of fruit leather recipes over the last few years (check out this post with some of the most awesome fruit leather recipes we've found!) But I have to say, I think this combination is one of our favorites!
The texture and color are delightful, and the taste is just divine. Or, "Yummmmmm" according to my 4 year old, and "WOW!", in the words of my 2 year old.
We love this recipe so much that it's how we're using almost all of the blackberries from the end of our harvest. Fruit leather stores well, and it will be fun to enjoy a taste of summer when the leaves have fallen, and fresh blackberries are a distant memory.
With just two ingredients, it almost seems wrong to even call this a recipe. It's really as simple as running unsweetened applesauce and fresh blackberries through a food mill, and then drying into fruit leather on a dehydrator tray.
Why I don't cook the blackberries in this fruit leather recipe
If you look around, you will see that most fruit leather recipes that incorporate blackberries call for cooking them with the other ingredients. But the antioxidant benefits of blackberries are one of the most wonderful things about them, and from studies done on blueberries, there is reason to suspect that a percentage of those fabulous polyphenols are lost in the cooking process. So I tend to skip the cooking if possible when it comes to blackberries.
That's why I make this recipe with homemade applesauce that I've already cooked, and just incorporate the blackberries by putting them through the food mill along with the applesauce. (If you don't mind seeds in your fruit leather, you could just beat them into the applesauce in a stand mixer.) By doing it this way, the blackberries are subjected to nothing hotter than the gentle 135 degree drying process in the dehydrator.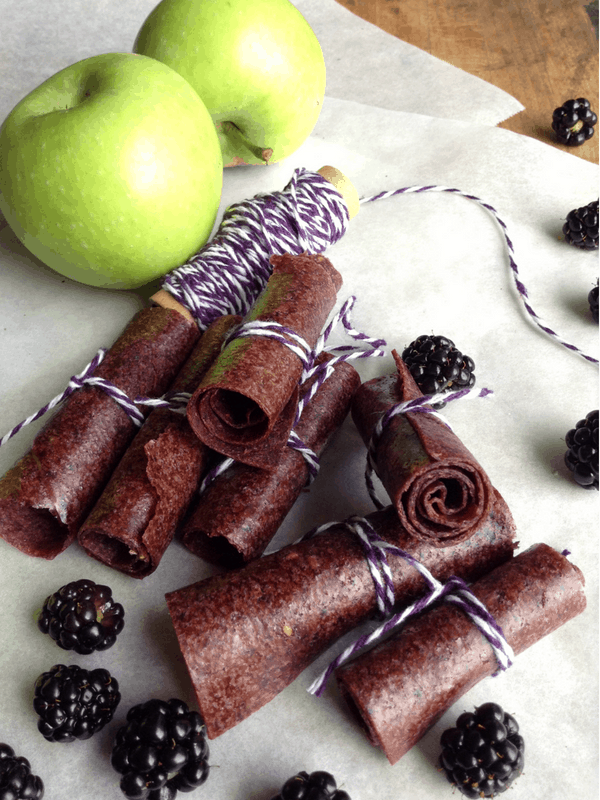 How long does it take to dry fruit leather?
It takes about 6-7 hours for the fruit leather to dry, depending on your dehydrator, and how thick you spread the puree. I like to start this recipe first thing in the morning so it's ready by the time the kids are up from their naps. Waking up to blackberry apple fruit leather is a sure way to put smiles on those blinky-eyed little sleepy-heads!
How long can you store fruit leather?
According to the National Center for Home Food Preservation, properly prepared fruit leather will last up to 1 month at room temperature. For longer storage, they recommend freezing. My favorite way to store fruit leather for winter is to roll it up into individual portions, then seal about 12-15 portions together in heavy-duty quart-sized freezer bags, using a vacuum sealer. They last amazingly well this way, and we've always exhausted our stash long before the fruit leather shows any signs of freezer damage.
That's really all there is to putting up a supply of tasty blackberry apple fruit leather for winter! Hope you enjoy!!
Blackberry Apple Fruit Leather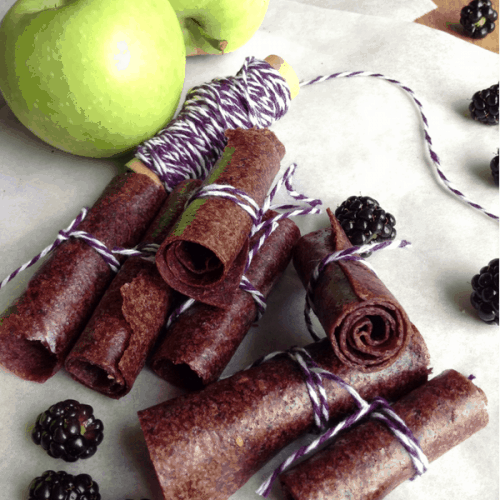 Blackberry Apple Fruit Leather
Blackberry Apple Fruit Rolls Ups are the perfect end-of-summer sweet treat! This super simple recipes will help you whip up a batch of Blackberry Apple Fruit Leather in no time!!

Print
Pin
Rate
Ingredients
1

quart

unsweetened apple sauce

2

cups

fresh blackberries
Instructions
Over a large bowl or pan, add both ingredients to a food mill. Run the applesauce and berries through the food mill, until only the blackberry seeds remain.


If you don't mind seeds in your fruit leather, simply add both ingredients to the bowl of a stand mixer, and beat on medium for about 3 minutes until blackberries are well blended into the sauce.


Spread the mixed puree on the fruit leather trays for your dehydrator. (This recipe nicely fills three trays on my Nesco FD-61). For a good result, it's important to spread the puree evenly, with no thin or thick spots. Spreading it perfectly flat and even is the trick to perfect fruit leather!


Dehydrate at 135 degrees for about 6-7 hours. Fruit leather will be done when it's fairly dry to the touch and feels like soft leather. It will be a bit glossy, and shouldn't leave any indent when you touch it.


Allow to cool, then peel off dehydrator trays. You can easily tear it by hand, or for tidier strips, use scissors or kitchen shears to cut to the desired size.


For OVEN drying, spread puree evenly onto parchment-lined baking sheets. Dry at 140 or the lowest temperature your oven allows. Timing will be less consistent than in a dehydrator, so start checking on it after a few hours, then keep checking every half hour til it's done. You'll be looking for the same signs of "done-ness" as with the dehydrator method.


Store in air-tight container at room temperature for up to 1 month, or store tightly-sealed in the freezer for longer storage.