This fun and feisty appetizer is quick to make, and packs a lot of flavor into each little bite! (Not a fan of Camembert? EASY fix! Keep it Caribbean by substituting Oaxaca, Panela, or Queso Fresco.)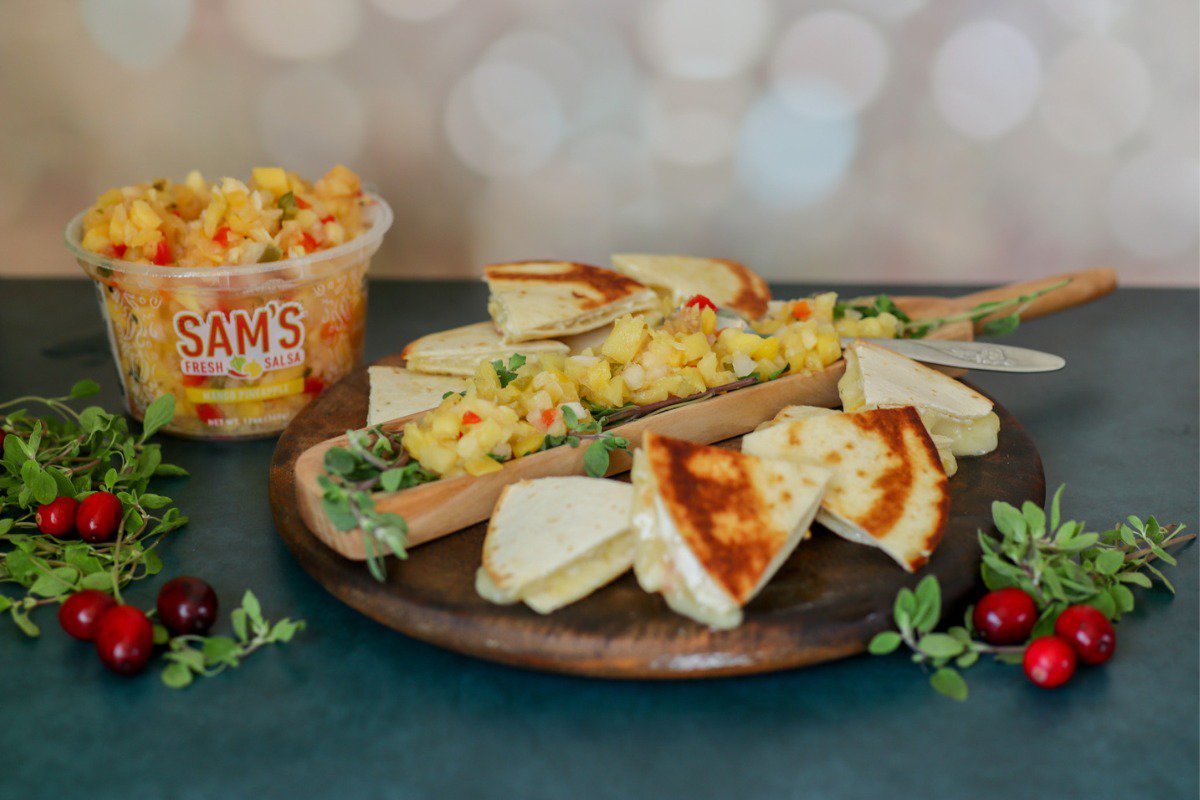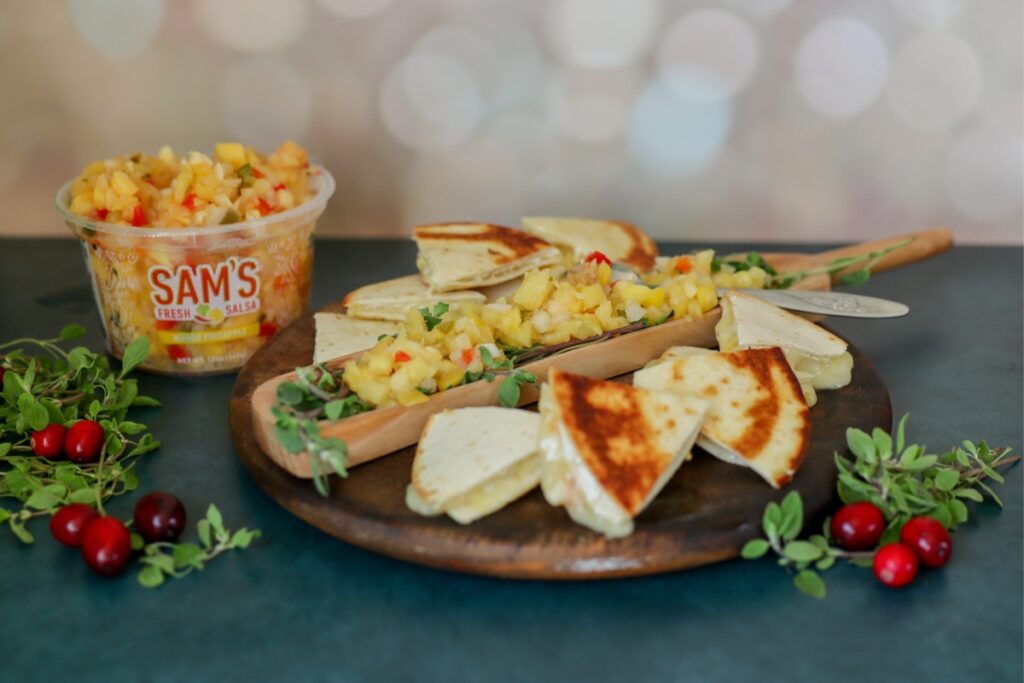 When Sam's Fresh Salsa invited me to take part in their Blogger Recipe Challenge recently, THIS quirky little recipe is what immediately popped into my mind.
There's something about mixing things up, and creating a little kitchen fusion by mingling foods from different parts of the world that's just FUN. Soft, warm cheese, and spunky mango pineapple salsa is a winning combination in my book.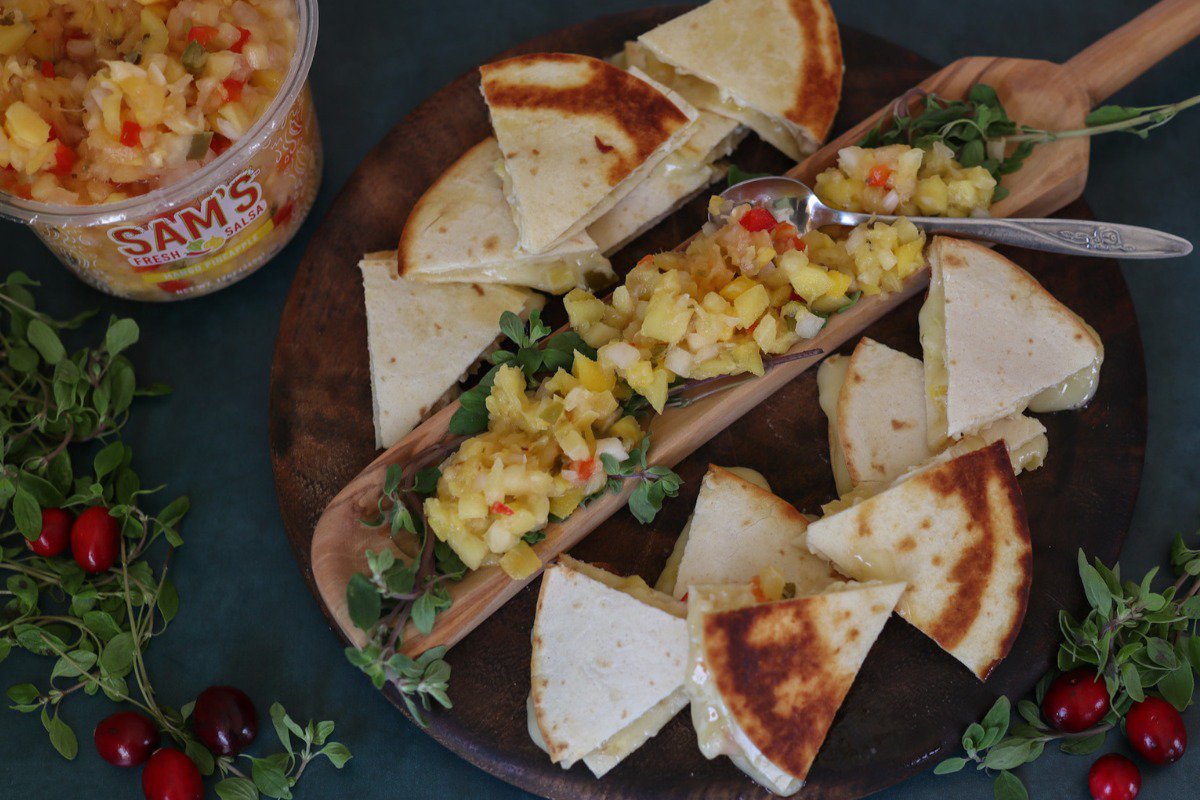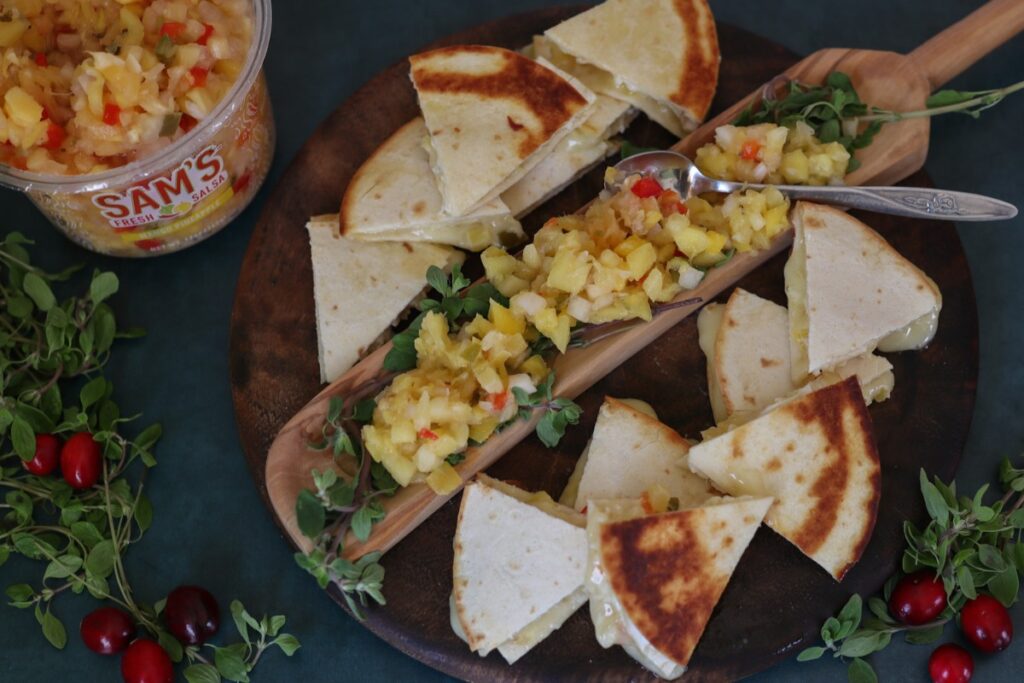 Let me tell you the thing about REALLY GOOD fresh mango pineapple salsa though. Once you've tried it, you want to put it on all the things.
Ham dinner? Get out the mango pineapple salsa.
Poached eggs? Put some salsa on those bad boys.
Classic meatloaf? Get thee the mango pineapple salsa, and slather it on.
You just really can't go wrong. Thankfully, the kind folks over at Sam's Fresh Salsa sent lots, so I can testify.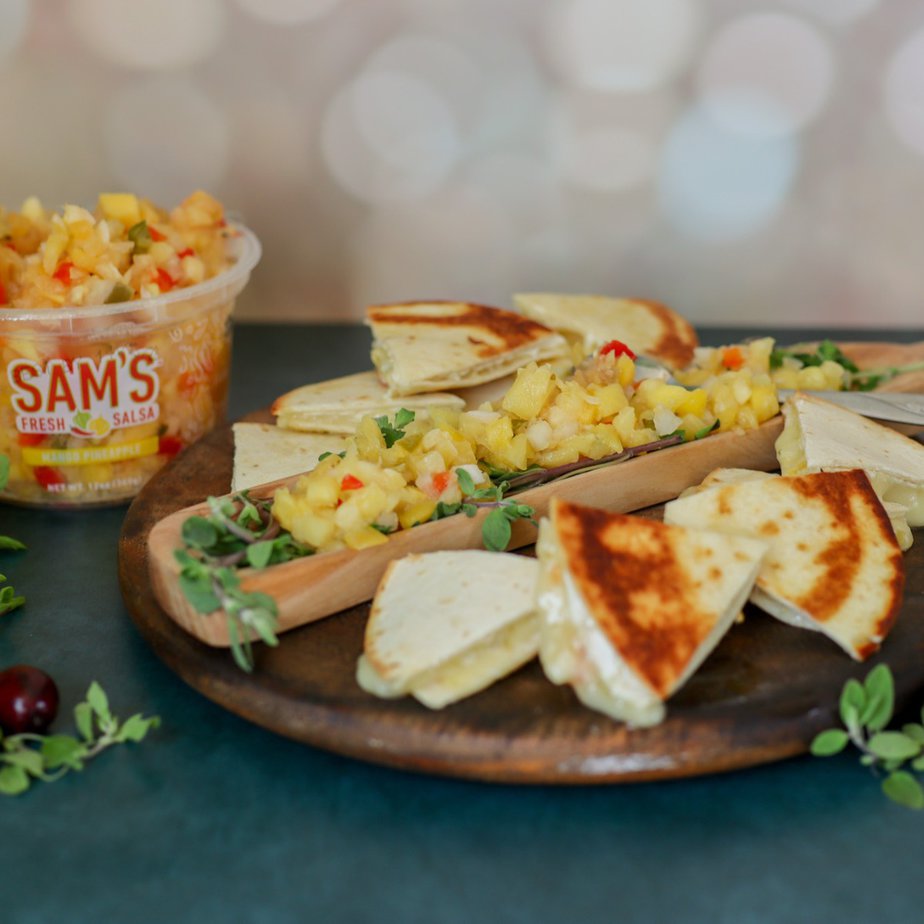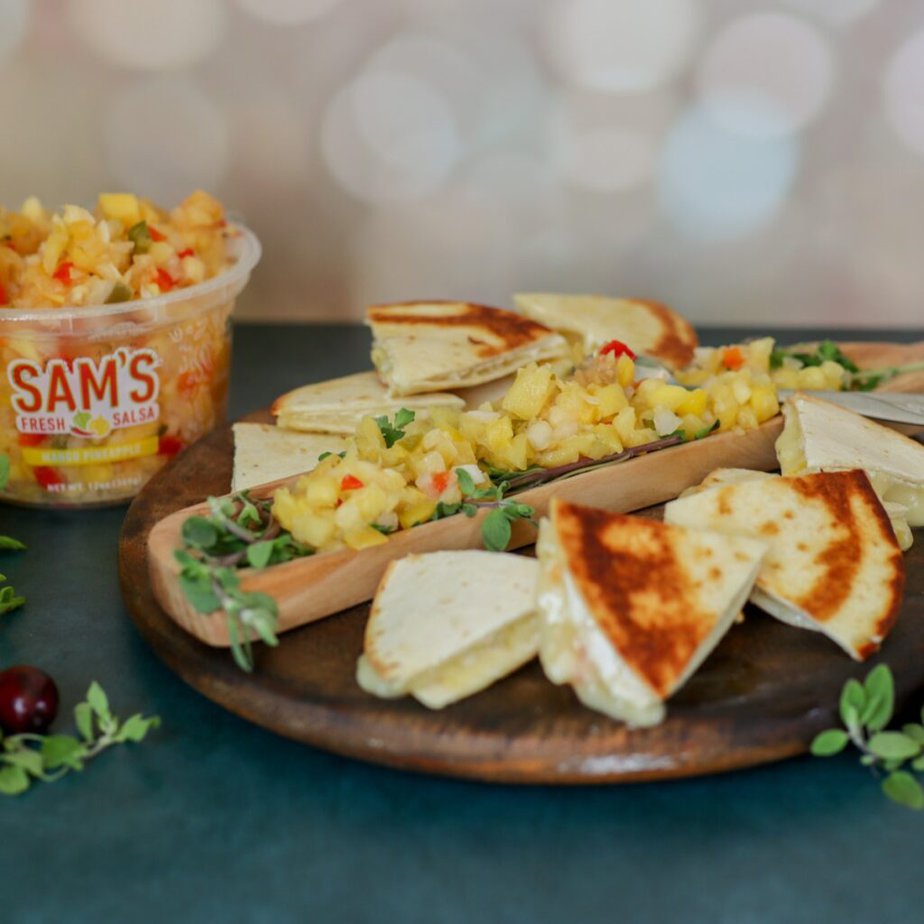 For this recipe, I love the idea that it works so well as a super-easy small bites type of dish.
Whether destined for a game-day snack table, holiday party sideboard, or New Year's brunch centerpiece, this 10-minute recipe just works.
I hope you enjoy this fun and EASY appetizer! Here's a printable copy of the recipe. Then below, find some answers to common questions about making perfect quesadillas at home.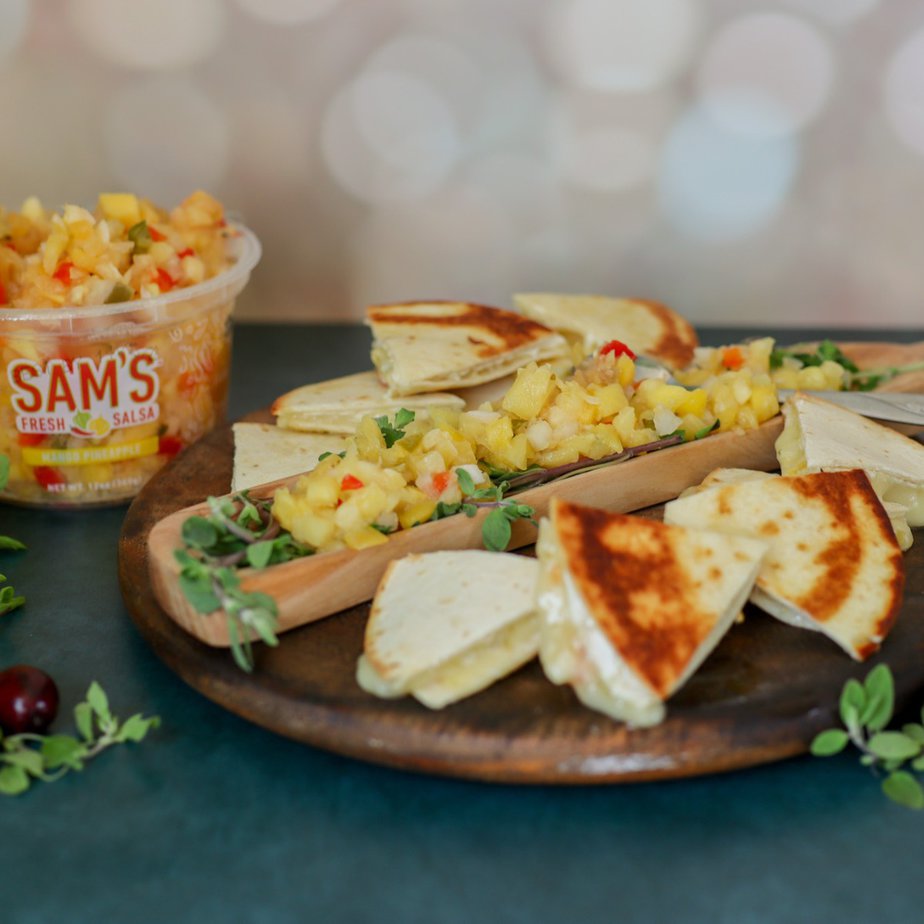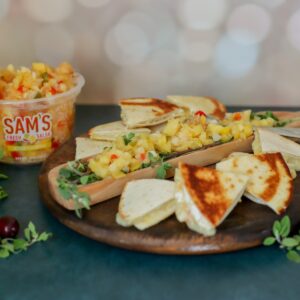 Camembert Quesadillas with Mango Pineapple Salsa
This fun fusion appetizer recipe comes together in just 10 minutes, and is perfect as a festive holiday appetizer, game-day snack, or for New Year's brunch!
Print
Pin
Rate
Equipment
large frying pan or broiler tray
Ingredients
6

small taquerilla-style flour tortillas

8

oz

wheel of camembert

(or substitute oaxaca, panela, or queso fresco)

2

tsp

olive oil, or non-stick spray
Instructions
Optional prep: To make slicing the camembert easier, put it in the freezer for 20 minutes to make it firm and easy to cut.

Start by slicing the wheel of camembert in thirds, horizontally. This will give you three rounds of camembert.

Place a circle of cheese on top of one of the small tortillas.

Top the circle of cheese with 1 tbsp of the mango salsa.

Place another tortilla on top of the cheese and salsa. Repeat with the remaining cheese and tortillas.

Over medium heat, in a well-oiled pan, gently fry the quesadillas until the tortillas are golden brown, and cheese is melting--about 3 minutes on each side.

Remove from heat, cut each tortilla into 8 slices, and serve with the remaining mango pineapple salsa.
Get more tantalizing recipe inspiration by following Sam's Fresh Salsa!
Find them on FACEBOOK
or INSTAGRAM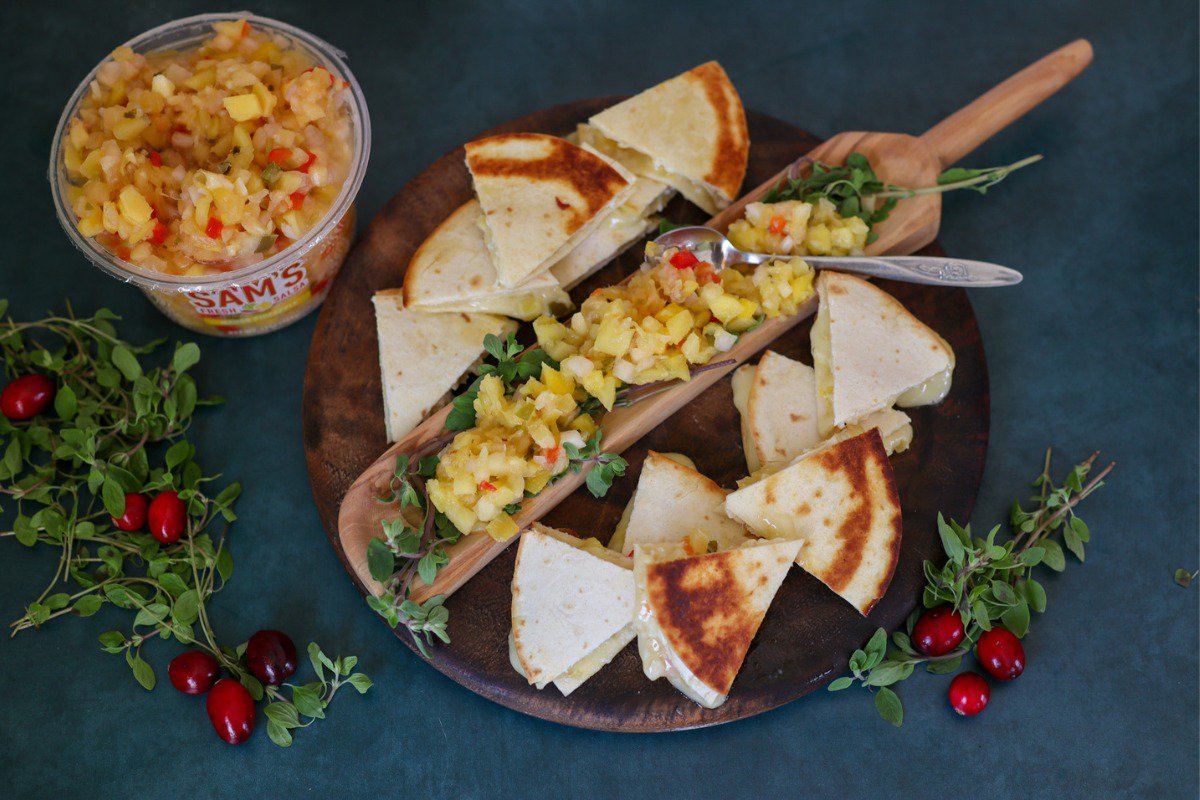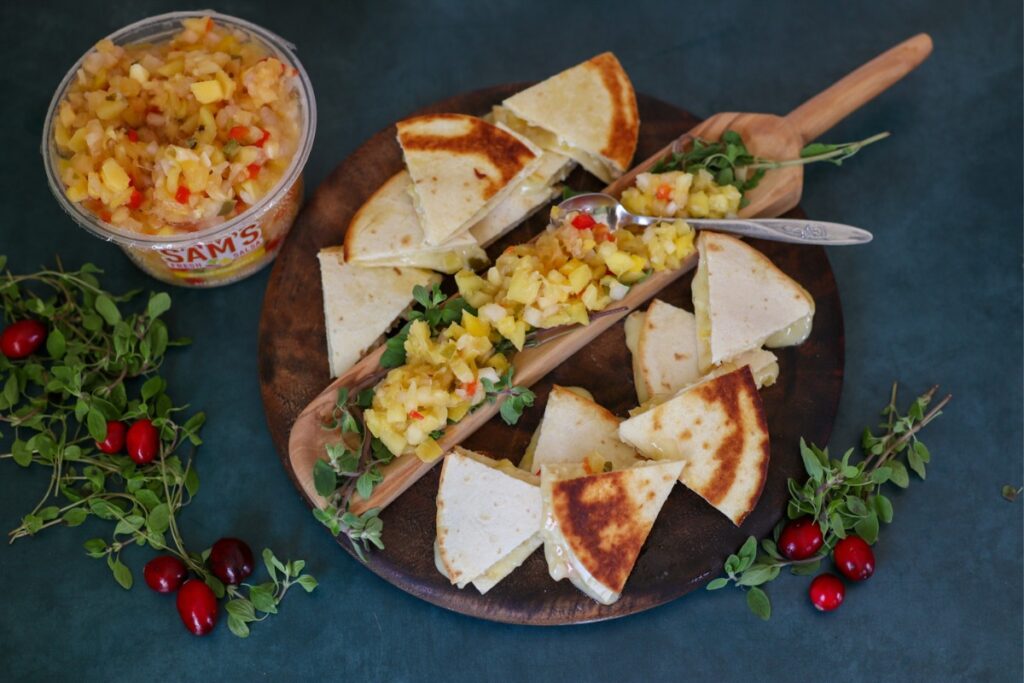 Where can you find Sam's Fresh Salsa?
Here in New England, it's easy to find Sam's Fresh Salsa right at any Shaw's grocery store. You can also use the handy "store finder" map right on their website to find which stores carry Sam's Fresh Salsa varieties near you!
Can I substitute a different cheese in this recipe?
Definitely! Get creative! Skip the old world fusion twist, and keep a Caribbean flavor by substituting Oaxaca, Panela, or Queso Fresco.
Or try a continental standard like Gouda, or Double Gloucester. Any of these would be delicious!
Can I make this with gluten free tortillas?
ABSOLUTELY! You can use any small tortillas in this recipe. There are some great keto and paleo options these days that work really well too.
Can I make this recipe in the oven?
Sure! I actually tried this to see how it would work, it it's so easy.
Place the assembled quesadillas on a parchment lined baking sheet or pizza stone. Cook in a pre-heated 450 degree oven, for about 3 minutes on each side. (I find this works slightly better than broiling, which makes it really easy to scorch them.)
Keep a close eye as they're cooking, and turn as soon as the top tortilla is looking golden brown.
Have other questions about this recipe? Ask away in the comments below!
Bon Appétit!