Thinking of raising Cornish Cross chickens, and wondering how much it will cost? Here's a detailed breakdown of exactly what it cost me to raise a year's worth of organic Cornish Cross roosters on pasture.


Like so many of us during this tumultuous year, I've found myself more determined than ever to raise and grow as much of our own food as possible, here at home. In the past, most of my efforts extended primarily to the gardens, often canning and freezing hundreds of pounds of vegetables each year. But this summer, in addition to vegetables, I wanted to also raise a least a portion of our meat for the coming year.
Cornish Cross chickens were a natural choice, since they grow out quickly, and I already had a good setup for raising poultry on pasture - a "chicken tractor" that I use when raising extra ducks for meat.

Before deciding to pull the trigger on ordering 50 little fluffballs though, I spent quite a bit of time researching which strains of Cornish Cross chickens seemed most reliable, and how long I needed to plan on raising them, if I wanted them to average about 6 pounds after processing.
Most importantly, I spent time going over any information I could find about how much feed they were likely to go through as they grew to "market weight", and how much that feed would cost me, if I chose to exclusively raise them on pasture and organic feed.
Since every cost report I could find about raising Cornish Cross chickens was so valuable to me (and especially since most of these don't account for the higher cost of organic feed), I thought I would offer a breakdown here of my own costs to organically raise a year's worth of Cornish Cross chickens on pasture.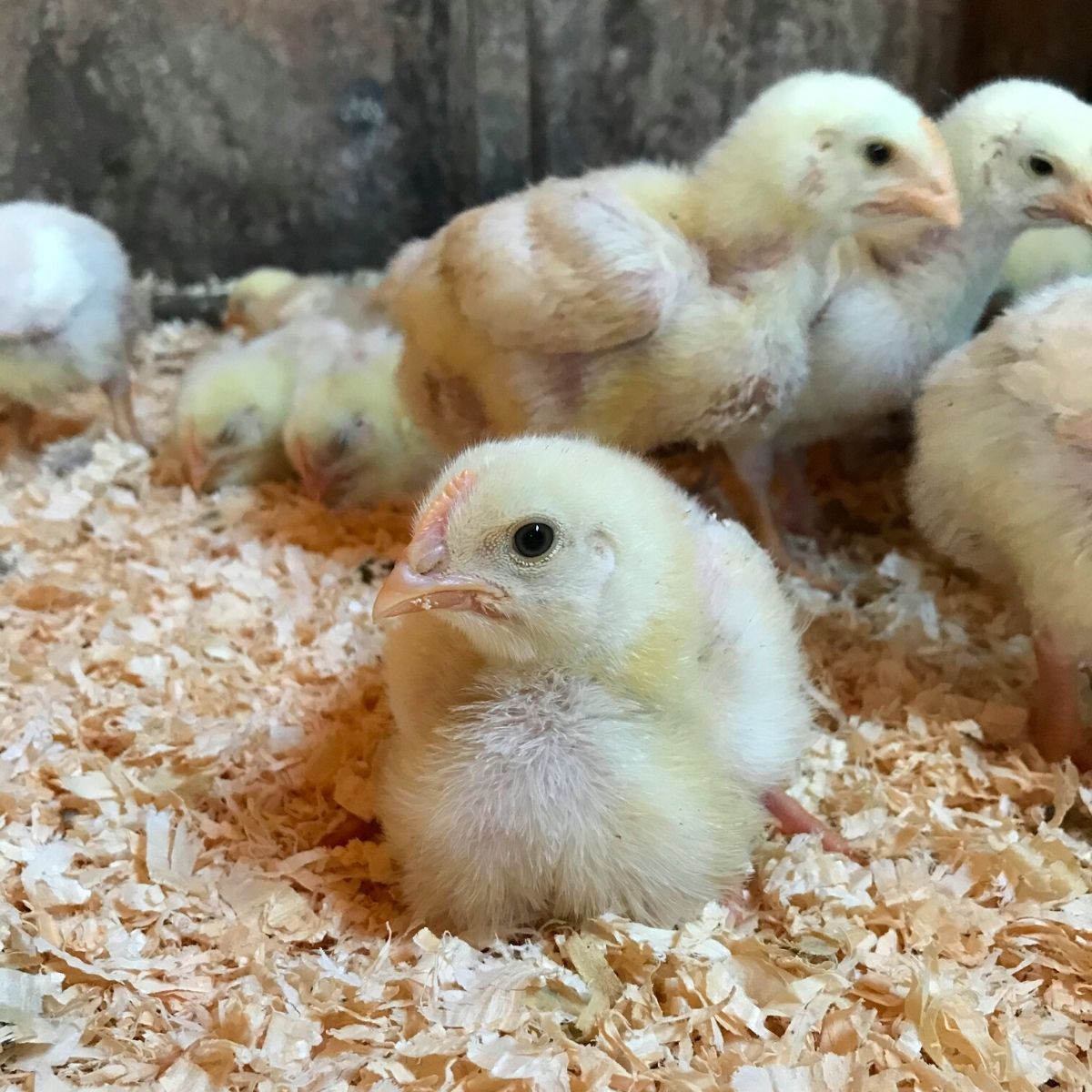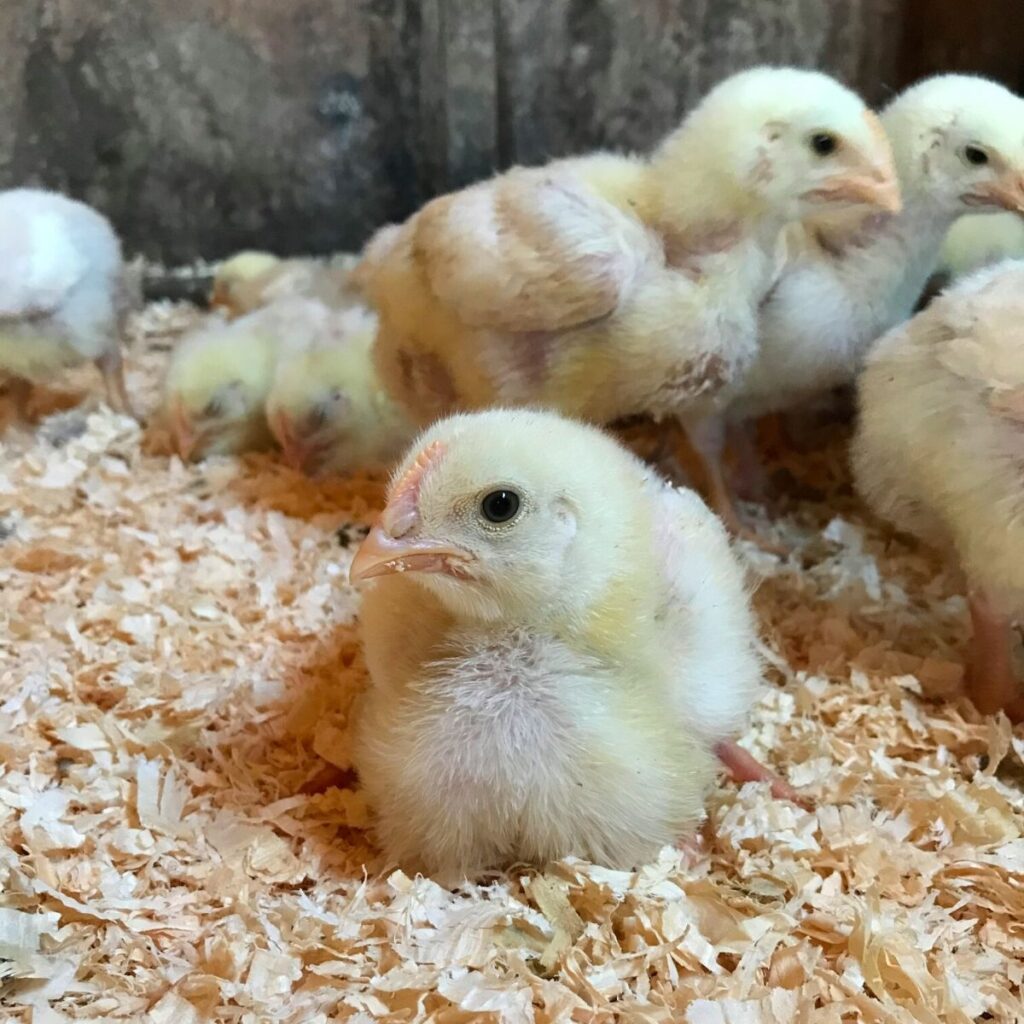 Here's what it cost me to raise Cornish Cross chickens on pasture and ORGANIC feed.
Purchasing and raising 47 Cornish Cross chickens to market weight cost me a total of $420.07. This chart shows what everything cost:
| | |
| --- | --- |
| ITEMIZED COSTS OF RAISING 47 MALES TO 6LB AVERAGE | |
| 50 MALE Cornish Cross Chicks (*see note below) | $70.00 |
| Shipping | $19.95 |
| 1 Bale-Sized Bag of Shavings | $5.00 |
| Organic Broiler Feed (50lb of Starter, 600lb of Grower) | $325.12 |
| | |
| Total cost of Raising 47 Males to Butcher Weight | $420.07 |
| | |
| This works out to a Cost Per Chicken of $8.94 | |
| Per pound of dressed, freezer-ready chicken, it's $1.45/lb | |
*I purchased 50 chicks, but because of a shipping delay, only 47 made it.
Costs in this post reflect purchasing 50 chicks, but raising and processing 47.
The cost of purchasing Cornish Cross chicks
I ordered my "little butterballs" from Valley Farms Hatchery, and for 50 non-vaccinated, male-only Cornish Cross chicks, it cost $70, plus $19.95 shipping and handling. This was slightly less expensive than purchasing through my local feed store, and I was able to select my own hatchery, rather than the one used by the feed store.
This was important to me, since not all strains of Cornish Cross chickens are the same, and I felt more confidence that Valley Farm's chicks would have a good feed conversion, without some of the leg problems that Cornish Cross chickens are notorious for. From start to finish, I could not have been more pleased with the chickens I ordered, and will plan to order from the same hatchery every year.
The cost of feeding Cornish Cross chickens a 100% organic diet
By far, the greatest cost of raising chickens for meat, is their feed. I felt very strongly about only using organic feed, and chose to go with Green Mountain Organic. This is the same mill that makes the feed I use with my laying hens and ducks. For one 50lb bag of starter crumble, and 12, 50lb bags of broiler crumble, it cost $325.12.
For exactly the same amount of "conventional" broiler feed, that total would have been just $239.46 - a significant savings of $85.86. To me, keeping my family's food, and my entire homestead, free of Glyphosate is well worth that difference in cost.
Here's what it cost to raise 47 Cornish Cross chickens - AND put them in the freezer
While many folks are just looking for the actual cost of purchasing and raising chickens for meat, and that's what I've broken down above, the full cost of getting that meat into your freezer is a little higher.
At a bare minimum, it's important to include the cost of good packaging for the chickens, so that a year's worth of chicken will stay fresh and perfect in your freezer all year.
Here's what it cost me to both raise and process my chickens:
| | |
| --- | --- |
| ITEMIZED COSTS OF RAISING & PROCESSING | |
| 50 MALE Cornish Cross Chicks | $70.00 |
| Shipping | $19.95 |
| 1 Bale-Sized Bag of Shavings | $5 |
| Organic Broiler Feed (50lb of Starter, 600lb of Grower) | $325.12 |
| Poultry Bags | $34.97 |
| Plucking Machine (*see note below) | $94.00 |
| | |
| Total Cost of Raising AND Processing 47 Males | $549.04 |
| | |
| This works out to a Cost Per Chicken of $11.68 | |
| Per pound of dressed, freezer-ready chicken, it's $1.90/lb | |
*Plucking Machine. While the total cost of this was $440, it will be used to process many, many birds, over several seasons. For analyzing my costs, I felt the practical approach was to include a $2 "depreciation tax" for each chicken processed, so that the total cost of the machine will be accounted for within 4 year's worth of birds. So 47 chickens x $2 each = $94. I hope that all makes sense!
My must-Have Supplies for Chicken Processing:
BPA-Free Shrink Bags for Freezing Chickens
You'll see that 50 bpa-free poultry shrink bags cost me $34.97. While your bags don't need to be heat-shrink, or bpa-free, you'll need something to package your birds in for the freezer, so that's worth including in your cost projection.
You can use a vacuum sealer to package your chickens for the freezer, and I've done this in the past. However, shrink bags do a much better and more reliable job of preserving the quality of poultry meat in the freezer.
The ones I used are not inexpensive (70 cents each), but I feel they're worth it. There are less expensive, poorly-rated shrink bags floating around on Amazon and other sites, but these BPA-free bags are the exact ones I used, and I'm extremely pleased with them. I would not purchase a smaller size unless you expect most of your chickens to be 5lb or under.
A good plucking machine
You don't need a machine to help you get a year's worth of chicken in the freezer, but I would not want to undertake this job without one. If there's any chance you will be raising your own chickens more than once, and if you're doing a large number of them, investing in a good-quality chicken plucker is a game-changer.
This is the chicken plucker that I bought, and I LOVE it. It cost $440, which is a pretty big price tag for me, but as chicken pluckers go, it's on the affordable side.
I have plucked many, many, many chickens and ducks by hand over the years, and it can be done. But this machine is an incredible time saver, and I really feel it's one of the best investments I've made in our infrastructure for raising and growing our own food.
How much did our Cornish Cross Chickens weigh?
Our chickens were 8 1/2 to 9 weeks old when they went into the freezer. They averaged 6.32 pounds each.

(I processed our 47 Cornish Chickens by myself, and spread the project out over 4 days.)
To really dive into the details, their average weight was technically 6.24lb, but two of the 47 were teeny little runts that failed to grow well. We ordered 50 chicks, and three of those didn't make it, weakened from the unusually long postal journey. Two of the remaining ones struggled, and I fought to keep those tiny two alive. They never really put on weight even though I gave them separate housing and dedicated feed/water for the first several weeks. They dressed out at 2lb, and 2lb 4oz.
If you take out the two tiny runts and divide by 45 instead of 47, the average weight of our 8.5-9 week old Cornish Crosses was 6.32lb which I think is a best, most accurate representation.
We ended up putting 288.8 pounds of organic, pasture-raised chicken into the freezer, and I couldn't feel better about it! Even with the higher cost of choosing 100% organic feed, raising our own chickens on pasture is still an extremely affordable way of putting away a lot of meat for the year.
It's certainly cheaper than buying even the least expensive, mass-produced organic chicken in the store:
For myself, I know that I will never be buying store-bought chicken again. Our pastured, organic chickens are the best chicken I can possibly feed my family, and it's amazingly affordable - even when factoring in the costs of organic feed, and a time-saving barrel plucker.
Over the next few days, I'll be sharing more tips for processing a year's worth of chickens even if you're doing it alone (I learned SO much from my solo marathon this year!), as well as my must-haves for making processing day go smoothly.
I hope this break-down of my costs for raising a year's worth of Cornish Cross chickens has been helpful. If you have any questions, just ask away in the comments below!