A broody hen is a wonderful way to raise self-sufficient ducklings that learn to forage at an early age, and integrate into a mixed flock gracefully. Here are some tips to help ensure the best outcome for both your hen, and her waterfowl babies.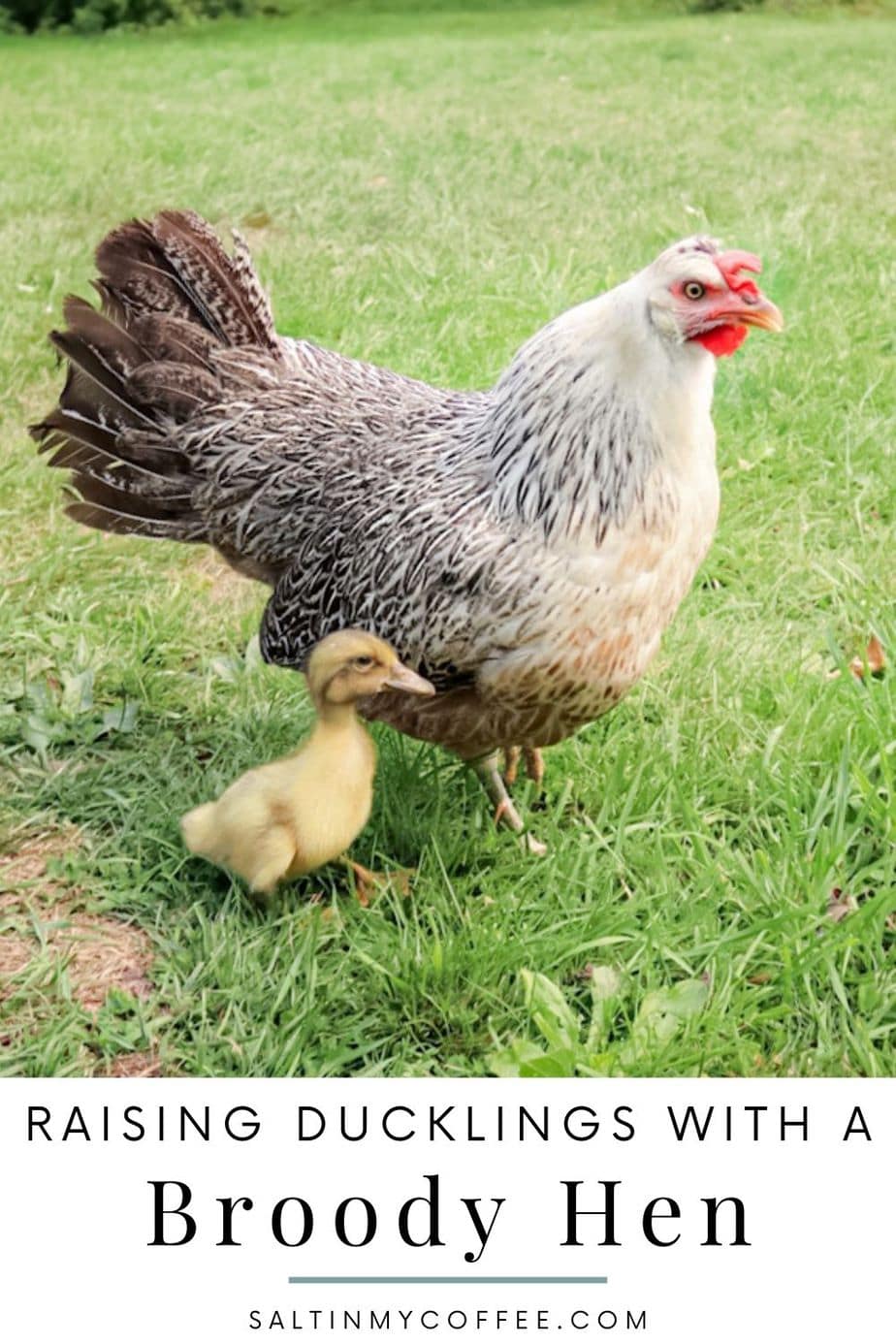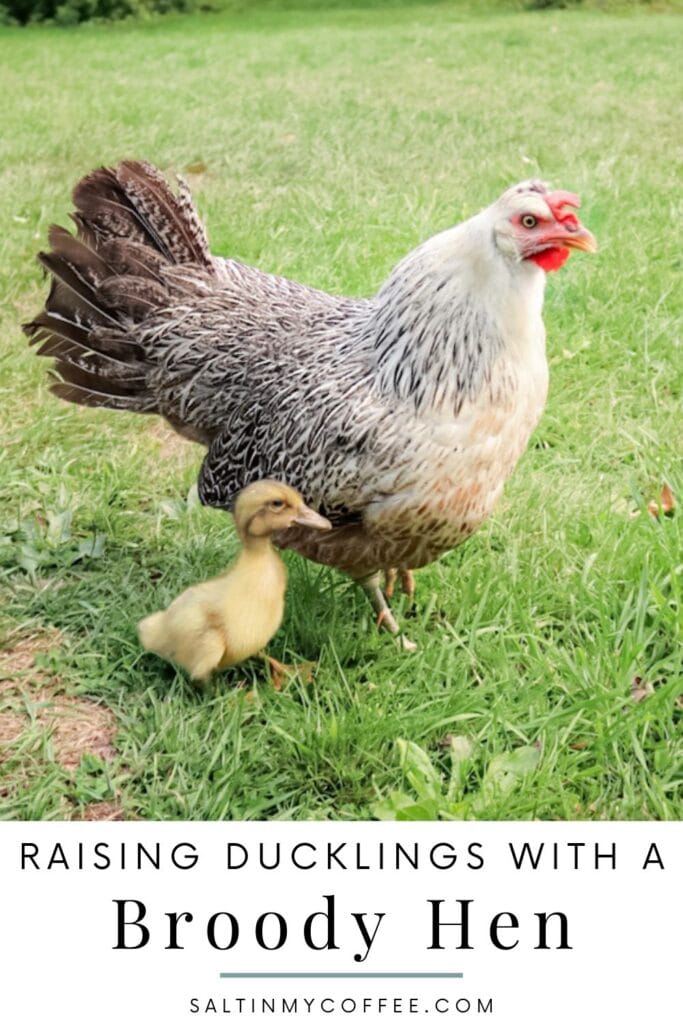 I raise pure Icelandic landrace chickens, and let me tell you - those ancient instincts go into hyper-drive when it comes to raising babies! Each summer, I have more broody hens than I know what to do with. These girls just live to hatch and raise adorable fluff balls!
With more chickens than I needed already, I was reluctant to let my girls sit on their eggs this year. However - I did have plans to hatch a few dozen ducklings to replenish my breeding flock of Welsh Harlequin ducks.
I decided to humor my hens by letting them doing the hatching and raising of the ducklings for me. Happy hens? Yep! No brooder tubs in my breakfast nook? Hallelujah! This really was a WIN-WIN!
And so it was, that this summer I had 6 different broody hens hatch out ducklings, and raise them to a self-sufficient age. It gave me lots of opportunity to observe broody hen behavior when they're raising ducklings instead of chicks. I also had a really good chance to tweak my setup, and learn how to best facilitate letting a chicken mom raise safe and happy waterfowl babies.
Here are some tips I learned from many, many hours of observation this summer.
1. Select proven broody hens if possible
When pulling a switch like this on our chickens, we're asking a bit more of them than mother nature. A chicken only needs to sit on her own eggs for 21 days to be rewarded with a nest full of little fluff balls. When she's sitting on duck eggs, it takes 28 days.
Ducklings also seek a mother's care, and benefit from it, for several weeks after chicks would have left the nest and integrated with the flock.
Raising ducklings is honestly a long-haul proposition for a little chicken. For hens who just live to be mothers, it's a dream challenge.
For broody hens just doing the bare-minimum to check off the instinctual "sit on eggs" checkbox - it may be more than they bargained for.
In my experience, most broody hens really do rise to the challenge gracefully. Several actually seem to prefer mothering ducklings to mothering chicks. I've only had one that just clearly wanted to get "this whole mothering thing" over with.
If you have a choice of multiple broody hens, I recommend choosing one that has already hatched and raised a brood of chicks, and demonstrated good mothering skills.
Some hens tend to keep their babies close to home a little longer than others, and this is a trait that will serve them (and their duckling) well, when raising waterfowl babies. If you've seen this behavior in the past, it's a good sign that hen is probably an excellent choice for raising ducklings.
2. Encourage a prime nesting box location
I've spent a lot of time watching both newly hatched chicks, and newly hatched ducklings. One big difference I've noticed is that, in general, very young ducklings seem eager to emerge from under Mom's feathers, and do a little exploring, at least a full day earlier than I've seen with chicken chicks.
Ducklings are much more likely to fall out of the nest, if there's anything to fall out of.
The easiest way to avoid this is by giving your broody hen a nest the babies can't climb out of. A large nesting box with high sides, set in a secure location on the floor, is a good bet. If you can, try to get your hen settled in a good, safe nesting location right from the start.
That said, many chickens, including most of my own, want to nest where they want to nest. If that's in the upper-most nesting box, I wouldn't sweat it. If you keep a close eye on your mother hen, and move her soon after the babies hatch, all will be well.
It's more important to have a happy hen that reliably goes back to the correct nest after her eat/drink/poop break each day, than a perfect nest.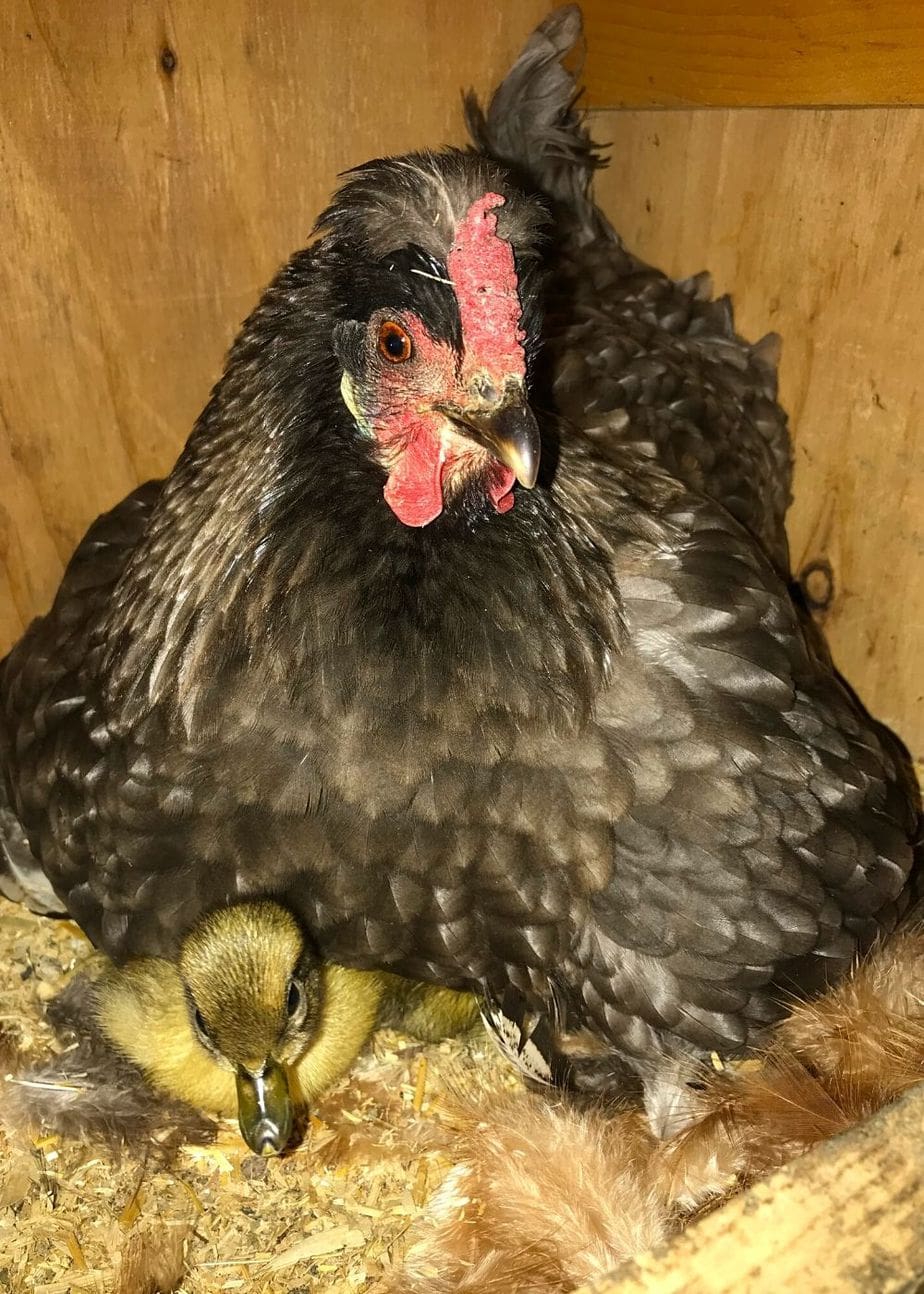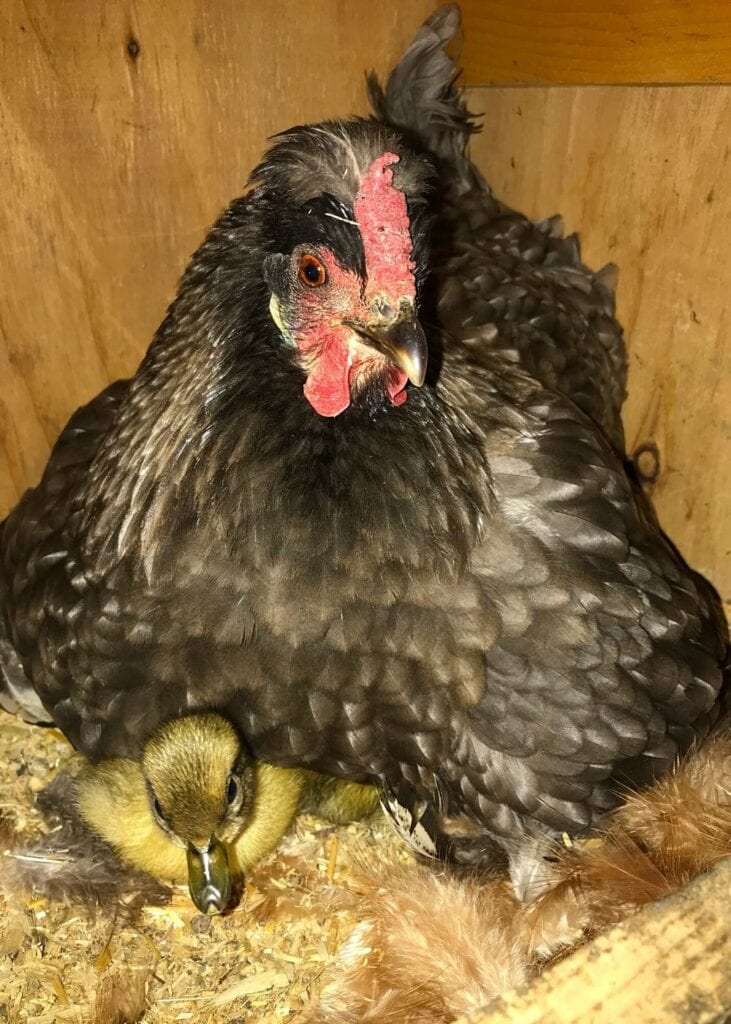 3. After hatch, move Mom and babies quickly to a "nursery area."
If you haven't had success with getting Mom to nest in a duckling-safe nesting box, that's ok. It's almost always easier to persuade a broody hen to change nest locations after her babies hatch, than before.
However, because ducklings do have a tendency to explore, sometimes within a few hours of hatching, you'll need to keep a close eye as the hatch progresses. Those long waterfowl legs are more conducive to clambering over the edge of a nesting box than those of a little chicken chick.
After observing this behavior, and having a couple of close calls, I've made it a practice to move my broody hens to a secure location, within about 12 hours of the first duckling hatching. I know this might be a little controversial, since it's generally best practice to leave a hen undisturbed while her eggs are hatching.
That said, unless significantly altered, most commercially available nesting boxes will not keep in a duckling that wants to explore. A broody hen will almost without exception move to a new location without a grumble, as long as her newly-hatched baby is there. I've never had a hen fail to finish hatching every last egg, even when I've felt the need to move the nest before the rest of the eggs were finished hatching.
My favorite "maternity ward" for a mother hen with young ducklings is a large, plastic-sided flight crate for dogs, similar to this one. (If using a crate, be sure the holes are small enough that a duckling can't fit through!)
If you don't have a crate available, a simple wooden box, or an extra-large plastic tub works just fine.
The important thing is to make sure the ducklings can't climb out, and that other chickens or ducks don't interfere.
4. Provide a good duckling crumble, with appropriate food and water dishes
As soon as you've moved your hen and ducklings into the "maternity ward", go ahead and offer food and water. You hen will be especially grateful!
Use a good quality multi-flock crumble, or non-medicated chick feed with a little sprinkling of brewers yeast. The food bowl can be a big as you'd like (a small dog bowl works great), and the mother hen will audibly encourage her ducklings to get right in there and play with their food.
For water, I like to use a small bowl, with a few rocks placed in it. What's important is that the ducklings not be able to get their little bodies in there - you don't want them getting soaked! But you do want them to be able to fully immerse their little bills. I find that a bowl with rocks in it is the best, sturdiest solution.
As ducklings mature, provide a safe grow-out area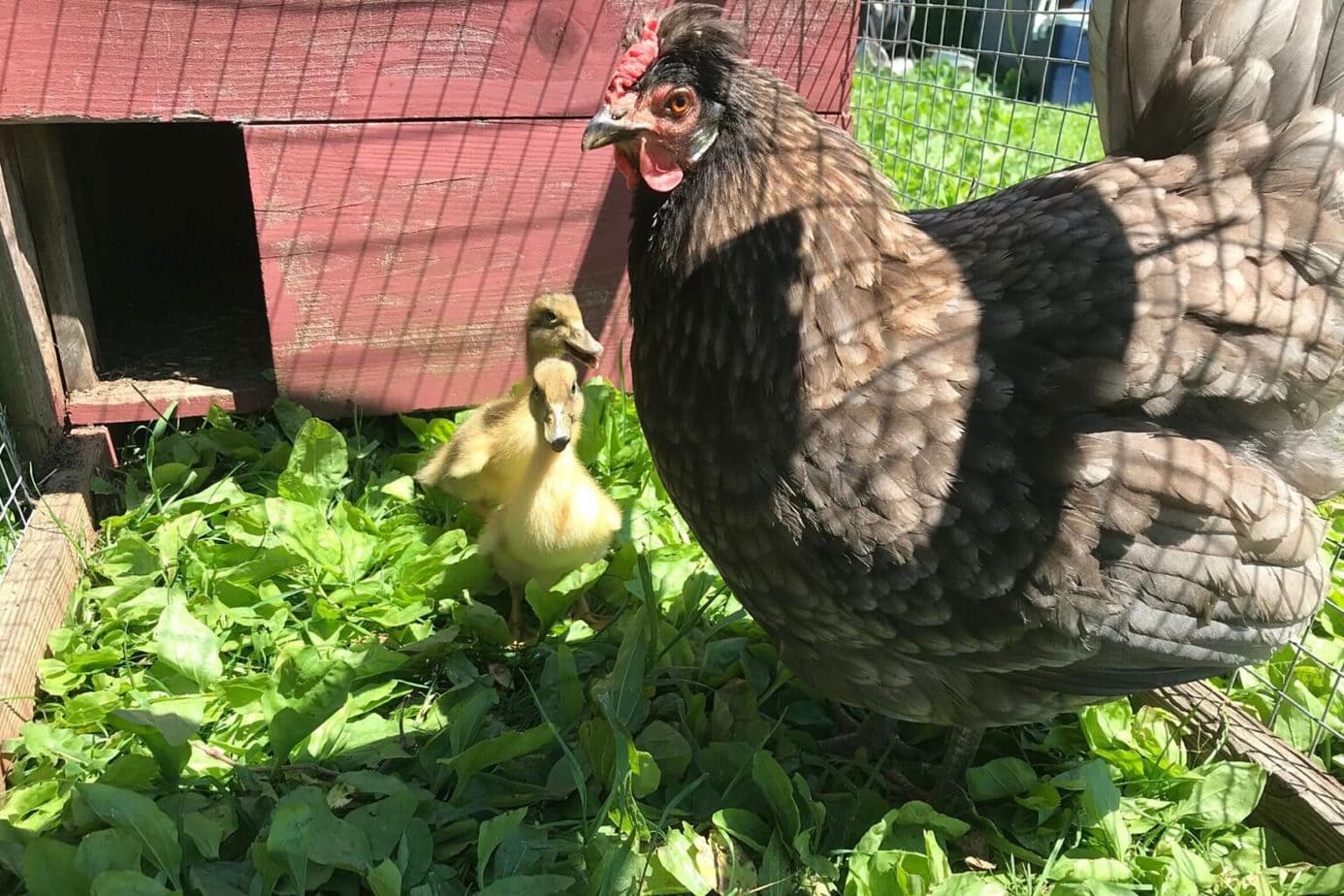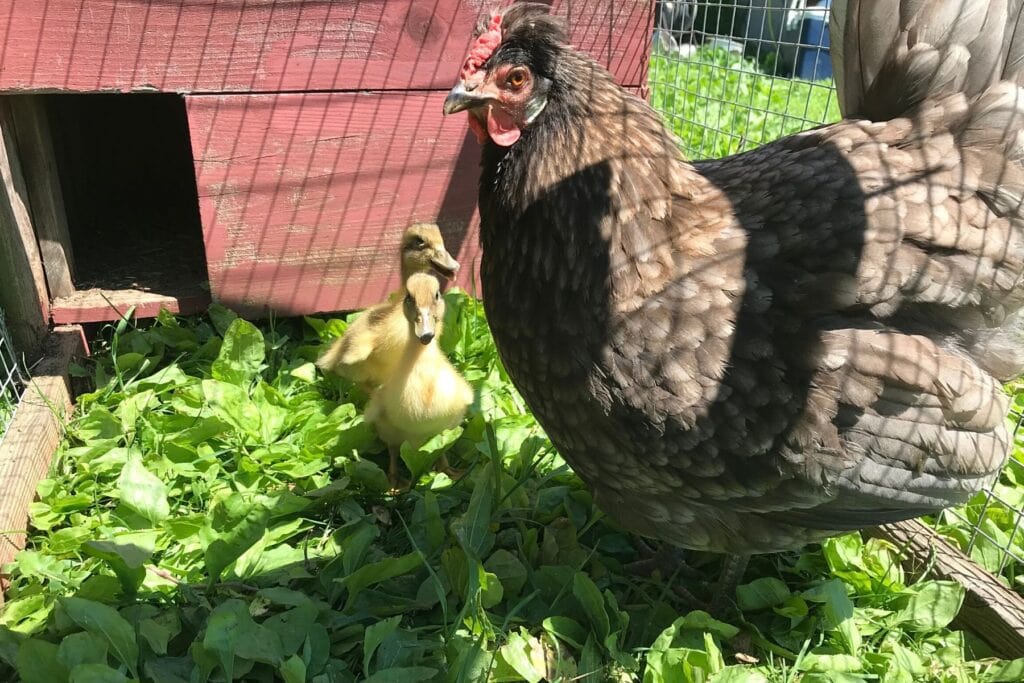 A large crate, brooder tub, or "whelping box" will be all the ducklings really need for the first week or two. Soon though, you'll probably want them to have access to grass and sunshine. You'll also want to take advantage of your hen's instincts for teaching her children to forage. Watching a mother hen cheering on her duckling babies, as they catch bugs, worms, and flies for themselves, is just the cutest!
For this stage of raising the ducklings, I move my little hen and her family to an open-bottomed rabbit run. It works perfect for moving them to a fresh bit of grass each day, and has an enclosed house at one end, which keeps everyone safe at night.
This is a quick and easy diy rabbit hutch that I'll probably make next spring, just so I have an extra one, and can let two broody hens onto pasture with their ducklings at the same time.
Consider your hen's instincts - and your own.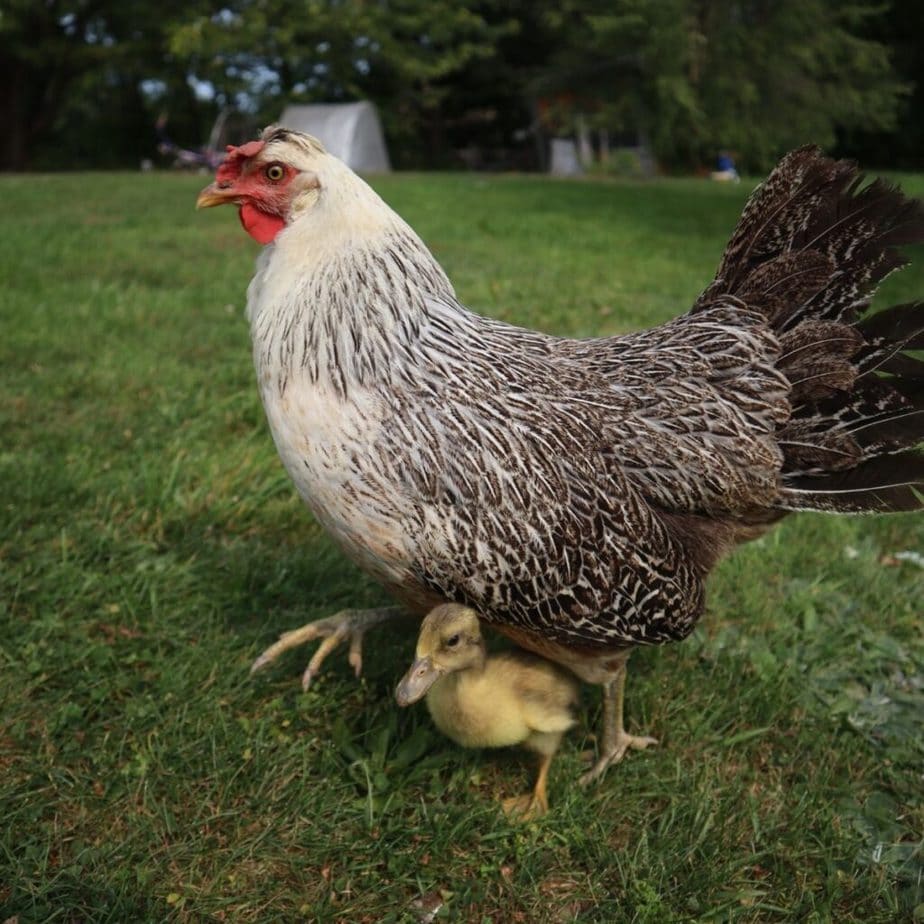 As with human mothers, and kids, every hen's parenting style is going to be a little different. When possible, I think it's beneficial to follow the lead of your hen. Does she seem to be longing to get her babies outside on the grass? Then maybe it's time. Just like I do with my kids, I try to say "yes" as often as possible to my mother hens. On the whole, they have great instincts, that will serve their babies well.
If you spend a lot of quality time with your flock, you probably have great instincts too. It's great to get advice and tips from the trenches from other homesteaders, but I encourage you to also put confidence in your own instincts about the best setup for your hen and her duckling babies. You know your hens better than anyone else!
I hope these ideas prove helpful, as you consider letting your broody hen raise a brood of ducklings for you! These are all tips gleaned from my summer filled with 6 broody hens, raising a combined total of 37 ducklings.
One hen was such a determined mother that she hatched two sets of eggs for me, and even took over raising another hen's brood of ducklings for her. Some hens just LOVE raising babies. I've always said, if I gave that chicken an ostrich egg, she'd find a way to hatch it and raise the baby. (I honestly kinda think she would!)
Hopefully this post has helped to answer most of the questions you may have about raising ducklings with a mother hen, but if you've got questions I haven't answered here, please feel free to ask in the comments below!