Have a broody hen that you'd like to help successfully hatch and raise a brood of chicks? Here are my best tips for hatching chicks with a broody hen.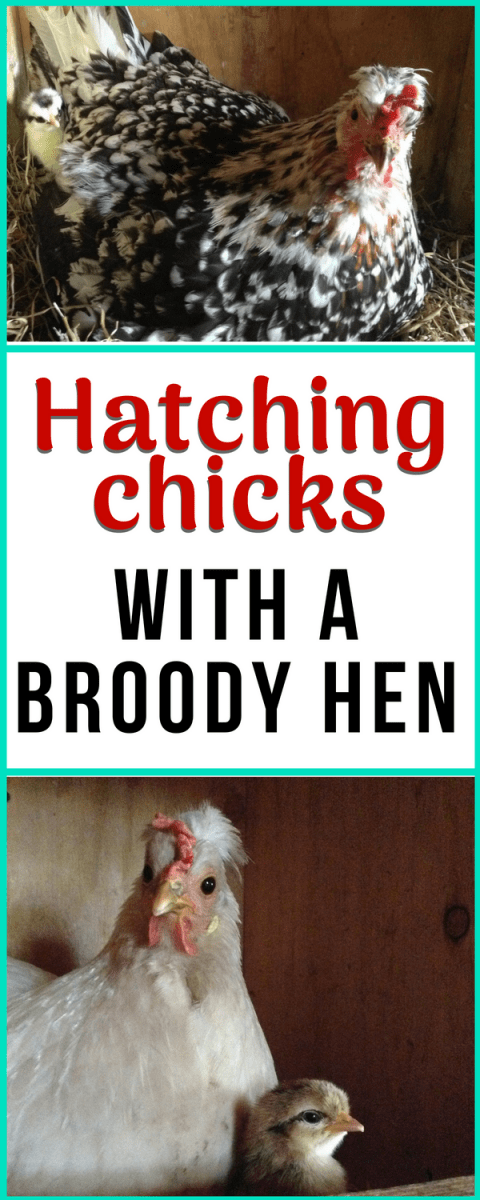 This article contains affiliate links. Click here to learn more.
It's the beginning of June, and we currently have two VERY proud and happy mamas out in our chicken yard. Half a dozen adorable baby chicks follow behind them, earnestly (and comically!) doing their very best to scratch and hunt for bugs, as much like grown up chickens as they possibly can.
Watching mother hens with their baby chicks is one of the farmyard highlights of the year, as far as I'm concerned, and I can't imagine a springtime without at least one broody hen hatching out a clutch of chicks.
Letting a broody hen sit on eggs doesn't always turn out perfectly, though, and over the last few years I've learned a lot about how to help set up my broody hens for a fuss-free incubation time, and for hatching and raising a healthy clutch of chicks. Here's what I do when I have a broody hen, and the setup that works well for my flock: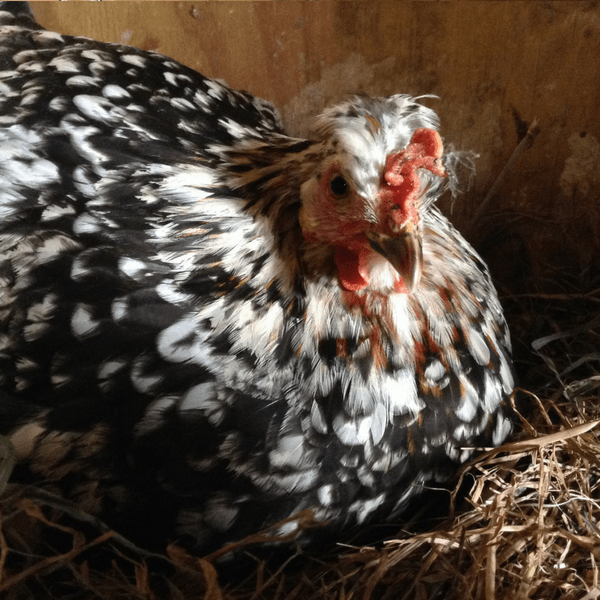 Tips for hatching chicks with a broody hen
1. Make sure her nest is secure, and safe for newly-hatched chicks
Some folks swear by putting their broody hens in special enclosed brooding boxes, or crates, during the three weeks that they're sitting on their eggs. They get their own food and water and aren't allowed to leave the brooding box until after the eggs hatch. It works for some hens, but my girls go absolutely nuts if they're separated from the flock in any way like this.
In my experience, it has seemed very important to the happiness of my broody hens, that they be allowed to sit a nest that's right in the regular bay of nesting boxes. They can see everything going on, and they get to socialize with the other hens as they use the nesting area. Depression or anxiety have been the apparent result, each time I have attempted to transition a broody hen to a "private suite" - even when it's in full view of all the happenings of the coop.
Instead, I've resigned myself to letting my broody hens choose whatever nest they want in the regular bay of nesting boxes, which are 3 feet off the floor of the barn. I make sure the nest she's chosen is good and clean, with plenty of fresh straw. Our nesting boxes all have a 5" lip on them, so newly-hatched chicks can't easily tumble out. (If they didn't have a deep lip like that, I'd definitely want to create one, at least temporarily.)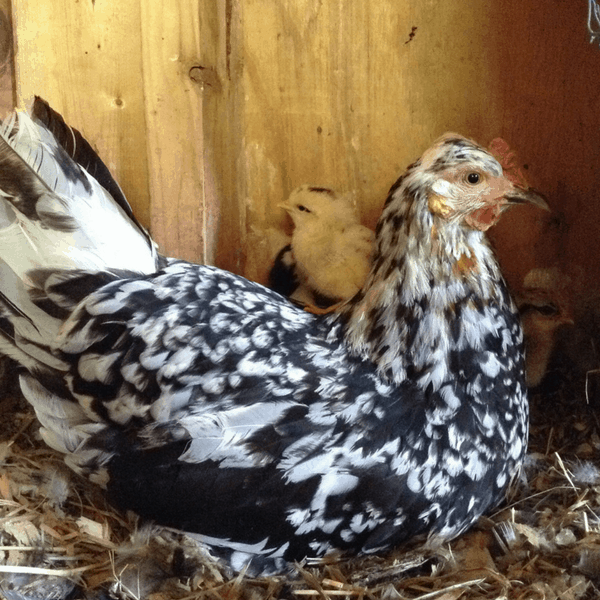 2. Label her nesting box, if you're not the only one collecting eggs
Once my broody hen has committed to a nest, and I've made sure it's specially clean and cushy, I put her name on the front of her nesting box. I want to make sure nobody accidentally collects her eggs, if I'm not the one gathering them!
3. Mark the eggs she's sitting on
Since I let my broody hens choose a nest that's right in the midst of all the other nesting boxes, it's easy to end up with a few newly-laid eggs in the next each day. In fact, I find that my girls often take their daily break from the nest while letting another hen "babysit" - laying an egg of their own in with the ones being incubated.
Once I decide that I'm going to let a hen sit, I usually give her 8 or 9 eggs to sit on. It's a number that works well for my petite Icelandic girls, and seems to result in a good hatch rate.
Then I mark each egg very clearly, so it's easy to see when peeking under her, which eggs are marked and which aren't. When I'm collecting eggs each day, I bring her a special little treat, take a look under her, and pull any eggs that aren't marked.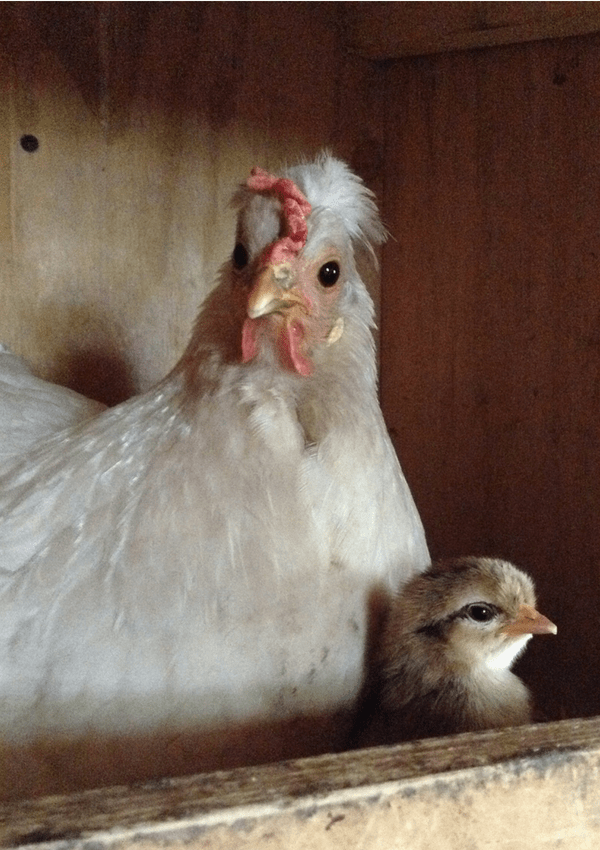 4. Take note of the day she starts sitting
So many times, I've forgotten to do this, and I end up wracking my brain trying to figure out exactly when I should expect the chicks to start hatching. If you immediately make a note on the calendar, when you let your hen start sitting on a clutch of eggs, you won't have to wonder when to expect the sound of cheeping. 21 days later, there should be hatching going on!
5. Candle the eggs around day 10
About halfway through incubation - usually around day 10, I like to candle the eggs, so I can toss any that aren't viable. I always candle at night, and find that it seems to trouble my hens least if I quickly steal all of the broody hen's eggs, and give her some dummies to sit on while I candle them. I then whisk the eggs up the house and do my candling there - I find it easier than keeping track of eggs, while the poor hen is trying to steal them back! I toss any that aren't viable, and put the others all right back under mama hen.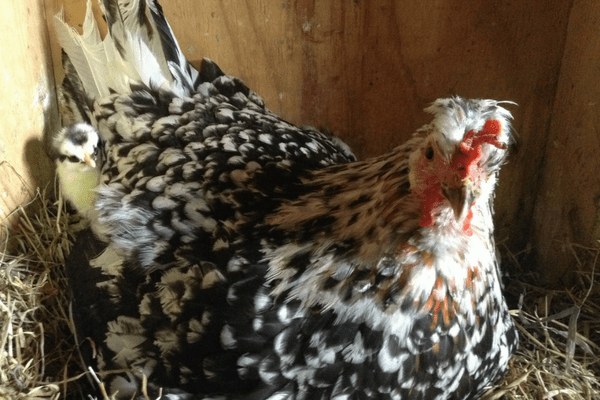 6. Check in frequently once the eggs start hatching
With only rare exceptions, my broody hens have made great mothers, and have handled hatch day like champs. It is possible however, especially with first-time mamas, for things to go badly on hatch day. I've known hens from other breeds that have pecked the hatching chicks to death, which is just heartbreaking. Even this year, one of my first-time Icelandic hens got freaked out and abandoned her nest as soon as her eggs started pipping and peeping.
Fortunately, I had another broody hen that desperately wanted to sit on eggs, but I hadn't yet let her keep any. She was just sitting there wistfully, on an empty nest. I was able to slide the abandoned eggs right under her. She hatched those eggs like a pro, and is raising four adorable babies right now. She's actually the speckled hen from the pictures in this post.
Once those first few chicks have hatched, and mama seems to know what to do, things are likely to be smooth sailing. But especially with first-time mothers, I still like to keep a close eye throughout hatch day, so I can help to navigate any hiccups if at all possible.
7. Once the chicks are hatched, create a good brooding area for mama and babies
I generally let my broody hens stay in their nest until all of the chicks are dry, fluffy, and looking strong, and they've had a day or so to really bond with mama. Before the chicks start getting too adventurous, though, I transition mama and babies to their own brooding area on the floor of the barn.
I set up an area that's roughly 3' x 5', so they have room to start learning about eating, drinking, and scratching around - without having to deal with other grown up chickens yet. I know I said my hens seem to get depressed or anxious when kept separate from the rest of the flock, but once their babies are here, they seem grateful for the safe space and special treatment.
At one end of the brooding area, I set up a chick feeder filled with chick starter, and a chick waterer. Then I let the mamas take care of teaching their chicks to eat and drink, when they're ready. Watching how each mama handles those first few days of motherhood is always so fascinating to me. I had a mother hen this year that would take beak-fuls of the chick starter, and scatter it on the floor of the brooding area, scratching it all around. She would then put on a very exaggerated demonstration - scratching, pecking and clucking to her chicks. It was like she was trying to teach them "THIS is how we find food - not in some silly plastic feeder!"
I let the mother hen's behavior let me know when to remove a wall of the brooder, giving her and her babies free run of the barn. Some mama hens seem very content for even 10 days or so in the smaller space, while others are looking for a way out by about day 4. I try to honor their instincts, and so far that has worked very well every time.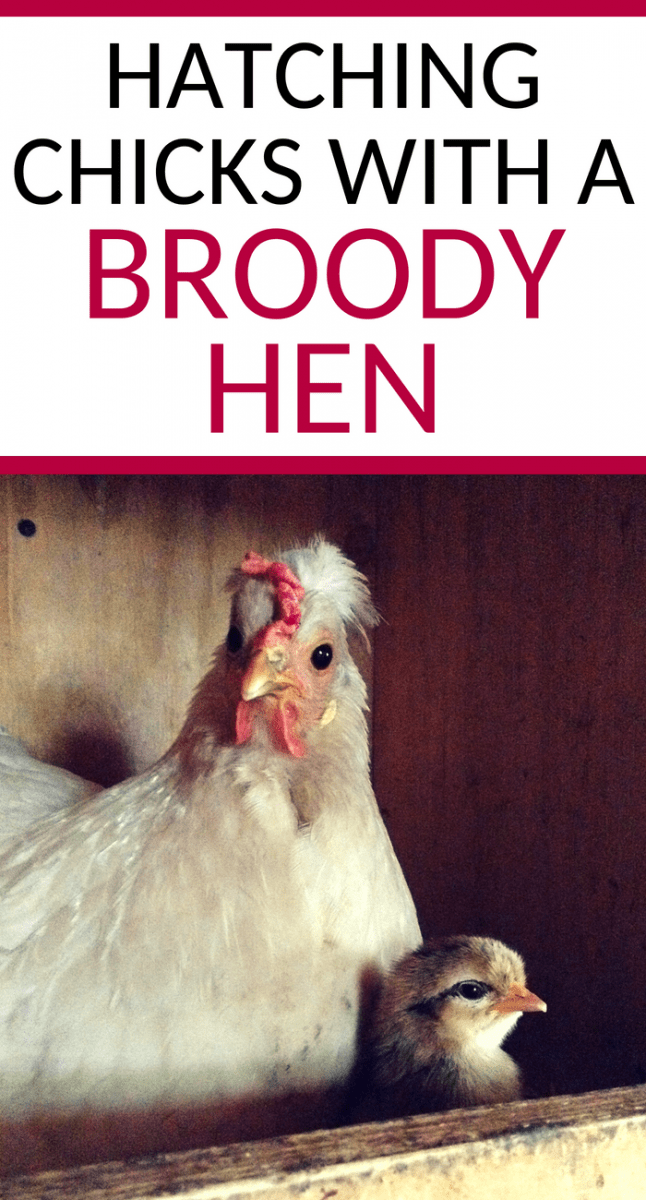 There really are few barnyard joys that rival the sight of a mother hen with a batch of chicks following closely behind. I hope you (and your broody hens!) have great success, and that you end up with lots of adorable fluffballs in your own coop!
Hatching with an incubator instead? Here's the daily checklist I use with my kids when we're doing the hatching!
Happy hatching!