We're all facing an unprecedented time, with a lot of uncertainty and stress - and most of us are staying home as much a possible, whether by choice or necessity. While it may feel like a time of isolation, our communities need us more than ever before.
It may seem like our hands are tied, since we're stuck at home, but there are still so many ways that we can show up for our communities, and help us all get through this together. Here are 6 practical ways that we can do that. Will you help me by suggesting your own ideas in the comments?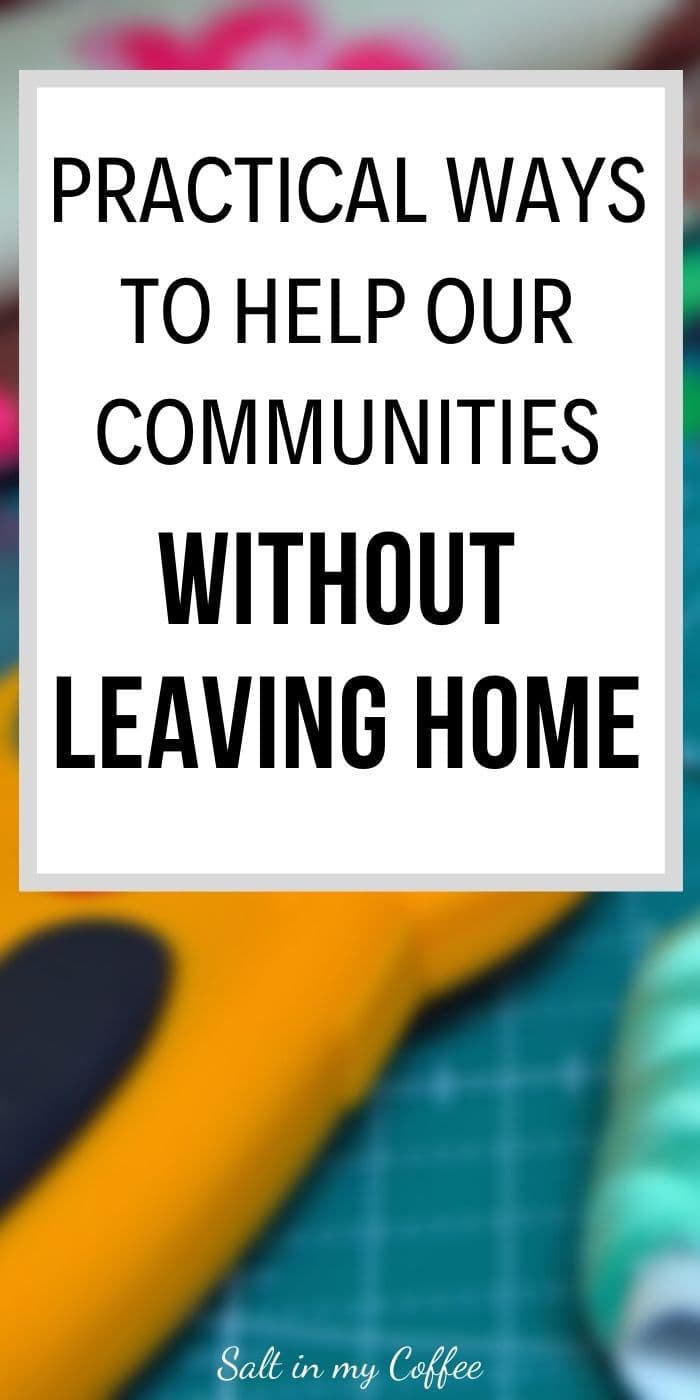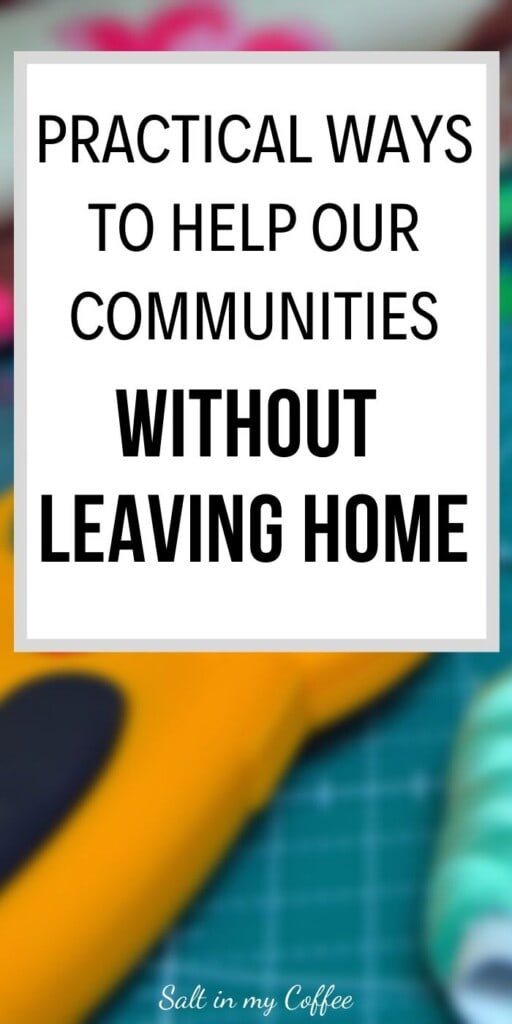 1. Sew face masks
Nurses we know and love are working without face masks right now, because the supply chain can't keep up with the needs of hospitals. This is putting both patients, as well as our self-sacrificing healthcare workers, at risk.
This is so personal to me, because my precious Sister-In-Law is a nurse, and as I type this, she's having to finish a 12 hour shift without a mask. As soon as I'm done writing this post, I'm going to go set up my sewing station and make as many masks as I can.
Many hospitals are in this same boat - too many patients, not enough masks. Health care facilities are starting to accept donations of home-sewn face masks.
Homemade masks cannot truly take the place of medical masks, but they are all that many healthcare workers have right now, and they are much, much better than nothing.
There are many face mask patterns going around out there, but this particular pattern is the mask that my Sister in Law's hospital prefers, because it has a pocket for a liner. There's a printable tutorial, and here is a video that you can watch to help walk you through the process. If you sew, you can make this mask.
From the CDC

In settings where facemasks are not available, HCP might use homemade masks (e.g., bandana, scarf) for care of patients with COVID-19 as a last resort. However, homemade masks are not considered PPE, since their capability to protect HCP is unknown. Caution should be exercised when considering this option. Homemade masks should ideally be used in combination with a face shield that covers the entire front (that extends to the chin or below) and sides of the face.

CDC Website, Strategies for Optimizing the Supply of Facemasks
2. Grow extra food - start a Victory Garden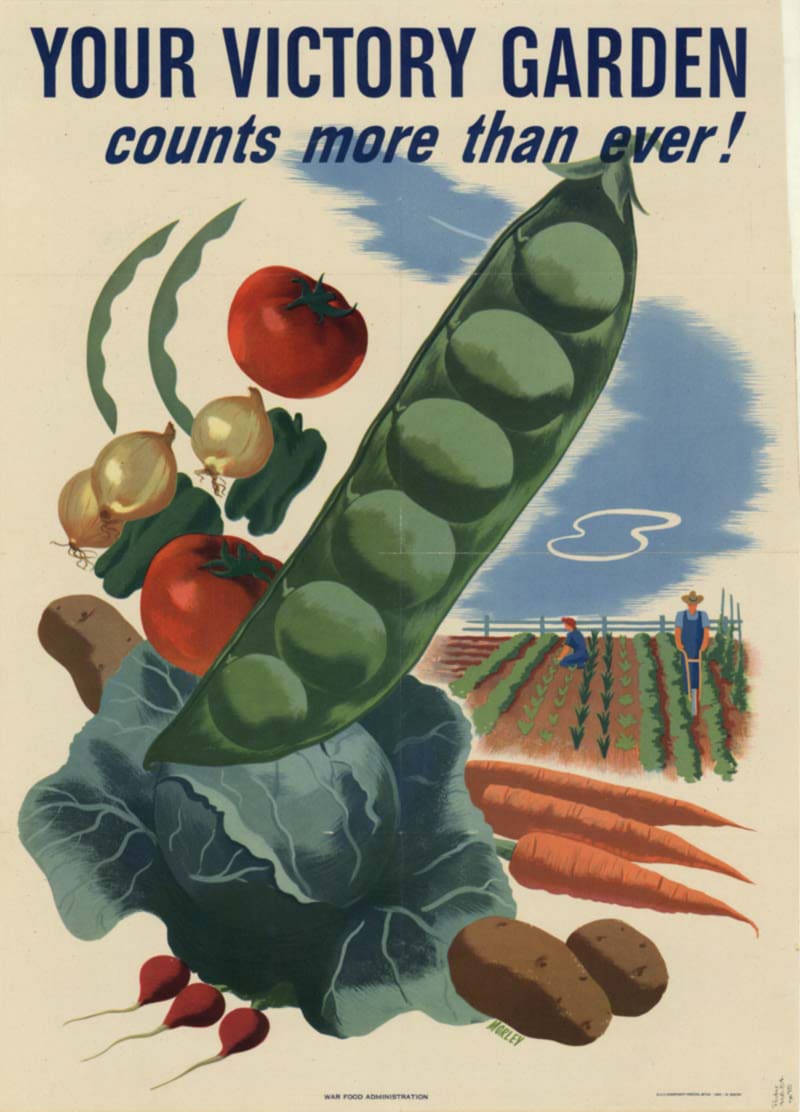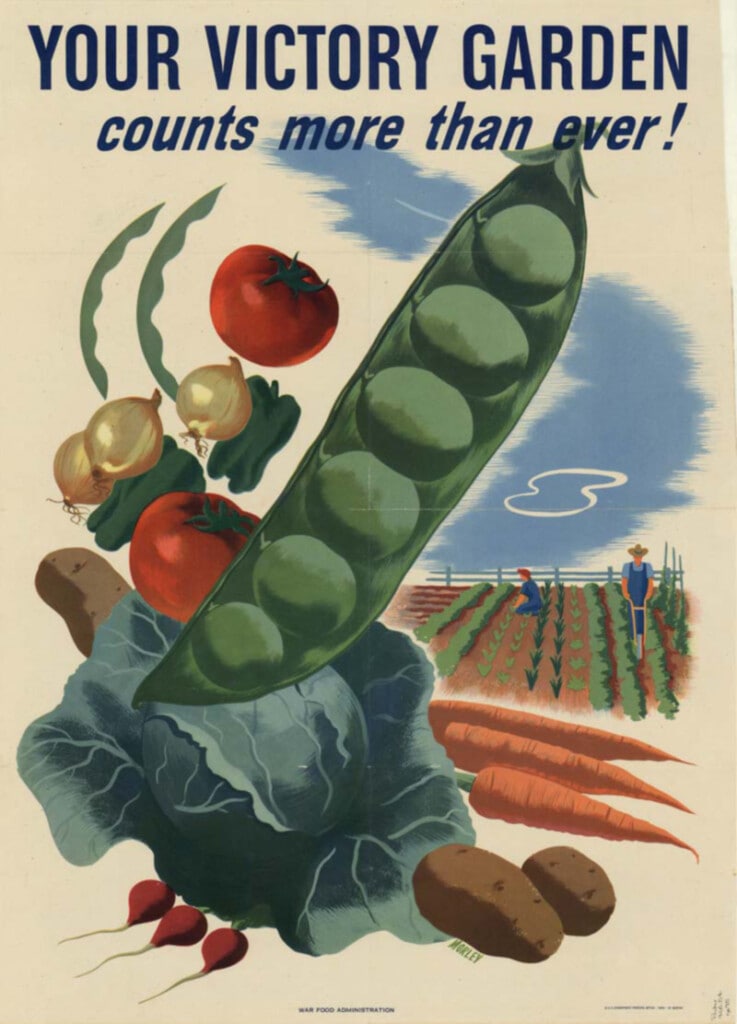 During WWII, Americans were urged to start Victory Gardens, to help the war effort. Victory Gardens can help us once again, as we come together to get through this crisis.
By growing food at home, we make it easier for those who can't grow food to have continual, uninterrupted access to necessary supplies from the grocery store. Growing food at home can also help to alleviate the need for trips to town, facilitating social distancing, which we know to be critical at this time.
If you have room, consider growing a few extra rows of vegetables to donate to neighbors, or those who are hardest-hit financially during this time. A local church or food pantry can help facilitate drop-offs of food to local families that could really use the help right now.
If gardening seems like something that won't tangibly help until this whole thing is over, consider that all of the vegetables on this list can grow from seed to harvest in just 60 days or less. People are still going to be suffering from food insecurity because of the current crisis, 60 days from now - your gardening efforts will be needed and welcomed.
3. Start extra seedlings and give them to people starting a garden
There are so many people looking to start their first garden right now, and a lot of folks have never done this before. The new desperation for growing food at home, also means that many nurseries and big chain stores have sold out of vegetable seedlings.
If you have extra seeds, soil, and space, consider starting as many vegetable seedlings as you can, then give them away to people who are trying to grow their own food.
4. Teach and encourage people
People are scared right now. Many are feeling the need to learn new skills, and take on new responsibilities, like growing food at home, cooking from scratch, and creating home remedies when usual supplies are unavailable.
We can encourage people to boldly take on these new tasks, by reaching out and talking them through planting their first garden, or making their first tincture. It doesn't have to be in person! Just a quick video chat to offer help can go a long way.
Or - consider doing even more and offering to organize a virtual gardening class for local families who want to start their first garden. Facebook live can be a great way to do this, or even right on YouTube.
5. Donate
Nearly all non-profits have ways that you can donate right online, without leaving the house. I'm not going to suggest any particular non-profit, but if you're looking for a way to help financially during this time, consider reaching out to local churches or food pantries who really have a pulse on the local needs of your communities.
So many families are in terribly stressful financial situations right now, facing a loss of income, and loss of school food programs. There's more pressure than ever on the organizations that bridge the gap and meet these needs.
6. Connect with people who live alone
For those living alone, this can be a very lonely and scary time. If you know of someone living on their own, consider reaching out just to check in. Sometimes just hearing someone's voice can be a beacon of light in a long, long lonely day for someone.
7. Don't consume more than we need
I understand the desire to stockpile food and supplies right now. I really, really do. That said, one way that we can love our communities, is by not putting unnecessary pressure on supply chains. I truly believe that reducing unnecessary consumption is one way that we can support our community, right from home.
Do we need a dozen 12-packs of toilet paper? No. I'm all about preserving food, and creating an abundant pantry, but a downfall of panic buying is that people are met with empty shelves when they get to the store. That means that especially those least likely to turn to online shopping (like the elderly) are apt to end up making more shopping trips than usual, in an effort to source necessary supplies. Reducing panic buying helps to keep the supply chain moving smoothly, allowing our older parents to make minimal trips to town, and observe safer social distancing, rather than hunting through store after store for toilet paper.
Those are some thoughts that have been on my heart today. How else can we help our communities, while staying home? I would LOVE to have you add your suggestions in the comments below.
May God bless us, and be with us. Amen.