Have you ever bought leeks to use in a recipe, only to find yourself using just the white part that the instructions call for, and then tossing out most of the green? If you're like me, you probably feel a little guilty letting almost half the plant go to waste!
You might even bag up that green part and freeze it, intending to add it to the pot next time you make up a big batch of chicken stock - only to discover its tortured remains a year or two later when you're cleaning out the freezer. You know...not that I've ever done that, or anything.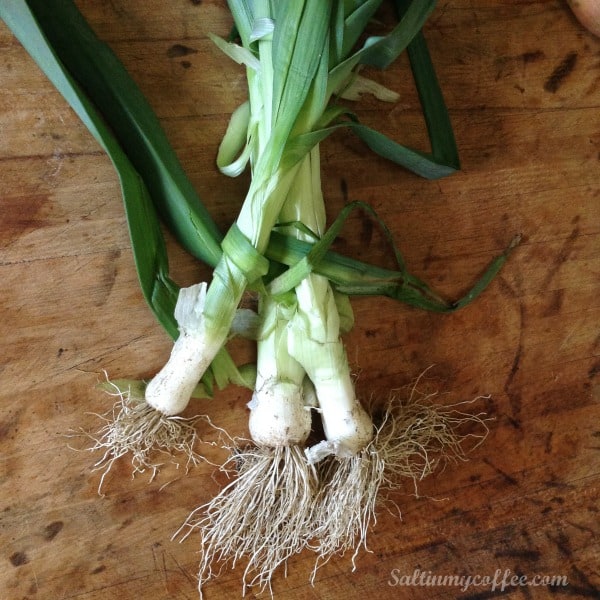 Pin
So, basically I've been living with leek-top guilt for a few years now. But finally I've found a great use for those leftover green tops!
Leek powder, you guys! It's fantastic stuff.
Use it any way you would onion powder - soups, stews, spice mixes. But, because of its sweeter, milder flavor profile, many folks actually even love it in green smoothies!
And the health benefits of leeks, especially the green parts, are astounding. Check out these leek super-powers:
Eating leeks has been shown to reduce inflammation, which is at the root of so many diseases.
Like garlic, leeks are full of allicin, which produces sulfenic acid. Sulfenic acid is highly effective at stopping the spread of free radicals, which have been linked to cancer and many other diseases.
They contain kaempferol, an antioxidant which has been shown to have anti-microbial and anti-cancer properties, and also protects heart health, supports neurological function, fights diabetes, and even helps fight allergies.
They're an excellent source of natural folate (far superior to folic acid, which has been linked to increased cancer risk!)
Leeks are one of the best sources of Vitamin K, which is vital for normal blood clotting, and also supports heart and bone health.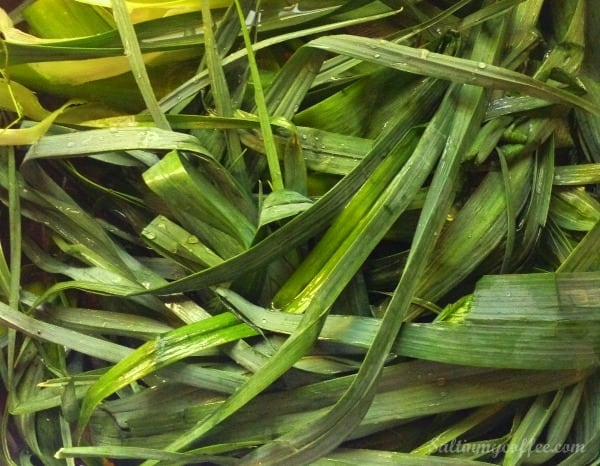 Pin
Those are just a few of the health benefits of this amazing allium.
Knowing they're so extremely healthful makes me see those leftover green tops not just as food I feel bad wasting, but as potent nutrition that can boost my family's health, while adding flavor to other meals.
So my new modus operandi when it comes to cooking with leeks, is to turn everything I don't use into leek powder. It's really easy (just like making onion powder), and leeks don't take long to dehydrate, so it's not a burdensome project. Here's how!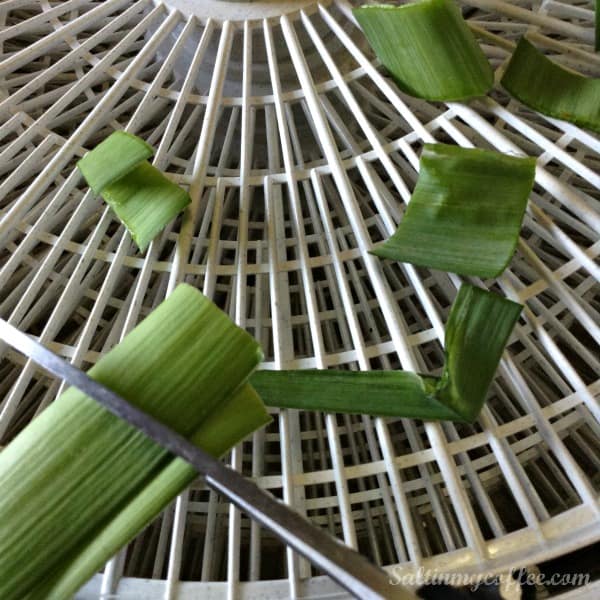 Pin
How to make leek powder
Leek powder can be made from whole leeks, or just the green parts. Since most recipes call for the white portion, I generally make leek powder with the leftover greens, and really enjoy the vivid green color of the finished powder.
Start by thoroughly washing your leeks, and patting them dry. Discard any brown, dried bits.
Snip into pieces that will fit comfortably onto dehydrator trays. Be sure to separate any layers that sandwich themselves together - they'll dry much more efficiently if separated.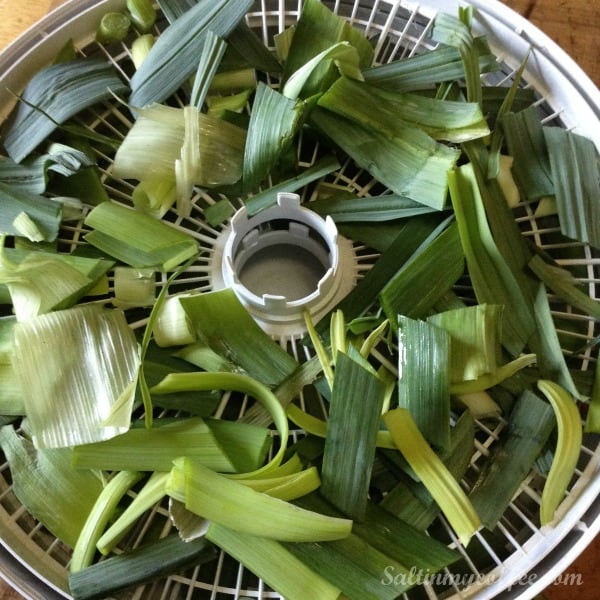 Pin
Fill dehydrator trays with a generous layer of leek pieces. This tray is actually a little lighter than I usually fill them! As long as the trays can correctly sit together, the leeks will dry just fine.
Dry at 135 degrees for about 4 hours, until completely dry. Leek pieces will be very dry and brittle, and should retain their green color well.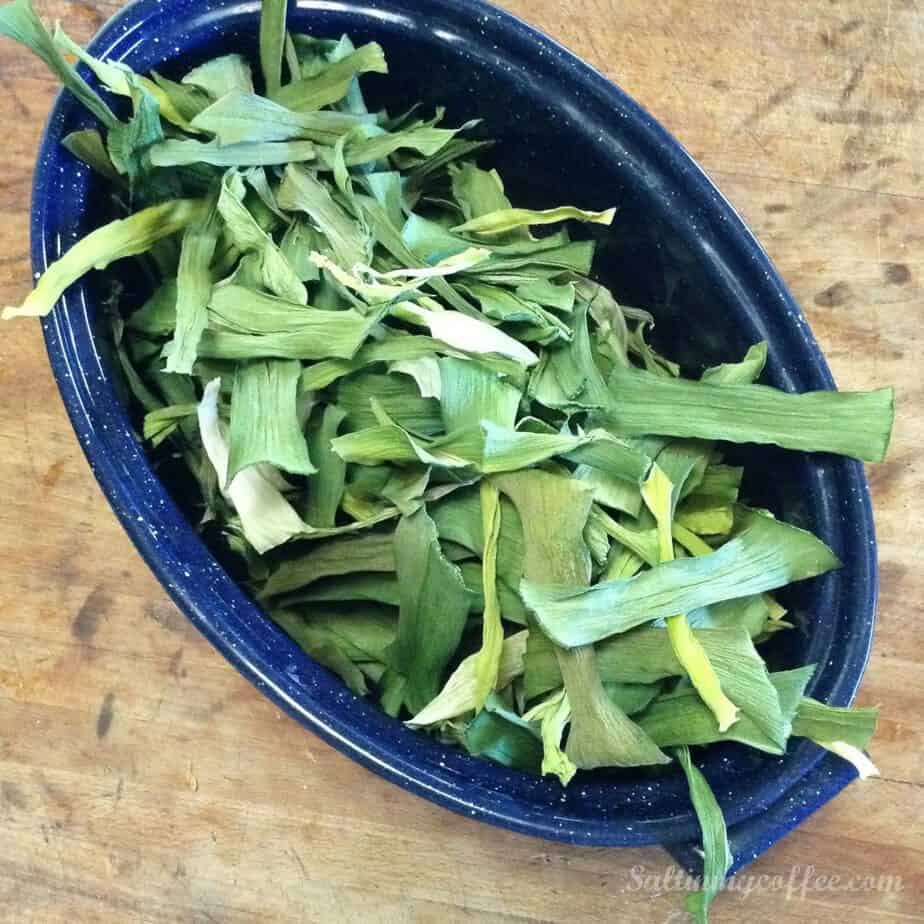 Pin
Allow dried leek pieces to cool to room temperature.
Stuff the pieces into your food processor, or the cup of a magic bullet. It's kind of like cramming dry hay in there.
Process until the powder is as fine as you like.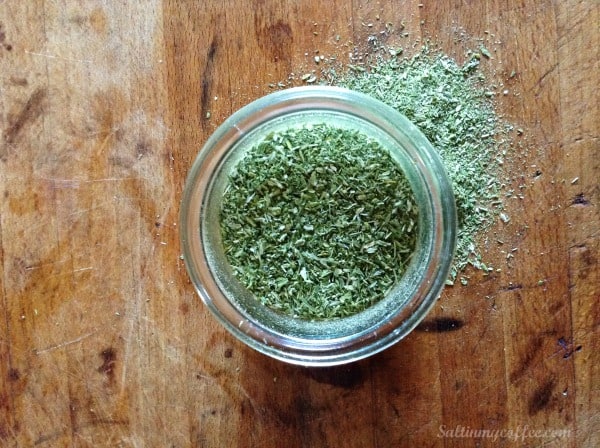 Pin
Store the finished powder in a tightly-sealed container, in a cool and dark place. Leek powder lasts well, and is not prone to clumping like onion powder sometimes can be.
That's all there is to it! I've really enjoyed experimenting with using leek powder in my spice mixes, and have found that it especially takes roast duck to a whole new level of heavenly.
I'd love to hear how you use it! Drop me a comment below and let me know what other recipes I should be trying with this wonderful stuff!
Pin for later: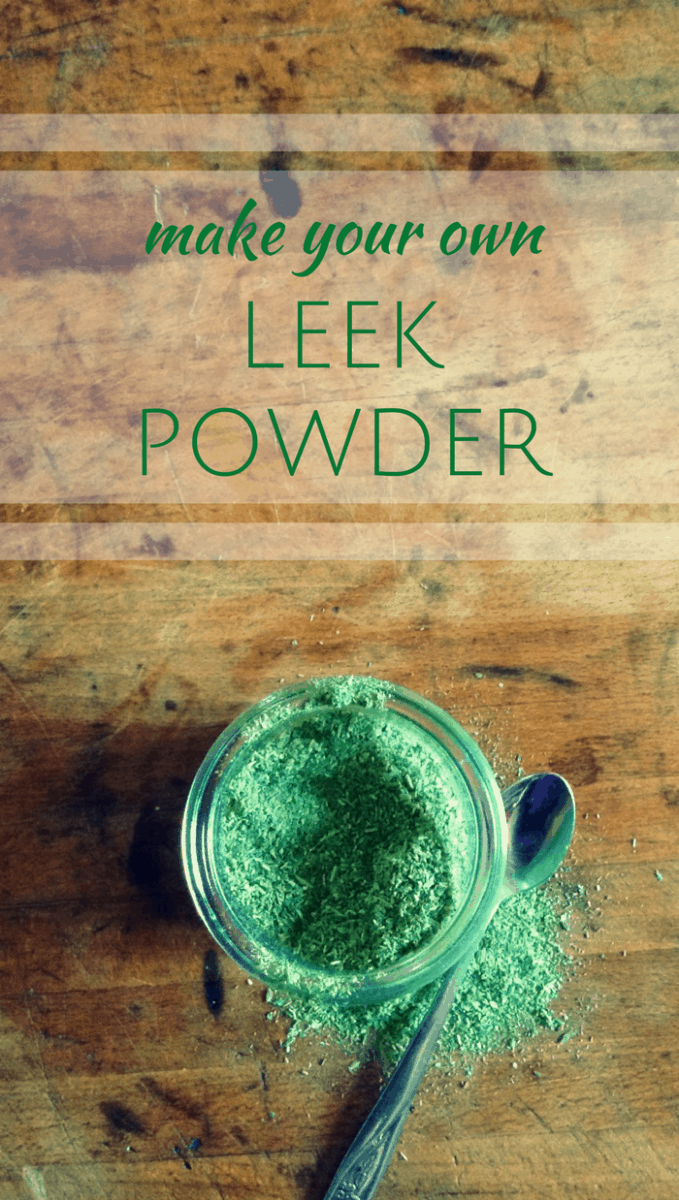 Pin
Save
Save
Save
Save
Save
Save
Save
Save
Save