Ground beef can be pricey, and in these times of empty meat shelves - hard to find at all. Here are some practical tips for making your ground beef go as far as possible, without the sacrificing the flavor or quality of your meals!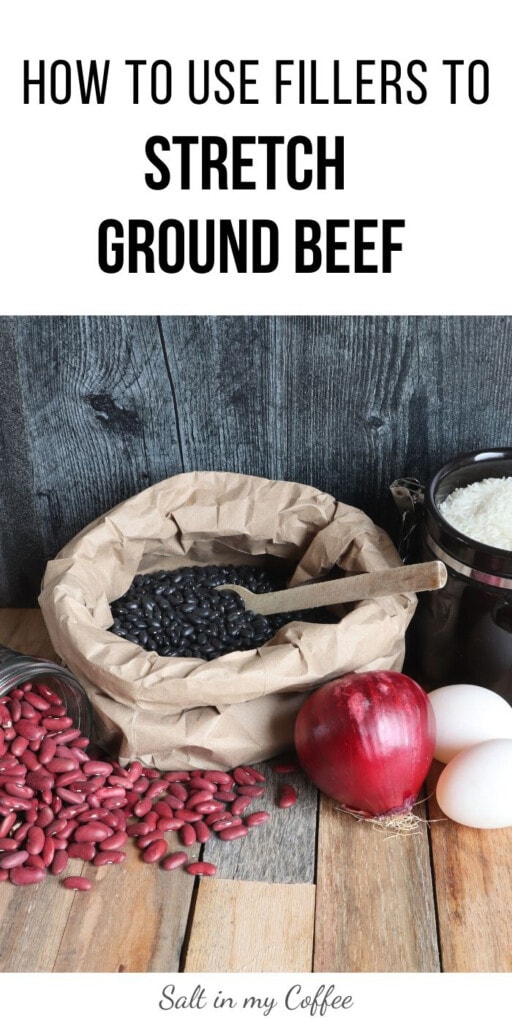 In my determination to faithfully go at least a full 2 weeks between grocery trips, I've lately found myself pulling out every trick I've ever learned for making our meat supply last as long as possible.
It truly is amazing how far you can stretch a pound of meat, with a little resourcefulness! By adding complementary filler ingredients to ground meat, you can easily get multiple meals from a package that you'd usually use up in just one meal.
Choose those fillers carefully, and your family may never notice the difference - or they might even declare that meatloaf or shepherd's pie to be the best you've ever made!
It has become routine for me to get three meals (and often leftovers), for my family of 4, from a single pound of ground beef. (I'll tell you how, in a minute!) For now, let me share with you some of the many ingredients that can be used to help make a little ground beef go a long, long, way.
Fillers you can use to stretch ground beef
There are so many foods that easily meld with ground beef to help stretch it further, without making a meal feel "light on the meat." This is a list of some of the most common, tried-and-true filler ingredients for adding to ground beef:
breadcrumbs
eggs
cooked rice
cooked oatmeal
ground rolled oats
cooked potato (mashed or diced)
minced or pureed vegetables (onions, carrots, and celery are often complementary choices)
cooked beans
cooked lentils
quinoa
couscous
TVP (textured vegetable protein)
A note about textured vegetable protein: this is a highly processed food substance, which also contains soy - for both of those reasons, it's not something I personally use. BUT, I did eat a lot of it back in my vegetarian days, and does take on the taste and texture of meat quite well. It's a common shelf-stable filler that may be helpful to consider, for those without soy aversion or sensitivities.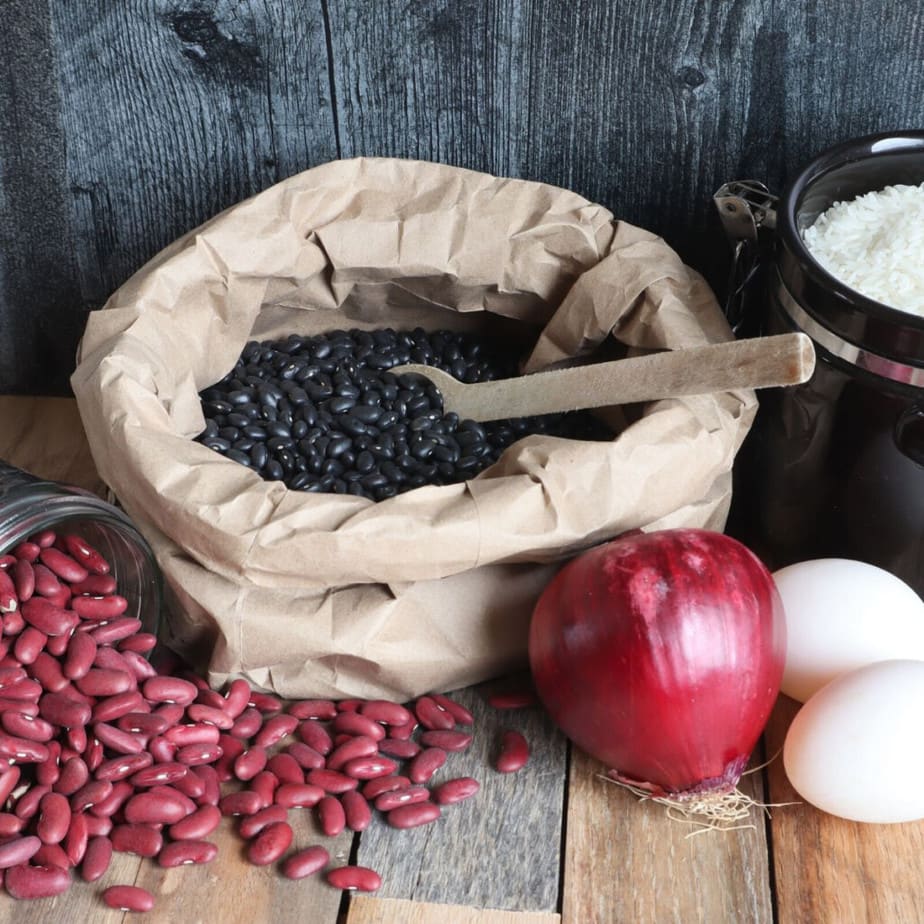 How much filler can you add to ground beef?
It is a common rule of thumb to add one cup of filler to every pound of ground beef.
That said, as any frugal mama who's ever really had to make her meat supply stretch as far as possible can tell you - it's actually very possible to stretch it further than that if you need to. Right now, in this time of short supply, I am regularly stretching my ground beef in a 1:1 ratio with filler ingredients. To do that, it's important to choose more than one filler ingredient to use.
How to choose the right fillers for your ground beef recipe
Generally, if you're needing to stretch your ground beef in a significant way, you won't want to add just one of those fillers from the list to your ground beef. You'll want to add a few different fillers, with different binding properties, and a variety of textures and complementary flavors.
For example - use all vegetables, and you'll end up with a meat mix that's very loose, and won't hold up well at all in meatloaf or meatballs. Use all breadcrumbs, quinoa, or rice, and you'll end up with a meat mix that's just plain bland.
I find that mixing at least one vegetable option, plus one starch option (like oatmeal or rice), plus an egg, is a combination that works well in almost all of my recipes.
As you're choosing which fillers to use, it's also helpful to consider the flavor and desired texture qualities in the recipe you're making. For example, beans can be a wonderful filler - especially in any Mexican or southwestern-style dish, or in meatloaf. But if you're making something like polish stuffed cabbage, beans might not be the best option - breadcrumbs, rice, grated vegetables, and even quinoa would all be more complementary choices in that case.
When in doubt, eggs, breadcrumbs, rice, and oatmeal, are very neutral fillers that work well in all most every situation.
Here's one way to get three family meals from a pound of ground beef
OK. I told you I'd share how I've been getting three meals from a pound of ground beef. This isn't exactly a recipe, so much as a strategy, since I vary the fillers a bit each time based on what's in my pantry, but I hope you might find it helpful.
In a food processor, I finely grind about one cup of dried breadcrumbs. Leaving the breadcrumbs in there, I add one carrot, a large onion, and one large or two small stalks of celery, and give it another good whirr until the whole thing is finely chopped and sort of mealy. I usually have some leftover rice, mashed potatoes, or beans in the fridge, and I add about 1/2 - 3/4 cup of one of those, depending on how much I have.
Then, I scrape all of this out into my stand mixer, add a large egg, and my pound of ground beef. Using the strong paddle arm for the stand mixer, I mix it all until everything is well and evenly incorporated.
Then I divide it out into the portions for my three meals. I do this by first splitting it into two equal halves.
One half of the mix, I use in place of the ground beef in my usual meatloaf recipe. It comes out slightly less-dense than when I don't add fillers to stretch the beef before making it, but I've found that we all actually like the flavor better this way, and my kids think this is waaaaaaay better than the meatloaf I used to make!
Then I divide the remaining half into thirds. Two thirds of the remaining mix gets packaged up for making burgers the next night. We get four good, substantial burgers from this, which I serve on homemade buns.
The last remaining section, I package up to use in chili. During this time of stretching supplies, that is the only meat I use in a 4-qt pot of chili. Use this instead of the regular ground beef in your usual chili recipe, and go a little heavy on the beans and onions, and you'll be fine.
The other trick I've found is that using both black and kidney beans (instead of just one kind of bean) adds texture and flavor variety. By doing this, and otherwise following my usual recipe, it honestly makes a pretty darn good chili. Both of my parents, and my husband, all particularly commented on what great chili it was, last time I made this.
Those are some of the tricks I've been using lately to stretch my limited supply of ground beef, and help keep us on track with only shopping once every two weeks. I hope you find some of them helpful!
Please join the conversation! What tips and tricks do you have for making your meat supply go a long way? Grandmas, do you have any old-time tricks you learned, that my generation may have missed? I'd love to have you share them in the comments below!