Fit the maximum number of plants in your garden beds, with perfect spacing between each, by laying them out in triangles instead of a rectangular grid. I'll walk you though how to make this easy change, that lets you grow more with the space you have!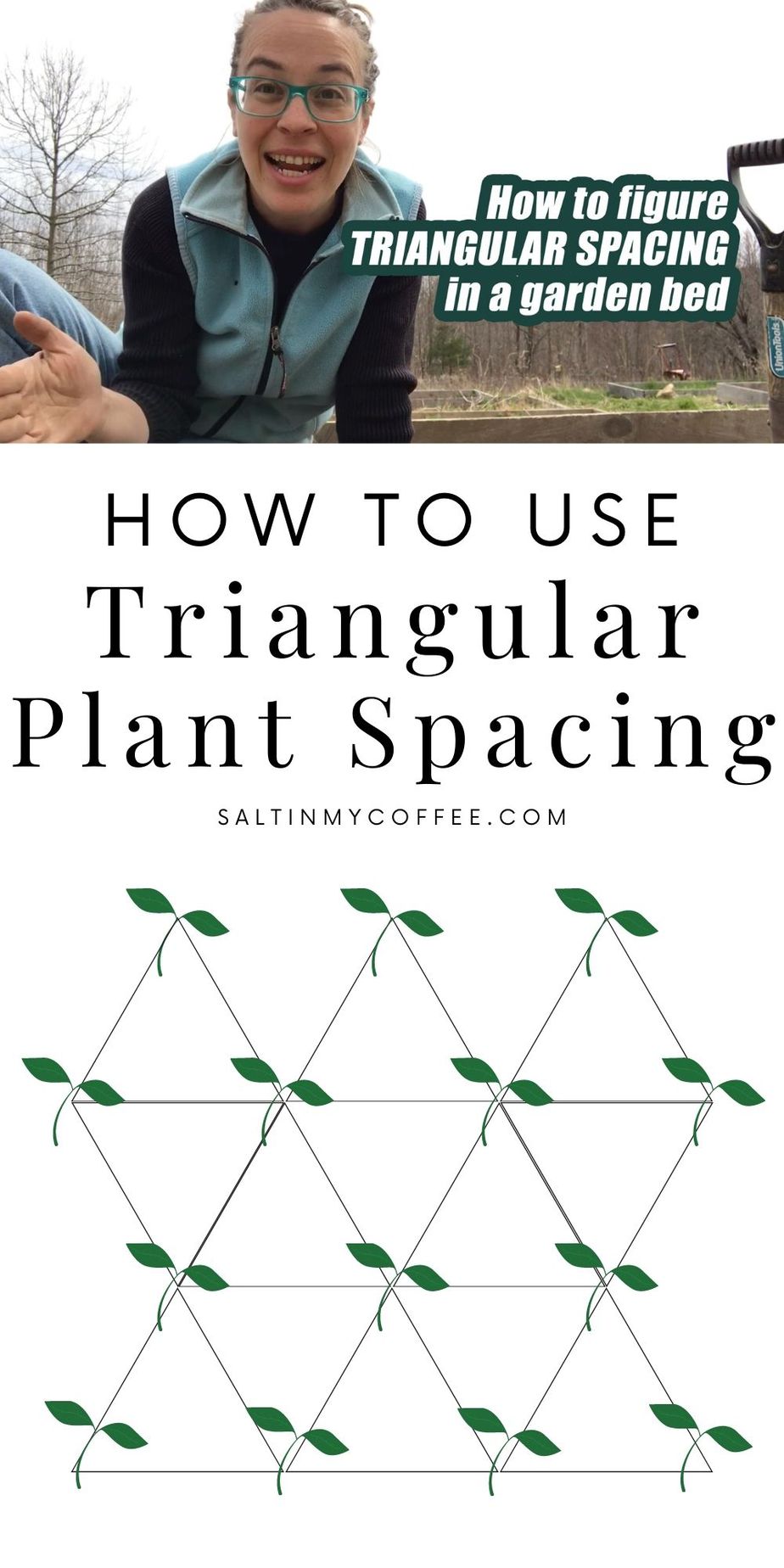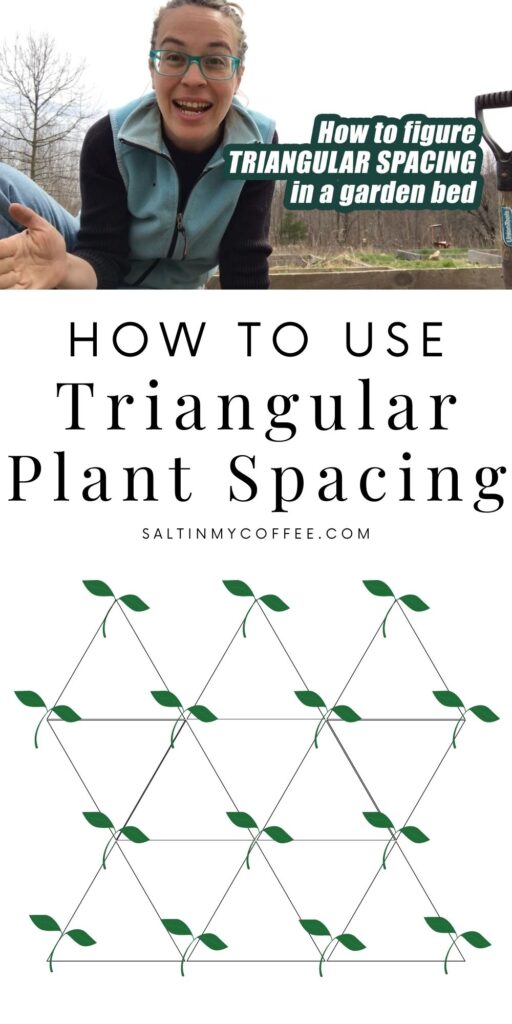 This article contains affiliate links. Click here to learn more.
If, like me, you follow any flower farmers on Instagram, you've probably noticed at some point that the professionals grow a lot of their flowers using landscape fabric to keep the weeds down.
It's a really effective way to save weeding time, as well as water, and the basic idea is to lay down rolls of the stuff, and then tuck each individual plant into the ground through a carefully-spaced hole in the fabric.
No weeds, perfect spacing, happy plants.
The first time I saw the method being used, I immediately noticed that the holes in the weed-barrier fabric weren't laid out on a rectangular grid. They were laid out according in a pattern of equilateral triangles.
OF COURSE. If the goal is to maintain a minimum distance between each plant, it's SO much more space-efficient to use triangles, instead of squares.
You can usually fit more plants into a garden bed, with exact spacing between plants, by using triangular spacing.
HOW MANY MORE PLANTS CAN YOU FIT WITH TRIANGULAR SPACING?
You can very quickly find out HOW MANY more plants you can fit into your garden bed by switching to triangle spacing, using a plant-spacing calculator right in your browser.
Want to know how many plants you can fit into your garden bed using triangular vs. square spacing? This site lets you put in the dimensions of your garden bed, and plant spacing.
Toggle back and forth between square and triangular to see how many more plants you can fit, by adjusting to a triangular spacing pattern!

CAN YOU ALWAYS FIT MORE PLANTS WITH TRIANGULAR SPACING?
No, not always! In fact, it's sometimes more space efficient to use rectangular spacing. If your garden bed is small in at least one direction, and if your desired spacing is on the large side (e.g. 9" or 12"), you may be better off with rectangular spacing.
For large gardens, triangular spacing almost always allows you to fit more plants. If your garden bed is small, use that spacing calculator to find out which option lets you fit more plants into YOUR exact garden dimensions.
HOW TO FIGURE TRIANGULAR SPACING WITHIN A GARDEN BED
So how do you figure out the spacing for planting in triangles, instead of a rectangular grid?
It's JUST AS EASY to plant using triangular spacing, as the old square row spacing, if you know one simple formula.
The video above walks you through it, but if (like me) you prefer reading, here's how.
You already know how far apart you're going to space your plants within the row. Now all you need to find out is how far apart to place your rows.
To find out how far apart each row should be, just use this simple formula below. You don't even have to get out a calculator. Literally just paste this into your browser, and substitute your desired spacing (for example, 9 for nine-inch spacing), in place of "desired spacing".
FORMULA:
"desired spacing"*square root of 3/2=
So if I wanted to find the row distance for 9" spacing, it would look like this:
9*square root of 3/2=
You can type this whole thing into a web browser, and it will do the math for you. This works with any number of inches or centimeters.
Say you're trying to lay out a bed with 6" spacing between plants. You're going to lay out the plants 6" apart within the rows. The 6 inches between each pair of plants is one side of your equilateral triangle. (The white lines in the screenshot below)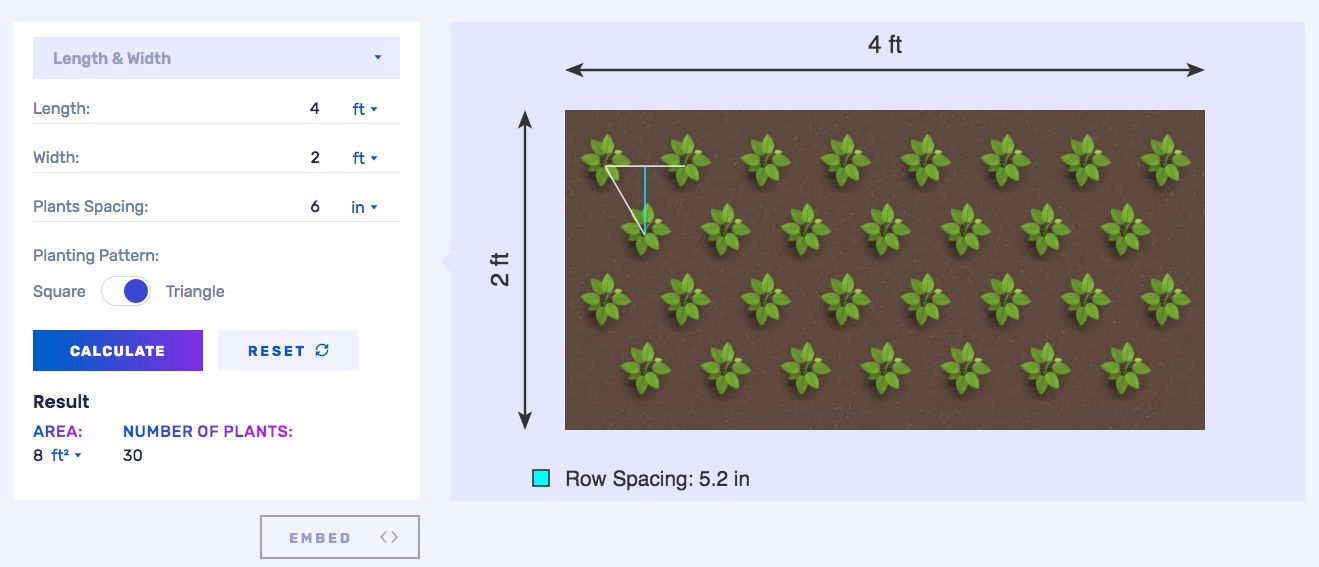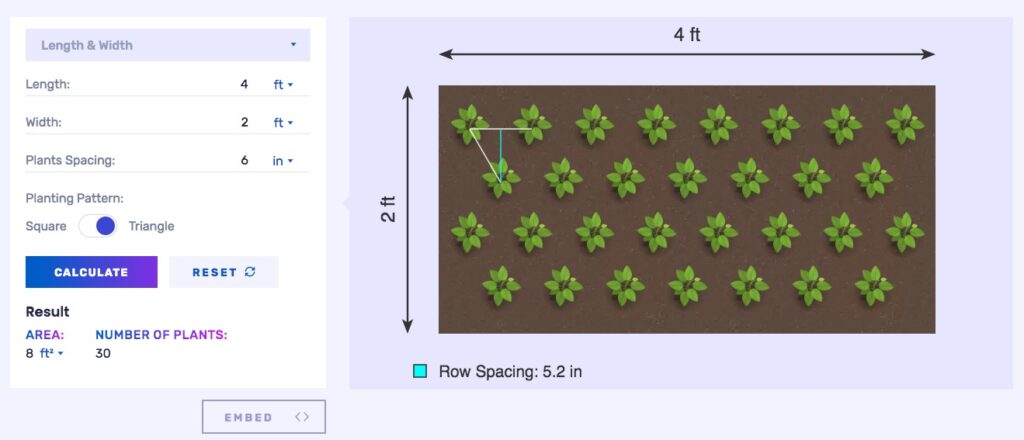 Now all you need to know is the height of your triangle, the blue line in the screenshot. THAT'S how far apart your rows need to be. If you type in your formula (6*square root of 3/2=), you get: 5.19615242271. Let's round that to 5.2". That's your row distance. 5.2".
Plant your next row 5.2" from your first row, with the plants located at the center of the spaces between plants in the row above, and you're creating perfect equilateral triangles, with exact spacing between plants in all directions.
Continue this pattern down your whole garden bed, and you'll fit in the maximum number of plants possible, while maintaining perfect spacing.
---
That's all it takes to figure out how to lay out any garden bed in a triangular grid, using any desired plant spacing. EASY, right?
If you have any questions, let me know in the comments below! I hope this helped, and know that I'm cheering you on in your gardening journey!
Happy growing!