These easy Keto & Paleo Shrimp Tacos are as healthful as they are addictive. With perfectly spice-encrusted shrimp, and a heavenly sauce, these are my family's favorite choice for taco night!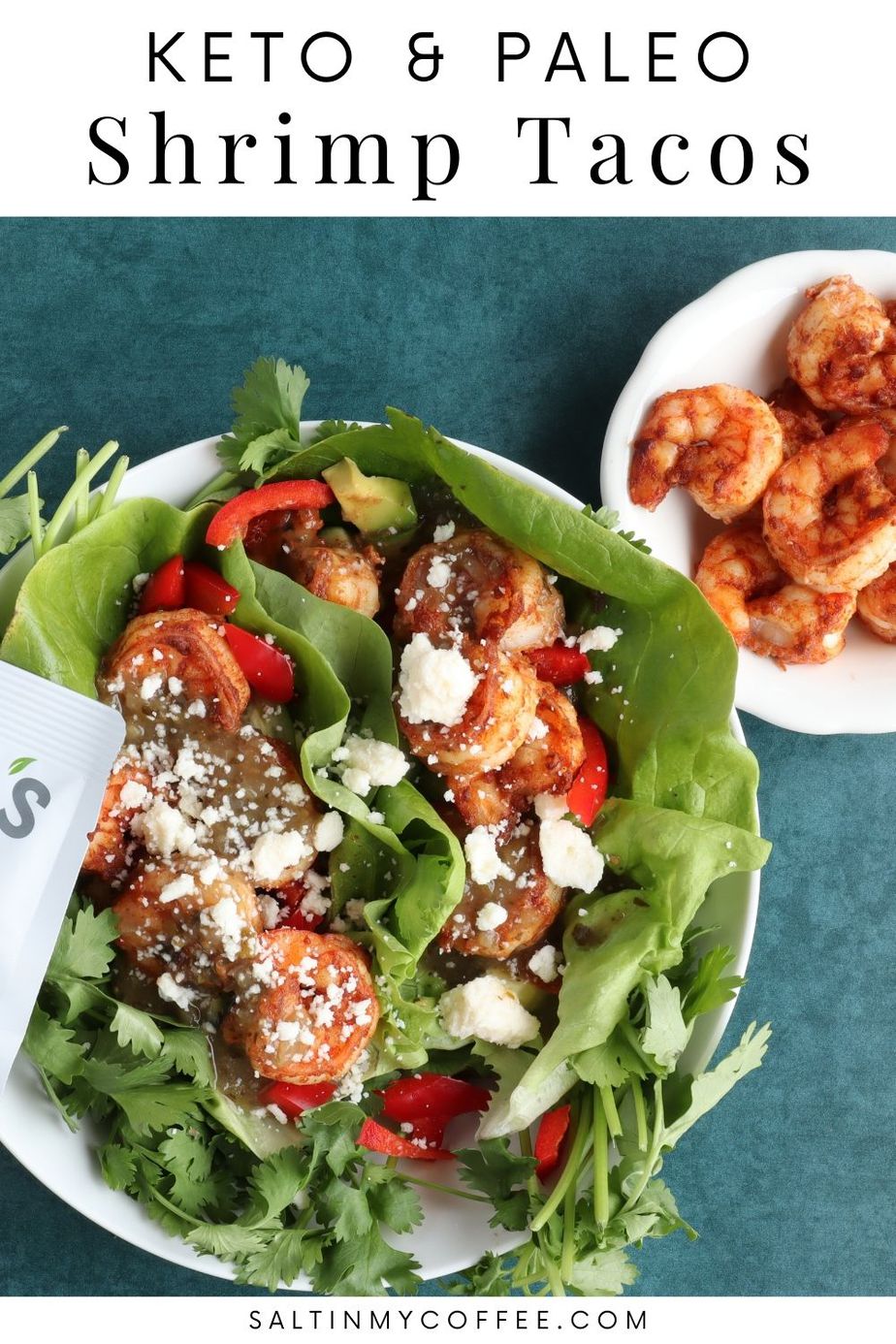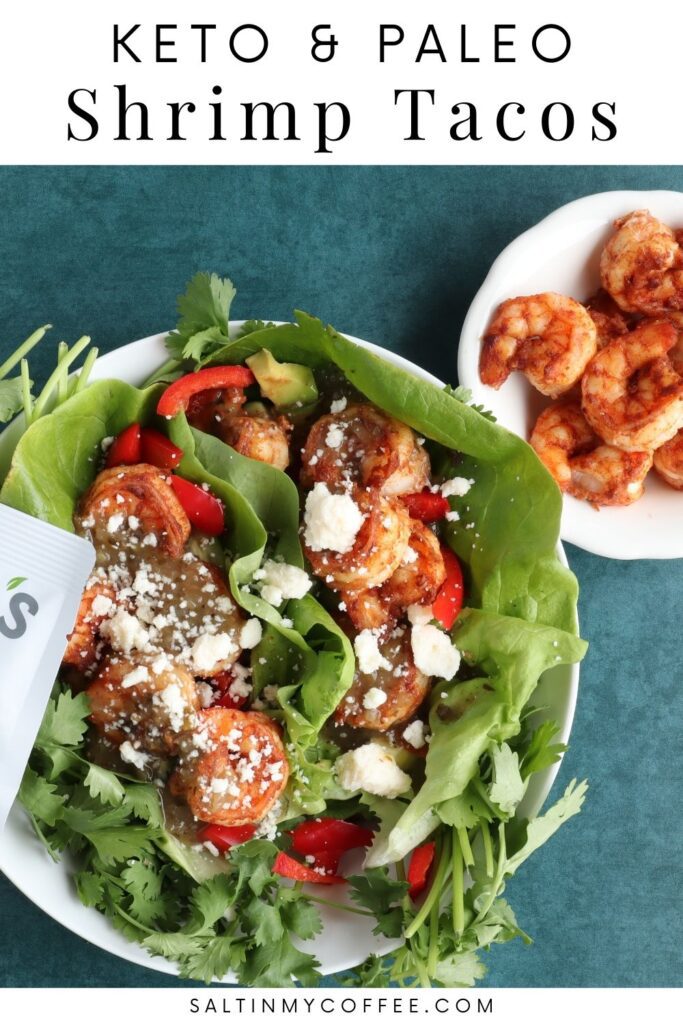 This article contains affiliate links. Click here to learn more.
Sometimes you make a wish, and it comes true.
This happened to me recently. At the end of a long day, I found myself complaining to my husband that even though I love to cook, most of the time I just don't have energy to recreate all of my favorite food sauces from scratch, using ingredients that are safe and wholesome for our family.
Even most "healthy" sauces in the grocery store are packed with stuff I avoid. This tired mama was feeling sadly in need of some easy options that aren't filled with sugar, MSG, food dyes, and preservatives!
"I just wish someone would come out with a line of healthy sauces that aren't packed with ingredients I refuse to feed our family." I whined.
And it would be great if they could actually be delicious and not taste weird. And affordable. Can they please be affordable and easy to find?"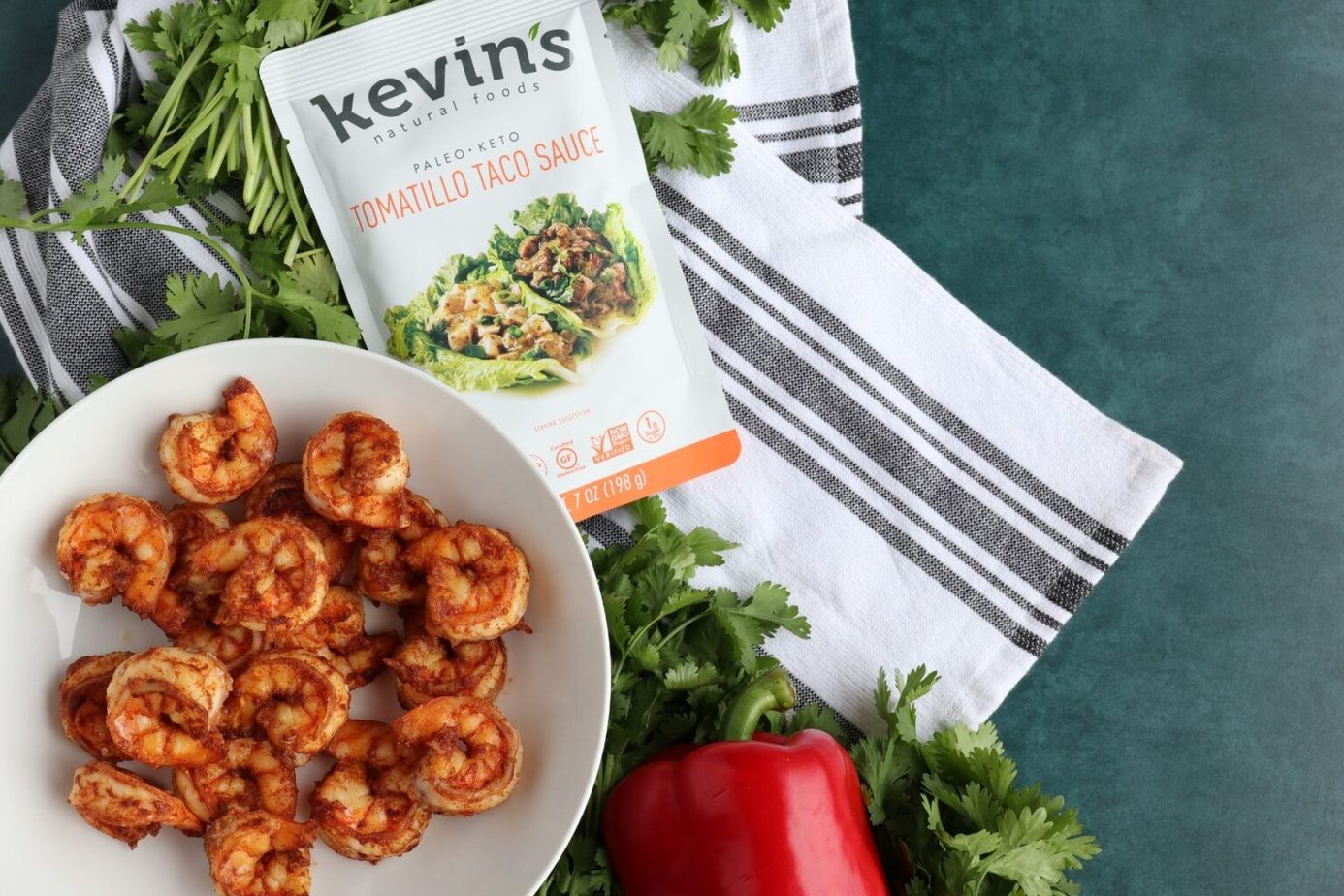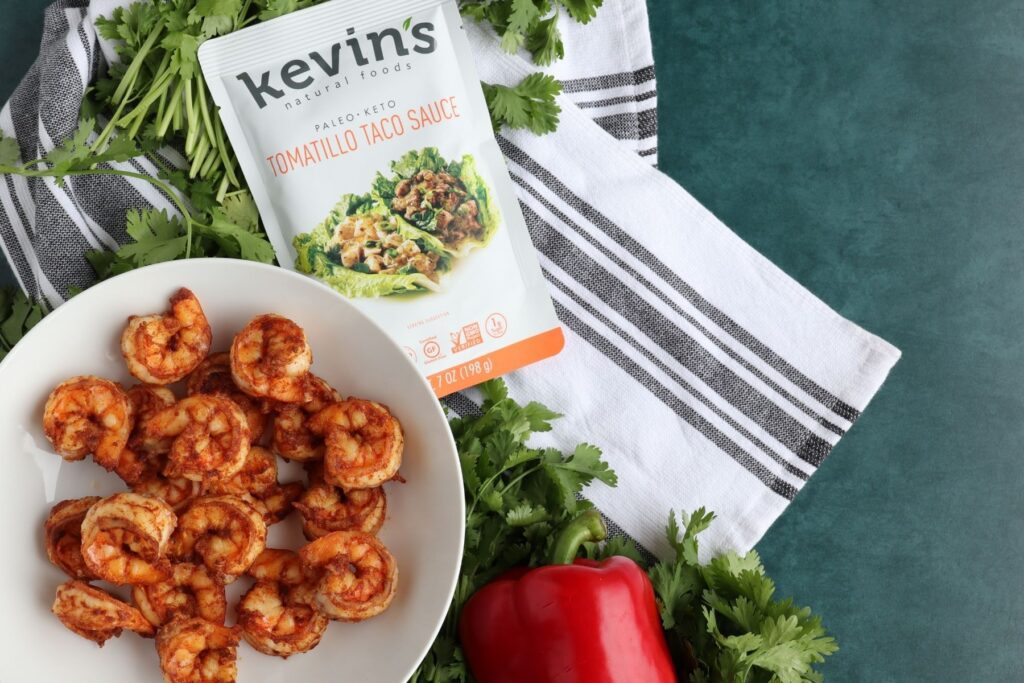 As my wish list grew longer and less likely, I realized I'd lost my human audience, and was standing there in the kitchen - wishing aloud to the disinterested cat, with dinner to get on the table, and no magic sauce.
Ah well. A mama can dream, right?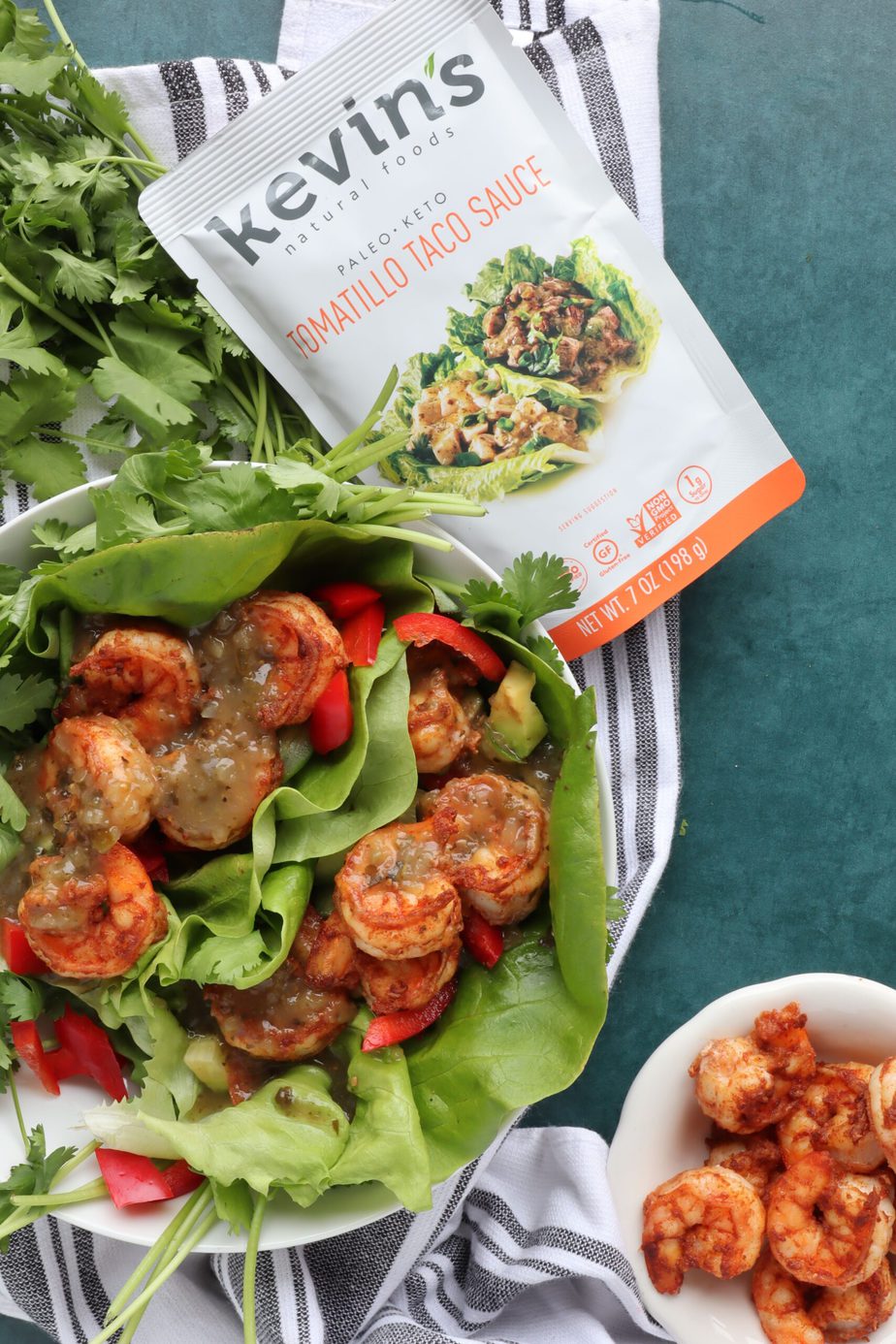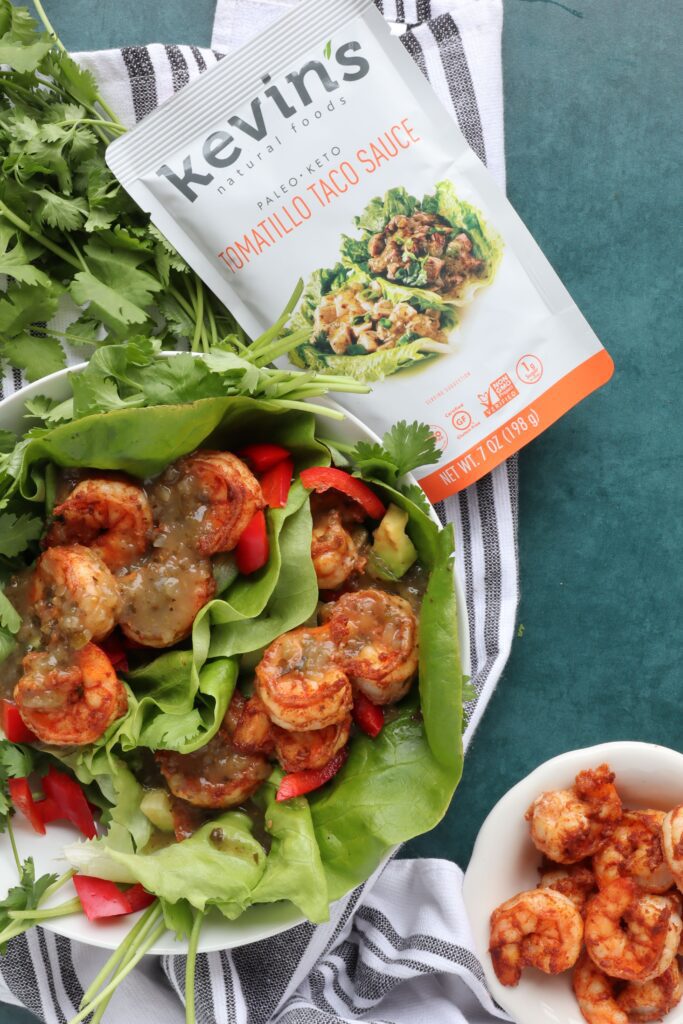 Three days later, I got an email. Would I like to try a wonderful new line of natural food sauces, and create an original dish for their recipe contest? And by the way - the sauces just happen to be Paleo, Keto, Gluten-Free, MSG-Free, and made without food dyes or preservatives.
Oh, would I ever!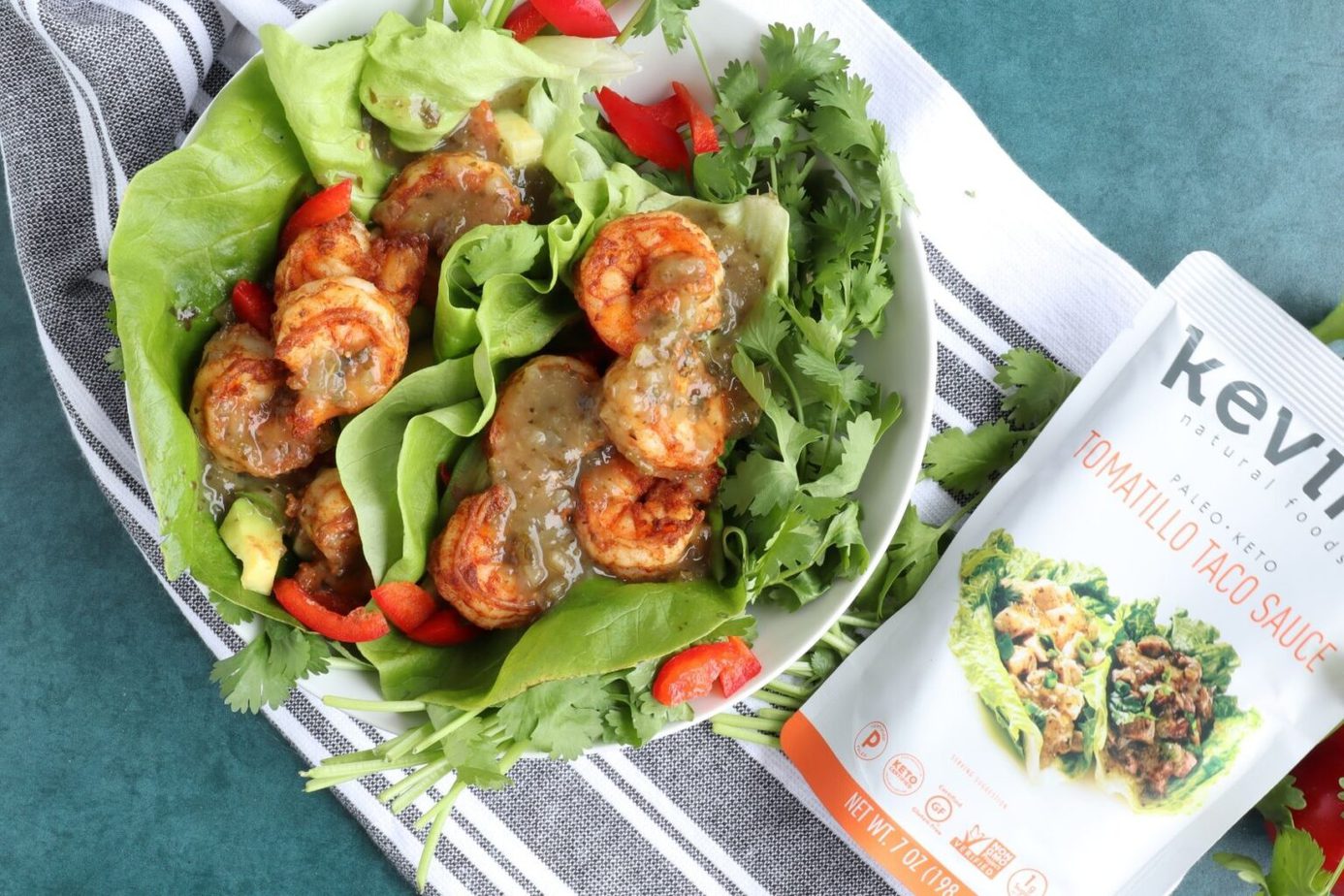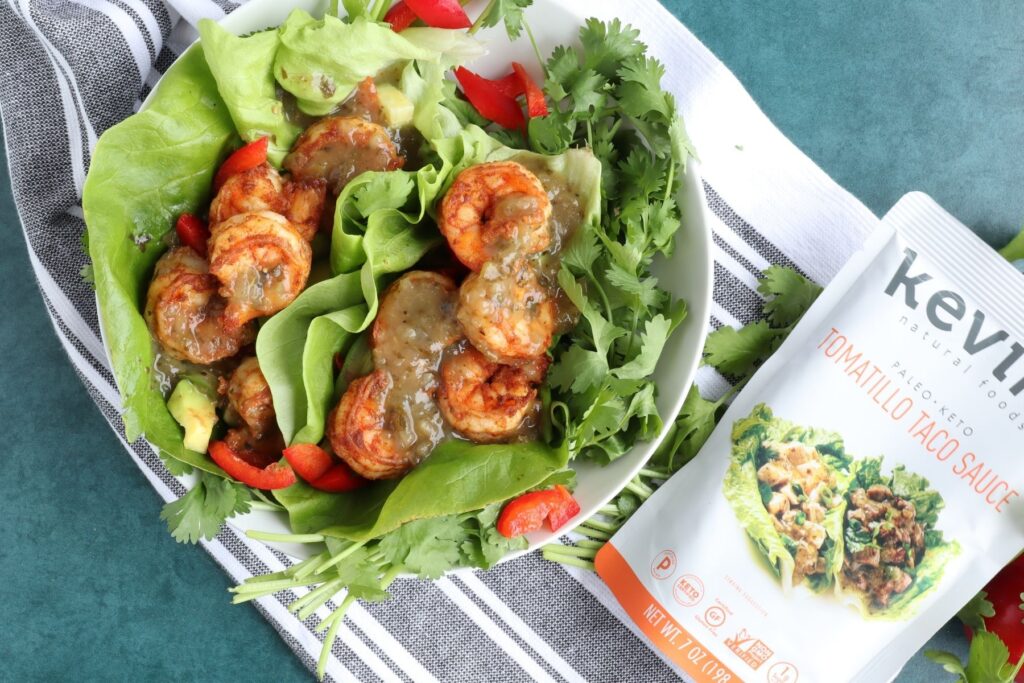 When the box of Kevin's Natural Food's sauces showed up at my door, choosing which one to try first was the hardest part.
Should I go with the Korean BBQ Sauce? Or maybe Cilantro Lime. My previous life on the California coast was whispering in my ear though, and a sudden longing for seaside-style shrimp tacos won out. Tomatillo Taco Sauce it was!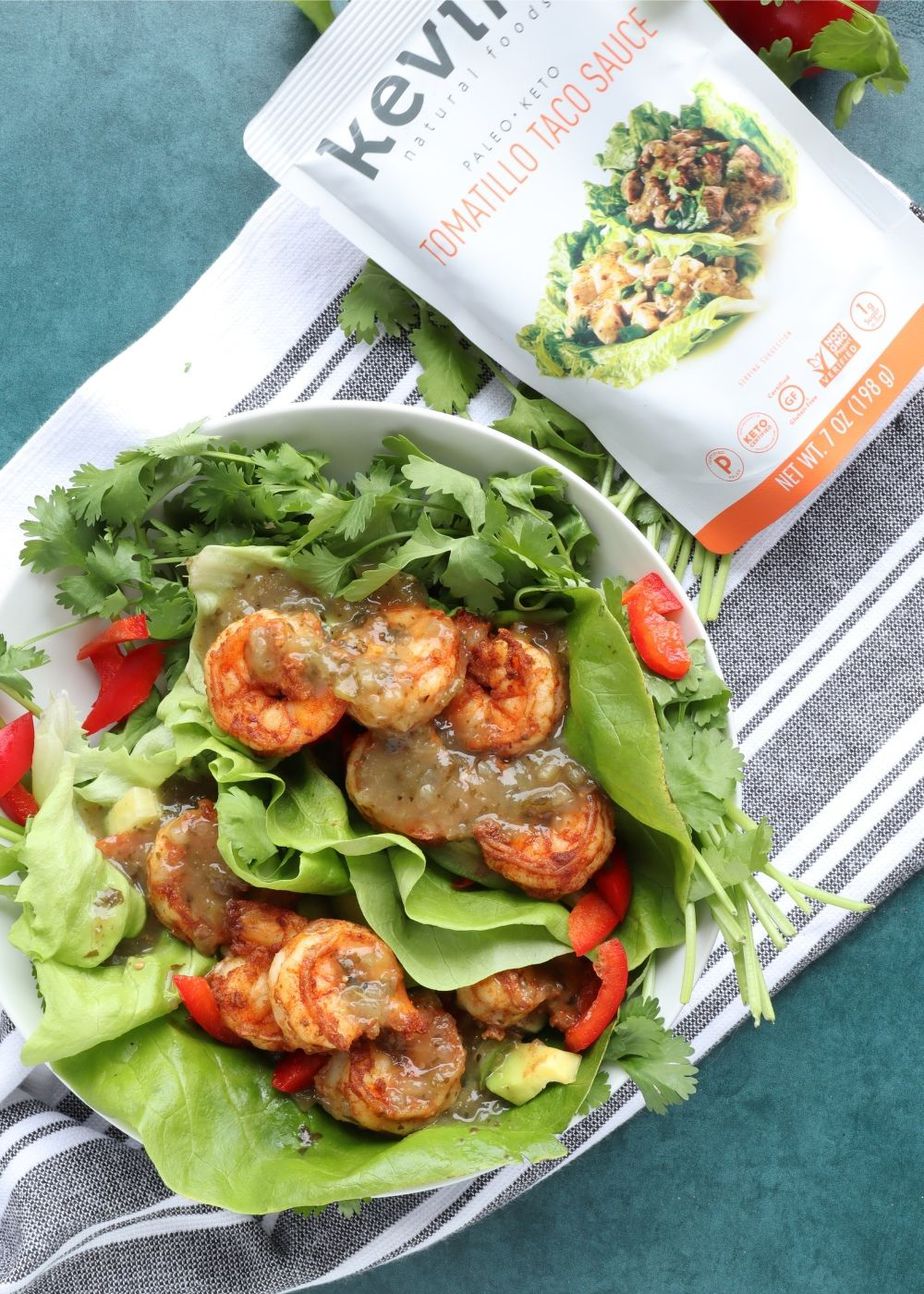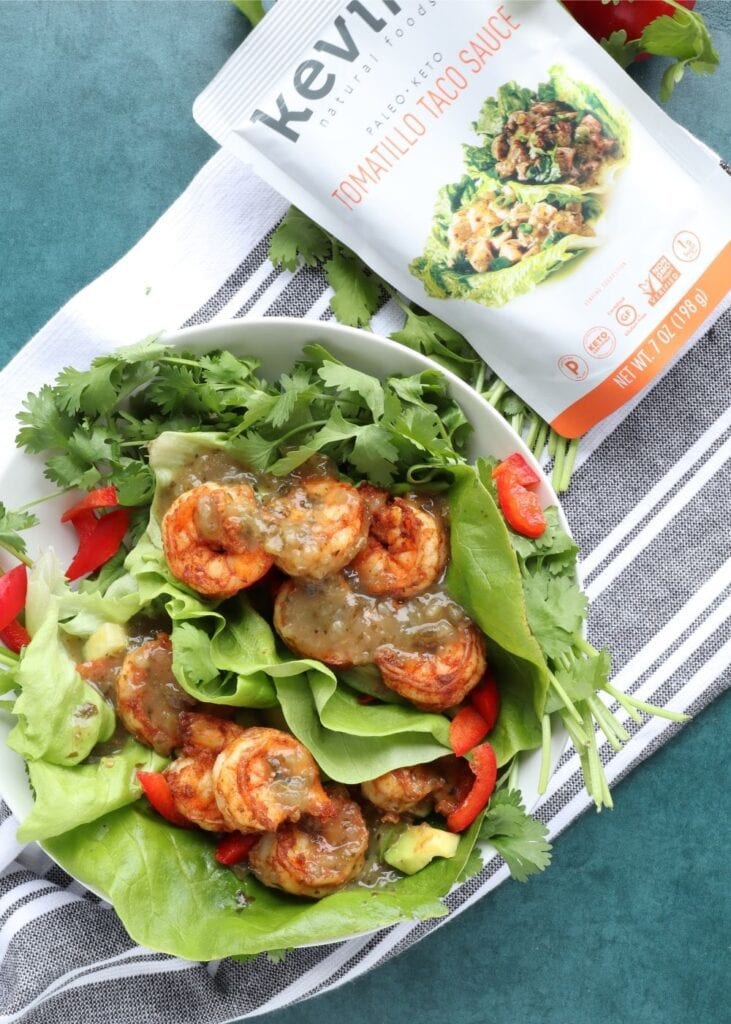 There's a trick, you know, to making really good shrimp tacos. Once I moved back East, I realized it's almost impossible to find good shrimp or fish tacos. This drove me to figure out the secrets of great seafood taco making, so we could enjoy them at home.
To really be transcendently delicious in a taco, shrimp should be finished either on a grill or under a broiler. You definitely don't want them to be overdone, but they should have a dry, spice-crusted exterior.
Most of all, you don't want them to be a soggy mess. This is the most common shrimp taco fail, in my opinion.
OUT OF TACO SEASONING? DON'T DESPAIR!

Use this quick and easy recipe as a substitute for the 2 tablespoons of taco seasoning in the recipe below!

2 teaspoons chili powder
2 teaspoons paprika
1 teaspoon onion powder
1 teaspoon ground cumin
tiny pinch cayenne pepper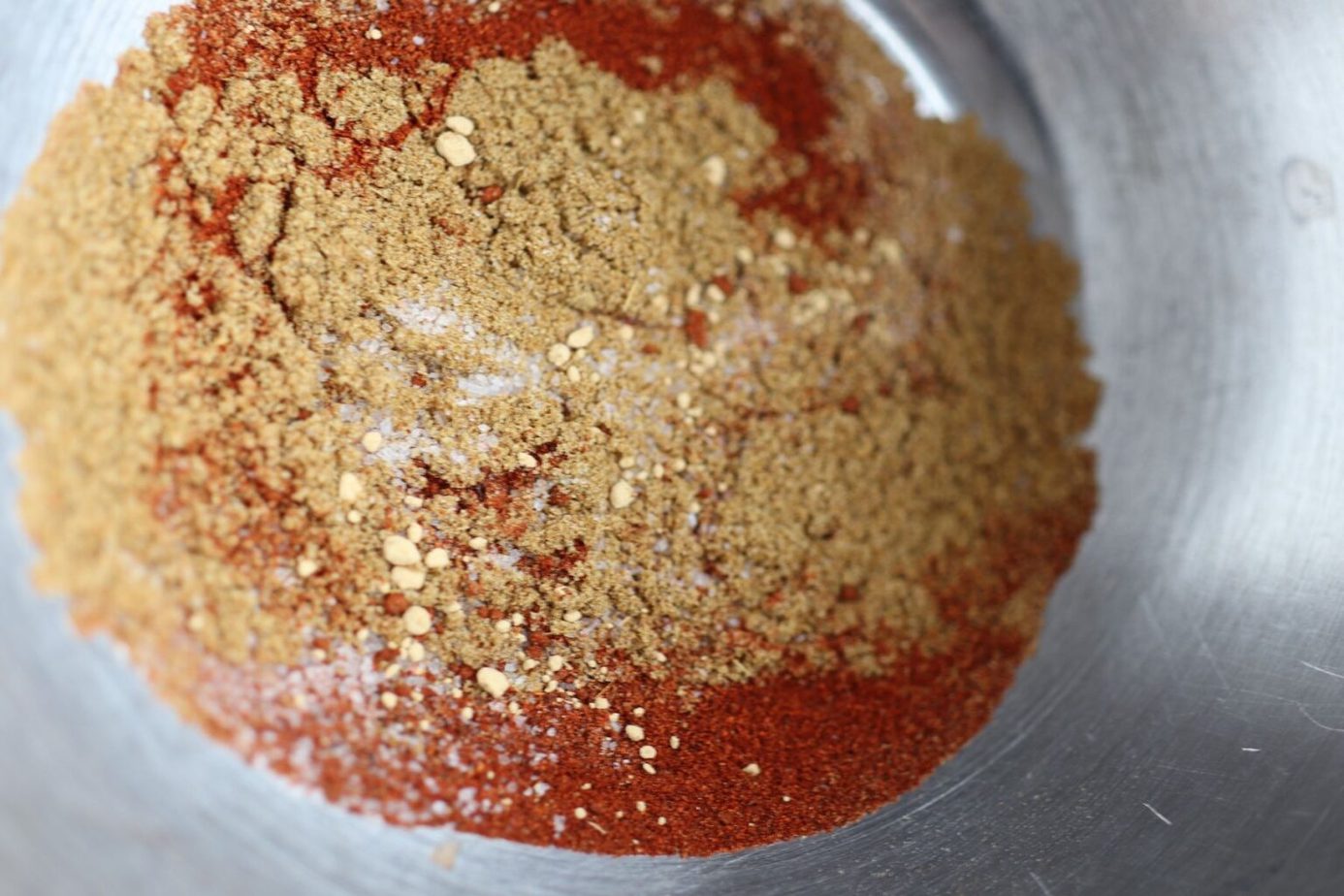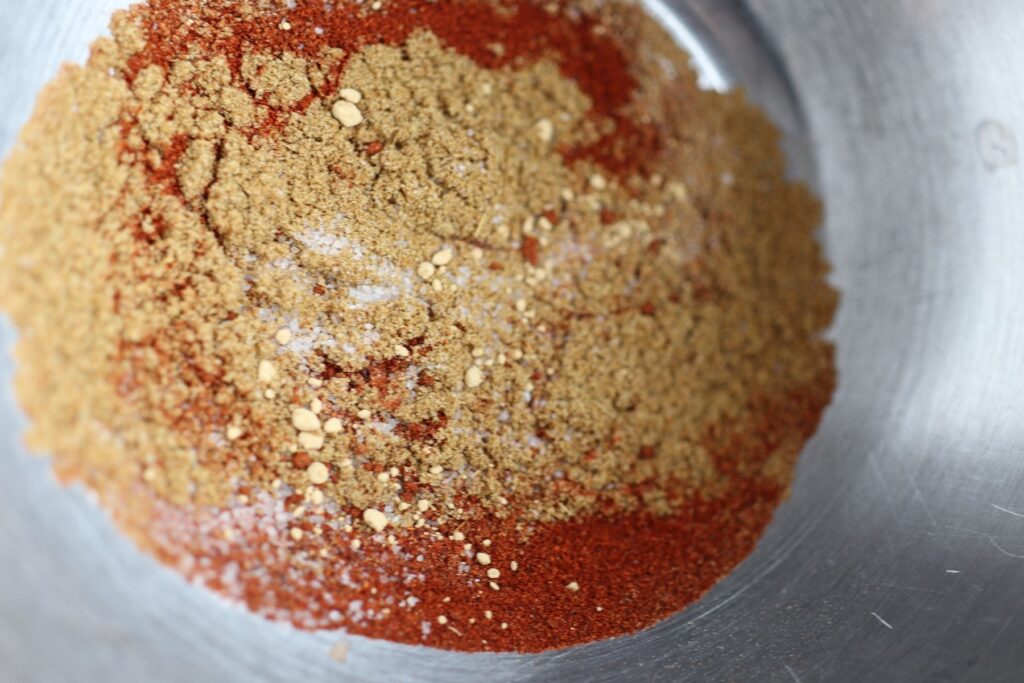 Over the years, I've developed my own favorite paleo (and keto!) version of shrimp tacos. The addition of the Tomatillo Taco Sauce, though, took these to a whole new level.
Since we avoid corn, we've gotten so we enjoy the simple crunch of a good leaf of lettuce wrapped around a flavorful filling. If you're new to the Paleo or Keto lifestyle, I hope this recipe is an easy dinner option that helps make the transition a little easier!
PRO TIP: CHOOSING LETTUCE FOR TACO "SHELLS"

Wondering what kind of lettuce to use for making tacos? It all comes down to preference! If you like a full taco, and don't mind getting your hands dirty, I recommend Bibb Lettuce.

Looking for a sturdier, less-messy option? Go with Romaine. The leaves might hold a little less, but the sturdier leaves can be easier to work with!
As grass fed beef becomes harder to find and more costly, I've been turning more frequently to my grocer's fish counter to supply the protein for our meals. Thankfully, my little seafood lovers aren't about to complain!
These shrimp tacos have officially become a family favorite on our regular dinner rotation. With the convenient healthy sauce, they're such a snap, that they're actually one of my favorite easy weeknight dinners to make. This recipe always feels like an easy win for a tired mama!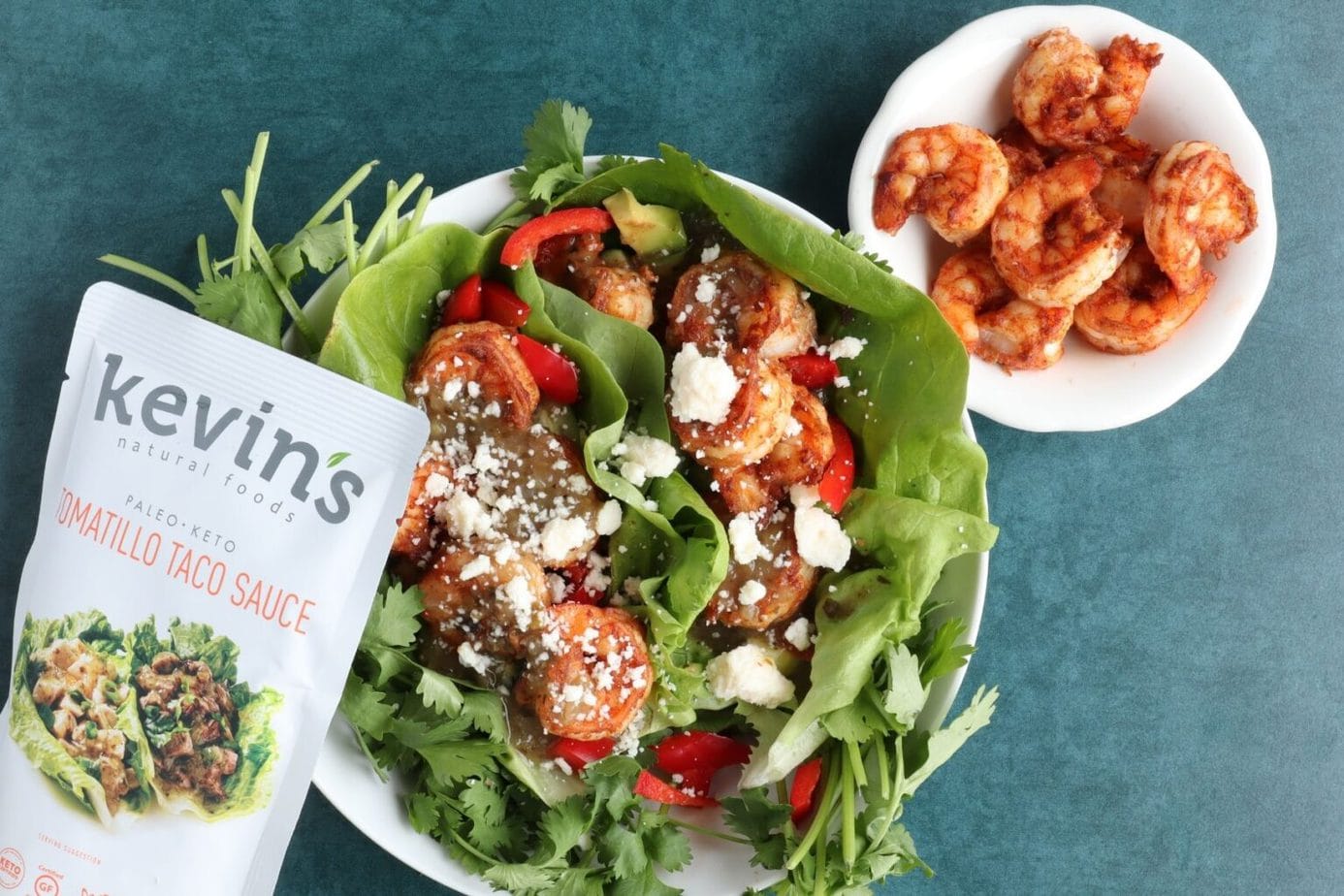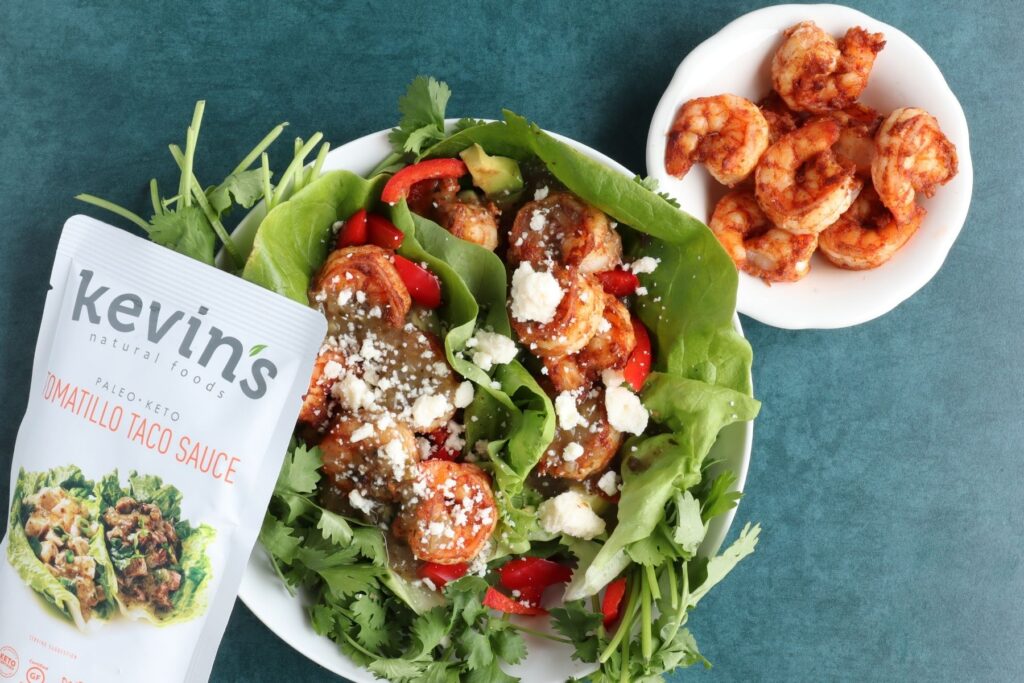 Where can you get Kevin's Natural Foods Sauces?

You can order these fantastic sauces right on their website:
www.kevinsnaturalfoods.com
Or, use their online store locator to find a store that carries them near you!
Here is the printable recipe for these easy Keto & Paleo Shrimp Tacos. I hope you enjoy them as much as we do!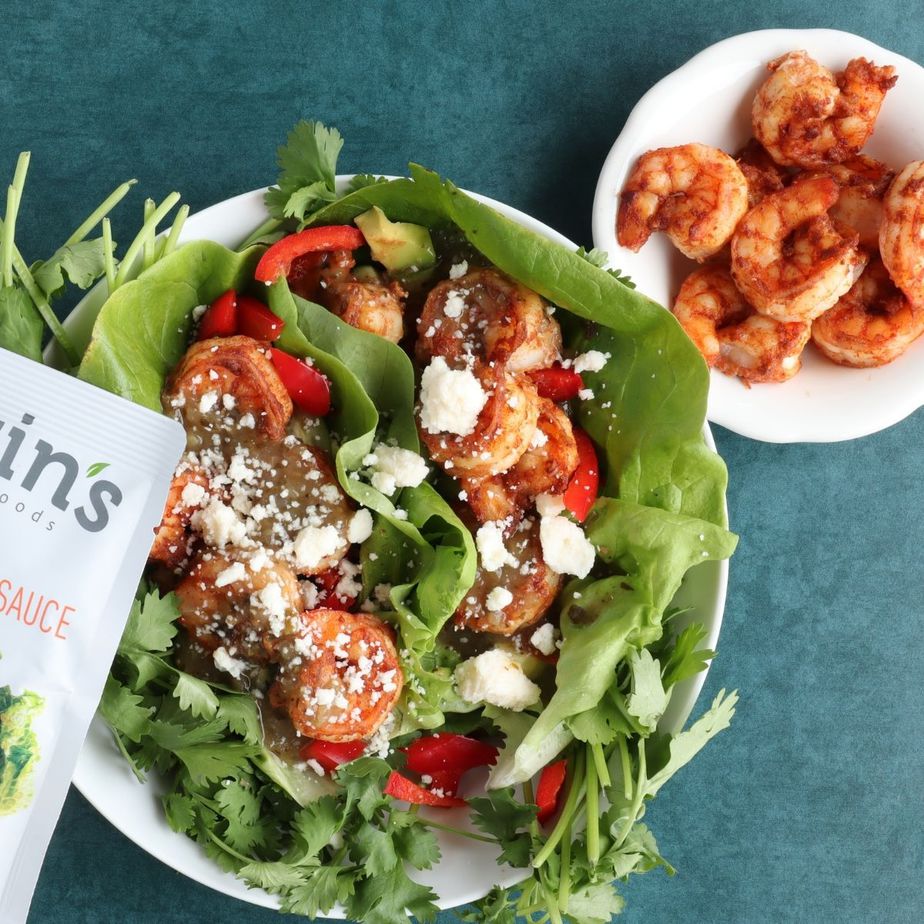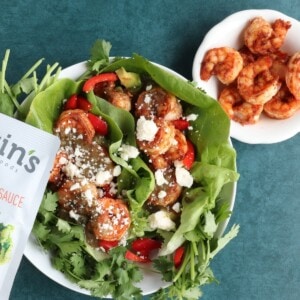 Keto Shrimp Tacos
These easy Keto & Paleo Shrimp Tacos are as healthful as they are addictive. With perfectly spice-encrusted shrimp, and a heavenly sauce, these are my family's favorite choice for taco night!
Print
Pin
Rate
Ingredients
1

lb

large raw shrimp, peeled and deveined

2

tbsp

taco seasoning

1/4

tsp

sea salt

pinch

black pepper

(freshly ground if you have it!)

2

tbsp

coconut oil

2

ripe

avocados

1

7-ounce pouch

Kevin's Tomatillo Taco Sauce

1

head

bibb or romaine lettuce
Optional toppings
1

bunch

fresh cilantro

1

large

red pepper

finely chopped red onion

1

large

fresh lime

(optional)

2

ounces

Cotija cheese

(Optional, ok for Keto but not strict Paleo)
Instructions
Prep the toppings and lettuce "shells"
You'll want to serve these tacos as soon as those gorgeous shrimp come out of the oven, so get all of your toppings ready first! Chop the onion, pepper, cilantro, and avocado. Crumble the Cotija cheese into a little serving bowl, if you're including dairy. And go ahead and slice that lime into wedges.

Wash and separate the leaves of lettuce, so they're ready to use for "taco shells".
Cook the shrimp
Toss the shrimp in a bowl with the taco seasoning, sea salt, and black pepper, until the shrimp are evenly coated with the spice mixture.

Heat the coconut oil in a frying pan over medium heat, until hot and spluttery. Add the shrimp and cook for about 3 minutes on each side, just until they're fully opaque.

Transfer to a single layer on a parchment lined baking sheet, and broil for another 3 minutes on each side, or just until shrimp are starting to get a nice, slightly-darkened crust.
Assemble the tacos
Start with a large leaf of lettuce, then add avocado, shrimp, and a generous layer of Kevin's Tomatillo Taco Sauce.

Add other toppings as desired. Because lettuce doesn't hold up in the same sturdy way as a traditional corn taco shell, keep in mind that it's better to slightly under-fill each lettuce leaf.
Serve while they're still warm!
I love sending these to the table with a bowl of crumbled cotija cheese, wedges of lime, and extra Tomatillo Taco Sauce!
Nutrition Facts
Keto Shrimp Tacos
Amount Per Serving
Calories 128
Calories from Fat 54
% Daily Value*
Fat 6g9%
Cholesterol 149mg50%
Sodium 741mg31%
Potassium 173mg5%
Carbohydrates 6g2%
Protein 13g26%
Vitamin A 1473IU29%
Vitamin C 32mg39%
Calcium 135mg14%
Iron 2mg11%
* Percent Daily Values are based on a 2000 calorie diet.
Nutrition
Calories:
128
kcal
|
Carbohydrates:
6
g
|
Protein:
13
g
|
Fat:
6
g
|
Saturated Fat:
4
g
|
Cholesterol:
149
mg
|
Sodium:
741
mg
|
Potassium:
173
mg
|
Fiber:
1
g
|
Sugar:
2
g
|
Vitamin A:
1473
IU
|
Vitamin C:
32
mg
|
Calcium:
135
mg
|
Iron:
2
mg
FOR MORE GREAT RECIPE IDEAS,
FOLLOW KEVIN'S NATURAL FOODS!

FACEBOOK: Kevin's Natural Foods

INSTAGRAM: @kevins.natural.foods

PINTEREST: @KevinsNaturalFoods

Have any questions about making these shrimp tacos? Please feel free to ask away in the comments below!
Bon Appétit!