The paleo maple caramel apples have a depth of flavor that will blow you away - plus, they're paleo, gluten-free and dairy-free!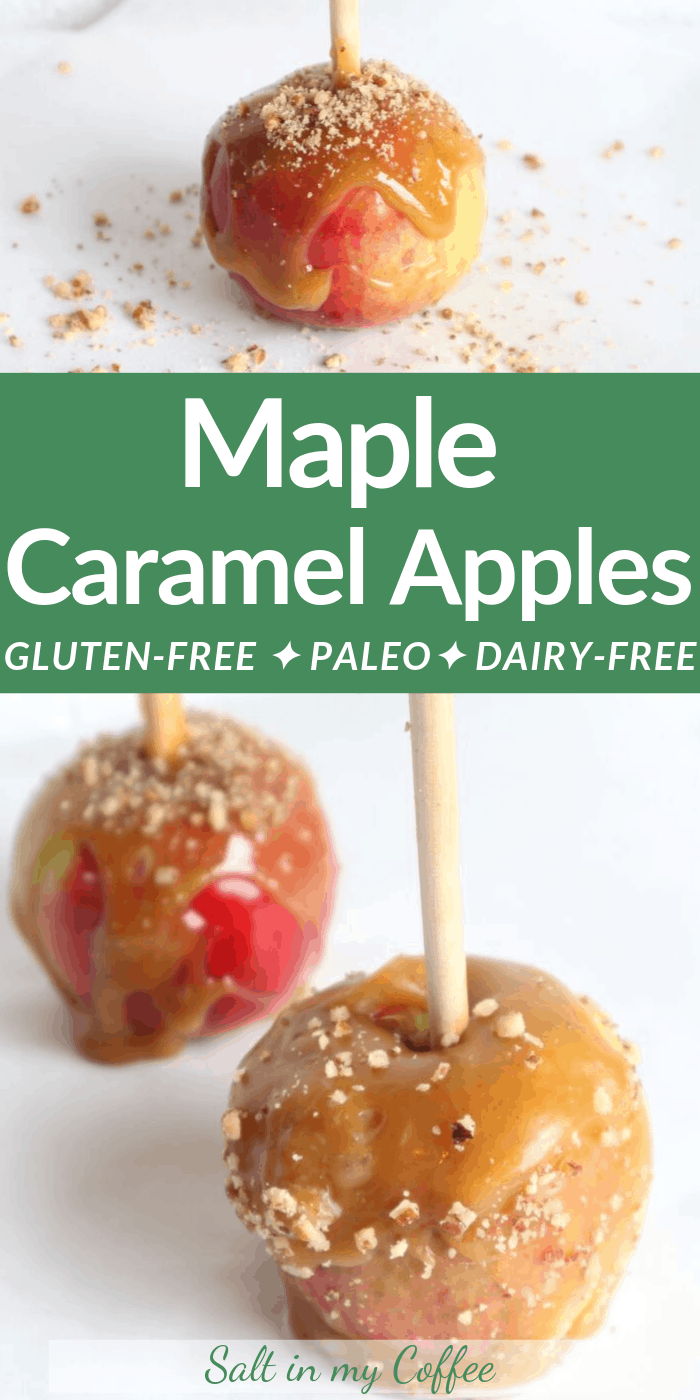 This article contains affiliate links. Click here to learn more.
We went to our local county fair a few weeks ago, and it was such a perfect day. There were oxen pulls, exhibition buildings full of gorgeous quilts and crafts, and home-canned foods galore.
There was a blacksmith doing demonstrations, so many animals of so many interesting breeds, and my favorite: the history barn, filled with 1800's memorabilia, and staffed with volunteers in historic garb. I just love those ladies. When I retire, I want to be one of them.
There were also candied apples. And I wanted one. Soooo much, I wanted one. Those were what I grew up eating as "fair food", and to me, that's what the fair tastes like. But these days, I know exactly how the ingredients in those brightly-colored candied apples will make me feel - right away, and probably for days afterward.
It wasn't worth it. BUT - the sight of those beautiful apples was a worthy challenge. Could I make a caramel apple as good as the ones at the fair? And then I started really thinking. Could I make it...better?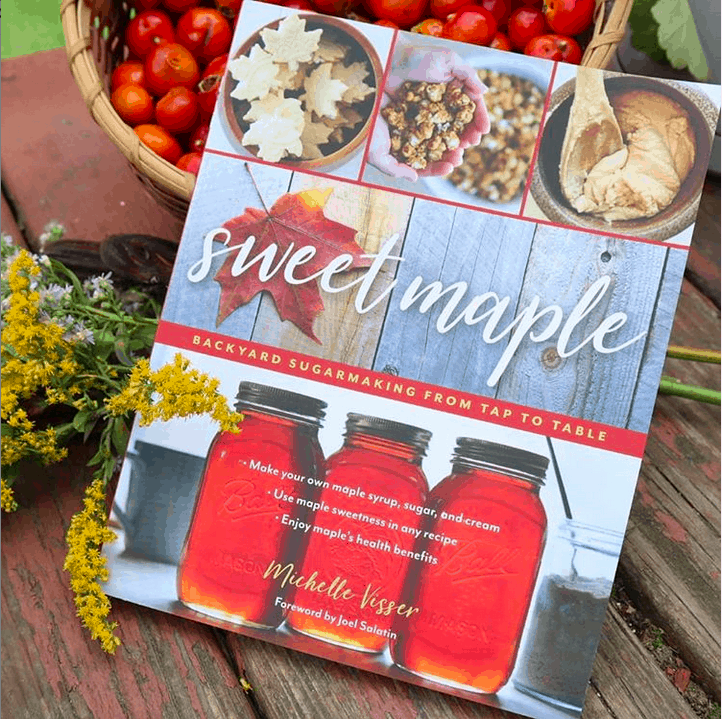 As luck would have it, my sweet friend Michelle, over at Souly Rested, had recently sent me an advance copy of her gorgeous new book: Sweet Maple.
You guys, if you love everything maple even half as much as I do, this is a book you're going to want on your shelf. In her warm, inviting way, Michelle invites us into the process of maple sugaring. She manages to de-mystify every step of the process, from identifying trees, to tapping, to evaporation - all while cultivating a sense of wonder and magic, which just feels right, considering what a miraculous gift this sweet substance really is!
GIVEAWAY ALERT!
I'm so excited to be giving away a copy of Sweet Maple over on Instagram! ENTER HERE.
Even if you have no desire to ever tap a tree, or boil down your own sap, this book is worth having just for the recipes. (The Maple Pork Stir Fry and Maple Hot Chocolate are to die for. I want to make them ALL.)
Michelle features maple in recipes of all kinds, and that got me thinking about the maple caramels I'd made this spring - which is when it dawned on me. Maple Caramel Apples. Of course. That was how I'd elevate my copycat county fair caramel apples to a new level!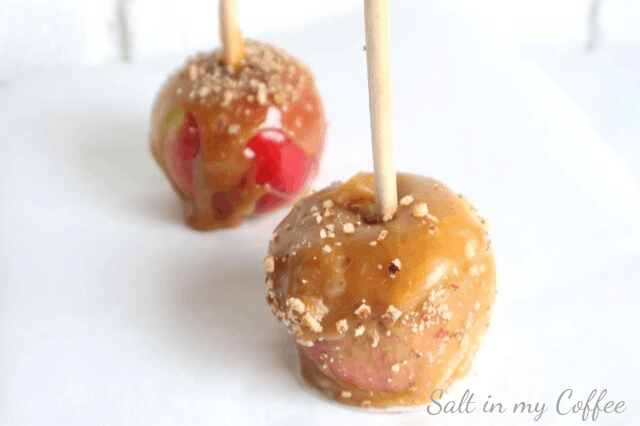 I'll never sigh wistfully as I walk past a candied apple booth again. These are better. And a real benefit to making your own caramel apples is that you can choose your own apple variety. The ones in these photos were Prima, and the bright sub-acid flavor profile worked wonderfully as a palette for the sweet caramel.
Other great choices would be Macintosh, Cortland, William's Pride, or Gravenstein.
If you don't have organic apples available, do be sure to really scrub your apples well before coating them in caramel. In the US, nearly all conventionally-raised apples are coated with a wax layer which may be shellac or petroleum based, and can make it harder for the caramel to adhere to the apple.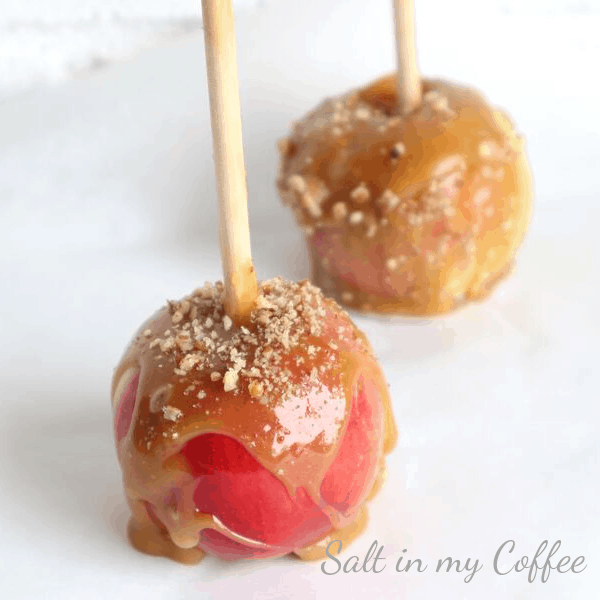 I hope you'll love these as much as we do! And do check out Michelle's book, Sweet Maple. Did I mention that there are some pretty amazing freebies right now (over $75 worth!) when you order a copy? This was a pre-order special that just got extended now that the book is out, and I'm not sure how long it will last, so you'll want to hurry! Get all the details here!
Bon Appétit!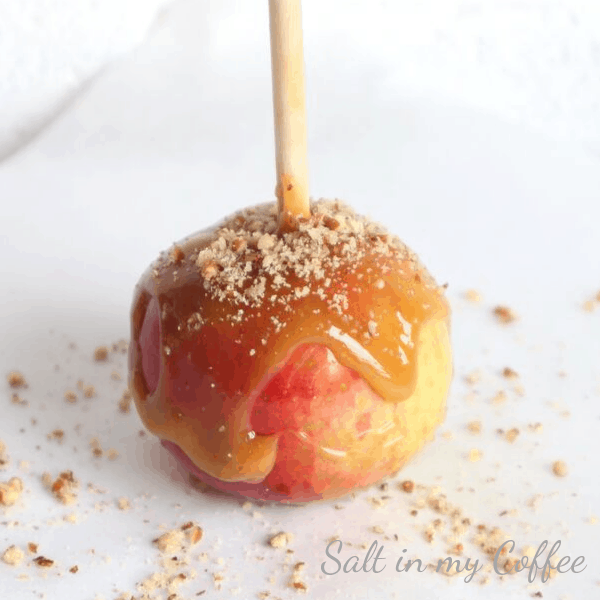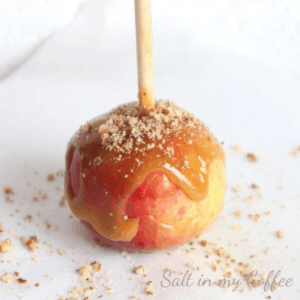 Paleo Maple Caramel Apples
These Paleo Maple Caramel Apples have a depth of flavor you'll never taste from caramel apples at the county fair - plus, they're grain-free and dairy-free!
Print
Pin
Rate
Equipment
double boiler

Cookie sheets

parchment paper

Popsicle Sticks
Ingredients
1/2

cup

honey

1/3

cup

maple syrup

1/2

cup

coconut oil

(or 1/4c coconut oil & 1/4c grass-fed butter)

1/4

cup

water

8

firm medium apples

finely chopped nuts or coconut for garnish, optional
Instructions
Line cookie sheet with parchment paper. Place apples on a firm surface, and carefully skewer with the popsicle sticks. Arrange apples on parchment lined sheet.

Now, make the caramel. Add all honey, maple syrup, coconut oil, and water to the top of a double boiler. Bring to a simmer over medium-low heat.

Continue to simmer, stirring frequently. As the mixture cooks, you'll notice that it first darkens in color, and begins to "pull away" from the sides of the pan. You will
likely see an increase in the volume of bubbling right before this point. Soon after, the caramel will start to lighten in color a bit, and that's when you're going to want to pay very close attention - it means you're really just about done. Cooking the caramel takes some time - usually at least 20 minutes. Caramel can be cooked more quickly in a saucepan directly on a burner, but it's a bit easier to burn it, so I suggest using the double boiler.

Heat the caramel till it reaches 245 degrees on a candy thermometer.

You can also check for done-ness using the "cold water test": using a spoon, pour a drop of the mixture into a glass of cold water. Mixture should form a ball that stays together, but is still pliable. (We're going for just past the "soft ball" stage.)

If mixture strings out in the water rather than forming a ball, cook for a minute or two longer and try again.

Remove caramel from the heat, and let it rest for a few minutes. It's easiest to work with when it's begun to cool just slightly.

Either dip the apples into the caramel, and return to the parchment-lined sheet to firm up, or spoon the caramel over the apples right on the cookie sheet. Both ways work just fine.

If you'd like to garnish your apples with some finely-ground nuts or coconut, now is the time to do it.

For best results, let apples cool undisturbed at room temperature for about 30 minutes.

Store apples not eaten within a few hours in the refrigerator. They're best enjoyed right away, since the apples will begin to soften a bit, but can be refrigerated for a day or two without much loss of quality.
Nutrition Facts
Paleo Maple Caramel Apples
Amount Per Serving
Calories 313
Calories from Fat 126
% Daily Value*
Fat 14g22%
Sodium 4mg0%
Potassium 236mg7%
Carbohydrates 52g17%
Protein 1g2%
Vitamin A 98IU2%
Vitamin C 8mg10%
Calcium 27mg3%
Iron 1mg6%
* Percent Daily Values are based on a 2000 calorie diet.
Notes
If you're not dairy-free Paleo, do try using half grass-fed butter and half coconut oil in this recipe. It's wonderful either way, but I feel the butter adds a deph and roundness to the caramel that's just a bit extra-special! Getting perfect caramel - I find the trick is to set aside plenty of time, and not rush it. While you can cook this recipe in a saucepan directly on a burner and have it come out fine, the faster cooking process leaves less margin for error with reaching the perfect temperature without exceeding it, and it can be possible to scorch the mixture if the burner is too hot. Using a double-burner is certainly slower, but allows a lot more forgiveness with reaching the perfect temperature and consistency.
Nutrition
Calories:
313
kcal
|
Carbohydrates:
52
g
|
Protein:
1
g
|
Fat:
14
g
|
Saturated Fat:
12
g
|
Sodium:
4
mg
|
Potassium:
236
mg
|
Fiber:
4
g
|
Sugar:
44
g
|
Vitamin A:
98
IU
|
Vitamin C:
8
mg
|
Calcium:
27
mg
|
Iron:
1
mg