Growing up, I had one favorite kind of cookie. How sad, that the season for making them came around only once a year! Maybe that's part of what made them so special. To this day though, I don't think any other cookie makes me quite as happy as a thick, squishy, spicy gingerbread boys.
I've been grain free for quite a while now, but it wasn't until this year that I finally came up with a gingerbread cookie recipe that doesn't leave me missing the "real thing". The breakthrough came when I started experimenting with cashew butter, instead of coconut oil. That's when we knew we were onto something good! Of course, the revisions and tweaking continued until we had just the right balance of squishy but sturdy texture, and a spicy, deep, molasses-y taste. To this little miss (who doesn't fall far from the culinary tree), they are magical indeed. Especially the dough. Fair enough.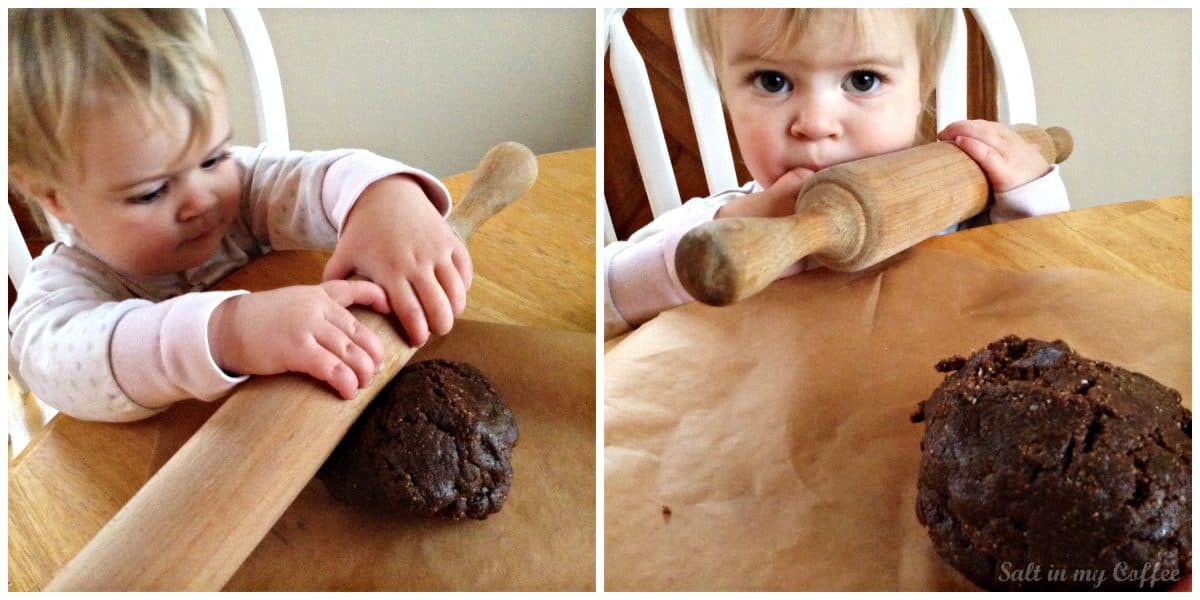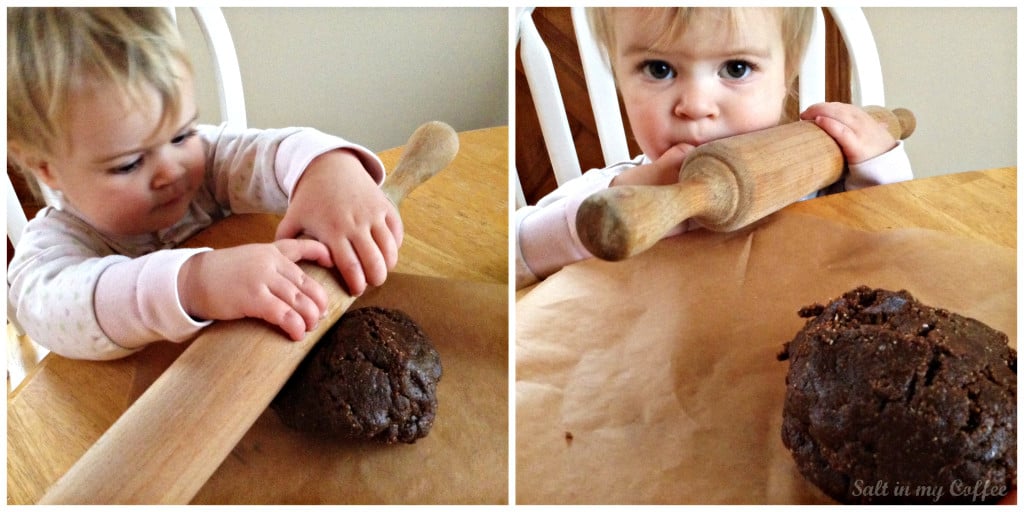 Here's a nice thing about this dough. It's sturdy. And it won't stick mercilessly to every surface it comes in contact with. I've found that so many paleo rolled cookies really do have to be rolled out between two sheets of parchment - or you'll be sorry! I still roll this out on one sheet of parchment, because it makes transferring to the baking sheet so easy - but it's really not necessary, and I don't bother with a top sheet.
As with most spicy cookie recipes, if you can hold off eating all of these on the day you make them, they just get even better the next day. I know, because I managed to do this once. Merry Christmas, and happy baking!
Paleo Gingerbread Cookies
(Makes 2 - 3 dozen cookies, depending on size)

Beat together cashew butter, molasses, honey, egg, and vinegar. In a separate bowl, sift together remaining dry ingredients. Stir dry ingredients into wet mixture, just until well blended. Refrigerate dough for at least two hours.
When you're ready to bake, preheat oven to 350 degrees. Roll dough a generous 1/4" thick (rolling out on a sheet of parchment paper makes transferring cookies easier!) Cut out cookies, and transfer cookies to baking sheet. Bake for 6 minutes. Yes, exactly 6. I'm not usually so matter-of-fact about timing, but with this recipe, I've learned to trust my timer, not my instinct. 6 minutes, my friends. That should do it. (ok, there are exceptions - 5 minutes if you're using mini cookie cutters, 7 for unusually large ones.) The middles should just barely be set, and you want to pull them out before the edges start turning a darker brown. Transfer to a wire rack to cool.