As a kid, I never understood why fruitcake had such a bad reputation. In our house, the last piece of fruitcake was something worthy of an arm-wrestling match, or even a good round of "rock, paper, scissors". It was anything but the begrudgingly-necessary tradition that so many households suffered through every year. But then, we had my Grandma's fruitcake.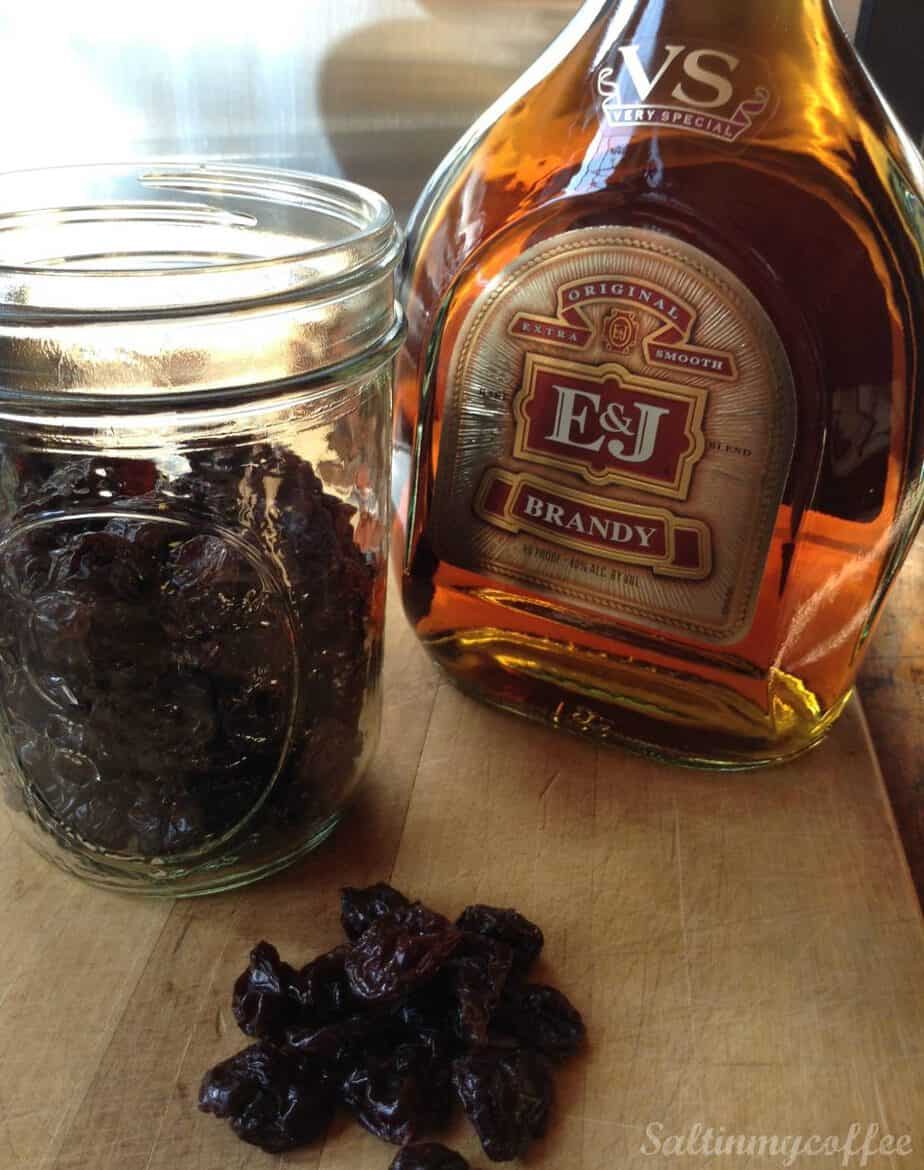 Pin
And then, one year, all the fruitcake-hating suddenly made sense. I tried a slice of something unidentifiable at a church holiday potluck. Ewww.
My friends informed me that, (duh!), the stuff was fruitcake. And obviously, it wasn't really meant for human consumption. Just, you know, for decoration. Or something.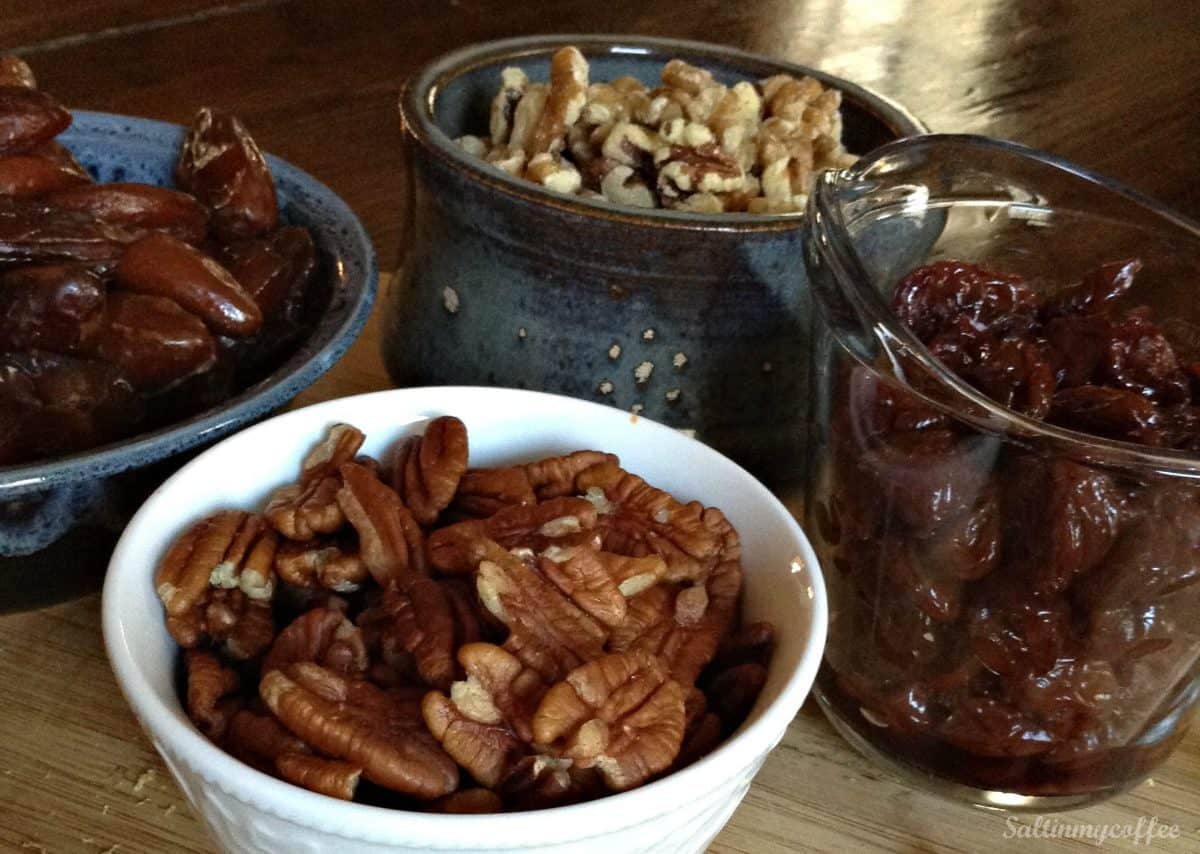 Pin
Friends, if you grew up with that kind of fruitcake, if you're only reading this to humor me and can't imagine enjoying fruitcake, you owe it to yourself to give this one a try. This one will win you over. Pinky swear.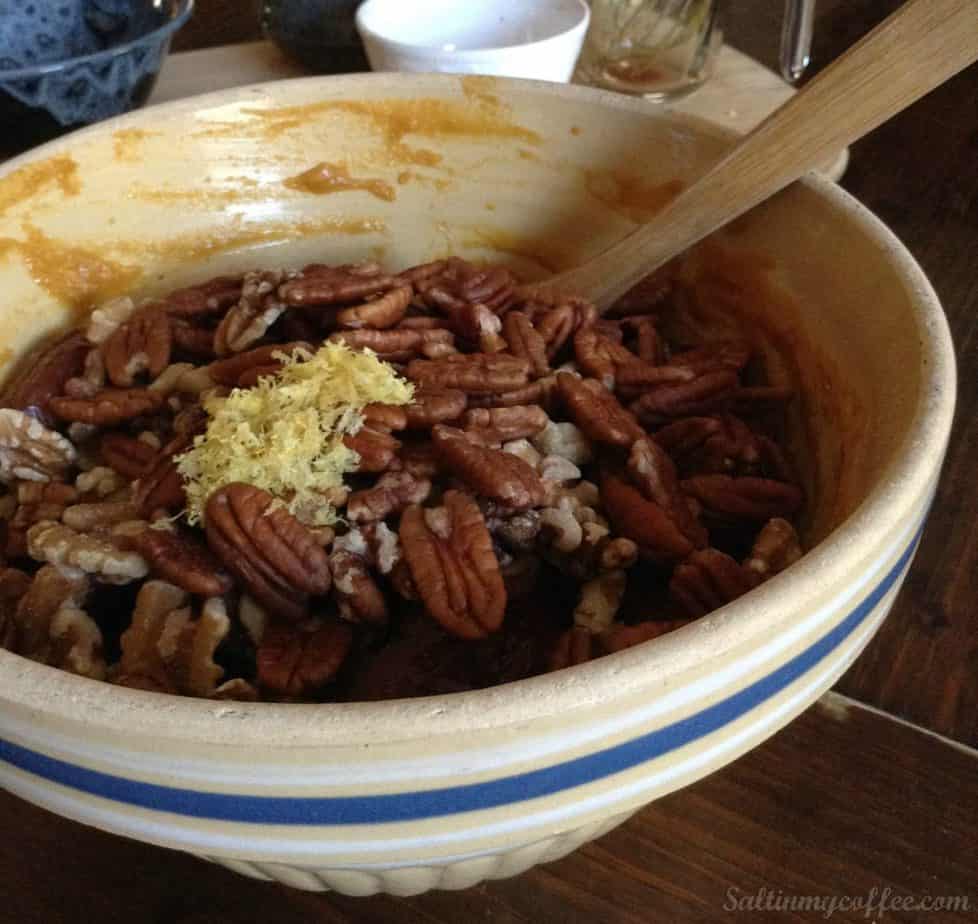 Pin
This recipe is extra special to me because it pays perfect homage to my grandmother's famous recipe. But over the past several years, since I've been grain-free, my mum's been slowly perfecting a grain-free adaptation of it. Last year, she absolutely, perfectly nailed it. And this year, she's letting me share it with you! In fact, not only letting me share the recipe, but even her own photos of the process. Best. Mom. Ever.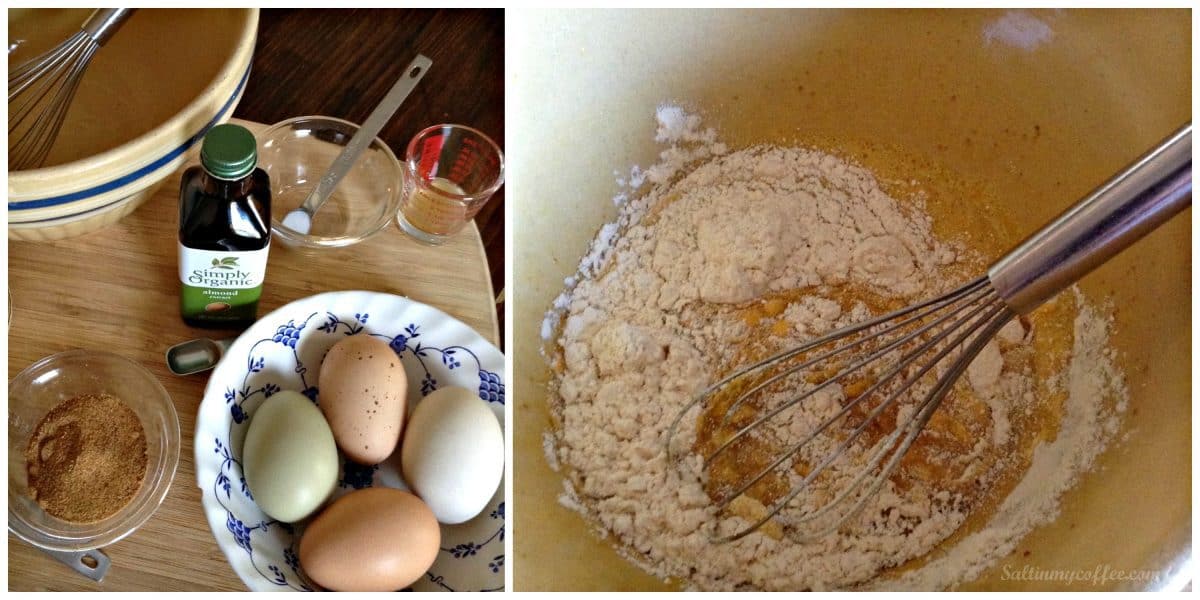 Pin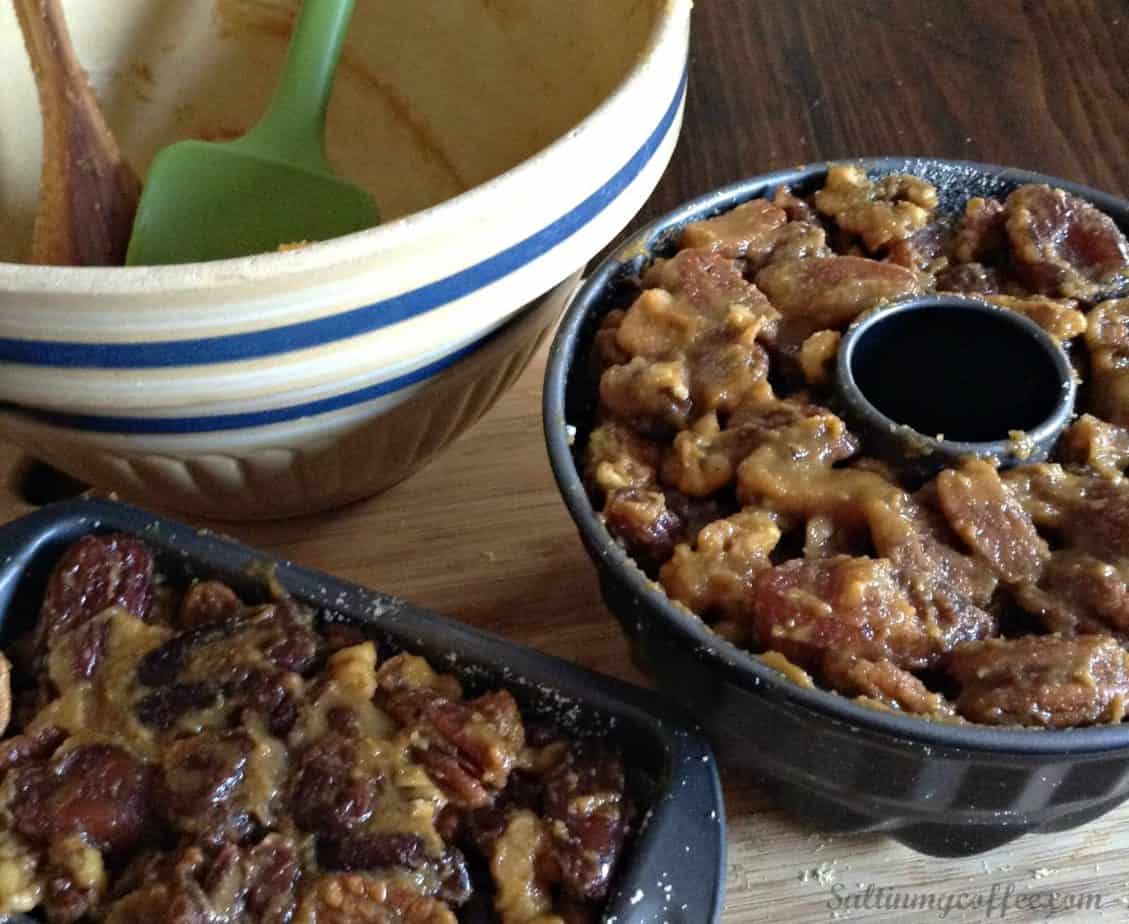 Pin
I hope this recipe helps turn you into a fruitcake lover! Holidays at our place are just never complete without it. And thankfully, even the grown-up boozy version is paleo friendly.
Just be sure to choose a good brandy - one that doesn't have any artificial caramel coloring in it.
Cheers!!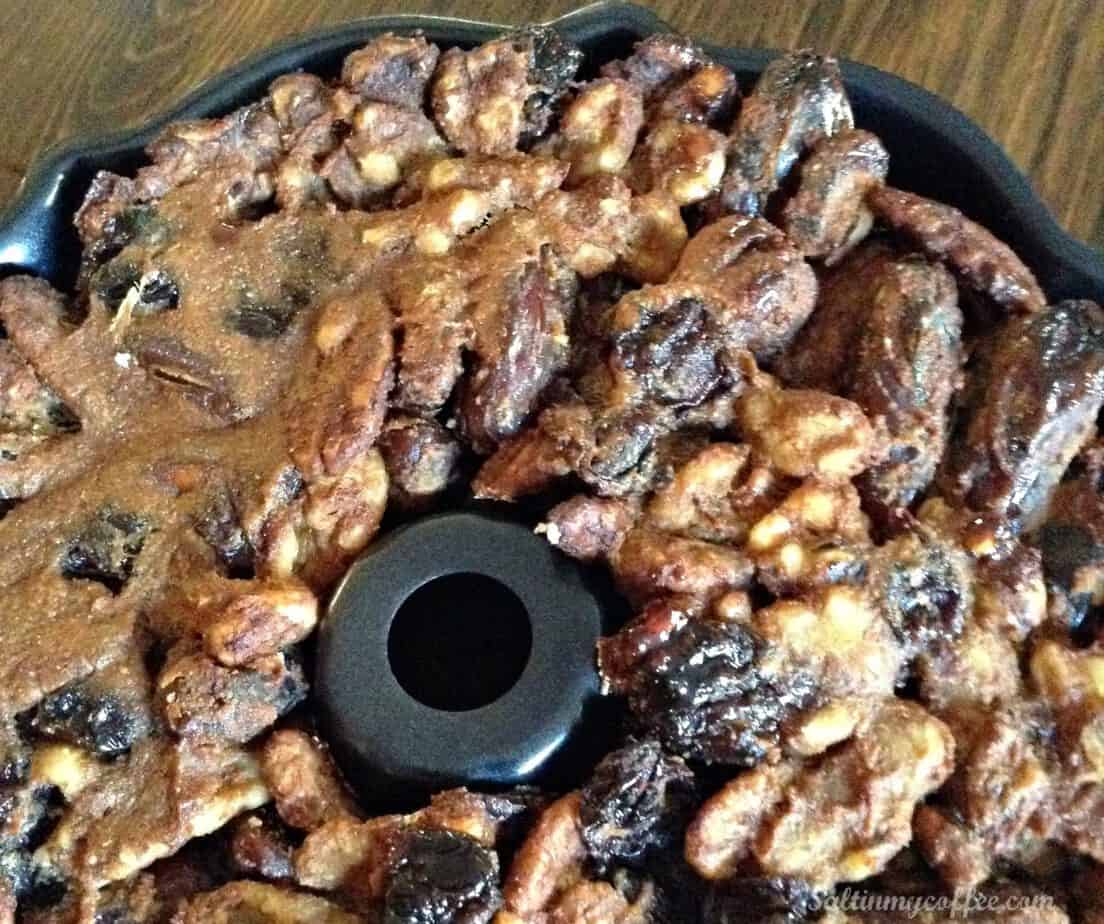 Pin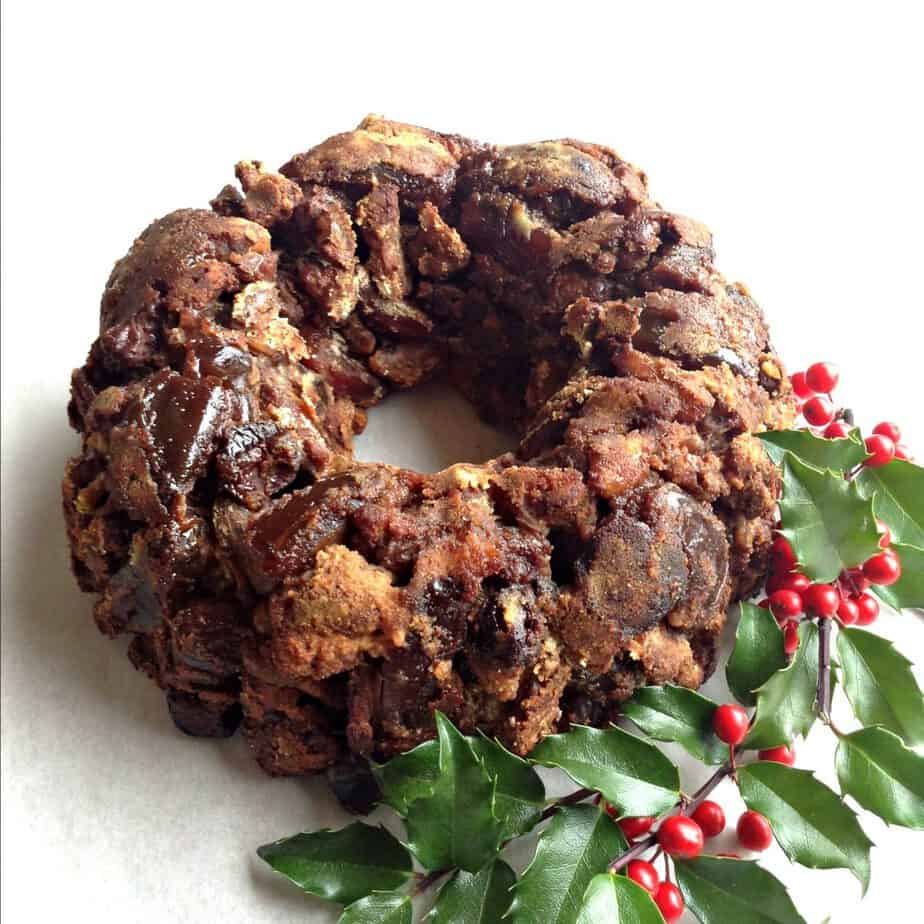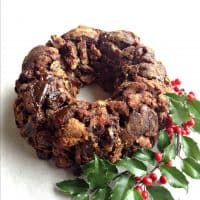 Instructions
A few days before making the fruitcake, set dried cherries to soak, in either brandy or orange juice. If opting for orange juice, let them soak in the fridge.
Preheat oven to 325.

Grease one large or two small bundt pans. Two loaf pans work also. Dust lightly with almond flour.

In large bowl, whisk together eggs, extract, and vinegar.

Add coconut crystals or honey, and whisk in.

In a separate, small bowl, stir together coconut flour and baking soda. Add to egg mixture and whisk in.

Add soaked cherries (reserve liquid), dates, nuts, and lemon zest. Stir well to mix.

Spoon into prepared pans.

Bake for 50-55 minutes, until golden brown.

Let cool for 20 minutes, before lightly running rubber spatula around edges to release.

Turn out onto cooling rack, and let sit until fully cooled. OR - finish with optional brandy wash, below.
BRANDY WASH (OPTIONAL): After taking cake out of the oven, let cool in pan for 20 minutes. Leave oven on, at 325.
Lightly run a rubber spatula around edges to release.

Turn out onto parchment lined baking sheet.

Brush cake with brandy left from soaking the cherries.

Return to oven for another 20 minutes.

Slide cake, on parchment paper, onto cooling racks, and let rest until fully cooled.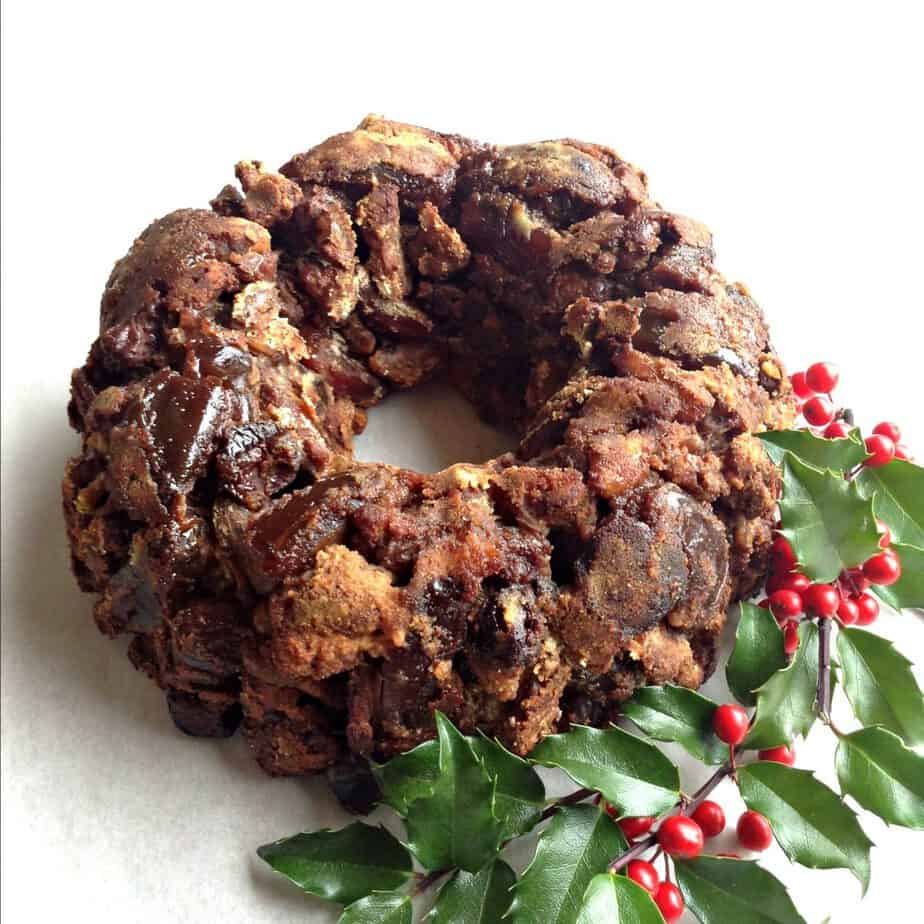 Pin
Pin it for later: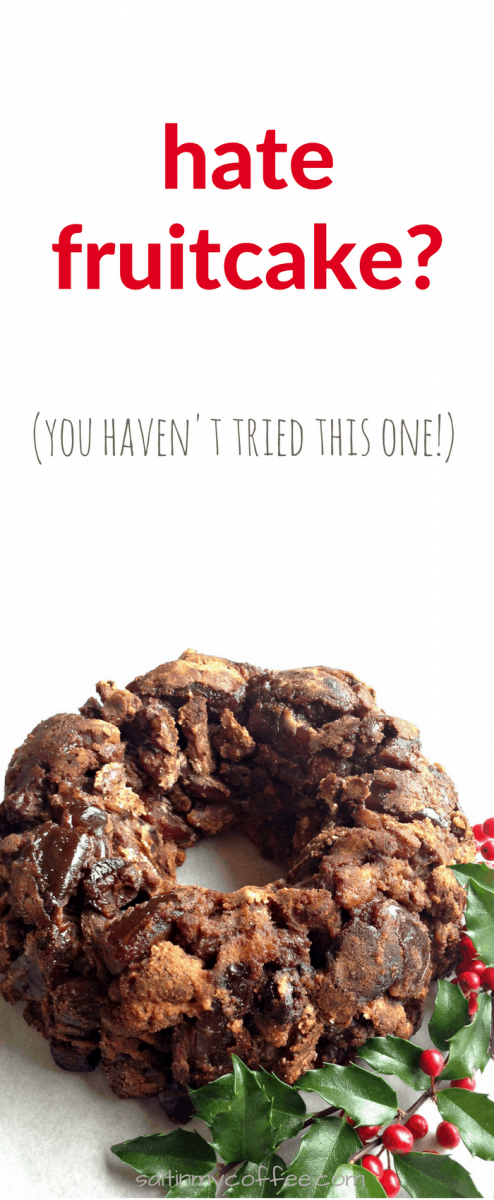 Pin
Save