These paleo dried fruit and nut bars are colorful, sturdy, and absolutely delicious! They're festive enough for a holiday gift basket, but easy and healthy enough for a breakfast snack on the go.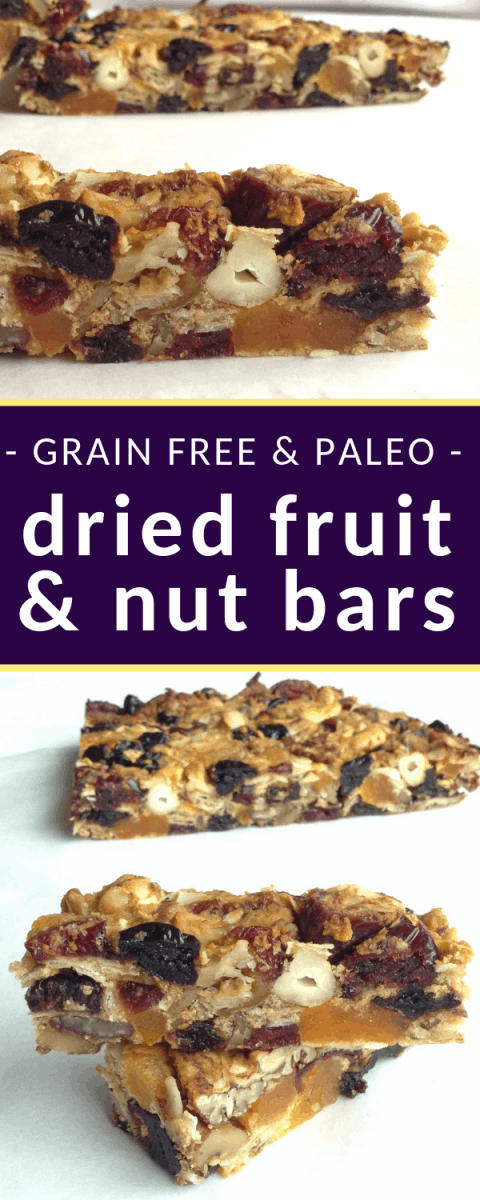 This article contains affiliate links. Click here to learn more.
Our whole family has recently been pretty under the weather, and while we were sick, none of us felt like eating very much. But the moment my kids started feeling better, their appetites returned, and with gusto! At least every hour, it feels like Duncan is headed for the kitchen, asking for "More?!"
Thankfully, now that I'm feeling better as well, I find myself wanting to bake. So it's working out pretty well.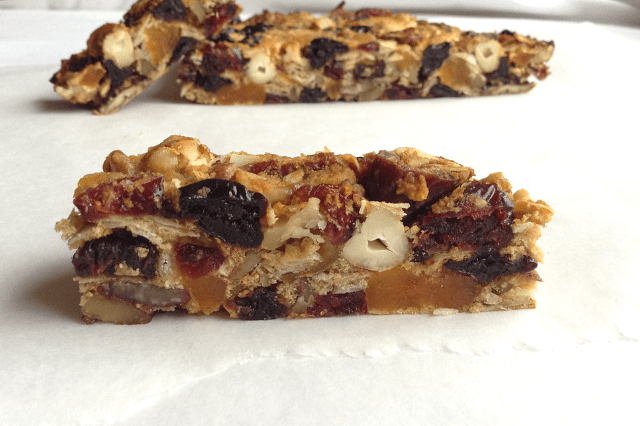 Granola bars of any kind have always been high on the kids' "let's make something special today!" list. But what I've really been wanting to make is my grandmother's amazing fruitcake. (You can check out my mom's updated paleo version here - it's delish!)
So I decided to create something that would make us all happy - hearty fruit and nut bars with all the decadent flavors of gram's fruitcake, in a happy little bar-cookie form, to delight my wee granola bar lovers.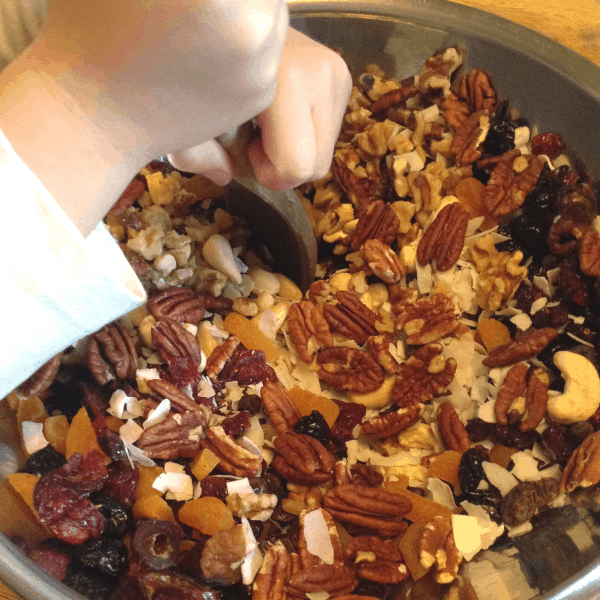 You guys, they're my favorite. We all absolutely loved them, and we polished off the first batch so quickly it's embarrassing. We're on batch number 2 now, with a slightly different combination of nuts and fruits, and they're still amazing.
It's very rare that I share a recipe after making it just a couple of times like this. Most recipes get made, reworked, and tweaked, at least 7 times before they ever make it to the blog. But this time I'm making an exception, because I LOVE them, and am eager to share.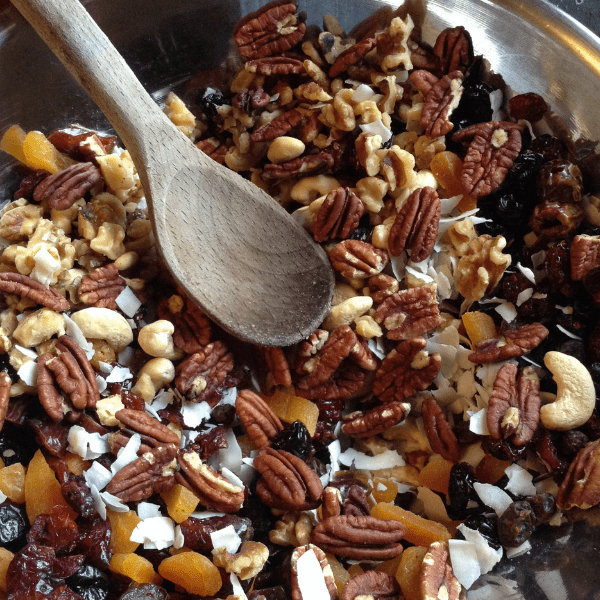 This recipe works well with any combination of dried fruits and nuts. For this batch, we used pecans, walnuts, cashews and coconut for our nuts (I know coconut doesn't really count as a "nut", but you can substitute flaked coconut for part of the nuts in this recipe, with no problem.)
For dried fruits, we used cranberries, cherries, dates, raisins, and apricots. You could also try dried figs, pineapple, mango, papaya, goji berries, or currants...it's fun to make them a bit different every time!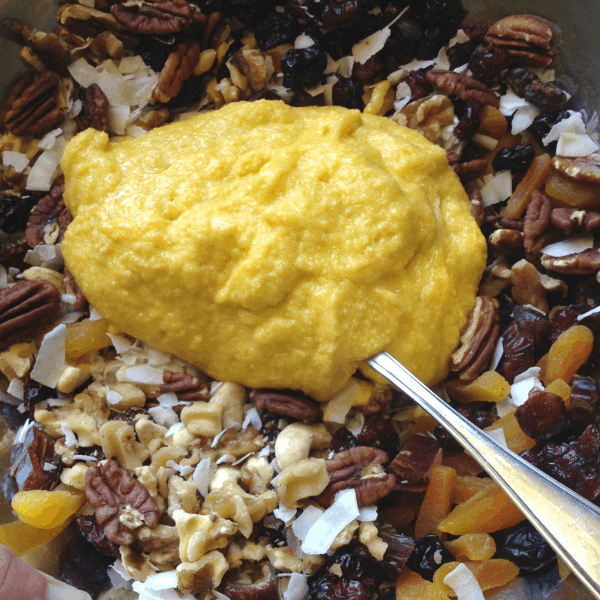 The first time you make this recipe, you might feel a little dubious about the amount of batter, compared with all those dry nuts and fruit. It doesn't look like much to hold everything together.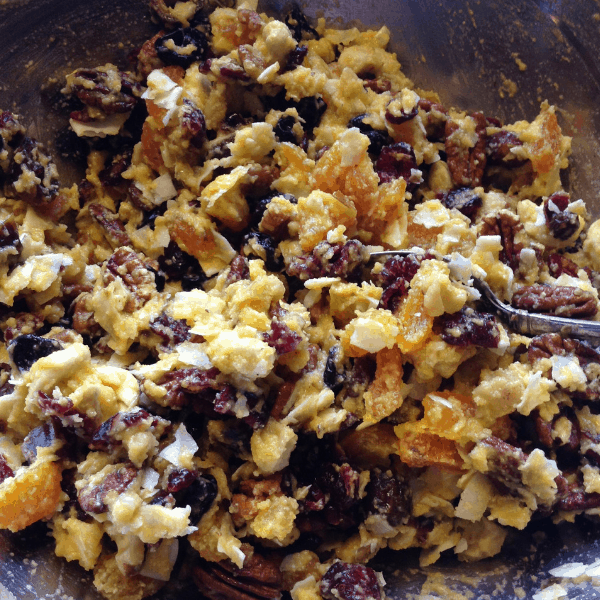 Just be sure to mix it all very thoroughly, and press the mixture firmly into your pan. They'll turn out just fine!
These make a very hearty, and surprisingly sturdy fruit and nut bar. They're not prone to crumbling, like many homemade granola bars can be, so they'd make a great breakfast snack on the go.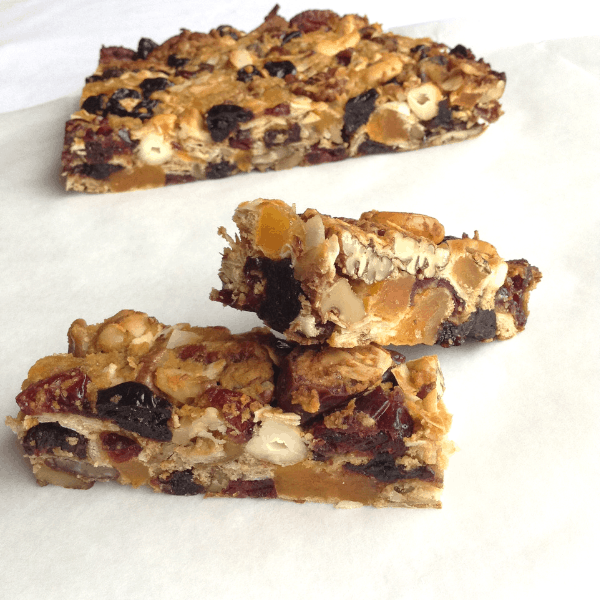 With all the bright fruit in there, I also think they're downright festive. They'd make a great addition to a Christmas gift basket.
You can also make these really worthy of a wassail celebration, by soaking half of the dried fruits in some brandy or rum for a week or two before baking!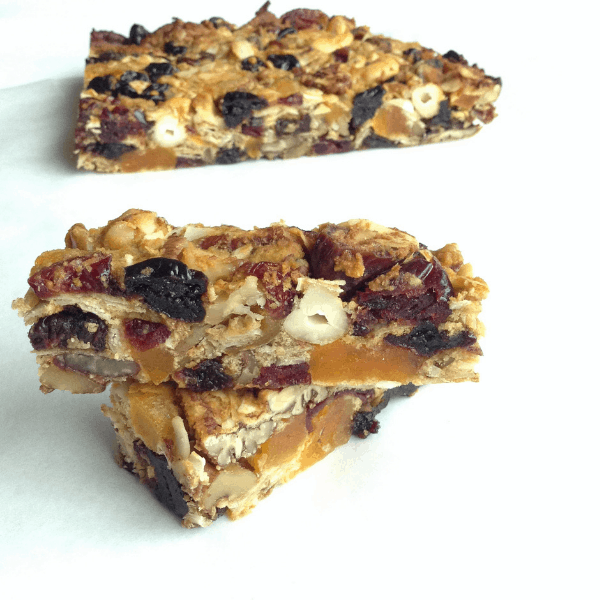 We love these exactly the way they are when first cut from the pan - firm but still a bit soft. But if you like a slightly crispy, crunchy type of granola bar, try putting these back in the warm (but turned off!) oven - after you've cooled them a bit and cut them into individual bars.
If allowed to dry individually right on the oven rack while the oven cools down, these crisp up amazingly. I might love them this way even more than soft...it's a pretty close toss-up.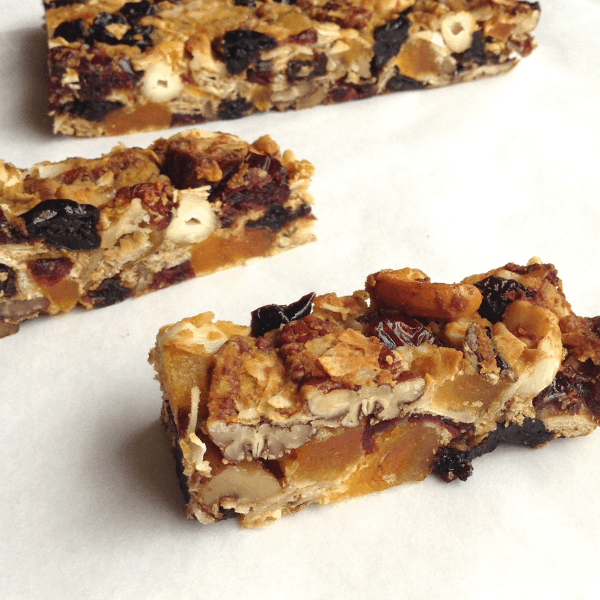 Below is the printable recipe. I hope you love these as much as we do! Happy baking!!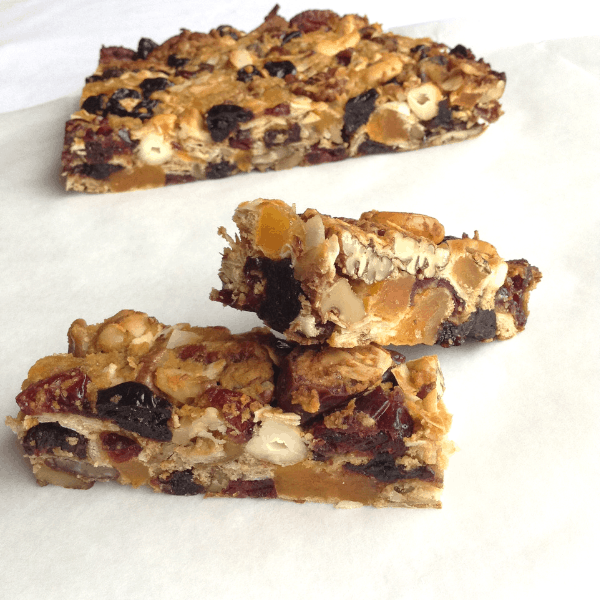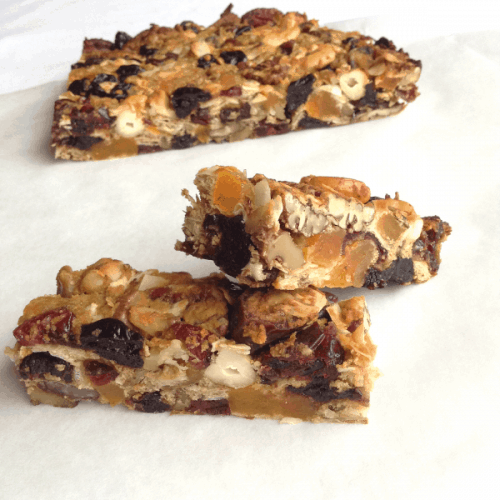 Paleo Dried Fruit and Nut Bars
These paleo dried fruit and nut bars are festive enough for a holiday gift basket, but easy and healthy enough for a breakfast snack on the go.
Print
Pin
Rate
Instructions
Heat oven to 325 degrees. Line 13x9" pan with parchment paper.


Mix dried fruits and nuts in a large bowl.


In small bowl, mix all other remaining ingredients - eggs, honey, coconut flour, baking soda, and vinegar. Batter will look like a thick, roughly-textured pudding.


Add batter to nuts and fruit mixture, and combine well until very thoroughly mixed.


Pour into the parchment lined pan, and press the mixture down firmly and evenly.


Bake at 325 degrees for 35-40 minutes, until golden brown. Nuts will look slightly toasty, and edges will be getting a tiny bit brown.


Allow to fully cool, then remove from pan, and cut into bars.