Need some exciting fresh strawberry breakfast ideas, for when strawberries are in season? These easy recipes are great for showcasing fresh strawberries!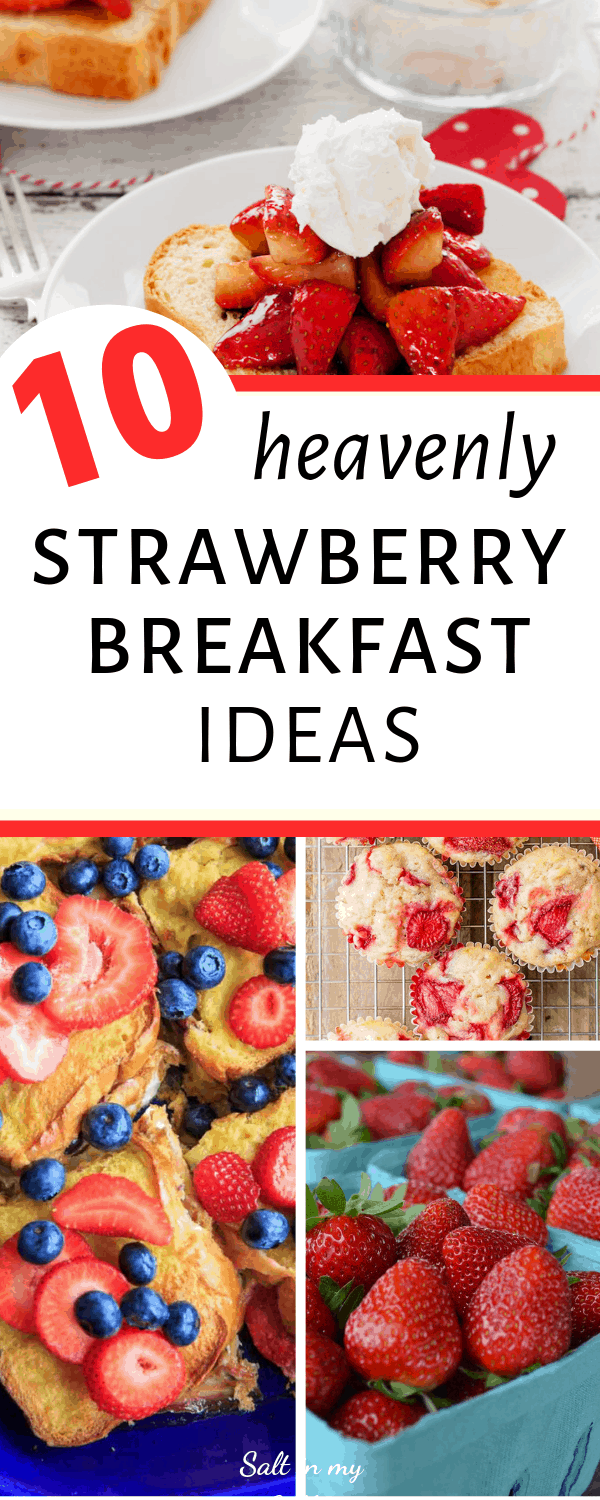 This article contains affiliate links. Click here to learn more.
It feels like just last week that I was trudging through deep snow to do the afternoon chores, and wondering if spring would ever really come this year. So the fact that it was 80 degrees yesterday (even though it's barely May!) is a little surreal.
As the kids and I have been reveling in the weather, and getting the gardens started, I've been especially excited to see how much our strawberry plants have spread. We're going to be swimming in strawberries before we know it!
With strawberries on the brain, I started thinking about how I rarely try any new and exciting recipes when good, ripe strawberries are in season. What a travesty! So I reached out to some of my favorite food blogger friends, to see what recipes they're most excited to make this strawberry season.
Oh. My. Golly. In the blink of an eye, my "must-make" list of fresh strawberry recipes exploded. Now I really can't wait for those itsy bitsy strawberries in my yard to ripen! My blogger friends sent me so many delectable recipes, I'm going to share my favorites with you as part of a series.
For today's post, check out these AMAZING breakfast ideas:
Glorious Fresh Strawberry Breakfast Recipes
Doesn't this look like the perfect Independence Day breakfast? I'm such a fan of breakfast casseroles for mornings when I have house guests, so I can't wait to try this next time we have family over!
My hat goes off to Monica, over at Nourish and Fete, for coming up with a muffin recipe that looks as amazing as it tastes! No strawberry muffin I've ever made has looked nearly this beautiful!
We don't eat a lot of grains around here, but my kids could absolutely LIVE on oatmeal. They'd have it for breakfast and dinner every day if let them! This is going on our menu ASAP - it looks beautiful enough for brunch, but easy and hearty enough for a quick supper after a long day of gardening.

Yep - I know. Two strawberry muffin recipes in one post. But these rustic beauties are so lovely and hearty, beside the light and whimsical strawberry banana muffins, I HAD to include them both!
Speaking of dinner-worthy breakfasts - check out these pancakes! Oh my heavens...this is a Sunday Supper waiting to happen, and I can't wait.
This is one of those counter-intuitive but perfect taste combinations I never would have thought of myself. And what really ties the whole thing together is that decadent vanilla Mascarpone!
Strawberries and rhubarb is one of my favorite flavor combinations, and those wonderful weeks when both are in season always go by way too quickly. Sadly, my "strawberry-rhubarb" repertoire has been pretty limited to pies, crisps, and cobblers. Coffee cake definitely needs to go on the menu this year!
To me, these look like a perfectly indulgent summer picnic breakfast, before a day on the lake. As much as I love to bake, I have yet to try my hand at danishes, and that certainly needs to change!
These scones (with really good coffee!) would be my pick for a special Mother's day breakfast treat. That drizzly icing just puts them right over the top!
This recipe has me wondering WHY I don't own a waffle iron. Waffles are another breakfast food I always think of as a wonderful Sunday supper treat, maybe with some home-cured bacon on the side!
I hope you've enjoyed these wonderful fresh strawberry breakfast inspirations, and found some new recipes to try! Let me know what you think if you give them a try!
Now, for those strawberries to ripen...
If you liked this post, you may enjoy:
✦ Flourless Peanut Butter Cookies
✦ Probiotic Blackberry Gummies
✦ Salted Maple Honey Caramels
✦ Starting a Small Scale Hatchery
✦ 18 Amazing Fruit Leather Recipes

Pin for later: