Making your own nutritious pumpkin flour is very cost effective - and it's super easy. Just follow these easy steps to make your own pumpkin powder at home!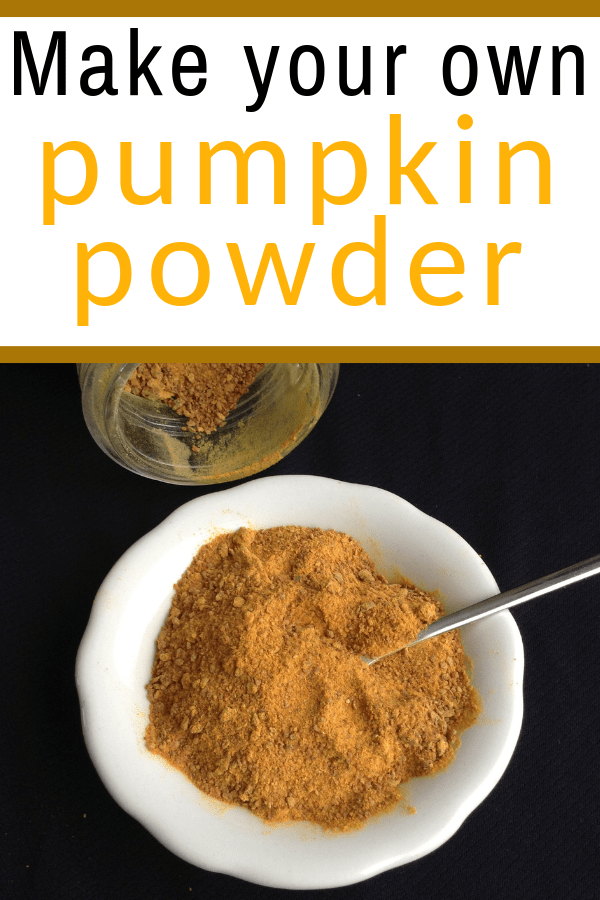 This article contains affiliate links. Click here to learn more.
A couple of weeks ago, I was looking for some new Thanksgiving-worthy pumpkin recipes to try, and found several mouth-watering paleo treats that looked too heavenly not to put on my "must-make" list. The interesting thing a few of them had in common was that they called for pumpkin flour (also known as pumpkin powder). I've never cooked with pumpkin powder before, so I was intrigued.
While pumpkin flour may be the latest nutrition-packed darling of the paleo community, it turns out it's hardly a modern idea. One of my frugal housekeeping books from the 1820's even mentions making pumpkin powder as the very best way to store pumpkin for cooking. It's shelf-stable, stores beautifully, and reconstitutes nicely for baking with. How had I never thought of this?
Now that I'd been turned on to the idea of cooking with pumpkin powder, I was eager to try it. It's not a product that's available at my local grocery store, so I did a quick search on Amazon, and wow - the stuff isn't cheap! The least expensive option I found was $1.00 per ounce.
Thankfully, pumpkin powder is very easy and extremely cost effective to make at home.
You might remember that last week I picked up a lot of pie pumpkins at 99 cents each, and cooked them up in my Instant Pot. After I'd turned them into wonderful pumpkin puree, I used most of it to create my own pumpkin powder. Now it does help that my pumpkins were on sale, but once all was said and done, I figured that each ounce of pumpkin powder cost me less than 20 cents to make - a fifth of the cost I'd seen on Amazon. Making it is definitely cheaper than buying it!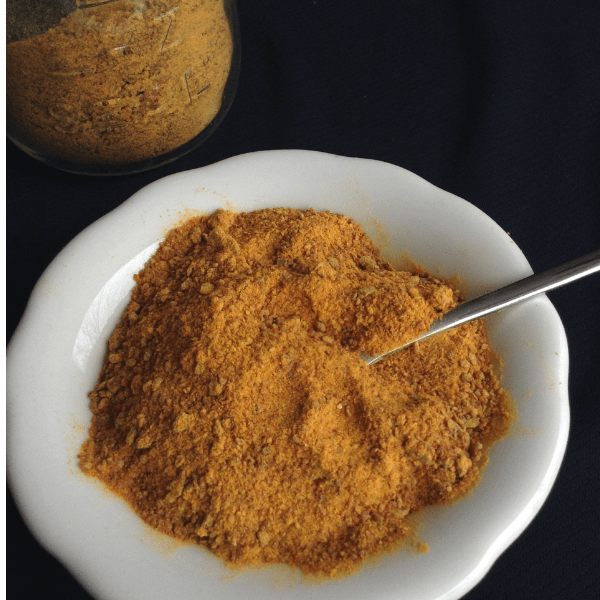 It turned out beautifully, and making it is just the easiest thing. If you don't have your own homemade pumpkin puree, don't worry - you can absolutely do this with a couple cans of store-bought pumpkin as well. Here's how:
How to Make Pumpkin Powder
Spread pumpkin puree evenly in a thin layer on fruit roll inserts (or parchment paper) on your dehydrator trays. (This is the inexpensive dehydrator I use - I put about 2,000 hours per year on it, and it's going on year 10. The thing will not die.)
Dehydrate at 135 degrees for about 6 hours, until pumpkin is firm and dry enough to peel from sheets and turn over. It should be like fruit leather at this point.
I like to remove my fruit leather sheets at this point, placing the pumpkin directly on the dehydrator trays, since it's firm enough to do that now. I feel this speeds up the rest of the dehydration. However, if your pumpkin is still a little sticky, you can absolutely just flip it and leave it right on the fruit leather sheets.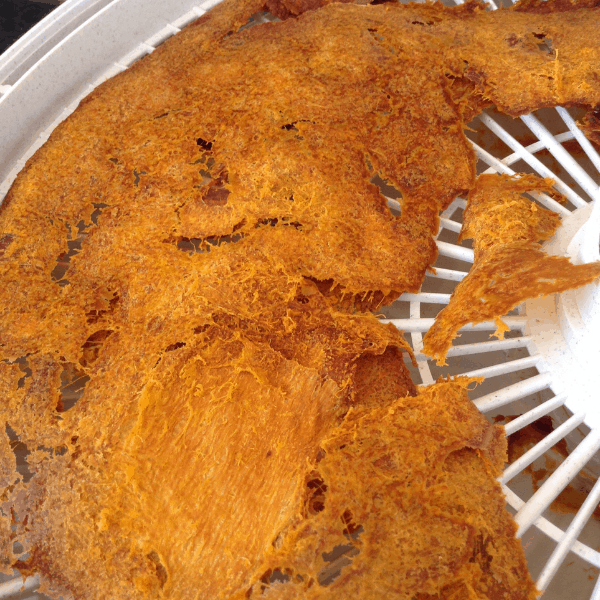 Dehydrate for another 4-5 hours or so, until the pumpkin is very dry, crisp, and brittle. It should easily crack and crumble between your fingers.
Allow pumpkin to full cool to room temperature.
Using a magic bullet, food processor, blender, or coffee grinder, grind the pumpkin into a powder. Since it's so thin and brittle, this won't take long! Though if you're making a lot of pumpkin powder, and using something small like a magic bullet or coffee grinder, you may need to grind it in several batches.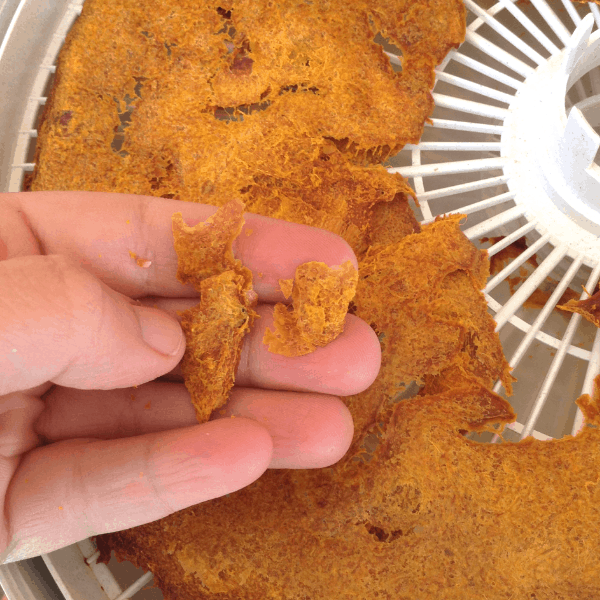 Depending on what you use for grinding, you may find that some small hard bits make it through along with the powder. They'll reconstitute just fine, if you'll be using your pumpkin powder as puree for cooking. However, you may not want these hard little bits in there, if your goal is a nice fine flour for adding to baked goods.
You can sift these hard bits out if you'd like, and run them through again until they're finely powdered. Or you can sift them out, and let your kids nibble on them - dried pumpkin is absolutely delicious!
If your powder has heated up at all from the machine used to grind it, do make sure it's fully cooled back to room temperature before storing in an airtight container.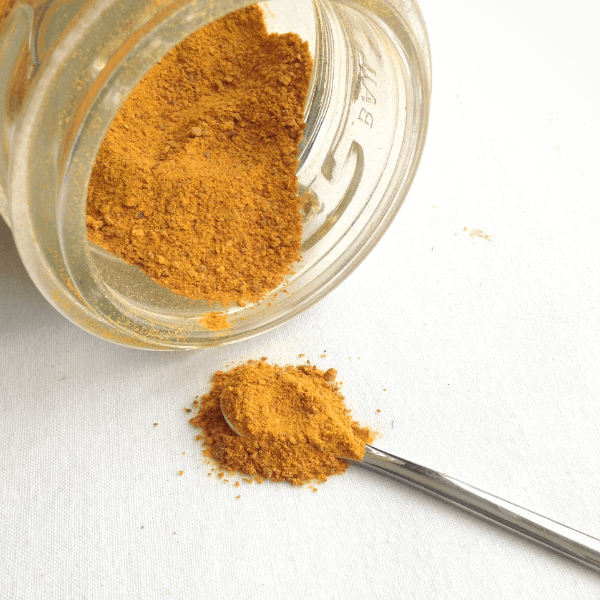 You will be amazed at how little pumpkin powder you end up with - it seems like so little compared to all that puree! But don't worry, it really expands when you add water again. Here is the very rough rule of thumb that I've figured out as I've been working with lots of pumpkins this fall:
When cooking pumpkins, I get about one cup of puree per pound of fresh pumpkin.
When dehydrating into pumpkin powder, one cup of puree becomes about one once of pumpkin flour.
How to rehydrate pumpkin powder into puree
To rehydrate your pumpkin powder into pumpkin puree, just mix 4 parts water to 1 part pumpkin powder, and let it sit for about 20 minutes. It will soak that water right up, and reconstitute into pumpkin puree. So for each cup of pumpkin puree that you need, you'll mix 1/4 cup of pumpkin powder with one cup of water. That's it!
Great recipes that call for pumpkin flour
Now that you have some nutritious pumpkin flour on hand, here are some decadent recipes to try!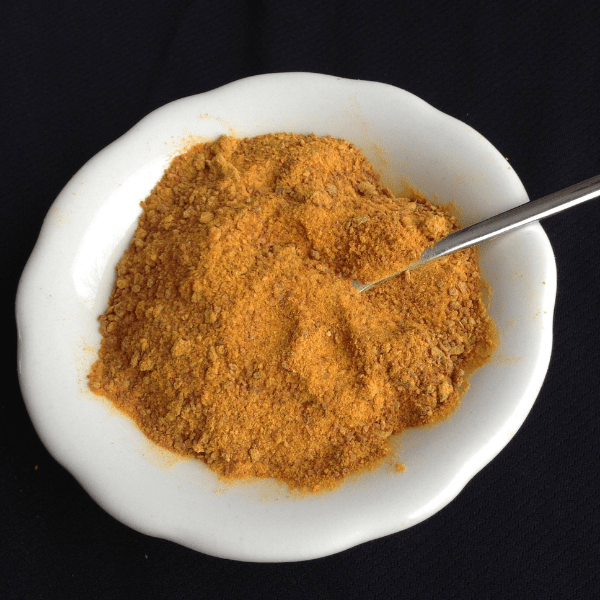 Other creative ways to use pumpkin powder
Put some pumpkin spice in your beverages! Mix pumpkin powder with nutmeg and cinnamon, and keep in a shaker jar for sprinkling over your latte or eggnog.
Add it to your next soup. Use some pumpkin flour to add a bit of thickening, and a wonderful, robust flavor to soups.
Color soap with it. Did you know that pumpkin powder makes a lovely yellow color, when used as a colorant for your own homemade soap? Bramble Berry has some good tips on how to do this!
Use as a food-dye-free coloring in icing for cakes or cookies. Food dye is one thing I absolutely keep out of our diet, so having natural alternatives to brighten up festive treats is fun.
What are your favorite ways of using pumpkin powder? If you have any favorite recipes, I'd sure love to hear about them - please feel free to share in the comments!
Happy baking!
Save for later: