Welsh Harlequin ducks are such a wonderful breed. Did you know that you can tell, with remarkable accuracy, the gender of Welsh Harlequin ducklings right when they hatch? Let me show you how to sex Welsh Harlequin ducks right at hatch.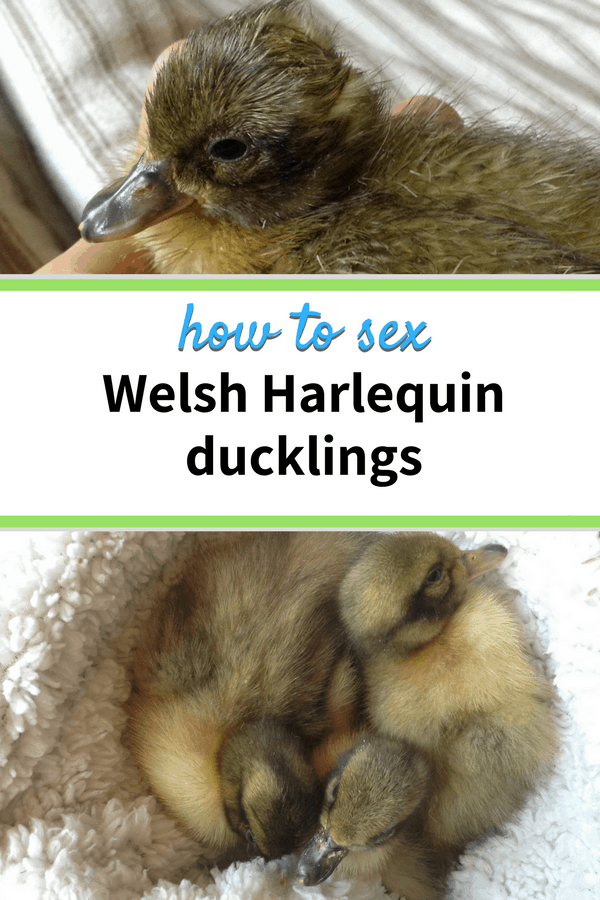 This article contains affiliate links. Click here to learn more.
We love our Welsh Harlequin ducks for SO many reasons. One thing I've come to really enjoy about this breed is the ability to easily determine, right at hatch, which ducklings are male and which are female.
When animals display a reliable difference in coloration based on gender, it's called auto-sexing (see this excellent article from Greenfire Farms to learn more about auto-sexing in poultry!). There are quite a few auto-sexing chicken breeds - like the Bielefelder and the Cream Legbar. Among duck breeds, it's a pretty rare trait.
Leslie Bonnet really hit on something though, when he developed the Welsh Harlequin ducks back in the late '40s and early '50s. For the first 2-3 days right after hatching, pink bills with a darker tip mean girls, and dark bills mean boys. Easy peasy. If you take a look at this picture below, it's easy to see that this day-old duckling is a female.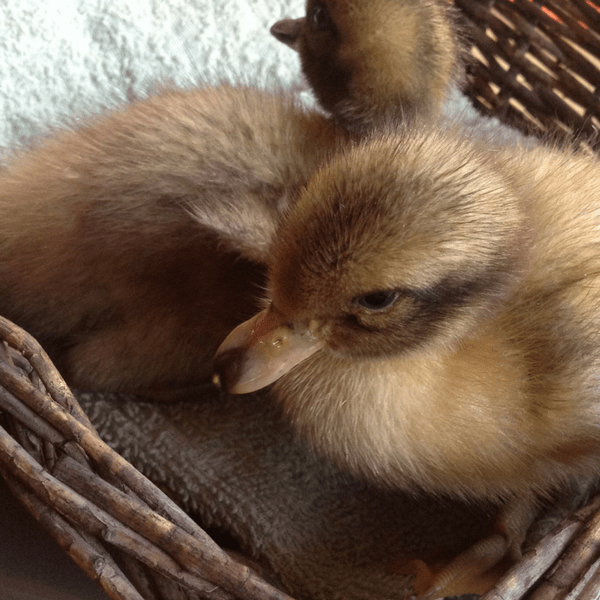 Her brother is in this next picture, and you can see how dark his bill is, compared to his sister. It's a very noticeable difference! The clear distinction between bill colors is short-lived however. Over the next 2-3 days the girls' bills will darken very considerably, and the males bills will lighten somewhat. By about day 4, it's virtually impossible to distinguish gender based on bill color.
After that, you'll have to wait until 4-5 weeks when they can be differentiated by voice (girls quack, and boys make a quiet raspy sound).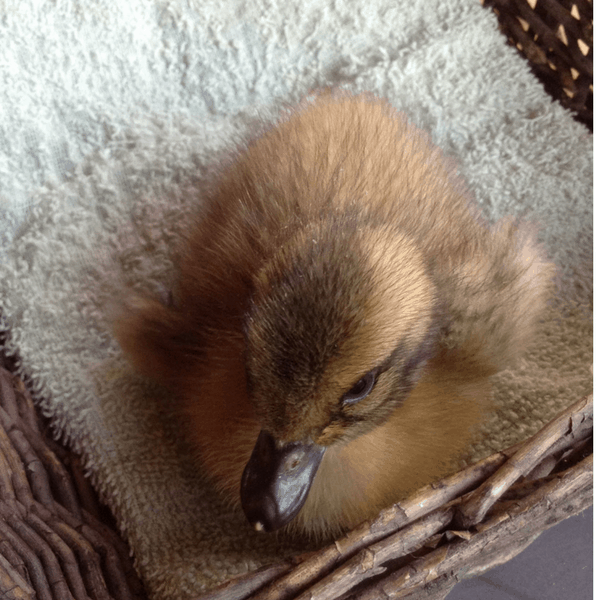 Because of this, many folks choose to separate their ducklings into different brooders based on gender, right at hatch. Alternately, ducklings can be banded with appropriately small leg bands.
If you hatch and sell ducklings, and wanted to offer sexed ducklings, now is the time to separate out them by gender. At our farm, we only offer sexed ducklings for one or two hatches per year. At those times, we very quickly sell out of female ducklings at a price that's much higher than our usual straight-run price, since many folks really just want a few female ducks for laying eggs.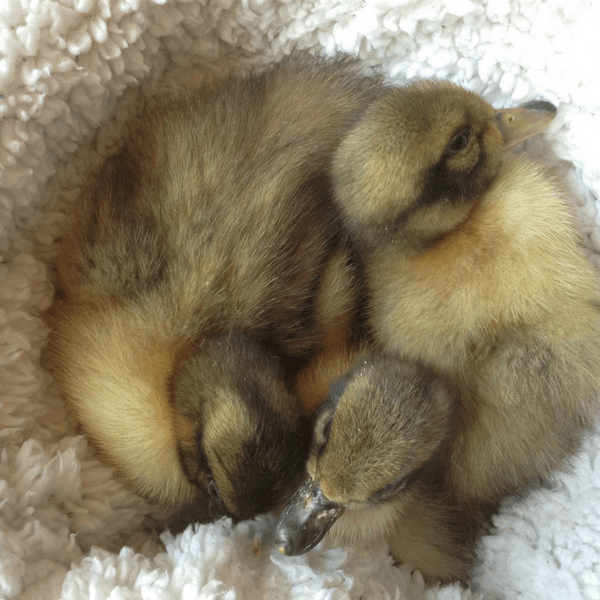 It's very important to mention that this sex-linked trait is much more distinctive and reliable in high-quality bloodlines. Not all "Welsh Harlequins" are reliably and easily sexed at hatch.
The auto-sexing bill coloration is a trait that is easily lost when blood lines are diluted by cross-breeding, and when this trait is not continuously selected for from generation to generation. I have seen many hatchery stock ducklings where it's either extremely difficult to differentiate between colors, or just plain unreliable.
For our breeding flock, I select the girls with the very pinkest bills, and the boys with the darkest bills, to grow out as potential breeders. Once they fully reach adulthood, those with the best coloring and formation become part of the breeding flock. Following this practice from generation to generation, we ensure a flock that's very easily auto-sexing year after year.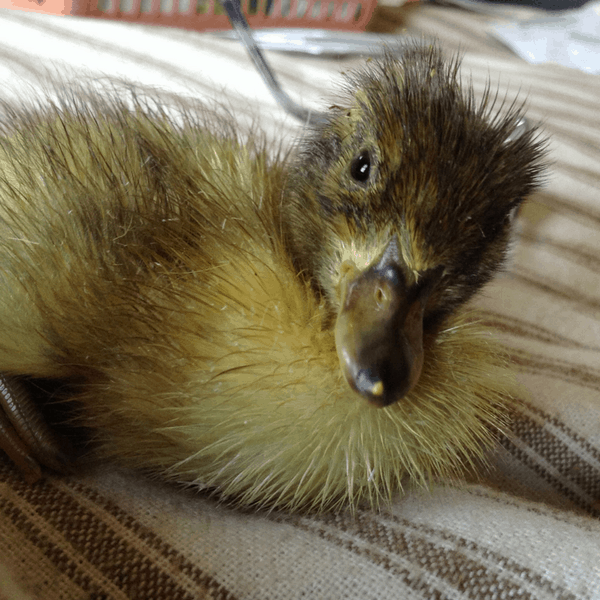 This little cutie (check out that hatch-head 'do!) is an uncommon exception among hatchlings from our flock. Do you see how there's a bit of a darker line down the center of her bill? The lower lighting in the picture accentuates this, and in real life it's pretty easy to see that she's female. This "half and half" bill coloring is very common in a lot of the hatchery blood lines, but you can usually still bet that those with a very dark tip on their bills (like this girl) are female, and those with a lighter, or more indistinct bill tip are males.
If you've ordered your ducklings, and receive them within their first couple of days after hatch, chances are very good that you can still get a pretty reliable idea of your ducklings' gender, even if their bill coloring isn't perfectly pink or solidly dark. And if you're planning to breed your ducks, you can absolutely improve the auto-sexing trait among your stock by selecting for it generation after generation, like we do here at Wynterwood Farm.
Still need help trying to figure out if your sweet little fluff-balls are boys or girls? Drop a picture in the comments below and I'll see if I can help!
Happy hatching!
Pin for later: