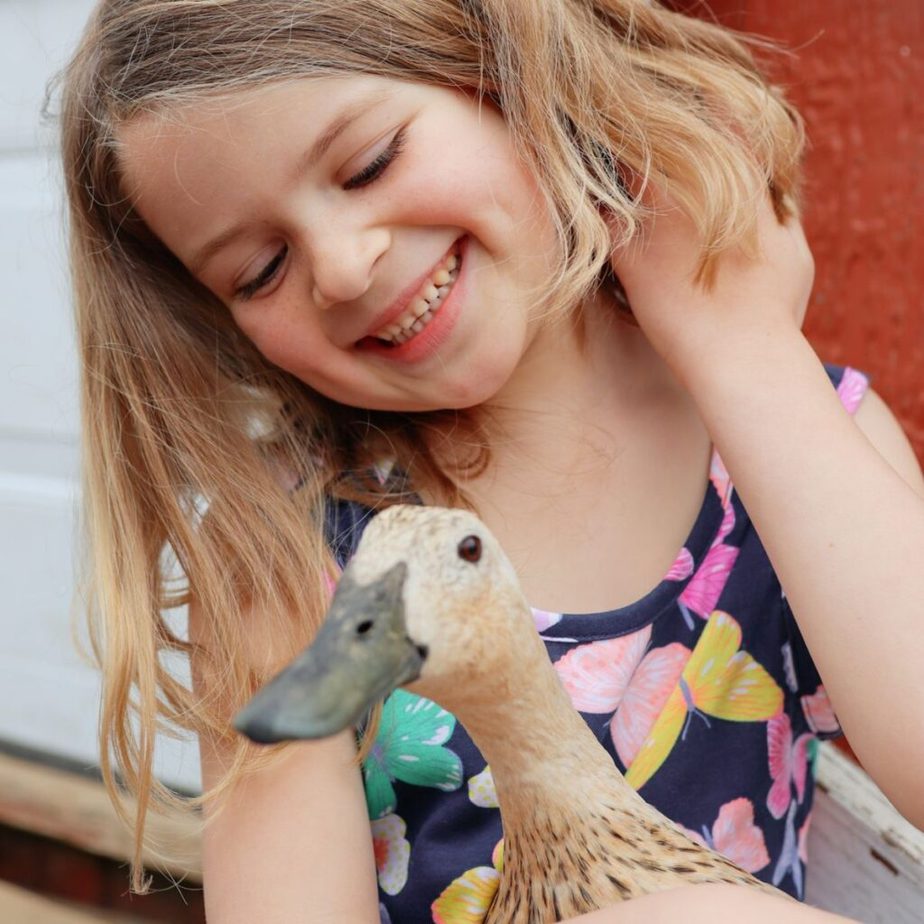 This article contains affiliate links. Click here to learn more.
The ONE single question I get most often about raising ducks (even more often than "what should I feed them?"), is this: "How can I raise my ducklings to be friendly, and enjoy being with me?" In this post, you'll find my best tips for how to raise friendly ducks - tips I've found myself typing out in text messages and emails to duckling customers for the last few years, every time someone asks!
Folks who get ducklings from me know that my ducks are extra friendly, and always want to be part of whatever I'm doing...whether it's feeding the sheep, or tending the garden. I think everyone hopes their backyard ducks will grow up to be friendly and companionable. These are the best ways I know to ensure that happens!
6 tips for raising friendly ducks
Start talking to them as early as you can, as often as you can.
If you're hatching your own duck eggs, start talking to them even before they hatch! They'll already know your voice. In his book, Storey's Guide to Raising Ducks, Dave Holderread recounts an experiment where he would talk to a batch of incubating eggs in the days leading up to their hatch.
Once the ducklings hatched, they put the babies in the middle of a room, with Dave and several other people circled around. Everyone called the ducklings and they immediately went running to Dave - they already knew his voice.
Here's a video of me baby-talking to some newly-hatched ducklings. By this point they'd been hearing my voice for days. It's ok to sound like a crazy person talking to your fluff babies!
If you can't talk to your ducklings as they incubate, start talking to them as soon as you receive them - hopefully in the first day or two after they hatch. They will get used to your voice, and it will start to mean comfort, security, and familiarity to them.
I find this really makes a difference, even once my ducks have reached adulthood. I can call them from a window of my house, and they'll come running! They've all known my voice their entire lives, and it's completely familiar to them.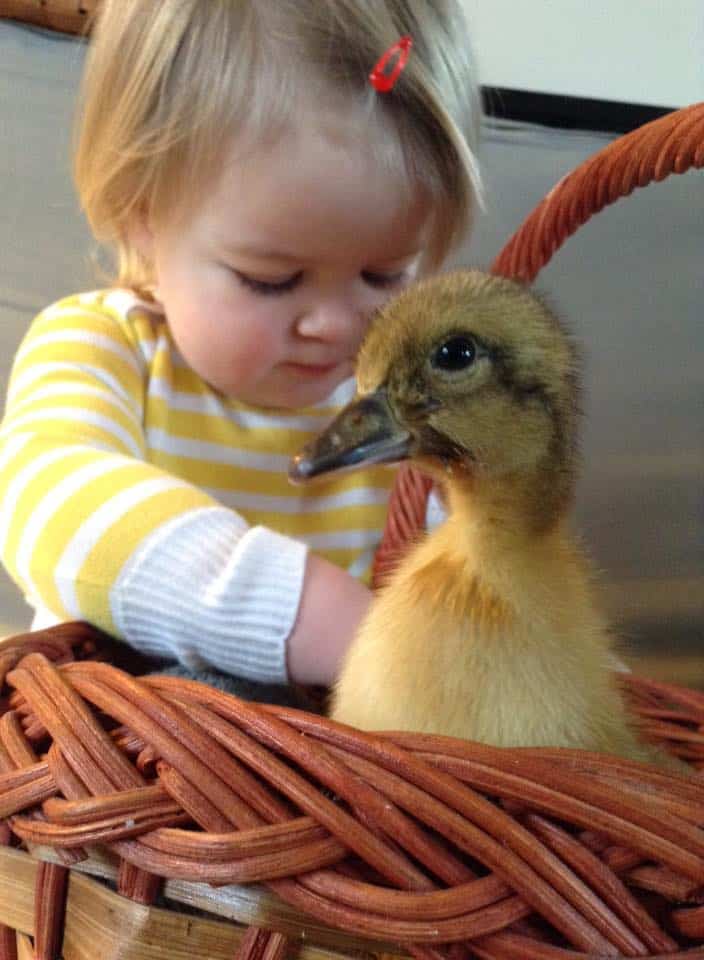 Handle them a LOT, starting as soon as possible.
The more you gently handle your ducklings, right from day one, the more I find that they stay cuddly, friendly, and sweet as they grow older. Having small children means that all of our ducklings get LOTS of love right from their first day after hatch. My sweet little Izzy makes a point of singing a song to every single duckling, every day. She spends so much time with them, she can tell each one apart, even if they look identical to everyone else.
Inevitably, a couple of "the babies" become absolute favorites. These ducklings get names, extra cuddles, and extra stories, and songs sung to them. They run around the house, and poop. And it's ok. Duckling-raising time is a short season of the year, and toddler-hood is a short season of life. Duckling poop is easy to clean. I can always tell which ducklings were the very favorites, even one they're all adults living out in the duck house. Ketchup and Goosey still are happy to see Izzy, and are among the first to climb in my lap if I'm working in the garden.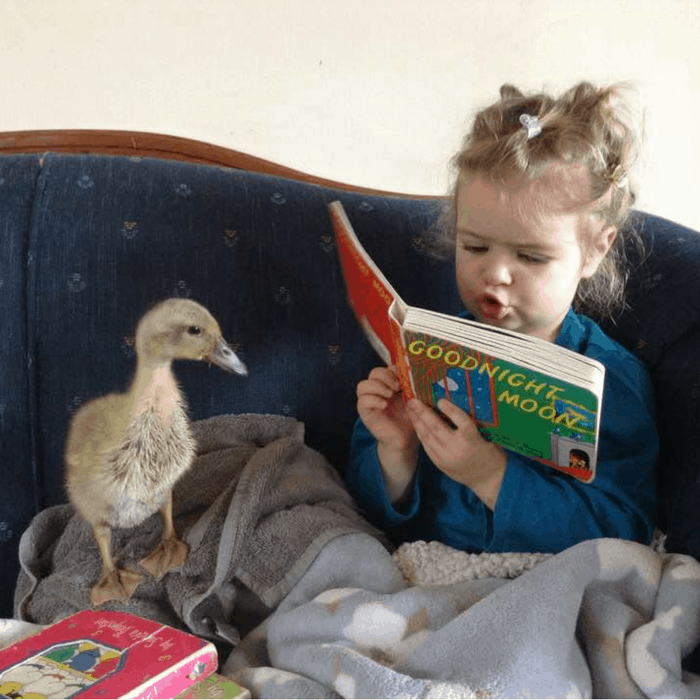 Use special treats.
Every time you spend a few minutes by the duckling brooder, bring them a little something special. I like to keep a big bag of freeze-dried mealworms handy, right by the brooder, and I encourage everyone who stops by to give the babies a few. I want to raise ducks that trust and like people, not only me. If I'm coming from the kitchen, I'll bring the babies a handful of peas, or a fistful of finely chopped lettuce or kale.
Very quickly, the little ones realized that any time they hear people coming to be with them, TREATS are coming! This goes a long way to raising ducks that come running when they hear you, instead of scattering and running away.
Hand-feed them at set times.
I find that many folks report that even ducklings that seemed fairly friendly at first, tend to start getting more skittish about the time they're turning a month old. I think this is pretty common. I think that, along with the other tips here, the fact that I slowly work my ducklings toward a twice per day feeding schedule around this time helps to keep this from happening in my flock.
As tiny ducklings, I always keep food and water available around the clock. Once the ducklings are a couple of weeks old, I start taking their food out of the brooder at night. I remove their food last thing before I go to bed, and then very first thing when I wake up in the morning, I feed them - right out of my hand. I take the time to sit there with my hands full of food, and let them get their first exciting meal of the day from my hands. It takes a little while, and it's worth getting up early for.
By the time the little ones are 4 weeks old, I've started removing their food dish for a for a couple of hours in the middle of the day. I feel at this point they're not quite ready for the twice daily feeding schedule I use with my adult flock, but I like them to start getting used to their food dish being gone for a while. By the time it's been gone for a couple of hours, they're SO EXCITED for their afternoon feeding. I usually do this with my kids, right after naptime. We spend time with food in our hands, and the ducklings sit in our laps and eat from our hands. Just having their food gone for that short time is enough to make mealtime exciting!
By about 8 weeks, I've slowly worked them back to getting fed twice daily, just like my adults. Even though they're getting bigger, I make a point of still feeding them from my hands, at least for the first few minutes of each feeding time. Often, I'll put the food bowl down on the ground, and sit cross-legged around it, so they climb over my lap to get to it. Being a real part of their feeding time goes a long, long way to maintaining friendliness through the "teenage" stage when many folks find that their cuddly ducklings suddenly want nothing to do with them!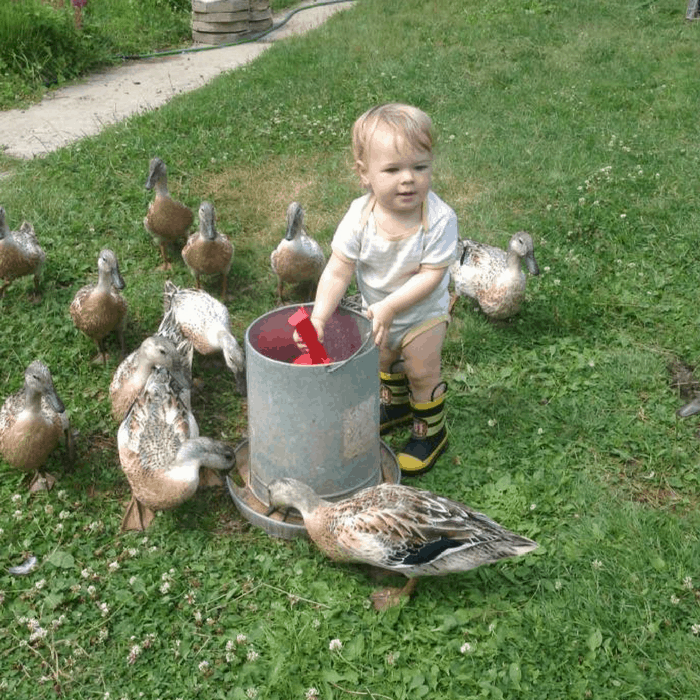 Get down on the floor, or ground, with them!
Ducklings are like toddlers. It's easier for them to get comfortable with you if you're down at eye level. As you're spending time with them, finding a way to get right down with them seems to make a big difference in how much they want to interact. Perhaps it's a bit of a self-preservation instinct, but I find that even the boldest and tamest of ducklings can be quite easily spooked from above. Getting on their level (or bringing them up to yours!) goes a long way to making them more comfortable. If you're watching tv in the evening, go grab a duckling and let one sit on each shoulder. Really, the more hours of quality time you log with each one will make a difference in helping them grow up to be cuddly ducks!
Don't chase them, or allow them to be chased.
I find that being chased is a fast way of breaking trust with ducks. It brings a level of stress into the duck coop that can linger for days. Unless absolutely necessary for their safety, I never chase a duck, or let them be chased. I really find it introduces a wary-ness into the flock that can take time to undo, and I try to avoid it if at all possible.
I hope these tips help, as you work toward raising an extra friendly flock of backyard ducks. Do you have any tips that you've found helpful in raising friendly ducks that love spending time with you? I'd love to hear them!!
Read Next: Sturdy Perennials For Duck Runs
You may also enjoy these other natural duck keeping posts:
✦ How long do ducklings take to hatch?
✦ How many drakes can I have in my flock?
✦ Hatching duck eggs with high hatch rates
✦ HELP! My duckling isn't growing!
✦ 11 types of poultry for homesteads and farms

Pin it for later: