It's so frustrating when your ducks aren't laying eggs and you don't know why! I've been helping duck keepers answer (and solve!) that question for years. Let me walk you through these 9 reasons why ducks don't lay eggs, to sleuth out why your ducks might not be laying!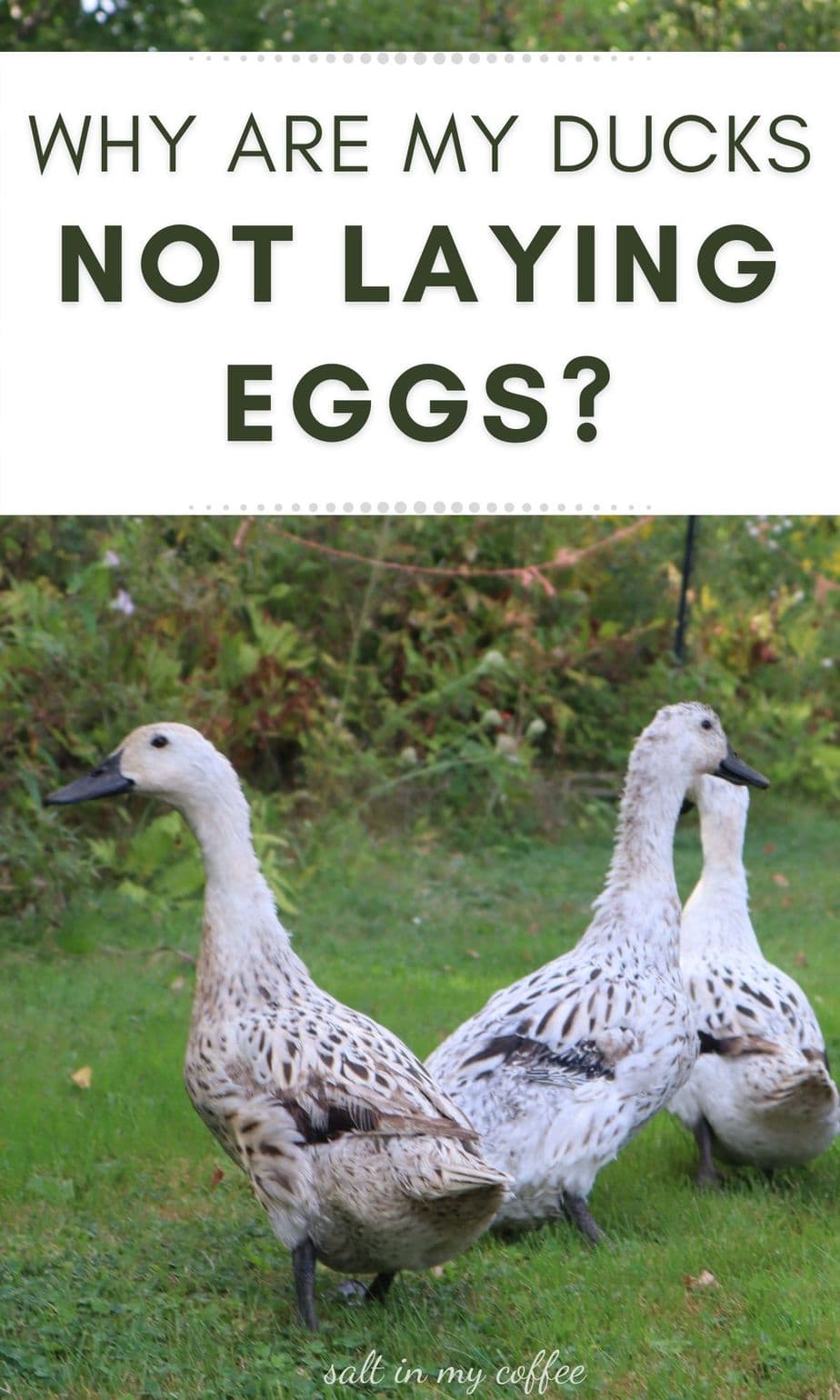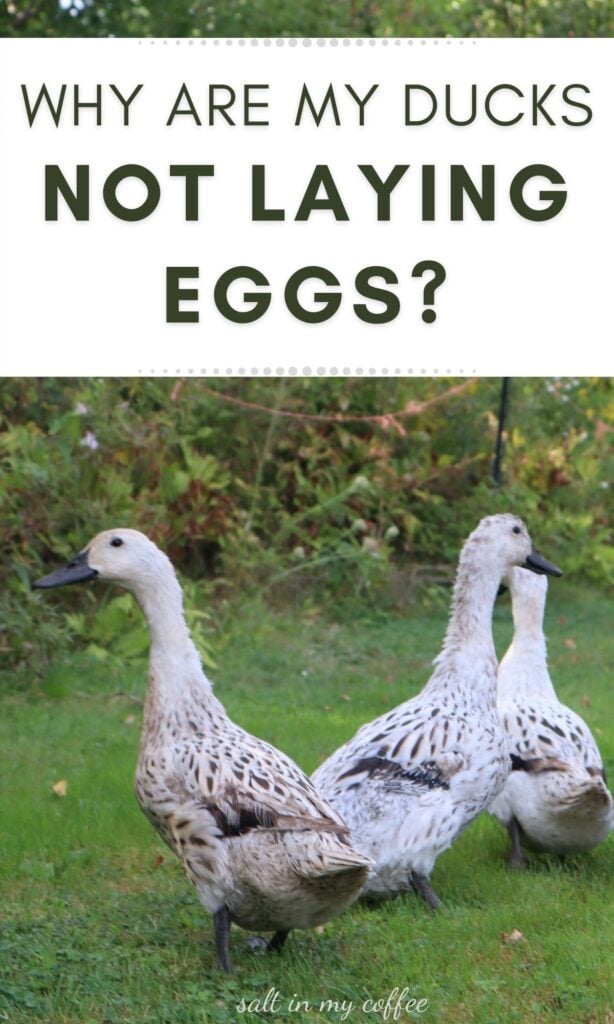 When it's not hatching season, or "how do I make my ducklings love me" season, the question I most hear from new duck keepers is this one:
"WHY are my ducks not giving me eggs?!!"
There can be many different reasons why perfectly happy, healthy ducks aren't laying eggs. Almost always, by walking the duck keeper through a series of questions, it's pretty easy to sleuth out the answer and help get those ducks laying eggs.
For most backyard duck keepers, fresh duck eggs are one of the main reasons you got ducks in the first place. So let's figure this out together! I recommend starting a the beginning, and answering each question with a very open mind and heart, right to the end.
One note before we get started: It's easy to shake your head in scorn at a couple of these questions (and people always do!) But for many folks, some of the most seemingly implausible reasons have ended up being the culprit. If there's one thing ducks have helped teach me, it's to have an open mind. Take at least a moment to consider each of these questions, even if you're certain "that's NOT it!"
1. Are you sure they're not laying?
First things first, let's make sure we're trouble shooting the right problem. Several times, I've gone through a whole list of questions and trouble-shooting, only to get a text a few days later with a photo showing a cleverly-hidden nest overflowing with eggs, and an explanation: "They WERE laying eggs, just not in the duck house."
I've known folks to find stashes in dog houses, under barns, at the edge of ponds, under overturned wheelbarrows.
If you really suspect your ducks should be laying eggs, it's worth following them around a bit to see if there's any chance they could be laying their eggs somewhere other than their duck house.
While most ducks prefer to lay their eggs very, very early in the morning, it's not uncommon for them to wait until later in the day, if this means they have access to a place they'd rather be laying their eggs.
If you do discover they've been laying eggs somewhere sneaky, you can often help fix this by keeping them confined to their duck house/run until later in the morning than usual, while also making sure they have a nest that feels safe, in the area where you want them to lay. Give them lots of straw to fuss around in, as you're trying to train them to use the correct nesting area, and it will usually help.
If you're sure they're not laying eggs anywhere, go ahead to the next question...
2. Are you sure they're female?
Don't laugh. This one seems like a no-brainer, but you guys - it's happened. MORE THAN ONCE.
On more than one occasion, I've worked with folks who were sold "definitely female" ducks, only to be bitterly disappointed when they never started laying eggs. Upon receiving pictures of the non-egg-laying culprits, I knew immediately why those poor ducks had never laid an egg (and never would!) But to an an innocent and trusting first-time duck keeper, it had been easy to believe these beautiful ducks were female - after all, that's what the seller had told her!
I wish I could say this doesn't happen, but it does. If you're new to ducks, or to this breed, and you've taken someone's word that your ducks are female, it's worth double-checking for yourself.
In most breeds of ducks, it's easy to tell the difference between male and female ducks by the plumage - the colors and pattern of the feathers. If you're not sure which breed of ducks you have, scroll through this list of duck breeds and see if you can find yours. Then do a quick online search for "drake/duck photos + (your duck's breed)". If you have any doubt about the gender of your ducks, that should help you!
In some ducks (like all-white pekins), feather color can't help. However, most male ducks do have a "drake feather" - a little curl at the end of their tail, that goes up, in way that the tails of female ducks do not. If you're still in doubt, you can always take a little video of your flock, and send it to an experienced duck-keeping friend. They'll probably know right away whether you have males or females.
3. Are they old enough?
In general, female ducks begin laying eggs around 18-22 weeks of age.
The big exception is Muscovy ducks - they generally start laying when they're closer to 6 months old - about 25-26 weeks of age.
If your ducks aren't at least 4-5 months old (or 6 months old if they're Muscovies), they're just not ready to start laying eggs yet. Most likely, all they need is a little more time.
4. Are they molting?
If you know that your ducks are old enough to lay, and especially if they've already been laying eggs for several months, it could just be that they're taking time off to molt. If you see more feathers than usual flying about the yard, or if your ducks are starting to look a little scruffy, this may be what's going on.
Here in Maine, my Welsh Harlequins usually start molting in earnest during the month of August. If you're in a different climate, molting may tend to happen a little earlier or later in the year.
Duck bodies require extra energy and nutrients to replace old feathers with new ones, and in general, female ducks stop laying eggs during this time.
You can help support your ducks through molting by offering them a feed with slightly higher protein levels than what you'll find in most layer pellets. Feed them well, give them time to finish molting, and you should have eggs again before you know it.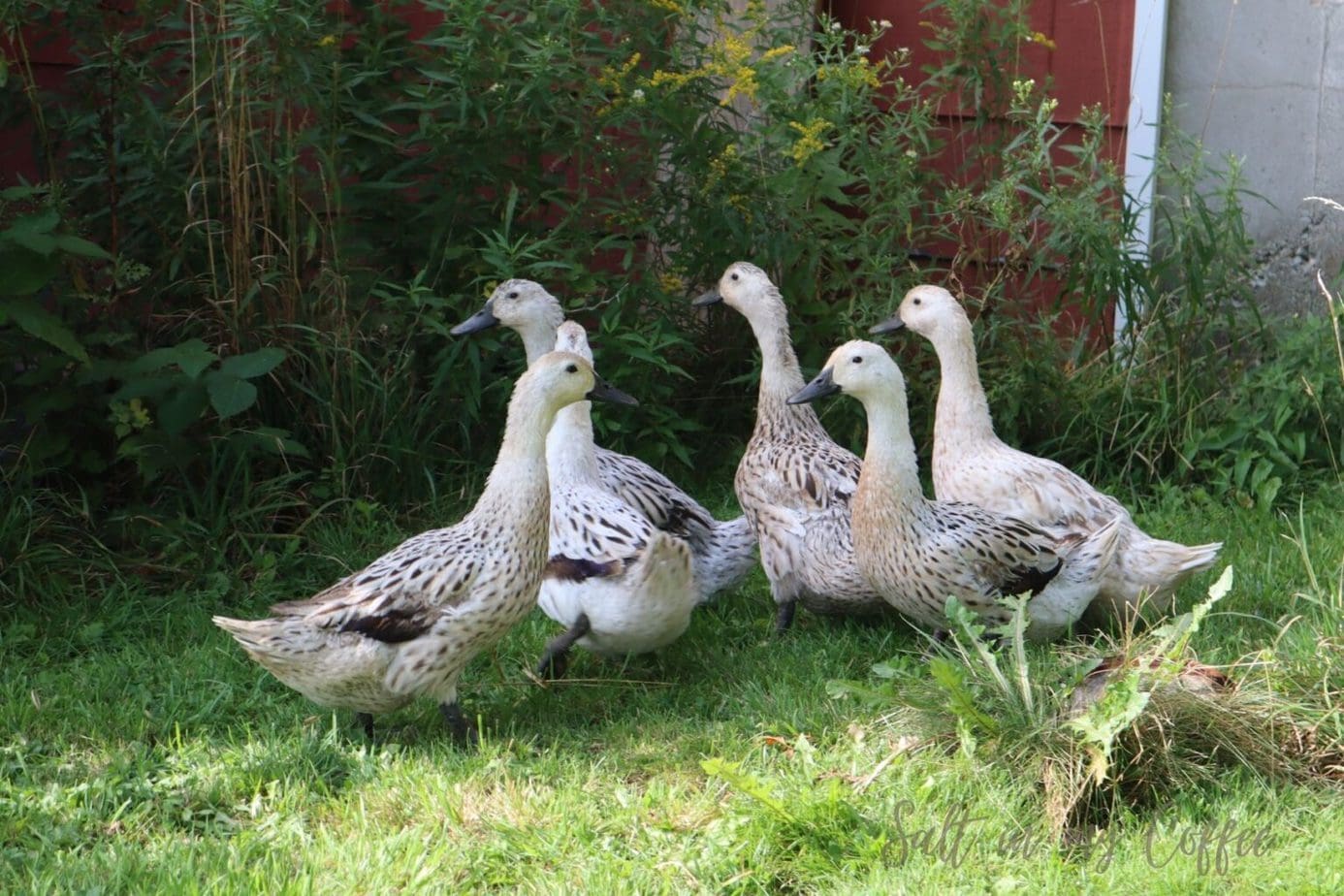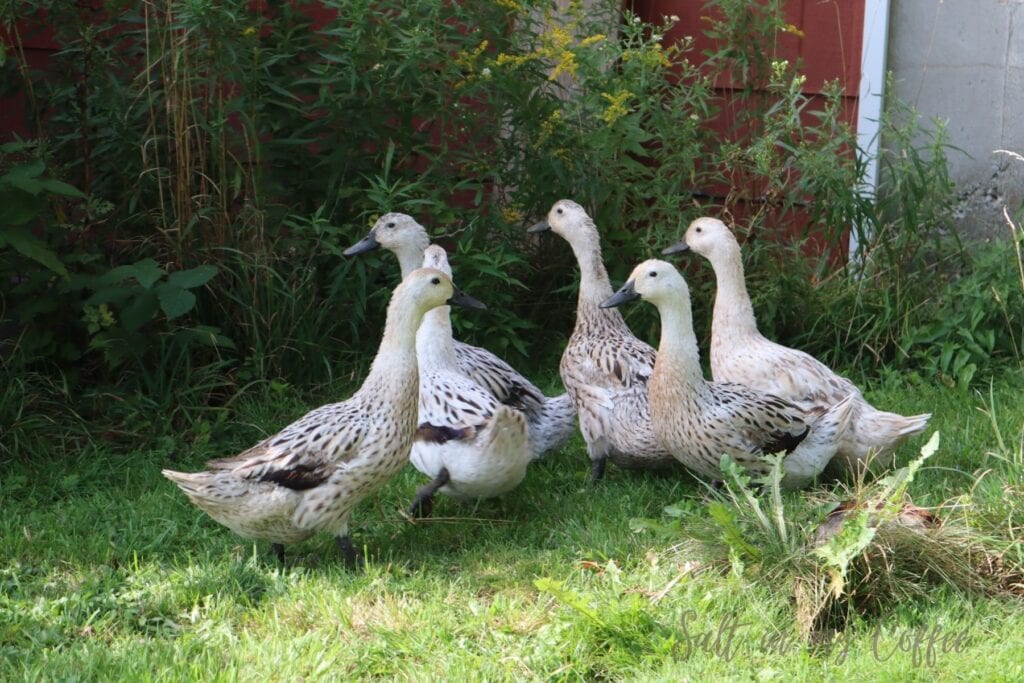 5. How much daylight are they getting?
This is honestly one of the most common culprits, when it comes to ducks not laying eggs. If you've made it past the first few questions, chances are this could be the issue.
Unfortunately, there is a huge amount of inaccurate duck keeping information that has been written on blogs, especially over the last 4 years. One frequently-plagiarized, inaccurate claim is that "ducks lay eggs all winter without lighting!"
That can be true - in their first year, during their first lay cycle. It's also more likely to be true in the southern states, where most of these claims appear to have started.
Once they begin laying eggs, first-year ducks are fairly likely to keep laying some amount of eggs, even if lighting and housing conditions aren't optimal. After that first year, female ducks are much more likely to stop laying eggs in the winter if they're not getting adequate light.
If you live in a snowy climate, and aren't providing supplemental light to your ducks, you probably cannot expect duck eggs all winter. Even if your ducks laid eggs without lighting in their first year, lighting may still be the problem this year, now that your ducks aren't in their first laying cycle.
How many hours of light are you getting naturally each day? If it's less than 12, consider putting a light in the duck house, on a timer. Let the ducks go to bed normally, and then set the light to come on about 1/2 hour before dawn. Every few days, move the time earlier by half an hour, until your ducks are getting 14 hours of light, from the time their light comes on in the morning, until sundown in the evening. It can take a little while for the ducks to start laying, even once they have enough light, so try this for a while.
If your ducks get a solid 14 hours of light for three weeks, and they still aren't laying eggs, it's time to keep troubleshooting.
6. What are they eating?
If your ducks are female adults, who are not hiding their eggs, and are getting enough light - their diet is the next place I'd look.
Are you feeding your ducks a complete, high-quality ration, and are they getting enough of it? Let's start with amount - are you feeding just once or twice a day, or are you allowing your ducks to free feed?
If you feel that your ducks should be laying eggs, but they're still not, I would strongly encourage you to make sure that food is available to your ducks at all times - at least until they're reliably laying eggs.
The feeding of ducks is sadly another topic that's seen a proliferation of hogwash and bad information online, over the last few years. While many duck breeds are great foragers, most will not lay an abundant supply of eggs without ample access to pelleted duck feed, or a homemade equivalent.
Also, most breeds of ducks will not lay to their full potential, especially after their first year, if fed nothing but the least expensive layer pellets available. They will lay, but almost certainly not as many eggs as they could with a higher-quality diet. I know animal feed is a huge expense for most homesteads, but if you're feeding your flock the cheapest food possible, in my opinion it's truly worth switching them to a higher quality feed, even just for a month, to see if this makes a difference in their egg production.
The two times that my local feed store has been out of better feed, and I've resorted to lower-quality layer pellets to "hold them over", my ducks have immediately let me how they feel about this, with a drastic drop in egg production.
Also, last year when I finally made the switch to an all-organic feed, I was surprised to find that my flock almost immediately started laying more eggs. Even my 5 year old girls almost immediately starting giving an egg every single day without fail, just as in their younger years.
The increase in egg production more than outweighed the increased cost of feed, and I've actually found that my flock goes through their feed more slowly (while producing more eggs), since I've switched to the organic, locally-milled feed.
7. Do they have a safe place to lay their eggs?
Ducks don't need a fancy nesting box for laying their eggs, but they do need to feel that they have a safe spot to lay their eggs. If the dog has access to the duck coop, or if children are routinely romping through the barn, that may be enough to make your ducks feel that this isn't a safe place.
One summer, a relative's dog ended up getting into my duck house. While no ducks were hurt, it changed the way the ducks felt about their duck house for many days following that incident. All but one of my ducks stopped laying eggs, and it took them more than a week to resume laying.
I know there's not much scientific literature on this, but personal experience has led me to feel that ducks are more likely to lay, and lay prolifically, if they have a space that truly feels like a safe haven.
8. How many drakes do you have in your flock?
Another thing that can wear down your ducks, stressing them out, and making them less likely to lay well, is having too many drakes in the flock. Ducks are happiest and healthiest when there's a good balance of males to females.
If you have more than one male to every 5 females, you may want to read this post, and consider whether your girls would do better if they didn't have quite so much male attention.
9. Are there other sources of stress for your ducks?
Stress is can take more of a toll on ducks, than many think. It really can affect how well a duck lays eggs, and it's worth trying to make their environments as peaceful and safe-feeling as possible. While stress alone usually isn't the culprit behind ducks not laying eggs, it certainly doesn't help. Here are some common stressors that can take a toll on a flock:
being routinely chased, whether by dogs or children
not being fed with consistency - the same food, with the same routine
frequent incursions from predators, especially if there are losses
inadequate housing (do the ducks have a place to stay dry and well-sheltered from wind?)
These are just a few common stress culprits among duck flocks. If any of these are true in your duck yard, doing whatever you can to help fix that issue will be a worthy investment in the happiness of your flock, and their production of eggs for your table.
I know this has been a long list, and I hope it's given you some helpful clues, as you sleuth out why your feathered pets aren't proving you with eggs.
If you've been through this list and still can't figure out what's going on with your flock, feel free to shoot me a line. I'm always happy to help if I can.