Duck eggs from Mallard-derived duck breeds generally take 28 days to hatch, and Muscovy eggs usually take 35 days. But how long does a duckling take to hatch out of their shell, once they start hatching?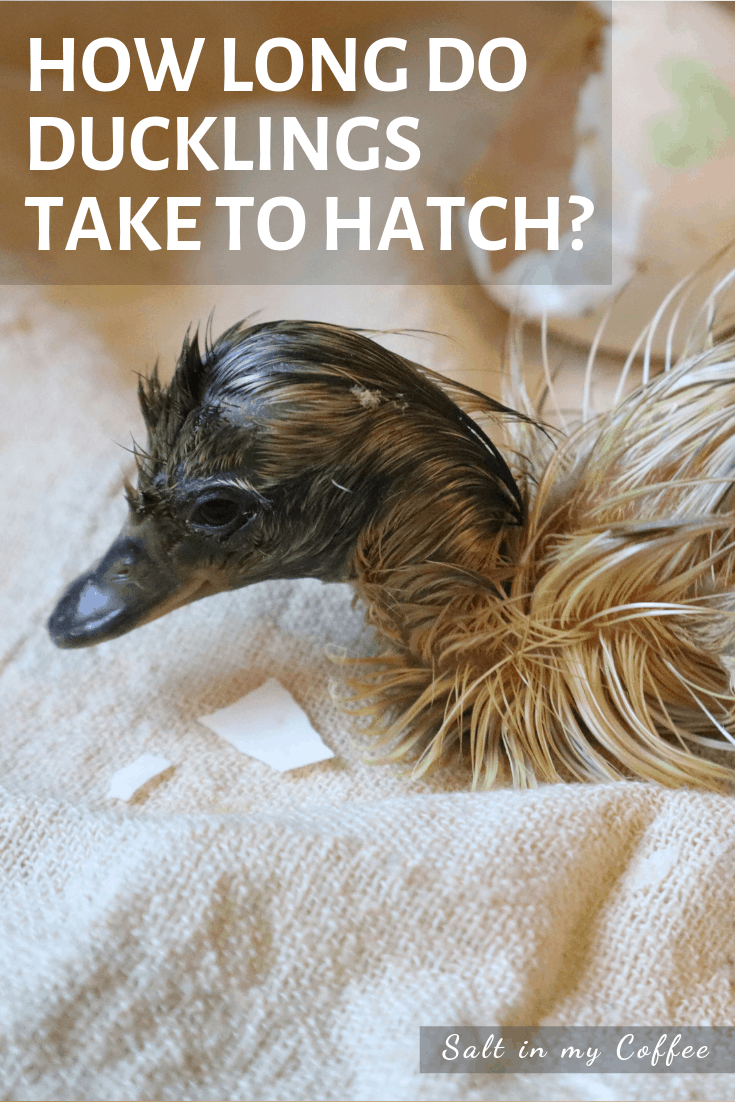 This article contains affiliate links. Click here to learn more.
If you've ever hatched chicken eggs, you know that the hatching process can take a little time. But if you've never a hatched a duck egg, it might surprise you just how long it can take a duckling to emerge from the shell, once hatching begins!
Here are the usual stages of hatching for a duck egg:
Internal pip
Usually somewhere between 1 to 2 days before the duck eggs are due to hatch, a duckling begins the hatching process by breaking her little bill through the inner membrane of the egg, into the air sac.
She's not ready to hatch yet, but she's beginning to breath using her lungs, rather than relying solely on the chorion and allantois (the chorioallantoic membrane) to provide her with oxygen. (This is a good read, if you'd like to learn more about the amazing structure that allows a developing chick or duckling to breathe while in the shell.)
If you candle the eggs at this stage, you can usually see a duckling's dark bill protruding up into the air sac. You can also suddenly hear her peeping quite clearly, and may even hear her bill tapping against the inside of the egg.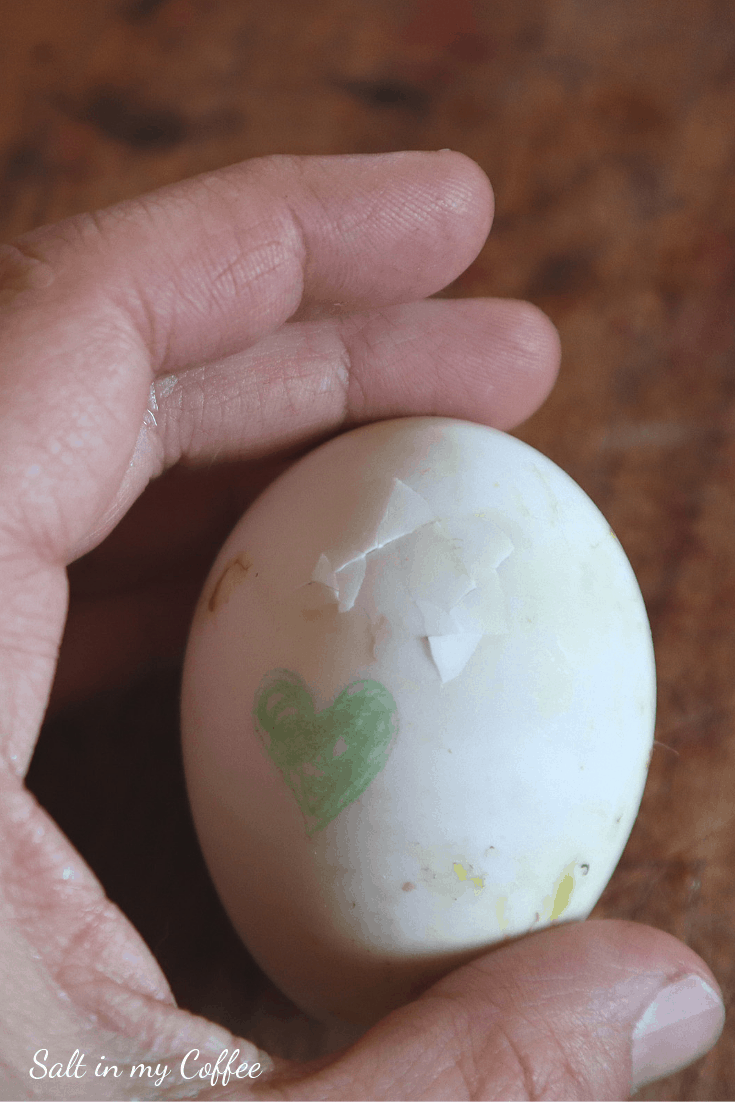 External pip
The next stage of hatching is when the duckling finally makes the first crack in the egg shell. This is called "pipping" or the "external pip", and generally happens about 12-24 hours after the internal pip.
Once this happens, it's normal to get excited - your duck eggs are hatching! But it's important to know that once the duckling finally pips, and you see that star-shaped crack in the egg, you should expect to see no progress for quite some time.
It's entirely usual, normal, and just fine for a duckling to pip the shell, then make no further visible progress for even a full day. 12-24 hours of doing nothing more than peeping, and perhaps rocking a bit, is very normal at this stage, and isn't cause for worry.
The duckling isn't ready to hatch yet. She's still absorbing the yellow yolk sac that's protruding from her abdomen, and it's important that this be fully absorbed before she hatches.
There's also a robust network of blood vessels that she's still connected to, which are laced throughout the inner membrane surrounding her. These need to dry up so that she can safely hatch without losing blood.
While it may be nerve wracking to feel that a pipped egg has "stalled out" and isn't making progress, there is an elaborate dance of necessary physiological developments that are taking place in side the egg. SO much is happening, it's just hard because we can't see it.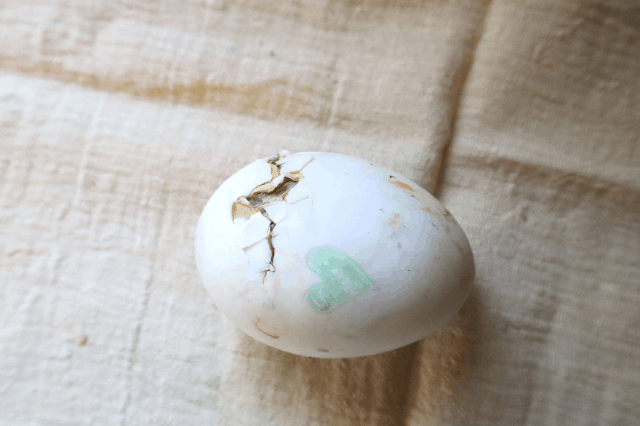 Zipping
Once the duckling has finished absorbing the yolk, and the network of blood vessels surrounding her has mostly dried up, she's ready to finish hatching. She uses her bill to start breaking a crack around the egg - usually around the circumference of the wide end of the egg. This part of the process is called "zipping" - and it's so appropriate, because the jagged crack does looks much like a zipper.
Often her peeping will get pretty loud during this part of process, and she might sound a bit desperate. That's ok. Loud peeping is generally a very good sign. She's getting close.
This part of the hatching process goes quickly, compared to the many hours spent after that first pip. Zipping can take up to 12 hours or so, but I find that it commonly takes less than 3 hours, and sometimes even less than an hour!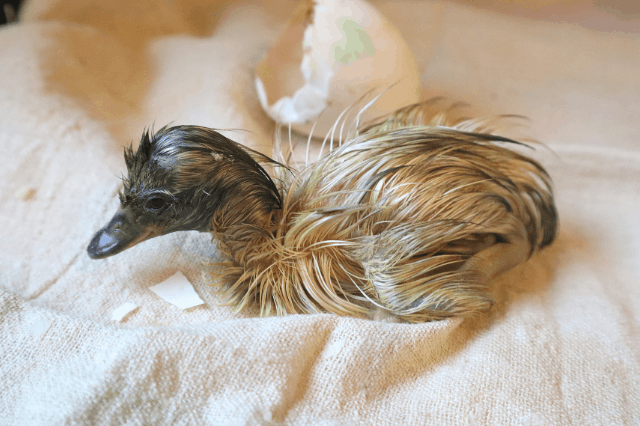 Hatching out of the shell
With a good crack finally traced around the shell, the duckling exerts itself to push, twist, and squirm its way out of the shell. Generally the head has been tucked under one wing (usually the right one, it seems to me), and as her little neck finally pulls free, the duckling often flops in exhaustion while staring around at the world outside her egg. This is a pretty damp, floppy, adorably pathetic time - but she'll very quickly dry and get control of those big feet.
Want to watch the duckling from these photos hatch? Here's a video! This little guy hatched just 13 hours after first pipping his shell.
In another post, I'll chat in far more detail about when you might need to intervene to help a duckling hatch. The answer is truthfully, that you usually should not help. It's very easy to do more harm than good by helping, especially because people almost always "help" much too soon, before the duckling is actually ready to hatch.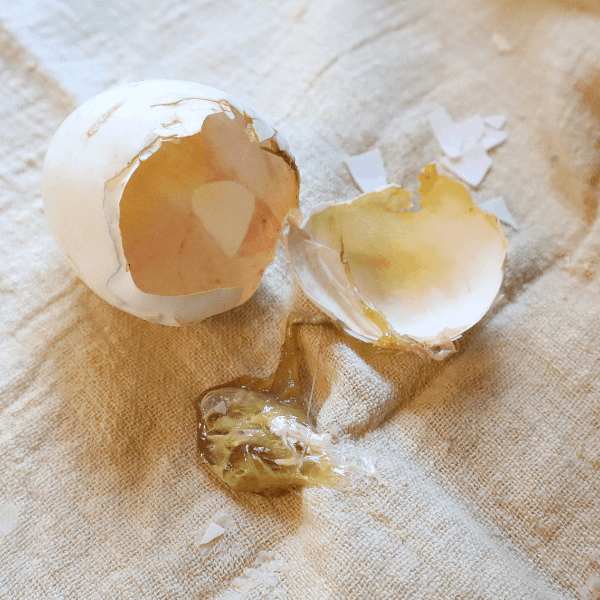 It's my hope that if you're hatching duck eggs and getting nervous about how long the process is taking, this post might set your mind at ease. Hatching is a lengthy process for ducklings, and it's meant to be that way.
How long do ducklings take to hatch?
Just to recap - it's very usual for ducklings to take 36 hours, or even a bit more, to fully emerge from the shell after you see that first pip.
Have more questions about the hatching process? Drop them in the comments below and I hope I can help!
Happy hatching!
Read Next: Duckling Hatching Video: Meet Zoe & Wash
If you liked this post, you may enjoy:
✦ Hatching Quail Eggs
✦ How to Hatch Duck Eggs
✦ Hatching Chicks with a Broody Hen
✦ Starting a Small Scale Hatchery
✦ 52 Ways to Make Money on a Small Homestead