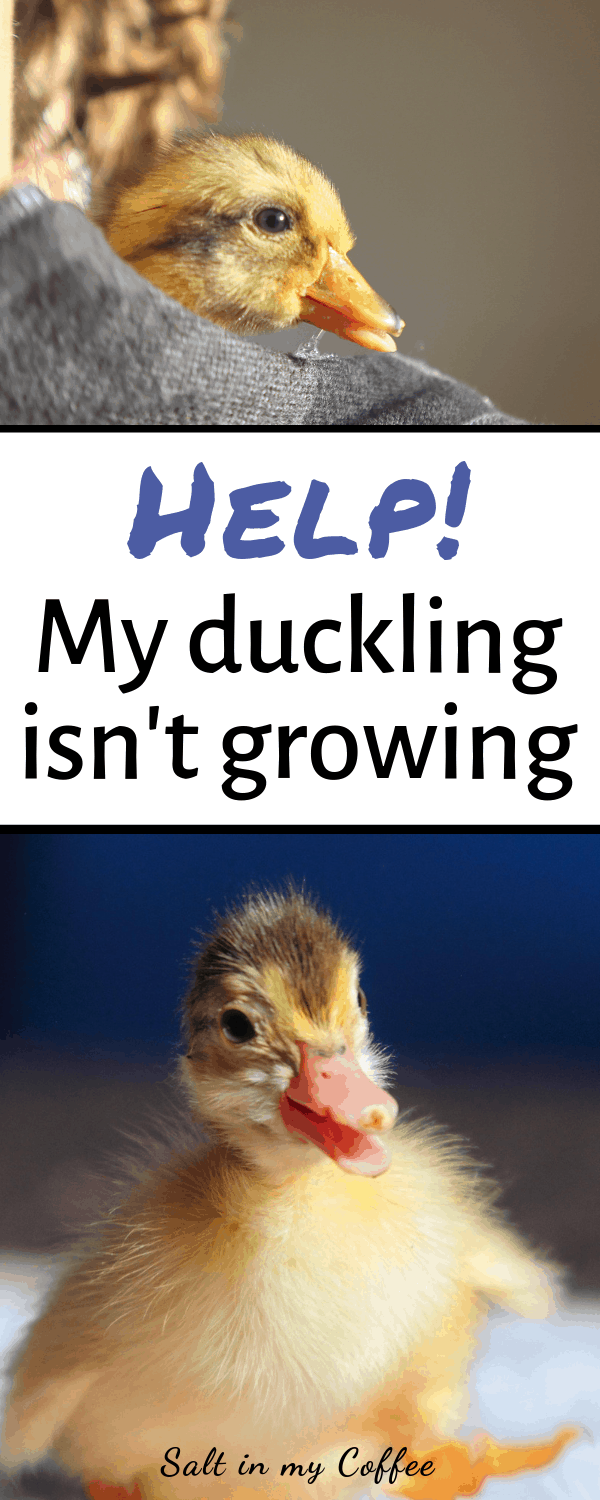 This article contains affiliate links. Click here to learn more.
Today I got a text about a duckling that is much smaller than his brothers and sisters. Had I run into this before, and if so did I have any advice?
Yes! I've raised more than 200 ducklings over the last several years, and in that time I have seen this twice. Both times, the ducklings were males, and one of them had been a duckling that needed help hatching.
And in both cases, I was able to help them recover, grow, and catch so completely up with their siblings that without a leg band I would not have been able to differentiate them. There IS hope for your tiny duckling my friend, take heart!
In both of these cases, the ducklings were not significantly smaller than the others at hatch. However, by about 2 weeks old, there was a very significant difference in size. The tiny ducklings looked not much bigger than if they'd been newly-hatched, while their brothers and sisters were robust and growing quickly.
The first time this happened, I spent hours researching everything I could find out "runting" in ducklings.
This post from Metzer farms was one of the more helpful. In it, they suggest the use of probiotics, and I feel this absolutely does play a key role in helping restore the gut health of ducklings, and enabling them to begin putting on much-needed weight.
Here is what I suggest for helping a runty pet duckling to grow to a full, healthy size:
Remove the small duckling for his own private feeding time, at least 3x a day.
When I suggest this, duck owners are often quick to tell me that they don't feel the other ducklings are bullies, and that they don't see the runty duckling getting pushed away from the food. However, in my experience, a duckling does eat more when not surrounded by larger siblings.
In at least two cases, owners of runty ducklings who asked for my suggestions implemented just this one piece of advice, and found that even this one change did help their ducklings to put on weight.
Add probiotics to the duckling's food or water.
Your feed store will likely have poultry-specific probiotics that you can sprinkle into their water, or you can get them on Amazon.
Alternatively, you can use a high-quality unsweetened yogurt, and either whisk a bit into their water (be sure to change the water at least twice a day if you do this), or mix a bit of yogurt into their crumble (I do a teaspoon at each feeding when I do this). Remember, the duckling should be eating alone so he eats as much as possible, and gets all of the yogurt, if that's the route you're going.
Make sure the duckling is on a high-quality feed, containing all of the needed minerals.
Do not feed your duckling layer feed. The excess calcium is detrimental to the optimal growth of even a healthy duckling.
A duckling should ideally be on a crumble that has the correct nutrients for waterfowl. Depending on where you live, I know this can be hard to find.
I feed mine Blue Seal Multi-Flock "Chick 'n Game Starter". This has a protein level of 22% which is higher than it really should be for ducklings, but it's a better-quality feed than the other options available in my area. I lower the protein level by supplementing with plenty of lettuce and other greens.
If you must feed a regular chick starter, choose a high-quality one, and be sure to supplement with brewers yeast to meet the duckling's need for niacin.
Consider switching your red bulb heat lamp for a non-lighted ceramic reptile bulb.
I now exclusively use non-lighted heat sources for brooding my chicks and ducklings, and feel that especially ducklings facing impaired growth benefit from the rest provided by a natural day/night cycle. 24 hour lighting has become the de rigueur method of heating young poultry, since it supports fast growth and round-the-clock eating.
This is the 60w bulb I use, and it works perfectly for the large tubs in which I brood out my ducklings. They also come in 100w if you're heating a larger brooder.
In an industry where getting a chicken to the table (or laying eggs) as quickly as possible is a benefit, 24-hour lighting makes sense. But for supporting the full physiological requirements of healthy growth and longevity, I have seen a huge benefit in switching to non-lighted heat sources, and feel that this is especially the case with ducklings needing special care.
Make sure your duckling isn't over crowded.
Your duckling should be able to go throughout the day without being trampled. If your brooder tub looks crowded to you, you may want to consider setting him up in his own brooder, with just one or two other ducklings for company.
I truly hope some of these tips help, as you seek to assist your precious little duckling! If you have any questions I haven't answered here, just leave a comment and I will try to help! Best of luck to you and your little one!!
Have a duck question you'd like me to answer? Shoot me an email and I'll try to help: [email protected]
Read Next: Top Signs Your Duck Might be Broody
If you liked this post, you may enjoy:
✦ How long do ducklings take to hatch?
✦ How many drakes can I have in my flock?
✦ Hatching duck eggs with high hatch rates
✦ How to raise friendly ducks
✦ 11 types of poultry for homesteads and farms