Hatching duck eggs is just as easy as as hatching out baby chicks! I hope these tips will help answer any questions you have about how to hatch duck eggs, and that soon you'll have your own adorable fluff-balls peeping and cheeping away!
This article contains affiliate links. Click here to learn more.
When we first got our Welsh Harlequin ducks, I was just looking for a nice little backyard flock. I wanted them to help keep the wasps and ticks down, and provide us with wonderful, nutrient-dense, duck eggs. That was about it. I had no idea the extent to which they would utterly charm us.
By the time spring came around the following year, I knew I needed a few more...just a few more, I told myself. So I decided to hatch some of their eggs. I'd heard that duck eggs were quite a bit harder to hatch then chicken eggs, so I put quite a few eggs in the incubator. 38 of them, actually. I figured that would leave a healthy margin for error, since I was hatching out ducks for the first time, and didn't feel terribly confident. If I got lucky and more hatched than I needed, I knew I could probably sell them.
Turns out, duck eggs really aren't that hard to hatch successfully. I had a great first attempt, and ended up with 32 ducklings from that hatch. I didn't need that many, so I posted them in my Facebook farming group. By the next morning, they were all sold. And I had a list of people who wanted to buy more, if I would be willing to hatch them.
Would I hatch more? Oh, indeed, I hatched more. By the time summer was over, I'd hatched out 227 ducklings in my kitchen. I incubated them using two different circulated-air incubators (this one by Hovabator, and this one by Brinsea), as well as an old plywood still-air incubator that I'd build with my dad as a kid. The more I hatched, the better I got at it. And I experimented a little. What if tried a slightly lower humidity? What if I misted twice a day? What if I didn't mist at all? What if I washed the eggs first? What if I didn't?
The more I hatched, the better my hatch rates got. I also found that my ducklings all hatched clean and fluffy (no patches of sticky down, like with my first batch). They also hatched over a shorter period of time, rather than many hours apart. By the end of that summer, I'd solidified my duckling hatching method. And I'd found a delightful little side-enterprise that helped us bring in some extra income - one more step toward being self-sufficient here on the homestead.
Below, I've created a little cheat sheet, detailing the steps I follow for successfully hatching duck eggs. This gives me consistently high hatch rates, with vigorous, fluffy ducklings. Whether you're looking to hatch a few eggs to perpetuate your own backyard flock, or you're starting a small hatching operation to earn some extra income from home - I really do hope these tips help you to have great hatch!
Need tips on how to guarantee you're only hatching purebred ducklings, if you keep multiple duck breeds? I tell you all about how to do that here.
Wondering how you can help your sweet fluff balls grow up to be super-friendly and cuddly ducks? Let me tell you all my tricks (hint: start talking to them now!)
And if you're not sure you've got all your supplies ready for when they hatch, my friend Lisa has a great list that will help you prepare for brooding out ducklings.
Happy hatching!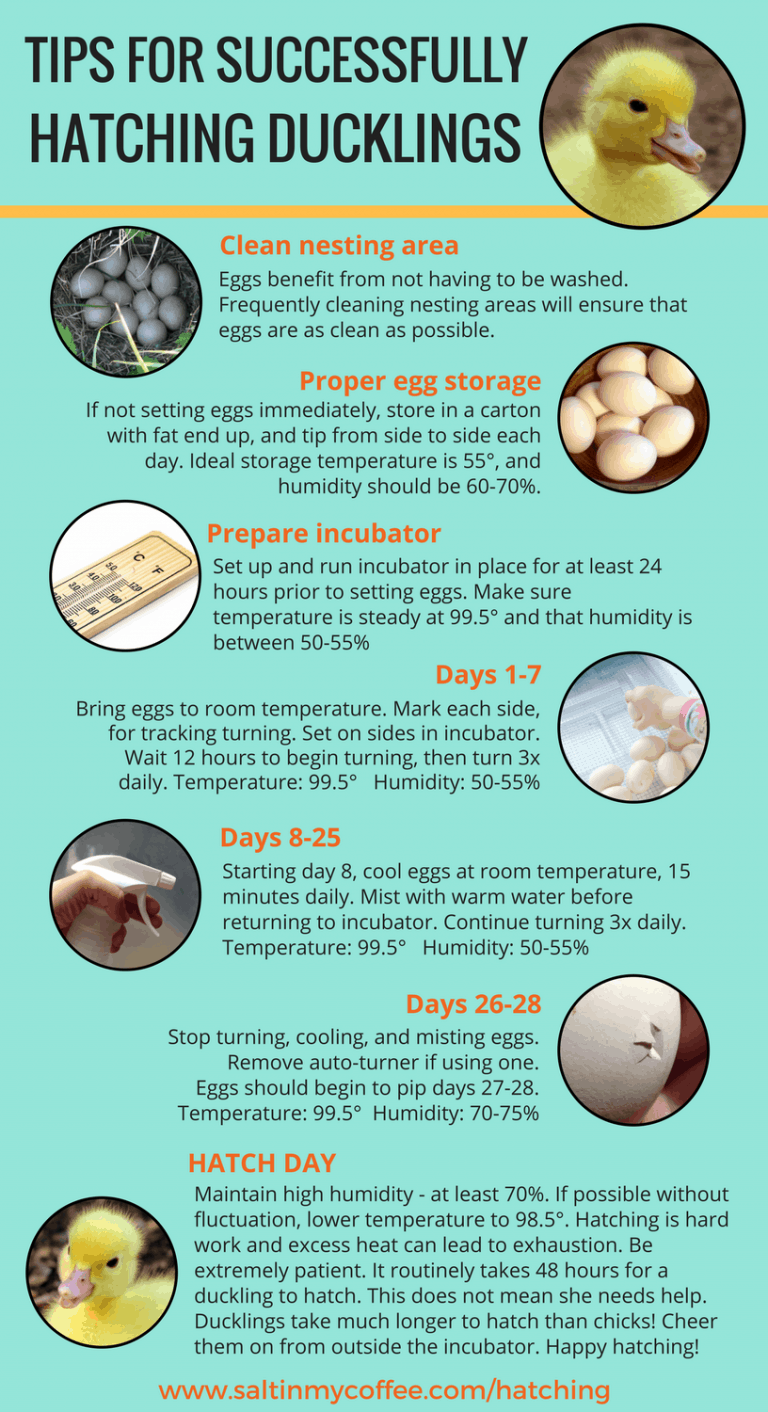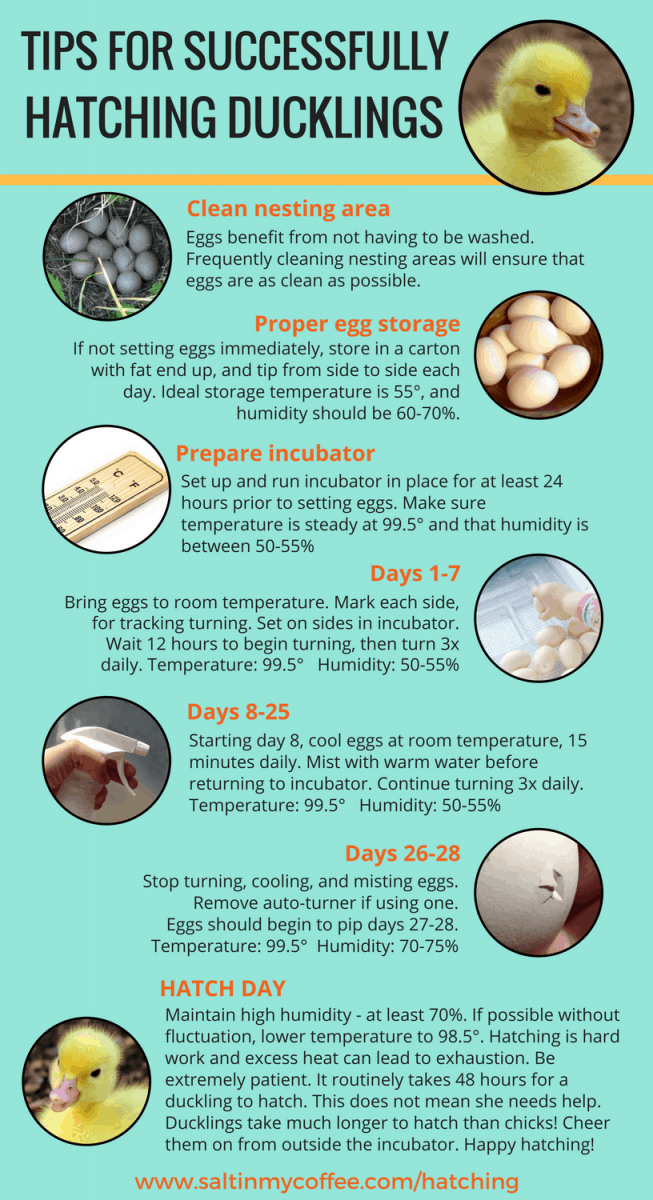 Pin for later:

Save
Save
Save
Save
Save
Save
Save
Save
Save
Save
Save
Save
Save
Save
Save