Going for a vintage vibe this Valentines day? These free printable vintage valentines look amazing when printed on card stock! Here are a dozen of the sweetest vintage valentines, all in the public domain so they're free to print and use!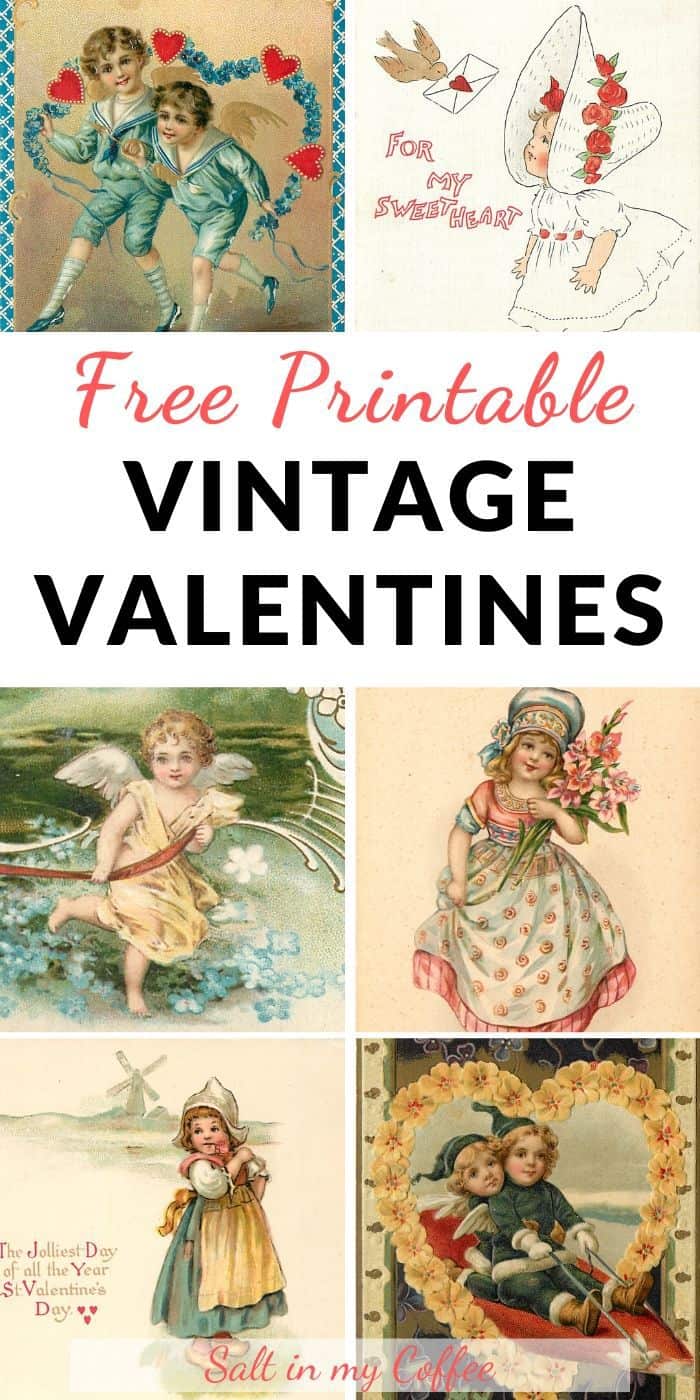 We're embracing the Valentine's season early in our house this year. It started last week when we took down the Christmas tree and my tender-hearted little 3 year old went into some serious mourning over it.
He loved that tree, and the "holiday-ness" it brought into the house. After nearly an hour of pressing his little nose to the window for a glimpse of where it awaits the early-spring brush pile, and even running outside to visit it, the one thing that finally helped soothe his sadness was the promise that the next holiday is coming soon. Which it honestly really is!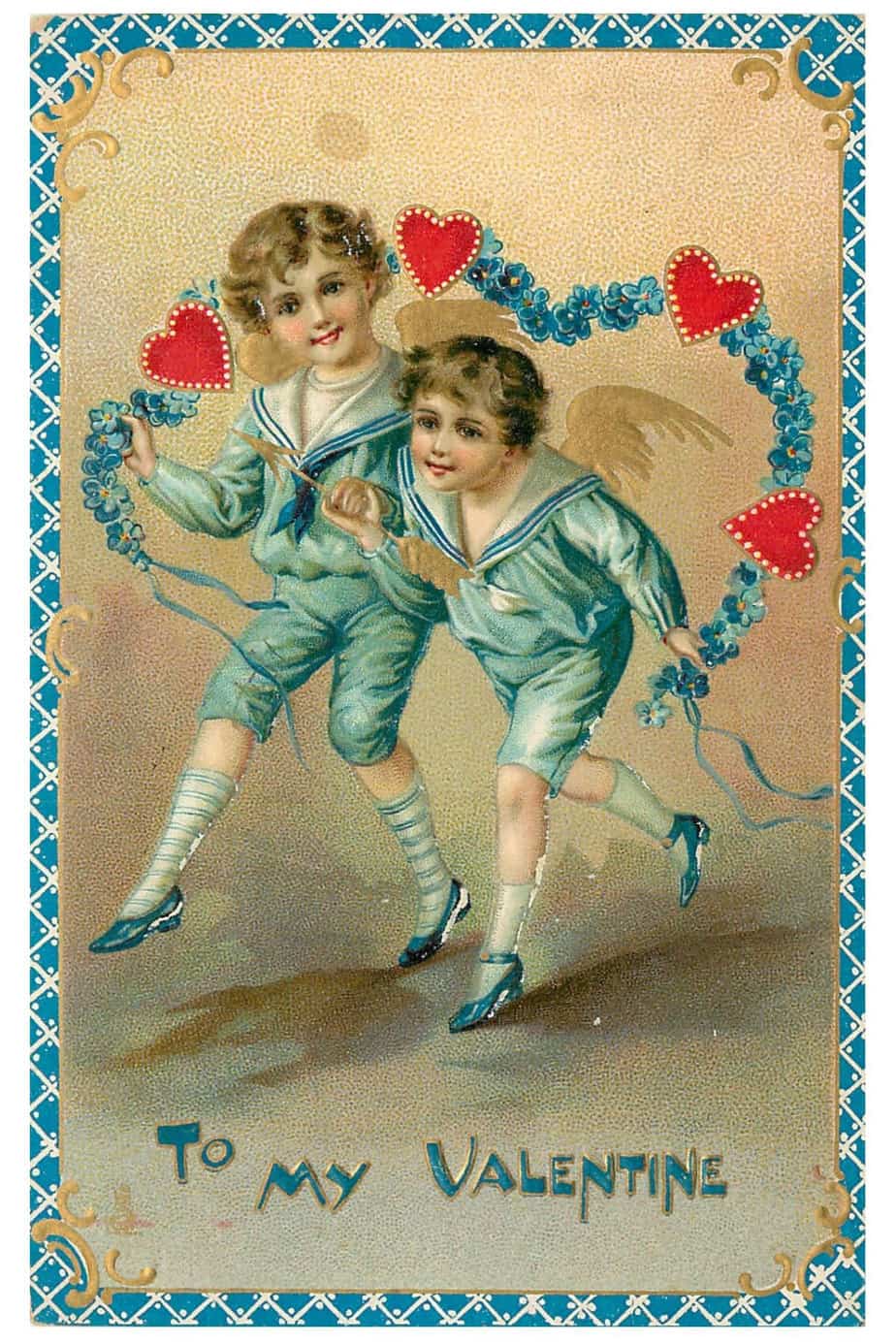 We sat down and started cutting out some paper hearts, while I told him stories about his great-grandmother, who loved all holidays and started celebrating them just as soon as the last one ended.
A smile came out, and both kids wanted to know more about Great-Grammie, and Valentine's Day. Most of all, they wanted to know, "what fun things are we going to do and make?"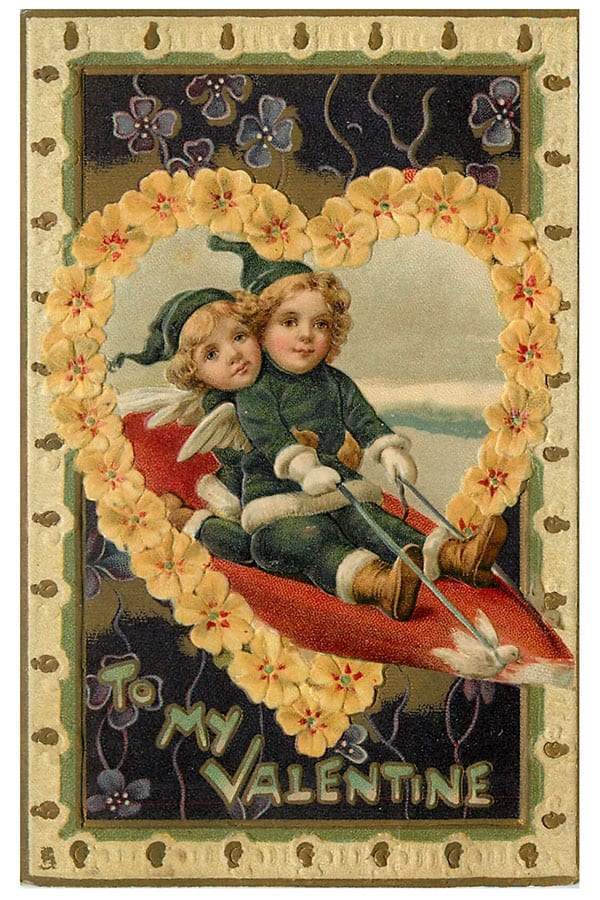 I hadn't really thought that through yet, but clearly, at the top of the list, should be making and sending valentines.
So later that night I got my hustle on, and started looking for inspiration from valentines of the late 1800's and early 1900's. Holy moly, was that an era that knew how to do Valentines day!
I swooned over one adorable valentine after another in the digital collections of various libraries. There are so many beautiful valentine images out there that are now in the public domain, which makes them free for anyone to use!
Then I found the Raphael Tuck collection. Search over.
Raphael Tuck & Sons was the world's largest postcard publisher in the late 19th and early 20th centuries. Now defunct, their collection of charming postcard images is stewarded by a non-profit, TuckDB. According to their website:
The images on TuckDB Ephemera and TuckDB Postcards are of items / postcards created before 1928 putting them in the public domain. You are free to use them as you see fit. We request that you attribute your use of TuckDB's images but it is not required by law.
I think that's the sweetest thing! Every one of the images here in this post is courtesy of TuckDB.com. If you have a bit of time, you can follow this link to peruse all 532 images in their "Valentine" category, and each image can be download in a high enough resolution to print your own cards very nicely.
Or, use one of these 12 printable vintage valentines that I've edited to print perfectly in a 4x6" size. These are some of my favorite images from the TuckDB collection, and I'm using all 12 of them for sending to family and friends this year. If you click on any of these images in the gallery below, you'll be taken to the full resolution print-quality pdf, which you can download.
Aren't they adorable? While the black and white images may not immediately jump out at you, they look amazing when printed on watercolor postcards! You can then use watercolors to add your own flair to these delightful images, making your valentines even more personalized.
It's like a grown-up vintage version of those coloring-card valentines they make for kids!
If you do paint some of your own, please feel free to snap a photo and email it to me - I'll add it to this post (with your name of course) as inspiration for others!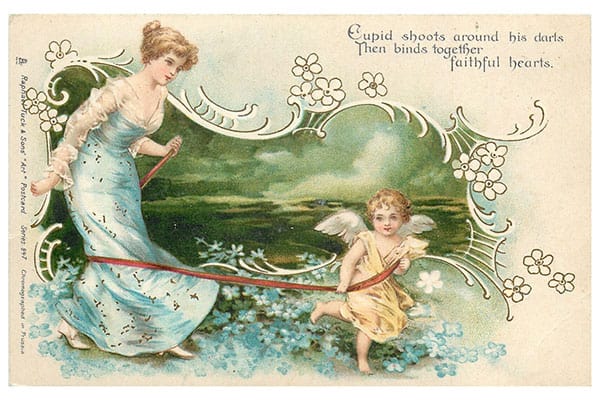 I hope you enjoy working with these delightful old valentines as much as we are! For more public domain Valentine images, check out these vintage valentines from the British Library!
Happy Valentines Day, my friends!