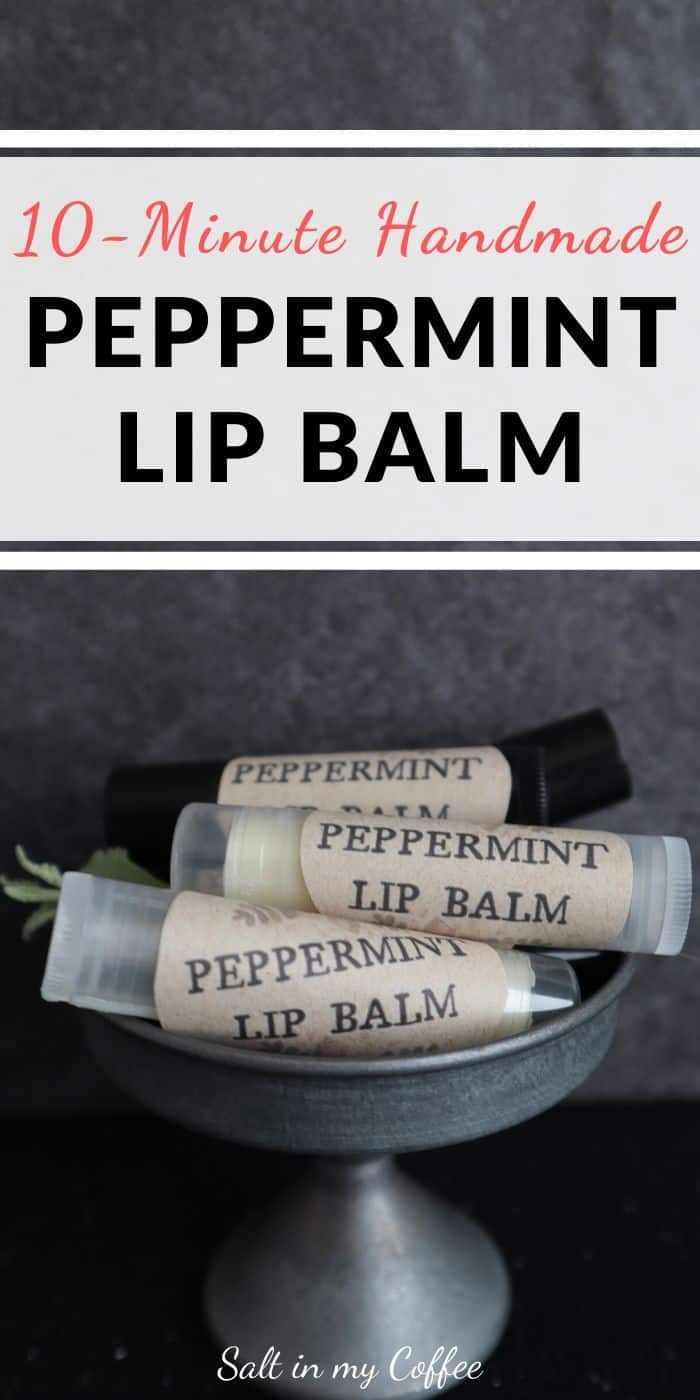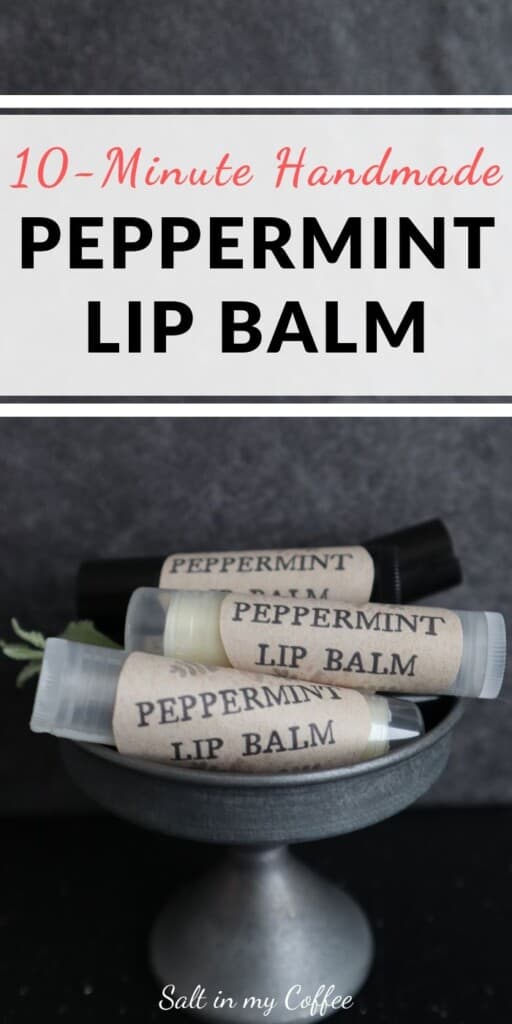 This article contains affiliate links. Click here to learn more.
It's been a cold, wet, and downright icky week here in Maine. Not great for playing outside. But - it has made for some great crafting and cooking weather!
Izzy has really been enjoying all this indoor creativity, and the last few days, as she's come down the stairs, rubbing the sleep out of her little eyes, her first words to me have been:
"I'm awake! What will we make today?"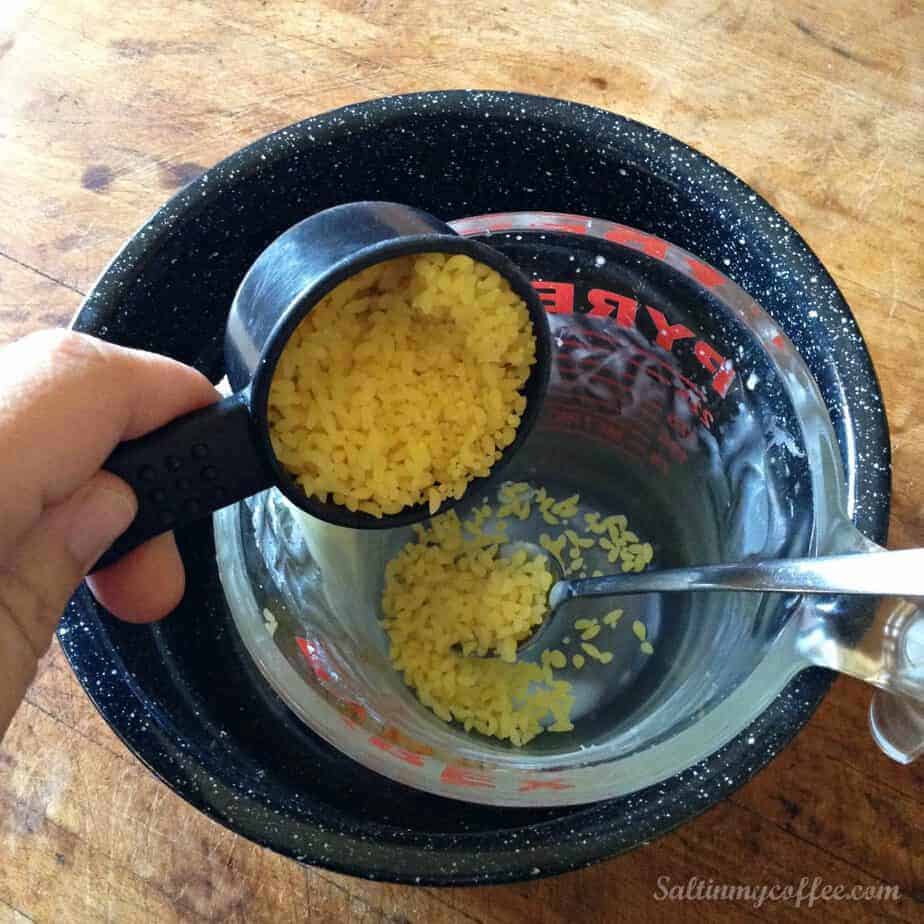 So I've been leveraging this wonderful crafting craze to get a jump on making homemade Christmas gifts. I kinda feel I should also confess that we've been listening to Christmas music while we're crafting.
I know. Way, way, way too early.
But when the house smells like peppermint, and orange, and cinnamon, and all the other heavenly scents we've been working with...how am I to help myself?
One of my favorite projects we've made so far is homemade lip balm. We've actually been making batch after batch so we can keep testing, and get it just perfect. Our testers are saying this is "better than Burt's Bees!" and "the best texture of any lip balm I've ever used!".
So we're ready to share the recipe! We hope you love it too!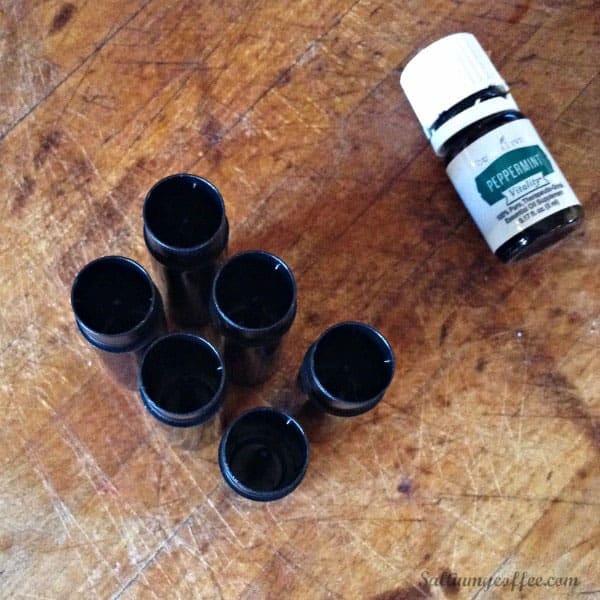 It's so easy to make, and it's a REALLY fast little project. Which makes it nice if you're trying to get a whole batch of stocking stuffers made during naptime - and be all done and cleaned up before a baby wakes up! Here's how to make it: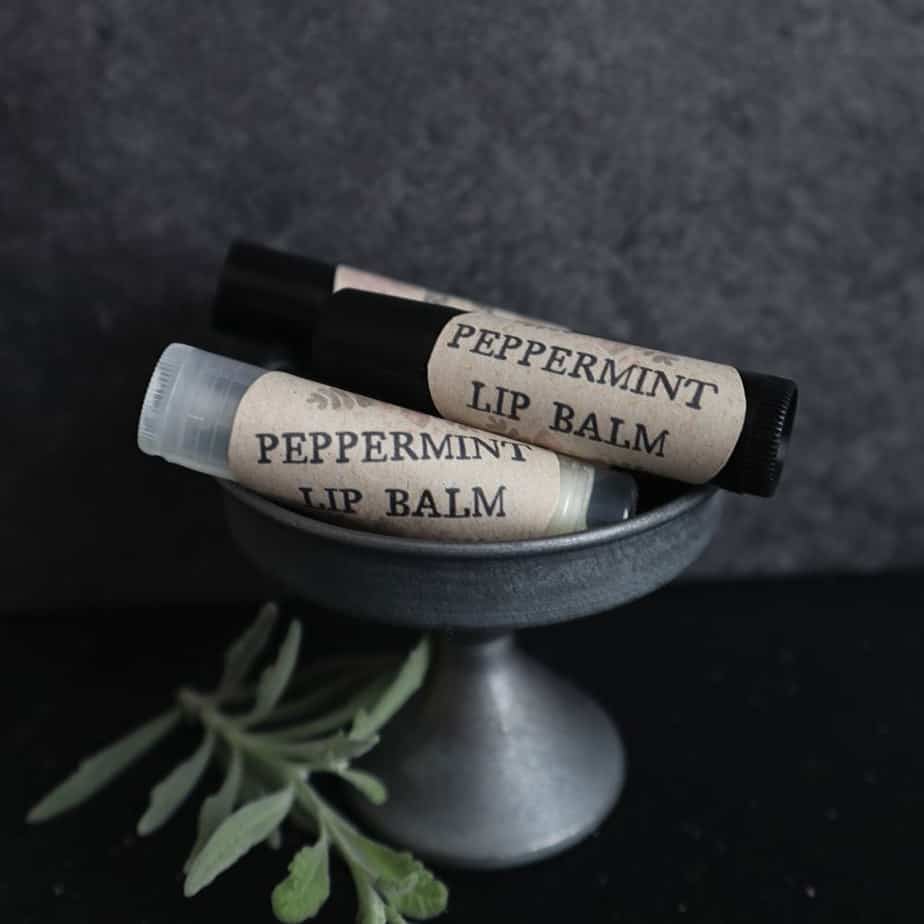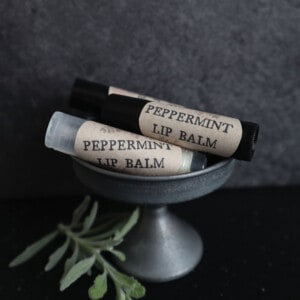 Equipment
Small Saucepan

Small (1-2 cup) heat-proof measuring cup with pouring spout

Small metal spoon for stirring

15-16 empty lip balm tubes
Ingredients
1/4

cup

Coconut Oil

1/4

cup

Beeswax Pellets

1

tablespoon

Sweet Almond Oil

25-35

drops high quality Peppermint Essential Oil
Instructions
Fill saucepan with a few inches of water, and get it simmering. You're going to be using it like a double-boiler, with the heat-proof measuring cup.

Add coconut oil and beeswax pastilles to heat-proof measuring cup, and heat over the simmering water, stirring frequently.

When coconut oil and beeswax have both melted, add sweet almond oil, stirring until well mixed.

Turn off the heat, and add the peppermint essential oil. 25 drops of high-quality oil makes this a nice mild peppermint balm. 35 makes it really zingy! Chances are, you'll love it somewhere between the two. Start by adding 25 drops and mixing well, then lift the spoon and, using your finger, touch a bit of it to your lips. Do you love it? Does it need a bit more minty zest? Add more peppermint until it's just how you want it, then you're ready to pour into the empty tubes.

Now, you can spring for a fancy lip balm filling tray, but honestly, I find it pretty easy to just pour from the spout of the measuring cup and fill each tube - even with a toddler eagerly hovering over my elbow.

Carefully pour straight into each tube, and just very slightly over-fill. It will be like water tension holding the oil slightly raised above the surface of the tube. You want to slightly over-fill like this, because the lip balm shrinks a tiny bit as it cools. If you fill it just a little past the surface like this, it will shrink into a nice flat top.

Let them cool for a few minutes. At room temperature, they'll be nice and firm within ten minutes. Then put on the caps, label or decorate however you'd like, and you're done!
Why I don't put Vitamin E in Homemade Lip Balm
One quick word about the ingredients. Chances are, you may have looked at a few different recipes and tutorials for making your own lip balm (I checked about about 20 before even getting started!). You've probably noticed that nearly every lip balm or chapstick recipe out there calls for a capsule of Vitamin E oil.
Here's why I don't use that ingredient. Vitamin E is a wonderful thing, and it is important for vibrant, healthy skin. However, it's a complicated vitamin - "Vitamin E" is actually a collective term for eight isomers, four of which are tocopherols, and the other four, tocotrienols.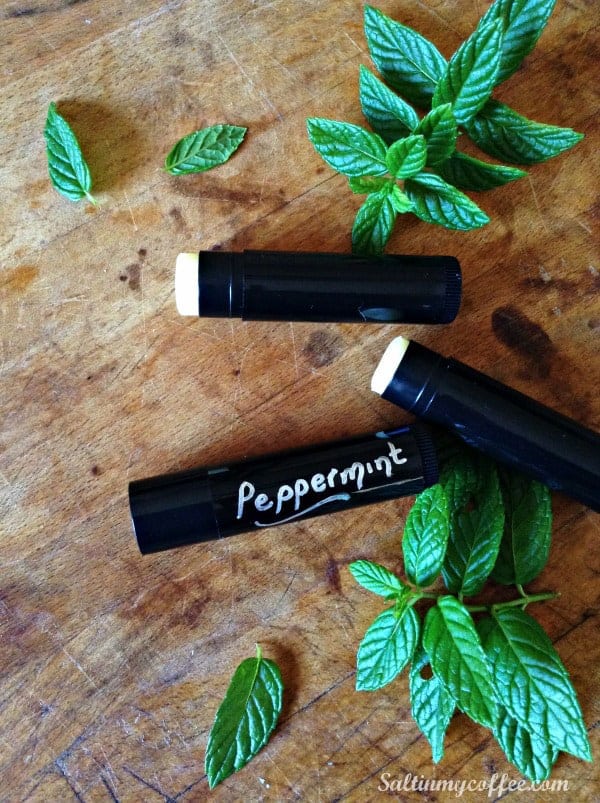 What we find in almost all commercially-available Vitamin E capsules is only one of these compounds (alpha tocopherol), and a poor-quality version of it. In fact, many people are actually quite sensitive to Vitamin E oil (33% of subjects in this study), and it can cause rashes or discomfort.
So for a recipe like this, I prefer to use sweet almond oil, which is an excellent natural source of Vitamin E, including the important gamma tocopherol isomer. Anyway. Probably way more info than you were looking for, but you know me - I'm a nerd. I can never make anything without questioning every ingredient!
Read Next: Healing Calendula, Lavender & Frankincense Balm
I hope you and your loved ones enjoy this recipe as much as we do! We've had so much fun experimenting with different versions of this, and will definitely be sharing a few more fun flavor combinations soon!
Take care, and happy crafting!
If you liked this post, you may also enjoy:
✦ DIY Felted Wool French Press Cozy
✦ Dyeing With Goldenrod
✦ Dyeing With Devil's Beggartick
✦ Handmade Grapefruit Lip Balm
✦ DIY Wood-Rejuvenating Spoon Butter

Save
Save
Save
Save
Save
Save
Save
Save
Save
Save