This light and fruity lip balm is made with simple, all natural ingredients, and does an amazing job keeping lips soft and healthy. And it's so easy, you can make it in 15 minutes - even with little helpers!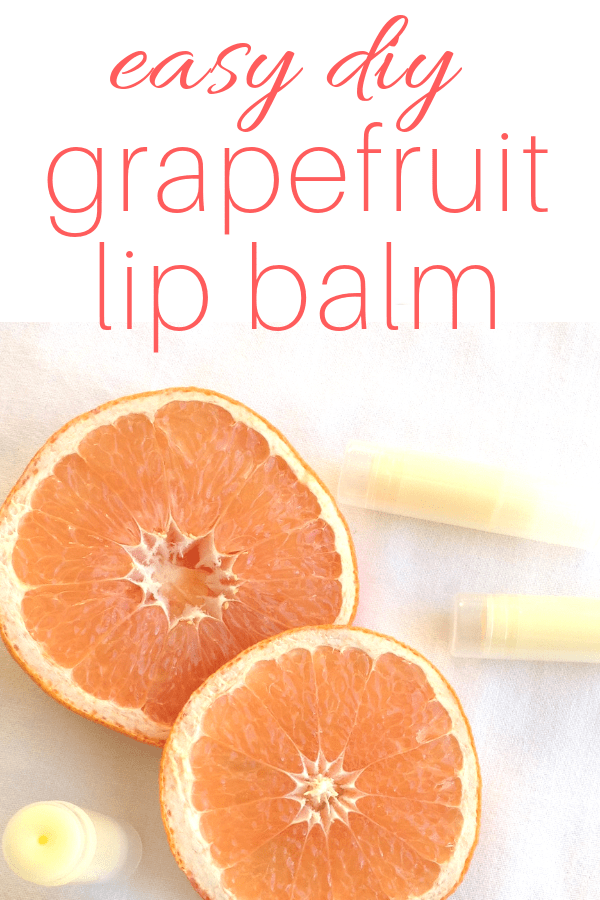 This article contains affiliate links. Click here to learn more.
It's the middle of a good proper winter here in Maine. The temperature is currently 4 below, and a persistent wind is whistling by the windows. Sheep are huddled in the straw-filled barn, chickens are fluffed out on their perches in the coop, and here in the house a brisk fire in the woodstove is keeping us cozy.
That little woodstove heats our home throughout the winter, and does a great job of it. But heating with wood also means our house tends to be pretty dry. Even with a couple of humidifiers going, it's easy to end up with cracked skin and dry lips by the time January comes around.
Having a good lip balm handy - one that's great tasting, and all-natural, with no unhealthy additives - goes a long way to keeping our lips from getting chapped. I make a few different varieties at the beginning of each winter, and last year peppermint was my favorite. This year, I just can't get enough of this refreshing grapefruit version. I've made two batches now, because I can't let myself run out!
The fun thing is, it's a really quick and easy little DIY project that can be made in just a few minutes, with not many ingredients. And it can be a fun project with little ones - mine absolutely love setting up all the tiny tubes on their ends to get them ready for filling, and stirring the melting beeswax just never gets old.
Here's how to make these super easy grapefruit lip balms!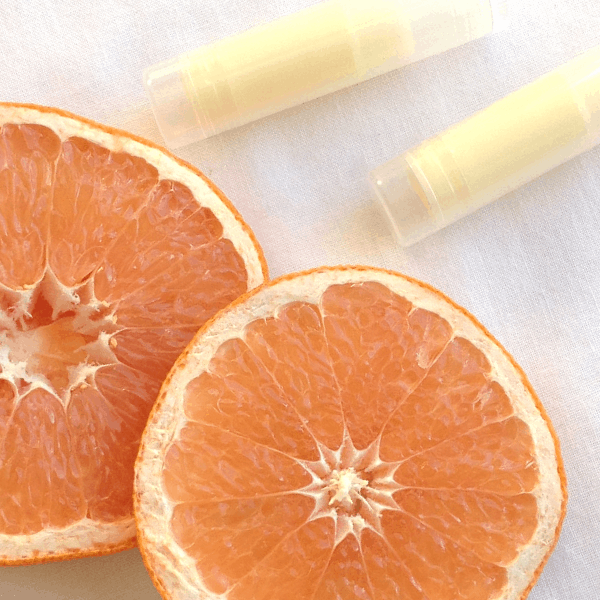 DIY Grapefruit Lip Balm
INGREDIENTS:
SUPPLIES
Small Saucepan
Small (1-2 cup) heat-proof measuring cup with pouring spout
Small metal spoon for stirring
20 empty lip balm tubes
DIRECTIONS:
Before you start, have your lip balm containers ready to go. Once your lip balm is ready, you want to be able to pour it quickly! To make pouring easy, you can invest in a lip balm pouring tray like this. But honestly, I find it pretty easy to just to stand all of my lip balm containers on end, on a flat, nearby surface. Having a measuring cup with a good pouring spout makes it easy to just pour right into each tube.
Once your tubes are all set up and prepared for filling, add coconut oil, sweet almond oil, and beeswax pastilles to heat-proof measuring cup.
Pour a couple inches of water into the small saucepan, and set the heat proof measuring cup into it, so that's it's like a double boiler. Over low heat, bring water to a simmer.
Stir until everything has completely melted.
Turn off the heat, and add the grapefruit essential oil. I find that 35 drops is perfect, and creates a distinctly grapefruit-flavored lip balm. If you're looking for a "barely-there" scent and flavor, you may want to add a bit less. Stir to mix well.
Carefully pour the warm liquid straight into each tube, and just very slightly over-fill. It will be like water tension holding the oil slightly raised above the surface of the tube. You want to slightly over-fill like this, because the lip balm shrinks a tiny bit as it cools. If you fill it just a little past the surface like this, it will shrink into a nice flat top.
Allow the tubes to cool completely - it happens quickly, within about 10 minutes they'll be solid! Then put on the caps, and label or decorate them if you'd like.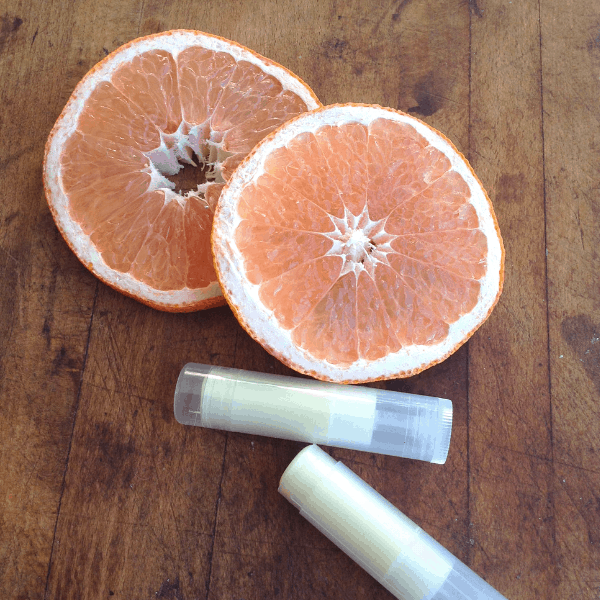 If you're wondering why I don't use Vitamin E oil in my lip balm recipes, I go into some detail explaining my reasons in my recipe for Peppermint Lip Balm. Here's an excerpt that sums it up:
Vitamin E is a wonderful thing, and it is important for vibrant, healthy skin. However, it's a complicated vitamin - "Vitamin E" is actually a collective term for eight isomers, four of which are tocopherols, and the other four, tocotrienols. What we find in almost all commercially-available Vitamin E capsules is only one of these compounds (alpha tocopherol), and a poor-quality version of it.
In fact, many people are actually quite sensitive to Vitamin E oil (33% of subjects in this study), and it can cause rashes or discomfort. So for a recipe like this, I prefer to use sweet almond oil, which is an excellent natural source of Vitamin E, including the important gamma tocopherol isomer.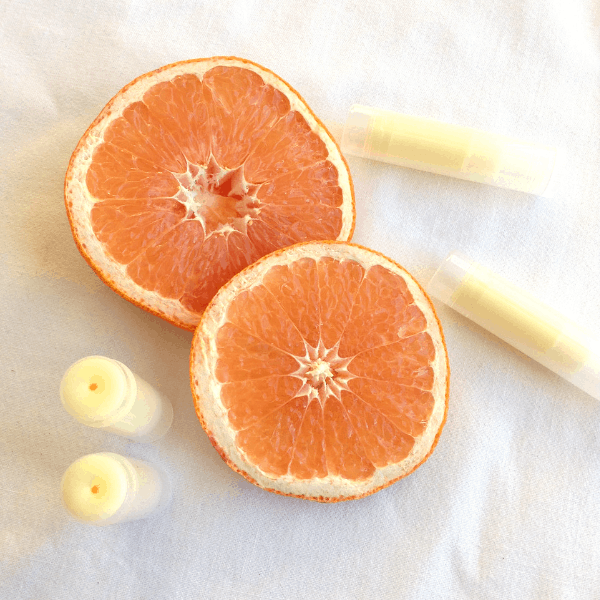 I hope you enjoy this light and fruity grapefruit lip balm as much as I have been this winter!
Until next time...
~ Anna