These Spring diffuser blends are my favorite way to make my home smell like Springtime! Try one of these diffuser recipes and enjoy the mood lift that comes with making your house smell great, with natural and non-toxic essential oils.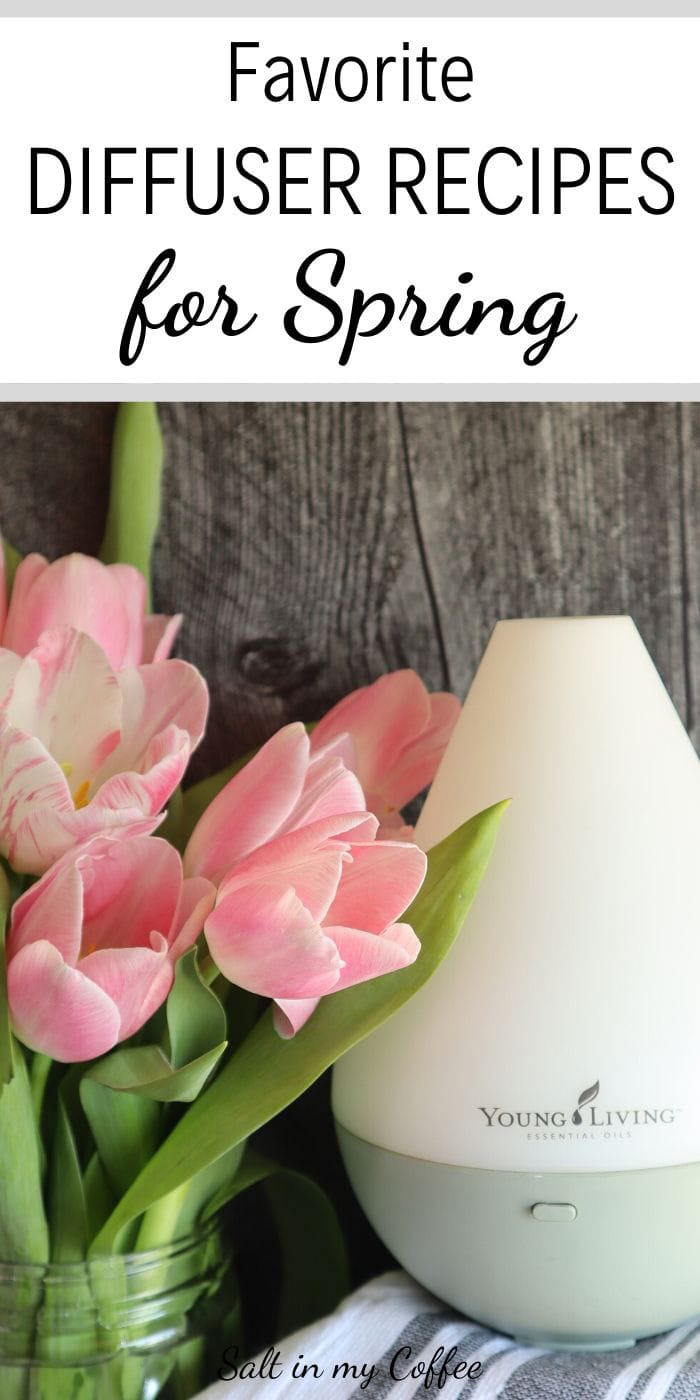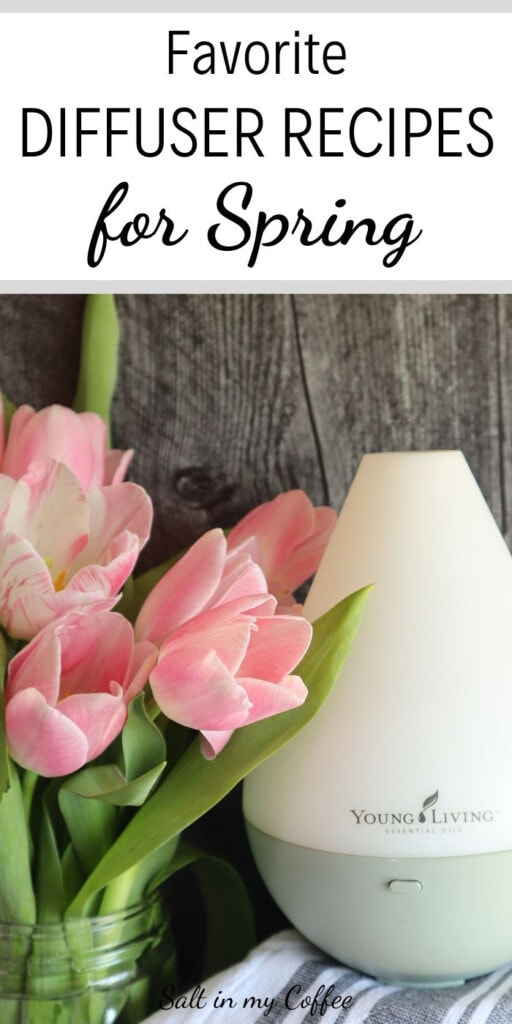 Even if you're trapped inside, it's amazing how a few drops of essential oil can help bring the joy of the outdoors into your bathroom or kitchen.
The kids and I have been spending every possible moment outside this week, enjoying the bare ground, which is newly free of snow. We've been raking, and pruning, and yesterday I even planted my first batch of peas!
Today though - it's snowing. We could go outside, but honestly...after the joy of feeling the bare earth, none of us really want to. The longing for spring is deep in all of us right now, so we pulled out some of our favorite essential oils for springtime, and made it feel like spring indoors - even if it doesn't look that way outside.
With the "April Showers" diffuser blend going, and a good family yoga session in the living room, we almost didn't even miss our morning gardening time. Almost.
Especially with the extra time many of us are spending at home with this current Coronavirus scare, it feels more important than ever to make home feel welcoming and uplifting. I find that using my diffuser is one of the best and most effective ways to do that, so today I'm sharing my 5 favorite essential oil diffuser recipes for springtime, in the hopes that they help life your spirits as well!
My Favorite Essential Oil Diffuser Blends for Spring
1. OPEN WINDOWS: Lemongrass and Cedarwood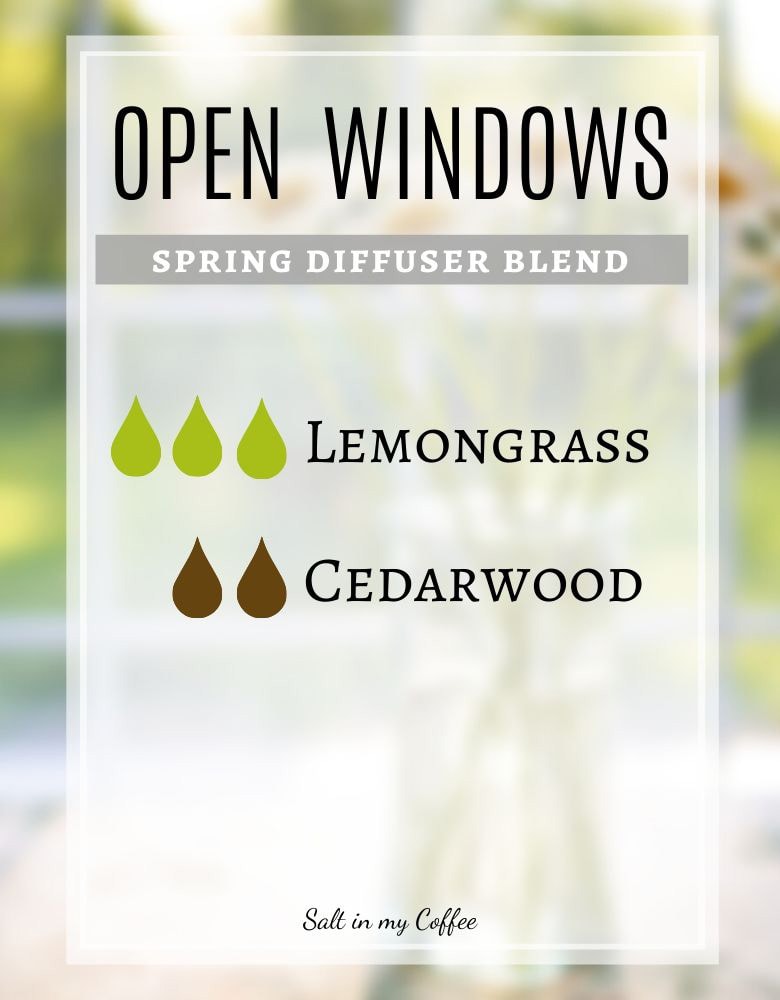 3 drops Lemongrass
2 drops Cedarwood
This has been one of my top go-to blends for years now, and it's become one of the "signature smells" of our home, since I diffuse it so frequently. The lemongrass is light, fresh and uplifting. It makes it smell like the house is clean and fresh, even when you know there are dust bunnies lurking under the sofa.
Cedarwood has a powerful grounding feel, and I find that it helps balance my emotions and gives a peaceful feel to the house, which I love!
2. SPRING CLEANING: Lemon, Lavender, and Peppermint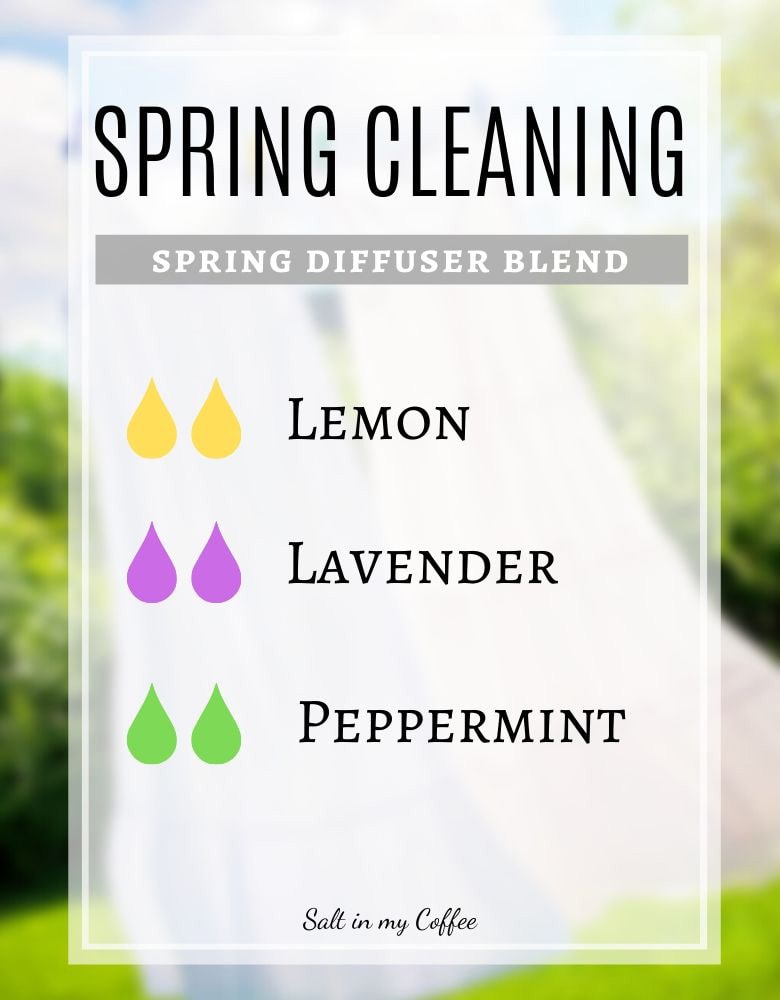 2 drops Lemon
2 drops Lavender
2 drops Peppermint
I LOVE diffusing this blend when I'm cleaning - it instantly makes the house feel fresh, clean, and newly-scrubbed.
It's also a blend I turn to when I need some mental clarity. It really helps dispel that mommy "brain fog" when I'm running on too little sleep!
3. MARCH WINDS: Pine, Peppermint, and Grapefruit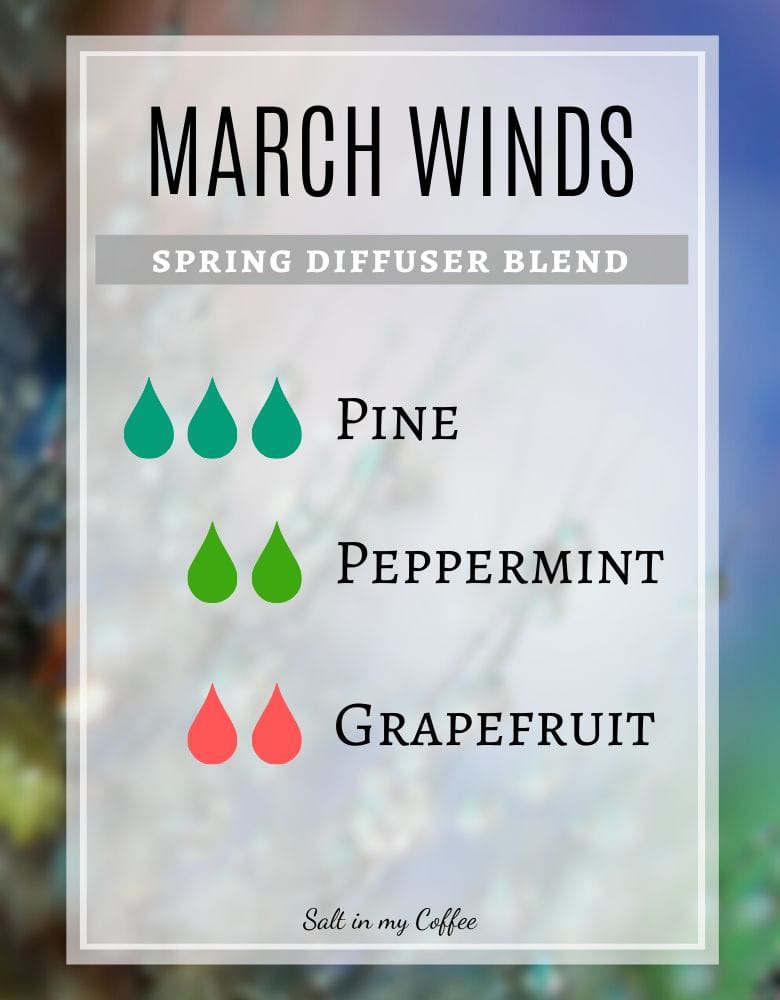 3 drops Pine
2 drops Peppermint
2 drops Grapefruit
This diffuser blend is fresh and woodsy, with upper notes of bright citrus from the grapefruit. This is a blend that ALWAYS gets compliments from my husband, if I'm diffusing it when he arrives home from work.
4. APRIL SHOWERS: Grapefruit, Eucalyptus, and Frankincense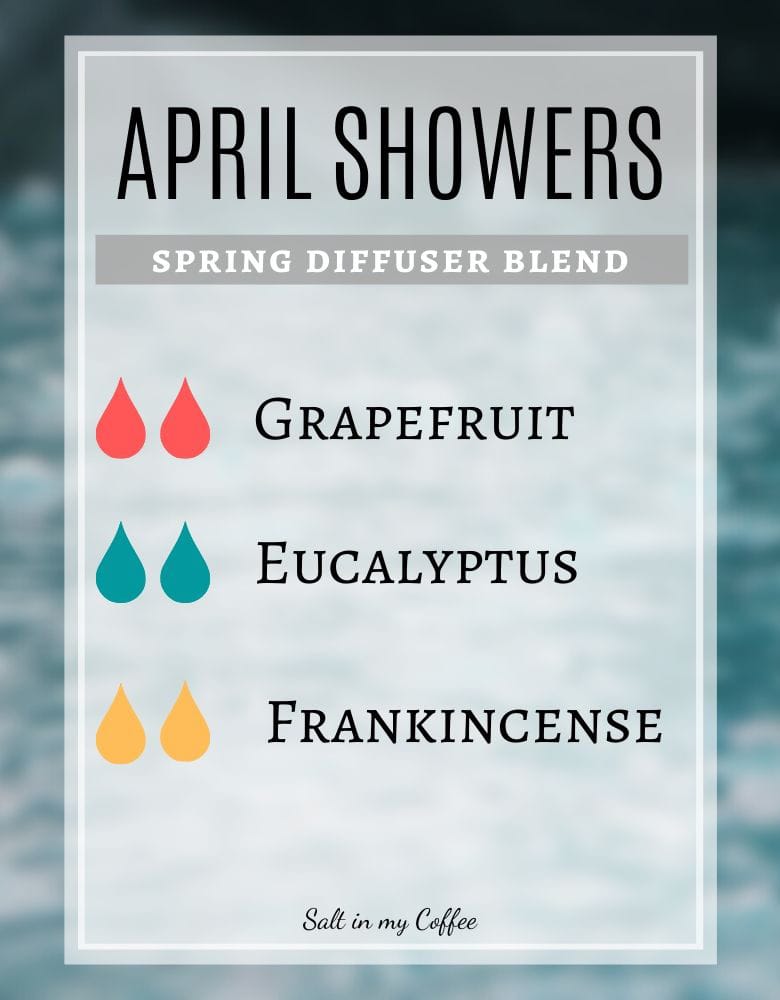 2 drops Grapefruit
2 drops Eucalyptus
2 drops Frankincense
The first time I tried this particular combination of oils, I was running my diffuser in the bathroom. I kept finding myself coming up with excuses to end up back in the bathroom just to get closer to that wonderful blend of scents!
I find this one so motivating and refreshing! It's clean, fresh, and reminds me of a forest glen in Springtime.
5. GARDEN SUNRISE: Joy, Orange, and Lime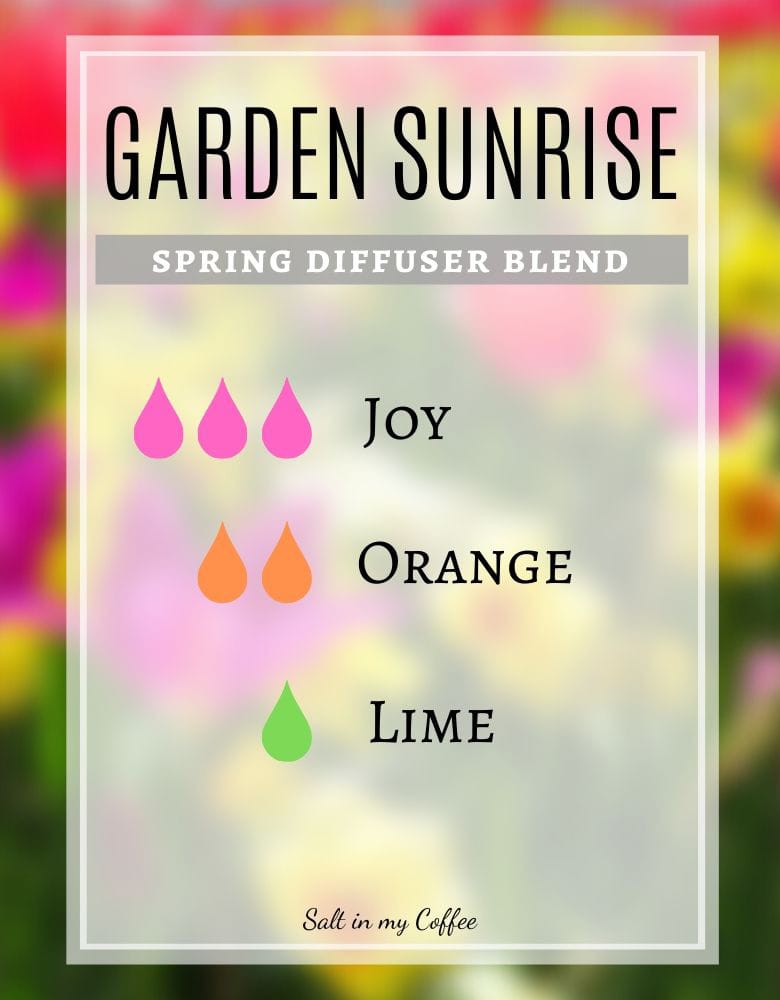 3 drops Joy
2 drops Orange
1 drop Lime
This is such a happy, mood-lifting blend. Much like the similar Happy Morning Roller Bottle recipe that I make, the oils in this work really powerfully (and almost instantly!) on my emotions.
If I'm in a funk I just can't seem to shake, this is a great blend to help me move on and enjoy the day.
Those are my top 5 favorite essential oil diffuser blends for Spring! I hope you enjoy them as much as I do!
One note about the amounts in each of these recipes - these are the amounts I use in my 180ml Young Living Dewdrop Diffuser, as well as two other similar-sized diffusers that I use in our home. I find these amounts, while less than than many diffuser blend recipes call for, are really adequate for providing a great scent, and acting on my emotions and sense of well-being.
I do find that the Young Living oils I use are much stronger and more effective than brands I was previously buying on Amazon, so if you're using a different brand, and not achieving a strong enough effect, you may find you need to increase or even double the amounts of oils called for in each recipe.
If you liked this post, you may enjoy:
✦ Lime & Lemongrass Room Spray
✦ 7 Steps to a Paper-Free Kitchen
✦ How to Naturally Clean a Stained Mug
✦ What to Do With Clothes You Don't Wear
✦ DIY Wood-Rejuvenating Spoon Butter