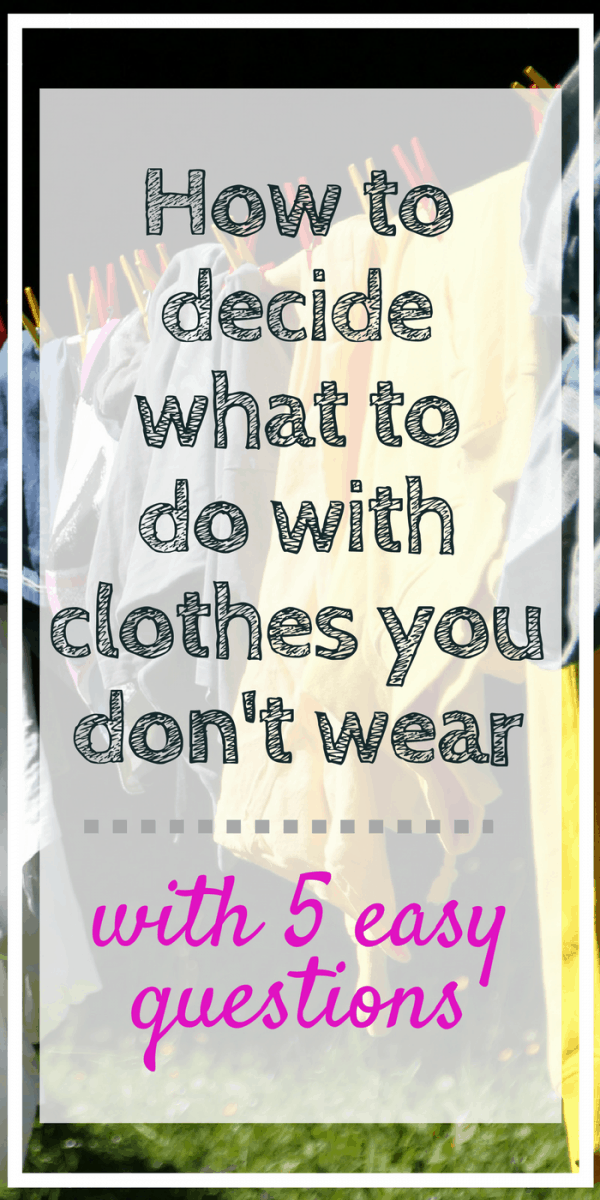 This article contains affiliate links. Click here to learn more.
Aside from two pairs of jeans, and some maternity things, I haven't bought new clothes in 9 years. It's not really that I'm SO frugal (although let's be honest - I am!) It's more that I really hate clothes shopping. So when I say that I've been purging my closet, folks who know me well find it a little amusing.
What they don't know is what's in my closet.
Y'all, I am finally facing the truth that if something hasn't fit me since 1999 - it's probably not going to fit me again any time soon. Or, you know, ever. It's time to let some things go. I do go through our closets and do a good purge about once a year, but this time around, it's a doozy.
When you pull clothing out of your closet that you never wear, do you ever find yourself a little bit paralyzed, as you try to figure out what to do with it all? I used to. Enough that I just never got rid of anything!
In recent years, though, I've come up with a simple little "flowchart" of questions that I ask myself about each item that I (or my kids) don't wear any more. This helps give me some quick clarity about what to do with it, and brings a lot more efficiency to the purging process. I also feel like it helps me get the most joy out of what I'm purging. As I'm going through the closet, whenever I find an article of clothing that I just don't wear, here are the five questions I ask:
1. Would I wear it if I altered it?
For example, this winter I realized I own three really lovely wool sweaters that I just never wear. One of them I've owned since I was 12, and I'm pretty sure it's been 20 years since I last wore it. The reason I don't wear each of these sweaters is the same - the neck lines are restrictive and SO DANG SCRATCHY. I finally gave myself permission to trim back the necklines, and do a simple little darn around the edges so the stitches wouldn't fray. Do they look perfect? NOPE. But now that the scratchy necklines don't make me crazy, I've been wearing them all winter.
I've done similar things by turning boxy t-shirts into garden-friendly tank tops, and cutting oddly-fitting pants into cut-off shorts. My perspective is that even if most folks might think I'm "ruining" a perfectly good piece of clothing - if I'm putting something useful back into my wardrobe, it's a win.
2. Would someone I know be blessed by this?
If no easy alteration would make it so I'd wear an article of clothing again, my next question is whether it might be a blessing to anyone I know. Do I have a pregnant friend that could use the forgotten maternity shirts I just found hiding behind my wool skirts? Is something so small I'll never wear it again - but in a few more years it'll be adorable on my daughter? These are the things I give away, or save in a stash for Izzy when she's older.
3. Does it have resale value?
If I'm not altering it, or giving it to a friend, my next question is whether I can get a little something for it. If something is in great shape, and seems like it could easily be re-sold, I'll iron it, put it on my dressmaker's form, and take some great pictures. Ebay and Facebook swap & sell groups are my go-to places for reselling clothes (I've found maternity, kids clothes, and cloth diapers to be categories that move easily!) I've also had friends do well with Poshmark, or even just taking clothing to consignment shops.
4. Would it make a great costume?
We take dressing up very seriously around here. A well-stocked costume chest is a glorious thing. If a piece of clothing has fallen through those first three questions, my next one is whether it has absolutely fantastic costume potential. If the answer is yes - into the costume chest it goes.
5. Is it in good enough condition to donate?
Not gloriously costume-worthy, or in perfect enough condition for re-selling? Or perhaps it just falls into a category of clothing that's not in high resale demand? In that case, I box those items up and take them to the Salvation Army. First I lay them all out on a bed and take a quick snapshot (I do this in batches if there are lots of items), so that I have a photo to go with my donation receipt. Any non-profit that takes used clothing will be able to give you a receipt, to acknowledge your donation for tax purposes. I like to immediately log my donation into Turbo Tax's It's Deductible platform, so it's all there waiting for me at tax time. They even have an app to make it super easy! Since I'm self-employed, and we have a working farm, and our taxes are complicated any way, I find it's absolutely worth my time to take donations into account. It makes a difference!
If none of the above: chop it up for re-purposing here at home!
If something has made it past the gauntlet of those 5 questions, and does not seem in good enough condition to donate, I never throw it away. It gets used for something here in our home. Whether it be as quilting squares, or strips for braiding into a rug, or even just a lowly cleaning rag - everything gets one more use when we're done wearing it.
For me, I've found that the key to castoff clothing actually finding a life as something useful (and not just turning into a tumbling-over pile of old clothes stuffed into the sewing closet), is to go ahead and chop the article down into usable parts right away.
WOOL gets felted up (with the process described in this post), and taken apart to store flat. I use felted wool for making mittens, beanbags, in folk-style applique, and even just as dish scrubbies.
BUTTONS and GOOD ZIPPERS get carefully removed and added to the button tin or zipper stash.
T-SHIRT & SWEATSHIRT MATERIAL gets cut into strips for making rugs.
GOOD FABRIC (Anything I'd make a quilt, apron, or even a potholder with) gets taken apart to store flat. (Odd little bits like collars and wrists usually make it to the trash at this point)
ANYTHING LEFT (hopelessly stained onesies, ratty old towels, t-shirt sleeves...) gets cut into rags for the rag baskets. I don't buy paper towels, so we use rags for all our cleaning, and having plenty of "good rags" on hand is a wonderful thing!
This is the system that's been working well for me. I hope you find it helpful, when deciding what to do with clothes you don't wear! If you really want to purge your closet, but you're having a hard time letting go of unworn clothes (much less deciding what to do with them!) I highly recommend this excellent post from Melissa, over at Simple Lionheart Life. She talks about reasons we hold onto clothes we don't wear - and how to move past those reasons. I think it's a very freeing and motivating little read, and bet you might find it as helpful as I did!
Happy purging! ; )
Read Next: Set Up a Mending Basket That Works for YOU