Having a functional mending basket makes it easier to quickly get torn clothes back in your family's closets. Try these tips for creating a mending basket that works for you!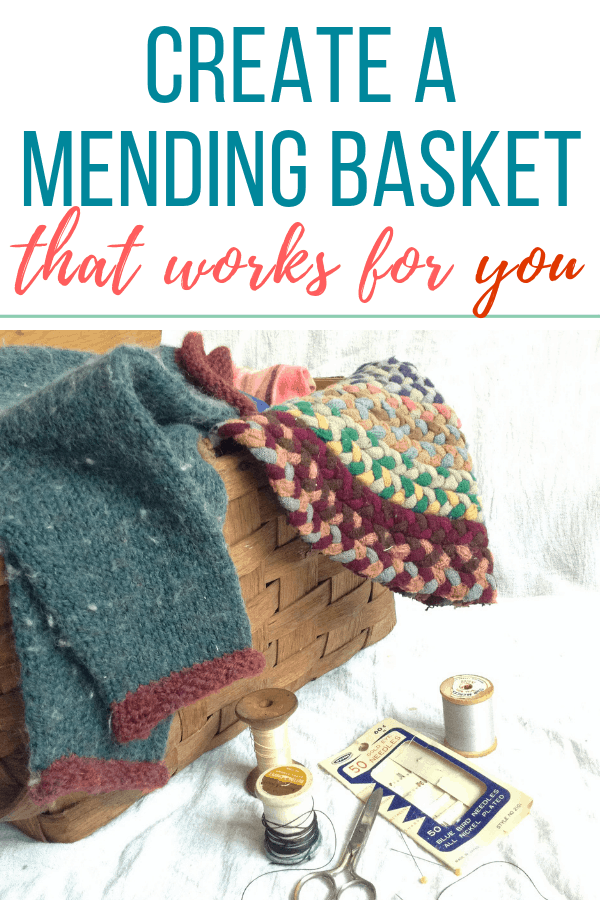 This article contains affiliate links. Click here to learn more.
Let me start with an embarrassing dose of transparency. For quite some time, my "mending basket" consisted of a teetering pile of shame. Heaped-up clothes rose high from a basket that harbored a growing colony of dust bunnies behind it, all tucked away in an obscure corner of the den.
It wasn't uncommon for clothes to languish there long enough for my kids to outgrow them, or for seasons to come and go. A summer shirt might be lucky to be mended in time for January's snowstorms.
Necessity was the only motivation strong enough to send me digging through the guilt-inducing mess, hunting for a particular item one of us needed to have wearable again right away. Often a few other fortunate items might get mended at the same time - finally escaping mending basket purgatory. But plenty of fellow inmates were always left to pine away, and keep the dust bunnies company.
It was a system that really wasn't working, at all.
Then a few months ago, I read The American Frugal Housewife - a delightful little volume written by Lydia Child back in the 1820's. It's full of pithy advice, designed to aid homemakers of the era in keeping a happy, thriving home, while practicing good economy - or "living on a shoestring" as we might say these days. I especially liked this quote in defense of practicing "economy"...
Economy is generally despised as a low virtue, tending to make people ungenerous and selfish. This is true of avarice; but it is not so of economy. The man who is economical, is laying up for himself the permanent power of being useful and generous...True economy is a careful treasurer in the service of benevolence; and where they are united respectability, prosperity and peace will follow.
At any rate, I loved the book, and though I already think of myself as frugal, it really inspired me to look at my housekeeping habits in new ways. In the book she mentions the importance of staying on top of the mending, once a week if possible. It was enough to give me a needed nudge to figure out a better mending routine, and try to actually stay on top of it.
So I gave my mending system an overhaul and it's actually been working really well. I thought I'd share the changes I made, in case your current mending basket system isn't working for you, and could use a revamp.
Creating a mending basket that works for YOU
The biggest change I made was to start keeping all of the most frequently-needed mending supplies right in the mending basket. This might seem like no-brainer, but it just wasn't something I was doing before.
I had a basket to hold the clothes that needed mending, but then I'd have to separately hunt down thread and scissors from my sewing kit, or a button from the button tin in my desk, or a darning needle and yarn from my embroidery basket. Patches were sourced from the black hole that is my fabric stash. It really made mending more of a project than it needed to be.
Having some of everything I might need for most mending jobs, all right in the mending basket, has made a huge difference in my efficiency with staying on top of the mending. I've based my mending basket supplies around the types of mending most frequently needed in our home. These include:
Toes and ankles of wool socks
Feet and seams of footie pajamas
Elbows and wrists of sweaters and sweatshirts
Seams, and buttons or velcro on doll clothes
Buttons on shirts
Knees of jeans
Holes in kitchen towels
Tears in braided and rag rugs, and bath mats
As you set up your own mending basket, it's worth taking a moment to think through the types of mending your family accrues. You may find that there are things on my supply list below, that you probably would never need. If you don't wear wool, you might not need the darning needle and yarn, for example. And perhaps there are items that haven't made it onto my list that you would find yourself using. I think it's all about stocking a mending basket that makes it convenient to meet your own family's mending needs.
At any rate, here's what's on my list of mending-basket necessities, and I hope it helps as a jumping-off point for creating your own perfect mending basket.
1. A basket, bin, or box that you like
I find that liking the basket or container that serves as a receptacle for the mending, makes it more enjoyable to work with. It's also more likely to stay easily accessible somewhere, so that ending up "out of sight, out of mind" is a bit less likely.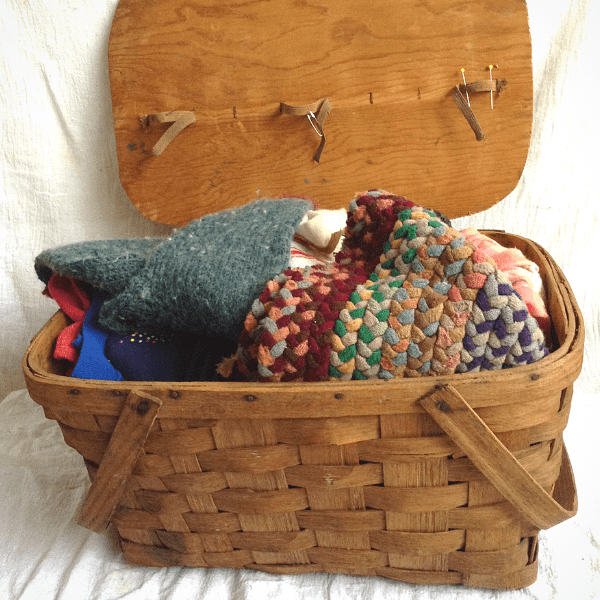 A cute dollar store plastic tub could honestly work well, or a sturdy fabric tote (I think this one would be cute!). For me, I opted to go with a vintage picnic basket that I'd bought for 50 cents at a yard sale last year. It deserves a makeover (like replacing that ancient utensil-holder elastic on the lid!), but I find it charming the way it is, and using it makes me happy.
With the goal of tending to the mending weekly, I wanted something large enough to comfortably fit the mending we might accumulate over a week or two - but not 6 months' worth. I didn't want any excuses to let the mending go for long periods of time again! But I also didn't want something small enough that it would overflow and make me feel overwhelmed if I let things go for a few weeks - like over the holidays for example. As you choose your basket or container, making sure it's a size that comfortably holds your mending for at least a few weeks seems like a pretty good rule of thumb.
Having a few good needles in all sizes makes it so you can handle any job, from fixing lace on a doll's dress, to the elbows of your Carhartt barn jacket. The darning needle is so you can mend heavier knitted items, like sweaters and boot socks.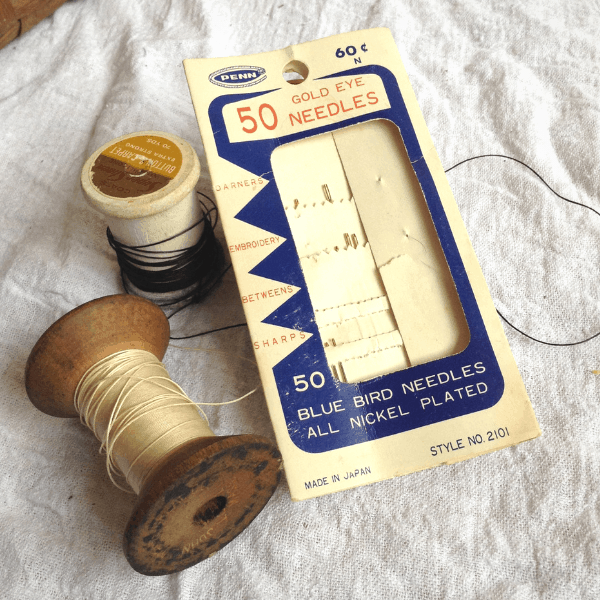 3. Multi-purpose thread in a few colors (at least black and cream)
Most of my mending is pretty utilitarian, and I don't mind terribly if it's possible to see some contrasting stitching. So I keep only a handful of full-sized thread spools right in my basket - black, white, and a cream color. If you prefer to make sure the stitches in your repairs always blend in nicely though, a little kit of thread that contains smaller spools in every major color can be the perfect thing to keep in a mending basket.
4. A spool of heavy carpet thread
I find myself needing to mend rugs or bath mats nearly as often as clothing, and using appropriately heavy thread makes a huge difference in how long my repair lasts. Either black or cream will almost always suffice for my rugs, so those are the colors I keep in my basket. This kind of thread is perfect for this type of repairs.
5. Darning yarn
If you were to look in my mending basket, most weeks you'd find at least one wool sock with a holey ankle or toe, and often a sweater with a hole in the arm, or unraveled spot at the wrist. I'm really tough on the sweaters I wear for carrying wood and doing homestead chores.
While regular thread can sort of suffice in a pinch (at least to stop the area from unraveling), for a good and sturdy mend, you'll want wool darning yarn. Here's the type of darning yarn I like to work with for darning wool socks and sweaters.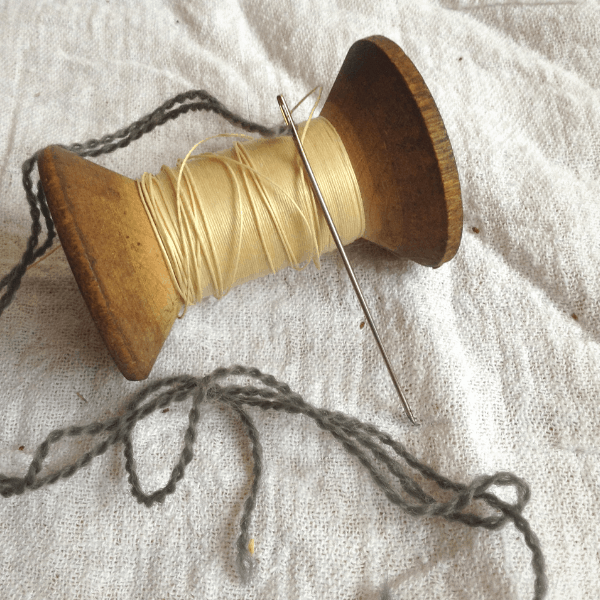 6. A good pair of scissors
A strong, sharp pair of scissors is important. While they might most frequently be used only for snipping thread, you'll probably also find yourself eventually trimming heavy patches for worn-out jeans, or doing other heavy cutting with them. It's really helpful to have a good all-purpose pair of scissors that can stand up to just about any use. (In addition to the cute thread scissors in the photo below, I keep a strong all-purpose pair like this.)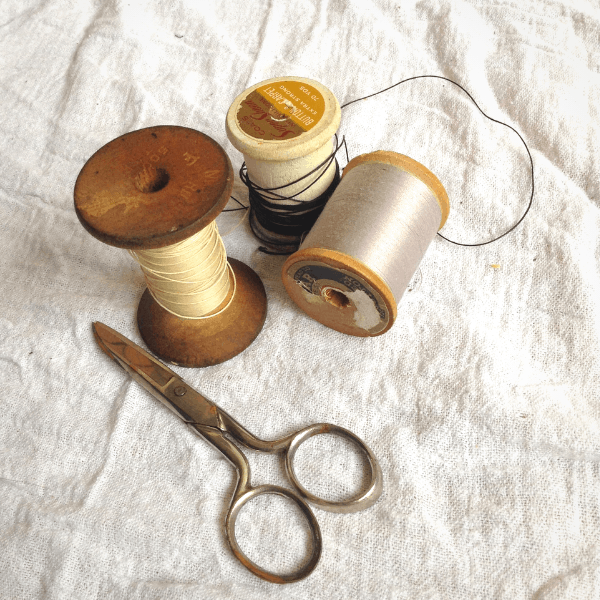 7. A button stash
I've started keeping my button tin right in my sewing basket. We rarely buy new clothes, but when we do, any extra buttons that come with them go right in the tin. I also save the buttons from any clothes that have been worn out, and relegated to the rag baskets. While I might not always have a perfect match for a missing button, I've always got one that will do the job just fine.
8. Straight pins
Straight pins are a must for any hemming, and can really come in handy for holding patches in place while they're being sewn on.
9. Safety pins
Safety pins are helpful if you find yourself needing to jury-rig a repair as you're headed out the door, and don't have time for a proper mending job.
10. Measuring tape or ruler
This isn't an oft-used item in my sewing kit, because honestly I enjoy hemming about as much as I enjoy folding fitted sheets. But - sometimes hemming needs to be done, and a measuring tape or ruler makes it much easier to do a decent job.
11. Patches
Patches are a pretty high-priority item in my mending kit, since my kids and I are really tough on our clothes and often end up with holes or worn spots that need a patch. While they do make iron-on patches which are incredibly easy to use, I personally don't like the feel or durability of them. For most patching jobs, I like using scraps of well-felted wool to patch holes. They hold up SO well to heavy use, and are easy to sew on. I find they even serve well for patching children's pants, and my lighter-weight jeans. For patching heavier jeans, I like keeping a few pieces of sturdy denim from an old pair of jeans on hand.
12. Fabric pencil or marker of some kind
This can be very handy for marking button locations, if you need to replace one. It's also helpful for those dreaded hemming jobs.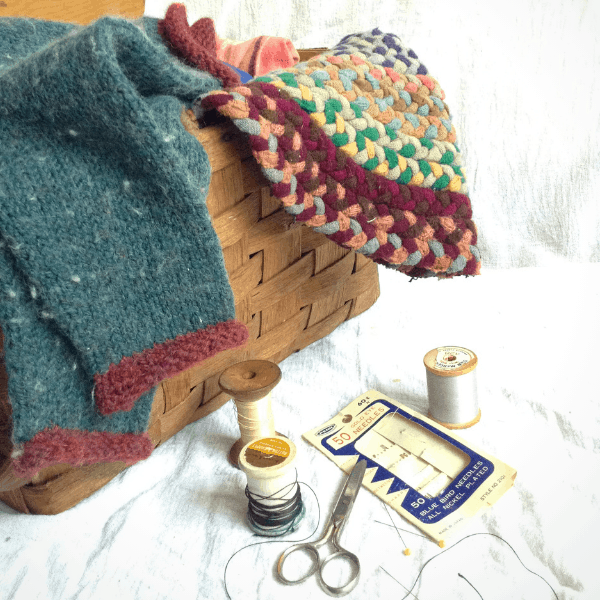 That's the list of what's in my mending basket these days, and I'm thankful to have a working system that's serving my family better than the old heap in a corner. I'd love to hear about your mending basket! Are there any "unlikely heroes" among your mending supplies that you just love having on hand? Tell us about it in the comments!
Need some mending inspiration? Check out this gallery of really creative mending jobs that I've gathered on my "Creative Mending" board on Pinterest! It'll make you want to get out your needle and thread and immediately go find something holey to fix!
Happy mending!