Want to watch some baby ducklings hatch? While I wish you could just pull up a chair in my kitchen on hatch day, these duckling hatching videos will be the next best thing, and give you a front-row seat.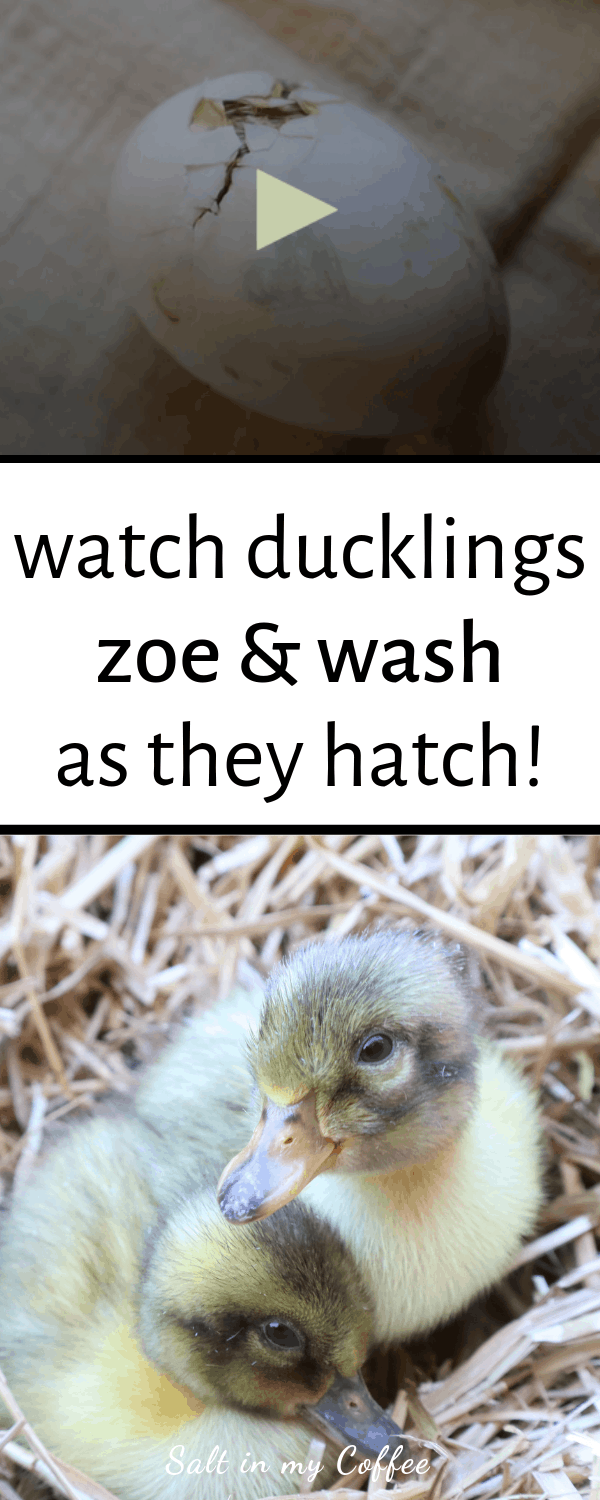 This article contains affiliate links. Click here to learn more.
Yesterday, I wrote about how some ducklings hatch quickly, and some really take their time - as much as 36 hours or more from when they make that first little pip in their shell.
I really wanted to help encourage those who are new to hatching duck eggs, that it's usually perfectly normal and ok for some ducklings to take this long hatching. It doesn't mean anything is wrong, it's just that they're not ready to finish hatching yet.
With this week's hatch, I was actually able to be present when two special little ducklings emerged from their shells. One of them took just under 13 hours to hatch, from the moment he pipped. (I was lucky to see when that happened too!) That's fast hatching for a little duckling!
The other, a little girl, took about 37 hours to hatch. Whew! That was an exercise in endurance for her, and patience for me!
I almost never remove ducklings from the incubator as they're hatching, but I knew these two were special, and wanted to catch their grand debuts on camera. So I set up some extra warmth and filmed them as they hatched, so I could share it with you.
Of course at the time, I had no idea whether the ducklings in these eggs were girls or boys. But as luck would have it, one duckling happened to be male, and the other female. I quickly named them Zoe and Wash, and thought you might enjoy seeing more of them here on the blog as they grow and become part of the family.
Let me first introduce you to Wash. He's our speedy but mild-mannered little fella. Here he is, as he hatches in nearly record time...
You can see that, while the sweet little guy is tired, he's a strong and healthy duckling who was very much ready to hatch.
Zoe is a little firecracker, but she had a much slower path to hatching than Wash - and it's a good thing that she did! Many people find it extremely hard to resist helping a duckling hatch, if they take more than 24 hours after pipping the shell. But usually there's an excellent reason it's taking that long.
In Zoe's case, if you look closely in the video, you can see a little red spot on her belly where her umbilicus was still not quite fully closed. I did not help her hatch at any point - she emerged when she was ready, and her umbilicus was sealed and looking great within 90 minutes after hatching. But if she'd hatched much earlier, the umbilicus would have been even more protruding and open, she may not have fully absorbed the yolk sac, and infection would have been a very real risk.
She needed every bit of that 37 hours she took to hatch, but it didn't mean anything was wrong with her, or that she was weak. As you'll see in the days to come, she quickly became one of my feistiest little fluffballs - already a leader in the flock.
Here's Zoe's hatching video...
We are already so smitten with these little fluffballs! We've hatched out several hundred ducklings over the years, here in our kitchen - so you'd think that by now we'd be a bit more immune to the cute factor. But every year, a few special ducklings really stand out, right from the moment they hatch.
Zoe & Wash are this year's "extra cute and special" ducklings, and they're well on their way to being part of the family. I hope you'll enjoy watching them grow as much as we do! Click here for a whole gallery of adorable Zoe & Wash pictures, as they go outside for the first time!
If you liked this post, you may enjoy:
✦ Hatching Duck Eggs
✦ How Long Do Ducklings Take to Hatch?
✦ Hatching Chicks with a Broody Hen
✦ Starting a Small Scale Hatchery
✦ 52 Ways to Make Money on a Small Homestead