Before you buy your first grafting knife, it's important to ask yourself 2 questions. Here's how to make sure you're choosing the right grafting knife, the first time!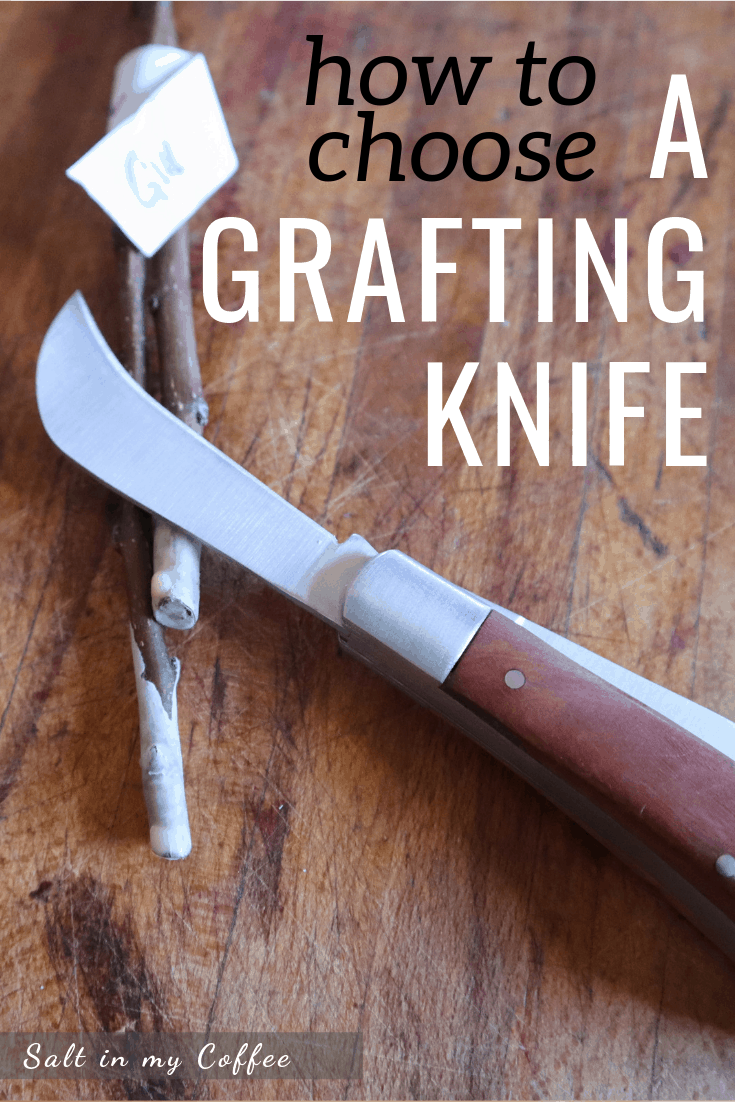 This article contains affiliate links. Click here to learn more.
Early this spring, as I was dreaming of gardens and orchards, I decided that this would be the year of learning how to graft fruit trees.
So I ordered a bunch of pear and apple scionwood, and 100 rootstocks. Go big, or go home, right?
I also knew that I'd need a grafting knife, so went on Amazon, searched for grafting knives, read a bunch of reviews, and ordered one.
84 grafts later, I knew I'd made a very wrong choice when selecting my knife. With blisters on my palms, and two fingers bandaged in grafting tape, I took a break and set out to learn as much as I could about grafting knives, and which kind I should be working with.
Here's what I wish I'd known before I bought my first grafting knife.
First, decide if you're more comfortable using a single or multi-bladed knife.
A surprising number of the grafting knives available have more than one blade. Usually they're two different shapes, one more hooked toward the tip, and the other more straight. This makes it so you get two different blades for one price, and don't have to tote two different blades with you if you're actively using both blade styles.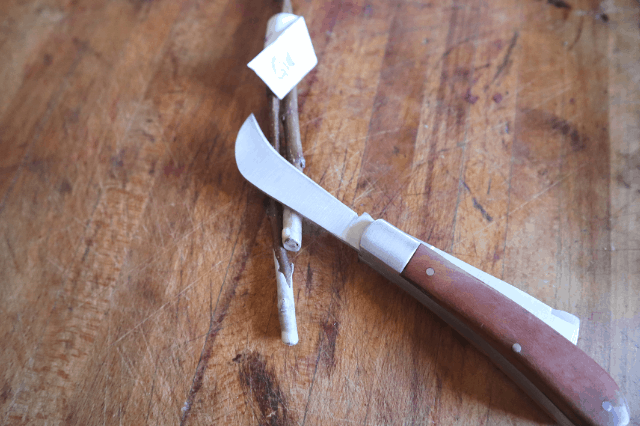 This is the type of knife I ordered, and it had great reviews. I quickly learned however, that working for any prolonged amount of time with a knife that has another blade folded into the handle can be painful! Perhaps it's partly the fact that I have small hands, but I have found that working with a multi-bladed folding knife for grafting work is very, very unwieldy and uncomfortable.
In the future, I'll only buy single-bladed grafting knives.
That said, you may not find a multi-bladed knife as uncomfortable to work with as I did. If you're considering one, don't let me talk you out of it.
Instead, let me strongly encourage you to try making half a dozen practice grafts with any multi-bladed knife that you can put your hands on. Is it comfortable? If so, try making half a dozen more. If it's still not bothering you after a dozen practice grafts, then you may find you're totally happy with that multi-bladed grafting knife you had your eye on.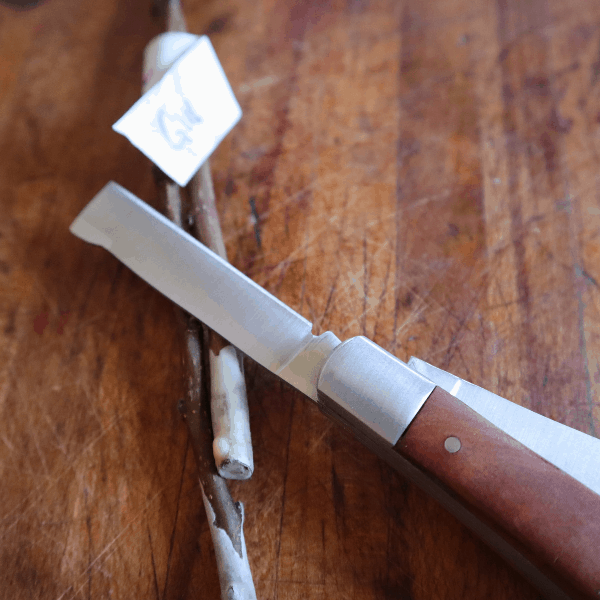 Then decide whether you need a right-handed or left-handed grafting knife.
This part sounds like a no-brainer, but it's actually more complicated than you think. It sounds like you should be able to order a right-handed knife if you're a righty, but this decision actually has everything to do with your grafting technique. Hand dominance is the secondary part of the equation.
To decide, it's important to actually sit down and make some practice grafts. It's ok that you don't have rootstock or scionwood. Just grab some fresh twigs that are about 1/4" in diameter, watch this video, and then try making some practice grafts with whatever pocket knife or small utility knife you already have.
As you practice making some cuts, pay attention to what feels most natural - pulling the knife toward you, or pushing away?
While you're probably hearing the echo of your Dad's voice cautioning you to never cut toward yourself, many grafters find that they have most control when working toward themselves, rather than away. It's very much about your own personal comfort and technique though, and everyone is different. Figure out which works best for you, because knowing this will help you choose the right knife.
Whichever way you choose to make your cuts - toward you, or away, the beveled side of your grafting knife needs to face up. The flat side will face down.
This means:
• If you hold the knife in your RIGHT hand, and pull toward yourself, you'll need a right-handed knife.
• If you hold the knife with your RIGHT hand and cut away from yourself, you'll need a left-handed knife.
• If you hold the knife in your LEFT hand, and cut toward yourself, you need a left-handed knife.
• If you hold the knife in your LEFT hand and cut away from yourself, you need a right-handed knife.
For me, I've learned that I do the best grafting work when I'm cutting towards me. Since I'm a righty and hold the knife in my right hand, I now know that I need a good single blade, right-handed grafting knife.
This is the one I'm going for this time. Once I make another 100 grafts with it, I'll be sure to let you know how I like it.
For now, I'm going to go swap out this grafting tape for some actual bandaids. Because while it's great for wrapping up grafts, it's not so wonderful for patching up fingers.
84 grafts down, 16 to go...
If you liked this post, you may enjoy:
✦ Where to get rootstock for grafting
✦ How to thin peaches for better harvests
✦ Growing elderberry bushes from cuttings
✦ Earliest apple varieties (and where to order trees)
✦ 52 Ways to Make Money on a Small Homestead