The end of June is such a busy time around here, it's sometimes hard to know which projects to prioritize. Planting, weeding, mulching, staking, pruning...so many things seem to suddenly need doing, all at once.
Today, it was the peach tree that was calling to me most loudly, so I spent every moment of the kids' naptime thinning out hundreds of tiny peaches from its branches. I'd pulled off 247 when I lost track and stopped counting.
"But WHY?", you might ask. "Don't you WANT all those peaches? Are you a crazy lady?"
And I hear you! It's been a miserably long winter, peaches are make-me-blush expensive in the grocery store, the very sight of fruit appearing on the trees is enough to make me giddy...and yet here I am throwing away baby peaches!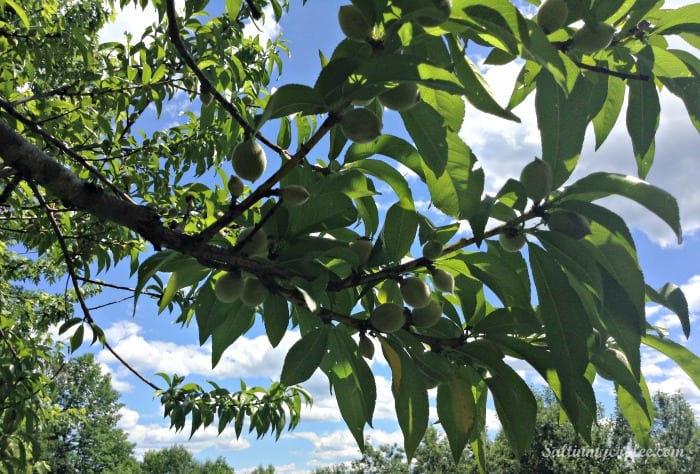 Pin
It really is about enough to make a body cry. But I do it because I know what a difference thinning makes, both in the quality of harvest and health of the tree. When a heavily-set tree gets properly thinned, at the correct time, it sets us up for the best possible harvest. So thinning is a high-priority task on my crowded June to-do list.
Here's why peach trees should (usually!) be thinned:
Growing up, I don't remember us ever thinning our peaches. And it always seemed a bit of a mystery why we'd have laundry baskets filled with peaches one year - only to be carefully sharing a precious handful of fruits the next.
Now I understand a bit more what was happening. Like most stone fruits, peach trees are notorious for setting fruit too heavily. An over-heavy harvest takes an enormous toll on a tree's health, and it takes a year or more for the tree to regain sufficient vitality to produce another decent crop. Many trees never fully recover.
When a fruit tree bears heavily every other year, then sparsely (or not at all) in alternating years, it's called biennialism. By thinning fruits to prevent overwhelming the tree, it helps to balance out the tree's fertility for yearly harvests.
Thinning also helps to prevent breakage of branches. Peaches get heavy as they ripen, and it's very common for limbs on a heavily-laden tree to break under the weight. Over-heavy harvests also make a tree more susceptible to pests, disease, and even sun damage.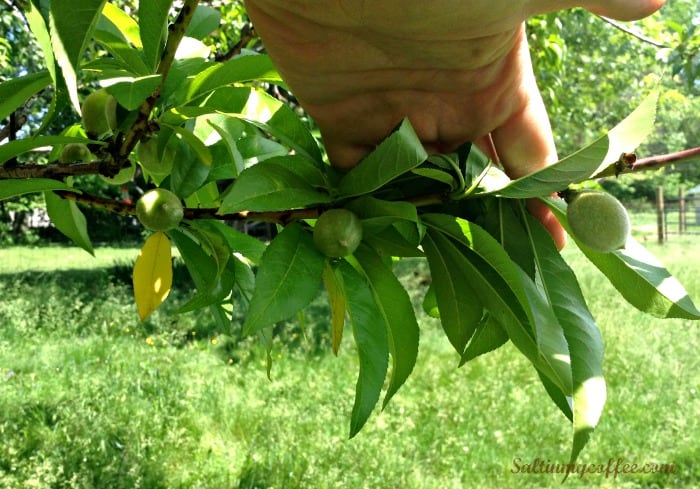 Pin
Along with helping to safeguard the health of the tree, thinning also leads to better harvests. The fruits on a tree that is allowed to set too heavily stay smaller, harder, and less-flavorful than those on a properly thinned tree.
No matter how rich the soil, a tree has only so many resources to go around. Uncrowded fruits are able to take full advantage of their share of nutrients from the tree. Crowded fruits have to compete for a finite supply of nutrients and most don't end up with enough to reach their full potential.
Thinning also makes for more beautiful, less-blemished fruit. Skin color is better on uncrowded fruits that receive more sunlight. And uncrowded fruits dry more quickly after dew or rain, which makes brown rot less likely to start and spread as it quickly can among crowded fruits that are touching each other.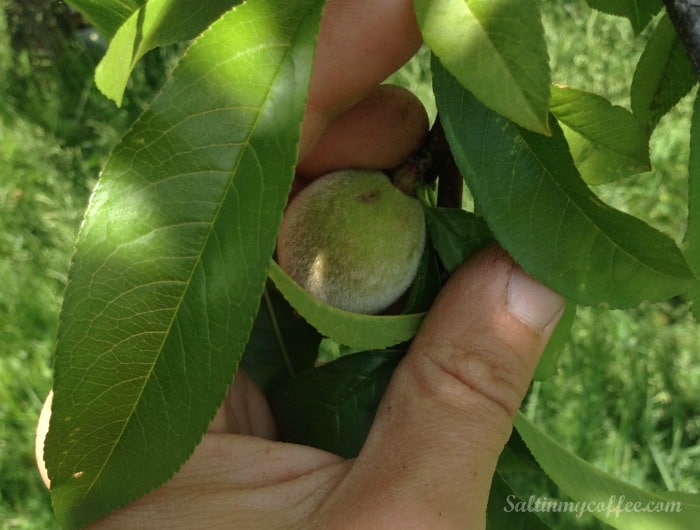 Pin
Here's how to thin peaches on a tree
Most fruit trees do thin themselves naturally to some extent, soon after small fruits begin to form. This is commonly known as the "June drop". Sometimes, this June drop might be enough to adequately thin your fruit crop - but, as with almost all stone fruits (like nectartines and plums) this usually is not the case with peaches.
Once your peach tree finishes its June drop, that means it's time for you to go to work and finish the job!
You can generally plan on doing your thinning just about one month from when your trees are in full bloom. For those in warmer climates, that might be as early as April. Here in Maine, it's in late June. You'll want to tackle this project when young fruits are between 3/4" and 1" in diameter.
You don't want to thin too early, when the fruits are tiny, because this can result in split pits in the mature fruit. However, if you wait until the fruits are larger than about 1", the tree's resources have already been quite drained by the extra-heavy load. Fruits will not reap the full benefit of thinning, and will be less likely to get as large as they would have if thinned at the perfect time.
Most expert sources suggest thinning to a minimum spacing of anywhere from 3" to even 8". I use a minimum of 4" spacing as my rule of thumb, and I generally err on the side of greater spacing if I'm wavering on whether to thin a particular fruit - especially in a year like this one, when fruit has set very evenly and heavily over the whole tree.
 If just one or two branches were heavily laden, and the rest of the tree was sparsely set, I might allow slightly closer spacing, since the overall nutrient draw on the tree would be less. This year, with the whole tree absolutely covered in tiny peaches, I know I have to be ruthless and go with a generous 4" minimum.
I thin our tree by hand, with the help of a ladder. Another method that's faster, but less accurate, is "pole thinning", which involves simply striking the branches to remove excess fruit. (For a little more on that method, I found
this publication
helpful.)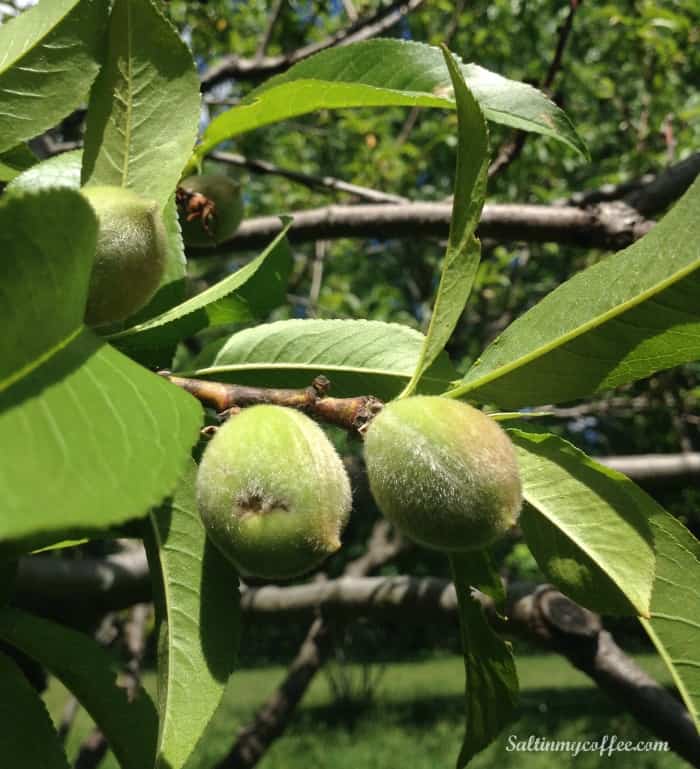 Pin
I find that a twisting motion - much like the motion you'd make for snapping your fingers - works best for removing fruits without damaging the branches, or the young peaches that you want to leave.
When I'm choosing which fruits to remove and which to leave, I start by thinning out any with obvious damage. In the picture above, you can see that the peach on the left has obvious bug damage. So I removed that fruit, and left the perfect one right next to it.
 Next, I try to remove the smallest fruits, while leaving the largest, as I aim for a final goal of 4-6" spacing between fruits. The one last criteria I use, if I'm deliberating which peach to remove, is to favor the peaches closer to the trunk end of each branch where the limb is stronger, rather than those out at the tip, where it's more likely to break.
That's it! My best advice is, don't take time thinking too hard about each little peach - just follow your instincts, go for it, and get it done! Naptime only lasts so long! ; )
Some other helpful reads:
Pin it for later:

Pin
Save
Save
Save
Save
Save
Save
Save
Save
Save
Save
Save
Save
Save
Save
Save
Save