Having the right tools makes pruning trees and shrubs so much easier and more enjoyable. Using the right blade can also be better for the health of your trees. Here are my picks for must-have pruning tools.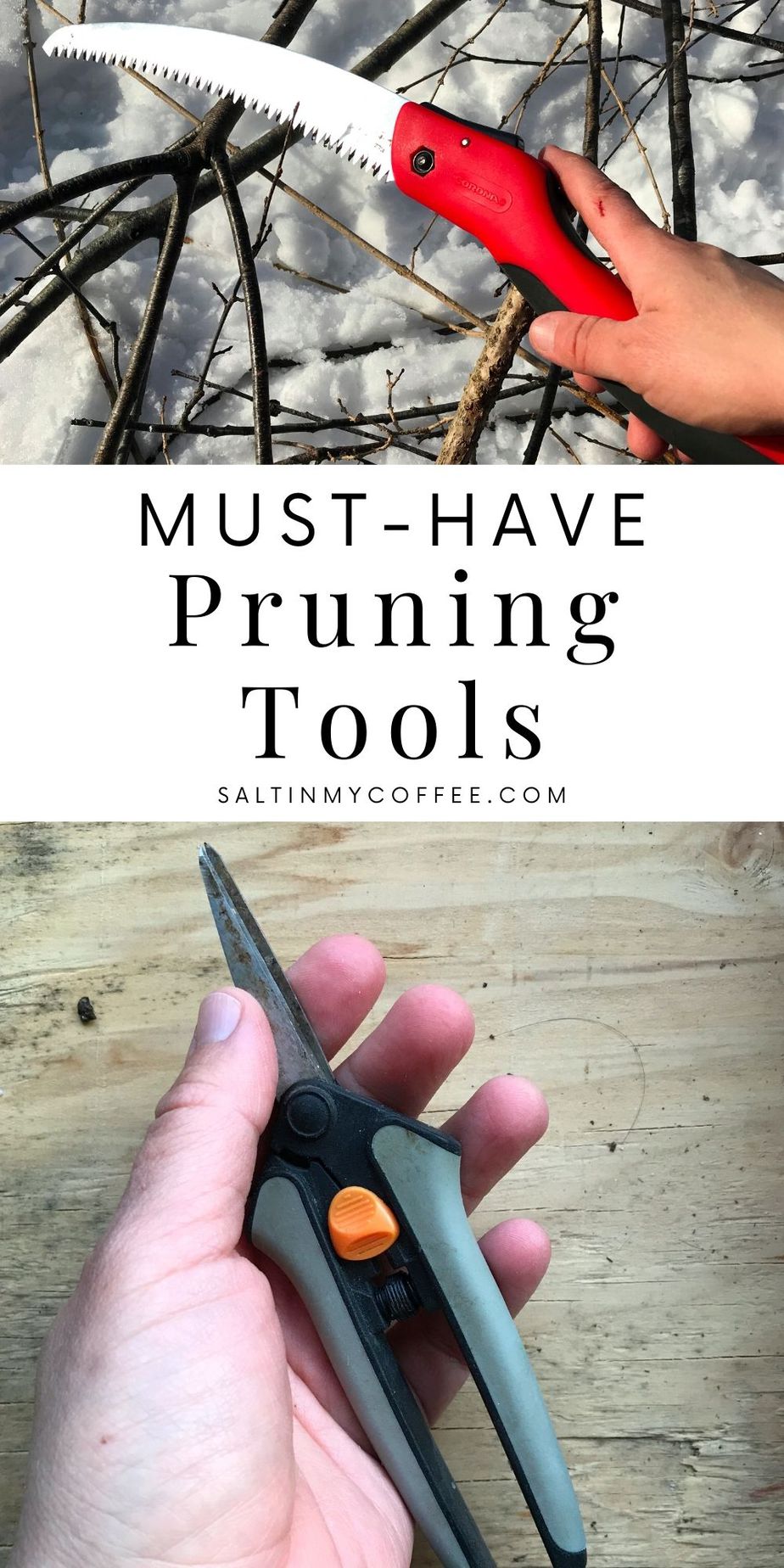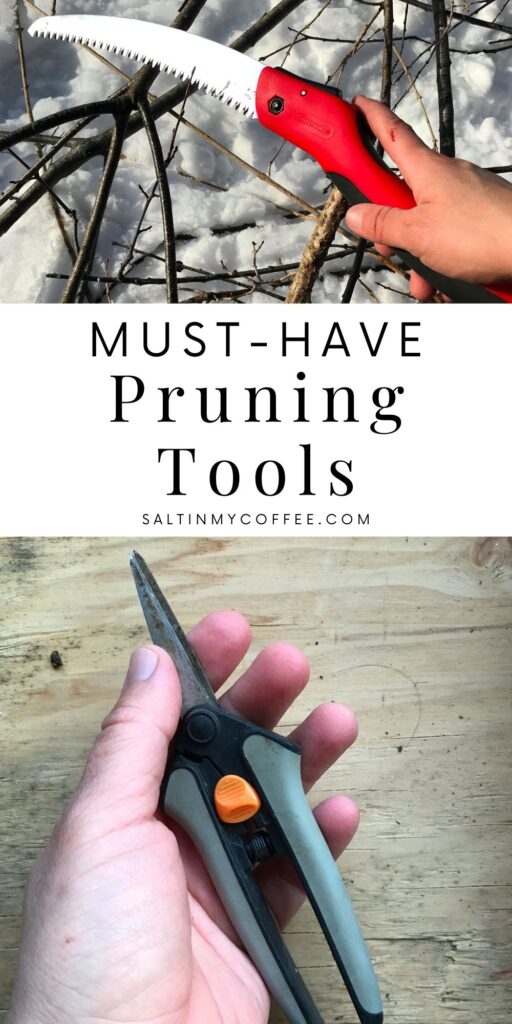 This article contains affiliate links. Click here to learn more.
There are few things that make me feel more alive than pruning my fruit trees in the early spring. It's just such a creative, renewing, joyful activity.
I usually do my pruning while there's still snow on the ground, but on a day where spring is in the air. Last week, while the kids spent a day with my parents, the pup and I headed out into the still-snowy backyard for a few hours of pruning.
It was just what we both needed. This girl loves to chew on things (just look at the shape of that "indestructible" frisbee!), and every new branch I lopped off became her new favorite chew branch ever.
By the end of the afternoon, my arms were worn out, and her jaws probably were too. We were two tired, happy girls, kicking back on a big old heap of pruned limbs and branches.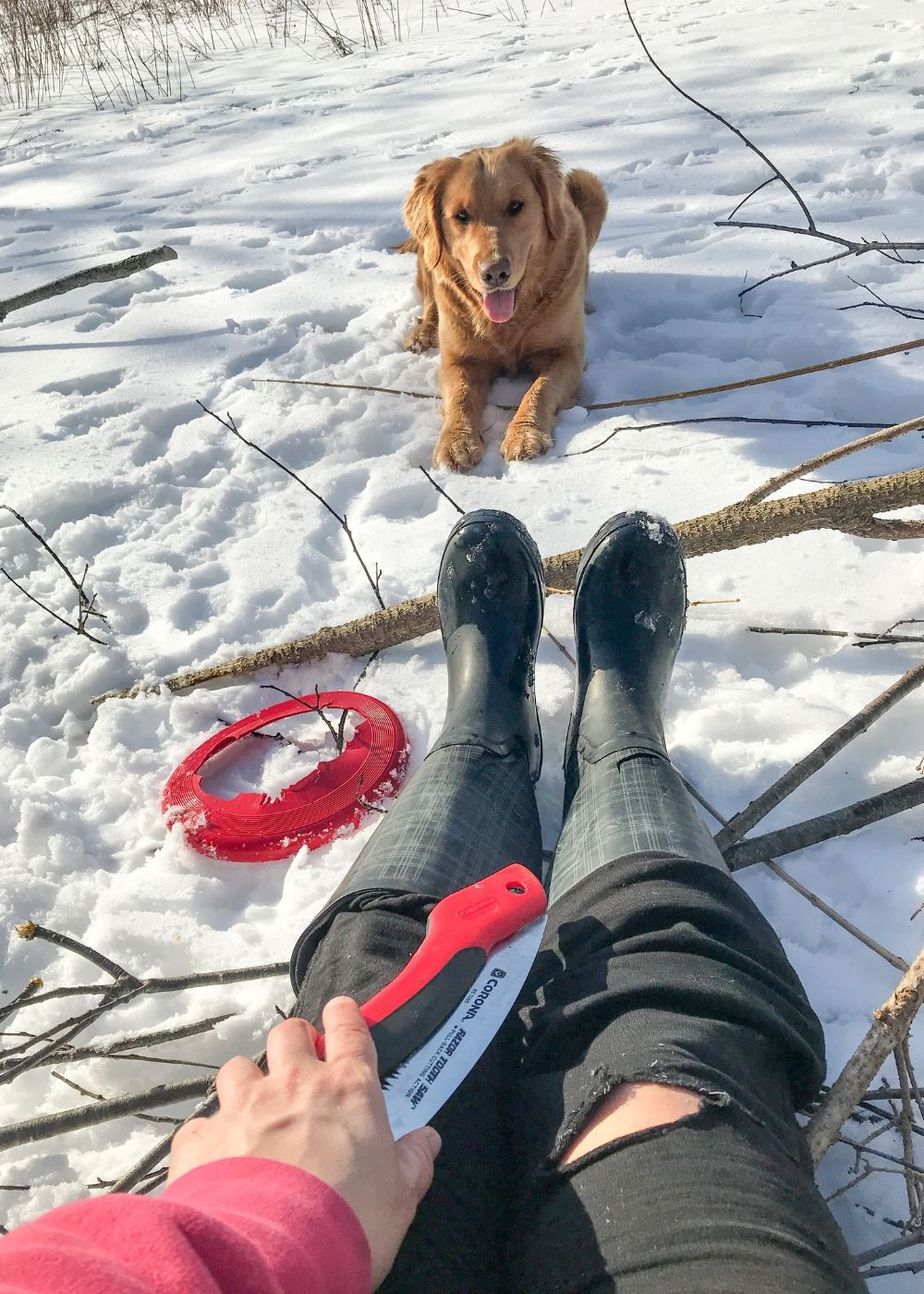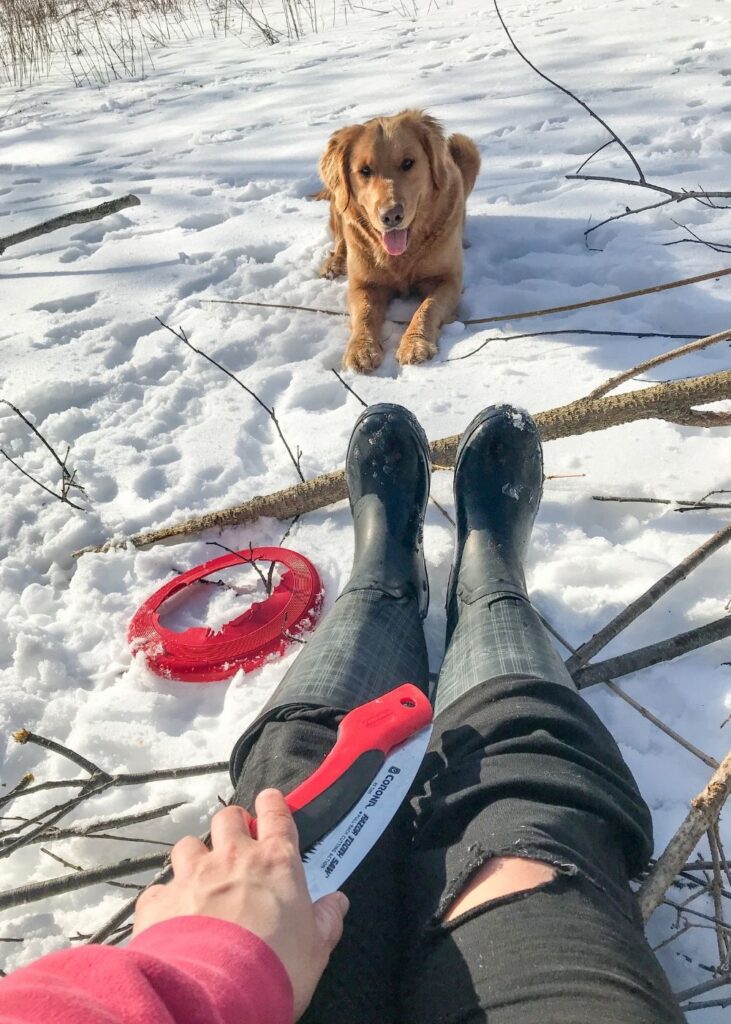 It's amazing how much pruning you can accomplish in even a couple of hours, if you've got the right tools. Speaking from experience, it can also be amazing how little you can get done in an afternoon, if you don't.
As I ended that pruning session the other day, I found myself again really thankful for having the right tools for the job. My pruning saw especially, is such a joy to work with--it still boggles my mind that it took me so long to add it to my gardening supplies.
Wondering what pruning tools I just can't do without? Here's a list of my top picks, for tools that make the chore of pruning feel like the highlight of my spring to-do list:
Must-have pruning tools
Pruning saw
This 10" Corona pruning saw is my favorite. It's lightweight, ergonomically-designed, and just an absolute joy to use.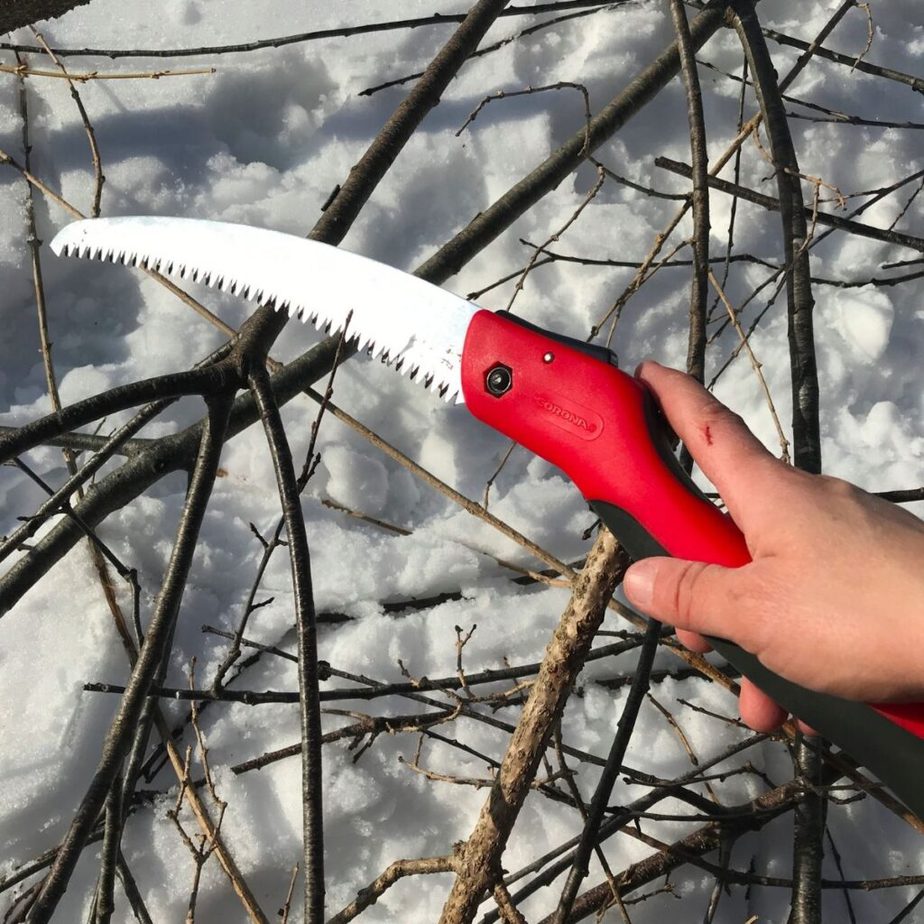 Bypass loppers
The Powergear2 32" loppers from Fiskars are my favorite loppers that I've worked with. They're a HUGE improvement over some of their previous models, and the gear design makes them so much easier to work with than traditional, non-gear lopper styles.
Bypass hand pruners
When it comes to hand pruners, keep in mind that there are two basic styles: anvil, and bypass.
As this article explains, anvil pruners crush the cut ends of the stem or branch that you're cutting. This makes a cut that's not as conducive to healthy plant growth.
Bypass pruners, on the other hand, leave a clean cut (as long as they're in good repair, and well-sharpened.) A good bypass pair of pruners is an absolute must-have, and these ones from Fiskars are great.
Pruning snips
For smaller plants, as well as precise work on even large trees (for example, thinning fruit for better harvests), a good pair of narrow pruning snips can be really helpful.
Often these are referred to as "micro-tip" pruning or trimming snips.
For a long time, I used my bypass hand pruners to do every job too big for scissors, and too small for a pair of loppers. When I got my first pair of pruning snips, I realized they were a tool I had been sorely missing.
The narrow little tip can easily get into small areas, and makes precision work so much easier. They're great for thinning peach trees and other stone fruits in the early summer.
These are also wonderful for harvesting cut flowers.
From April to September, if I'm headed toward the gardens, it's a pretty good bet I've got my snips with me--they're just that handy.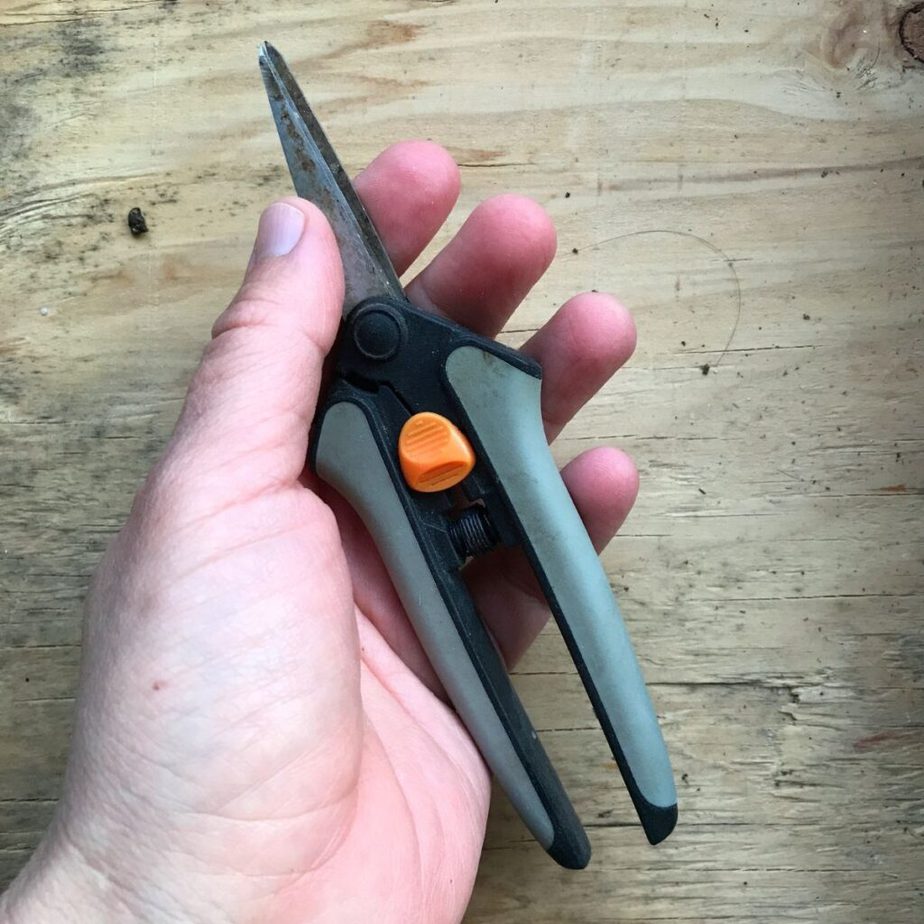 Gloves
If you're going to be doing a long pruning session, are or happen to be working with thorny bushes, or any plants from a phytotoxic species, it's always wise to wear a good pair of gloves.
Rose pruning gloves like these ones are great, and do a good job of allowing you work, while protecting your arms.
I've also been known to get out my cut-proof gloves when I'm doing any kind of tricky work with my pruning saw. They're amazing because they're so lightweight, but really have proven themselves to be cut-proof, in my experience.
Orchard Ladder
I'm going to be honest--a good orchard ladder is the one "must-have" pruning supply that I don't have. I've been making do with a 6' stepladder, and it's just not adequate for reaching the top branches of my older apple trees.
One of these days, I need to add a good orchard ladder to my arsenal of pruning supplies, and when I do, it will probably be a locally made one. Good orchard ladders are expensive though (unless you can score one used at a yard sale!).
If an orchard ladder is out of the budget, did you know that sometimes you can rent them? Here in Maine, I noticed that Home Depot rents out tall orchard ladders for less than $50 a day. So while you're saving up for that classic wooden orchard ladder, renting may be a good short-term solution.
A good pruning manual (at least one!)
My mother loves pruning too, perhaps even more than I do! Between us, we probably have a least ten different books with instructions on fruit tree pruning. Knowing what you're doing is important for the health of the trees you're working with, and also for achieving your desired goals for your orchard, backyard, or garden.
I really like this slim and photo-filled guide by Richard Bird, partly for the heavy focus on creative pruning methods, like espalier.
One thing I've found helpful when choosing pruning books, is to request a lot of different pruning books from the library. Then see which ones best fit your goals and learning style, and buy just the ones you really love, so they'll always be on hand.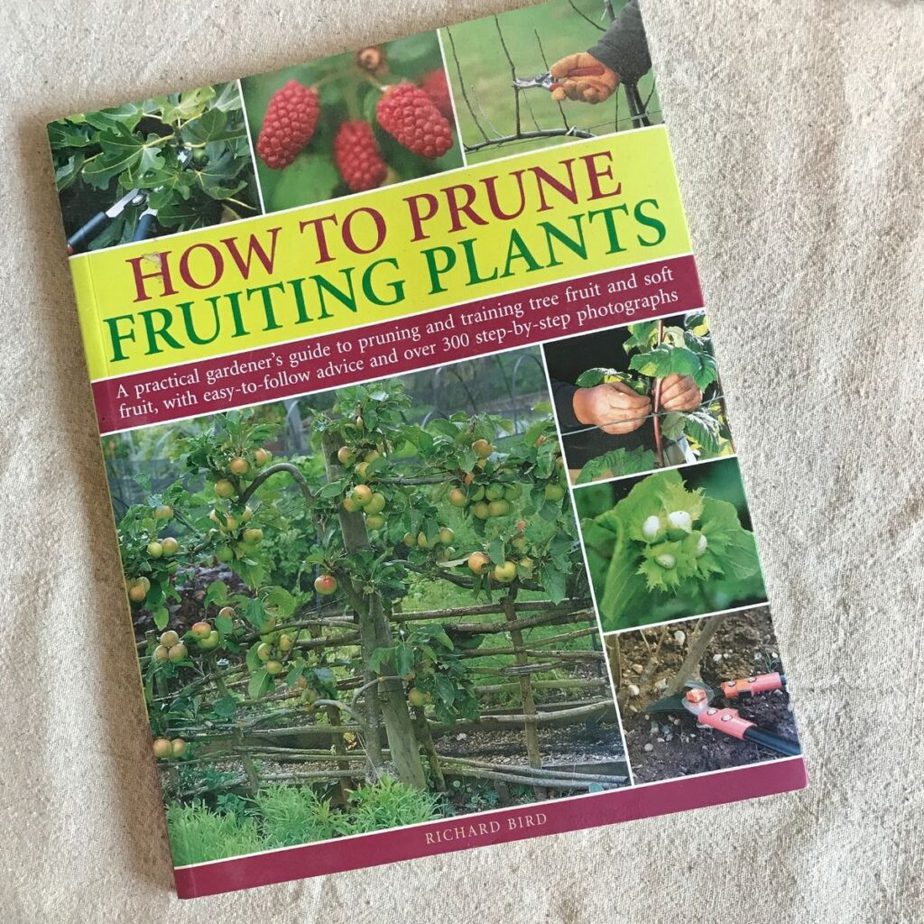 That's a quick tour through my supply of pruning tools that I just can't live without. I hope you've found it helpful!
If you're also considering grafting your own fruit trees, you can read my recommendations about choosing a good grafting knife here. (It's everything I wish I'd known before I bought mine!)
I'm not done with my spring pruning yet, but it's well under way. Truly, one of my favorite times of the year!
Happy pruning season, my friends. May your fingers be strong, your saw sharp, and your skies sunny!