Do you long to munch on a crisp apple and start making pies before zucchini season is even over? Me too! Here's a list of 30 earliest ripening apple varieties, to jump-start your apple-picking season!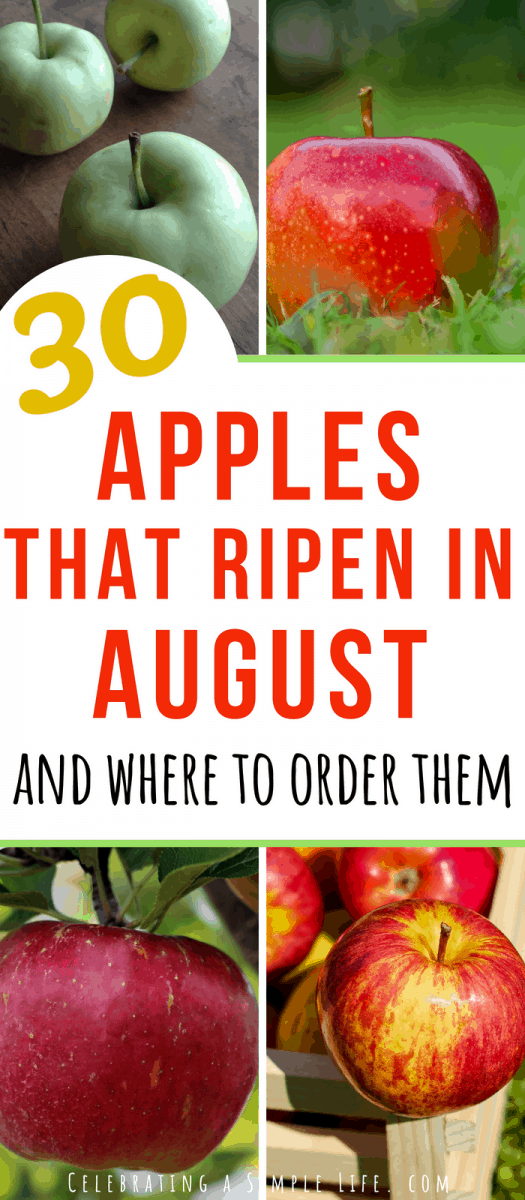 This article contains affiliate links. Click here to learn more.
When we bought our house a few years ago, we purchased it from a sweet older couple that had built the home themselves, and raised their family here. They'd even created our amazing stone fireplace and chimney by hand, with rocks they'd excavated right here on the property.
So before passing on the keys, they also endowed us with a treasure trove of tips, tricks, special bits of trivia, and wisdom from a lifetime of homesteading on this windy little mountainside in Maine. On one of my last visits to the house before moving day, the husband stopped and pointed to a huge old apple tree growing in the middle of a stone wall.
"That tree" he said, "has the BEST apples you'll ever taste anywhere. It's the best tree around. People you forgot you ever knew will stop by every August with a bag, just to chat and hope you'll send them away with a bunch of apples. That's a way you'll meet alllll the neighbors!"
I'd never heard of an apple ripening in August before, and I'm embarrassed to say I chalked a lot of that conversation up to sentimental exaggeration. But the next summer, every word proved true. It's hands-down the best fresh-eating apple I've ever tasted. And most of the crop is perfectly ripe by the third week of August. I've also met a quite a number of folks from "down the way" under the shade of that tree. In August. Coincidentally, I'm sure!
That tree opened a new reality for me. There are great apple varieties that really do kick off the season so early I'm still harvesting snow peas. I'm really blessed that of the 5 apple trees currently bearing on our property, this one starts the season super early, and another is so late that I have to pry the apples from the tree before the first freeze, and let them finish ripening in storage.
As we keep adding to our little home orchard, I'm on the lookout for a few more amazing early apple varieties. So I've been researching like crazy, and had to share some of best early apple cultivars that have made my "short" list. All of these are said to ripen in August, or even earlier in the south. And all are available for mail order from at least one reputable heirloom orchard. Check out these incredible early apple varieties!
Beneath each variety's description, you'll see that I've listed where you can order it. To keep the list uncluttered, I've used abbreviations. At the bottom of this post is a list of the sources I refer to, the codes I've used to identify them, and their websites.

30 apples that ripen in August (and where to order them!)
Akane
Introduced in 1937, Akane is an excellent, sweet early apple. Like so many of the early varieties, it's not much of a keeper, but it's wonderful fresh, and dries nicely.
Grandpa's, GN, TA
American Summer Pearmain
The fabulous website Orange Pippin is one of the best online resources for finding information about heritage apple varieties, and it describes American Summer Pearmain as an "excellent early eating apple, also good for cooking." This variety dates back to the early 1800's.
PCFO, BHC, GN
Bell's Favorite (Sops of Wine)
This is one of those varieties that has been known my many different monikers, including Sops of Wine, Sips n Wine, Bell's Favorite, and Hominy. It grows particularly well in the south, and while its exact origins are unclear it seems to be agreed that it's a fairly ancient English version that was used for both cider and fresh eating.
BHC
Bevan's Favorite
First described in 1859, Bevan's favorite is an all-around winner. Known for its consistent good looks, fabulous flavor, and productivity, it's also categorized as juicy and crisp, but fine-grained. This one is definitely on my list for for adding to the home orchard!
CFO, BHC
Carolina June
Originating n North Carolina, sometime before 1800, this apple is loved for both its cooking quality as well as eating fresh out of hand. One thing I liked about this variety is that it's supposed to do very well on a variety of soil types, and blooms a bit on the late side - which can be a benefit for ensuring a good crop in northern growing zones. It also bears over a period of several weeks, rather than all at once, like some early varieties.
CFO, ACW, BHC, GN, TA (as Red June)
Chenango Strawberry
Dating to the mid-1800's, Chanango Strawberry has an aromatic flavor profile that can be reminiscent of strawberries. It's skin is on the tough side, but it's considered great for both fresh eating and cooking.
ACW, Grandpa's, GN
Early Harvest
This golden variety makes a great desert apple when fully ripe, and is often used slightly under-ripe for the best cooking. The tree itself is supposed to be fairly disease resistant, which is definitely something I value when I'm choosing a new early harvest apple tree variety.
CFO, ACW, BHC, GN
Early Redbird
Dating to the late 1800's, this apple was developed in Canada, and does great in the north. This is one of those cool varieties that has red veins running through the white flesh, which I always think is kind of beautiful. It's considered an outstanding sauce apple.
BHC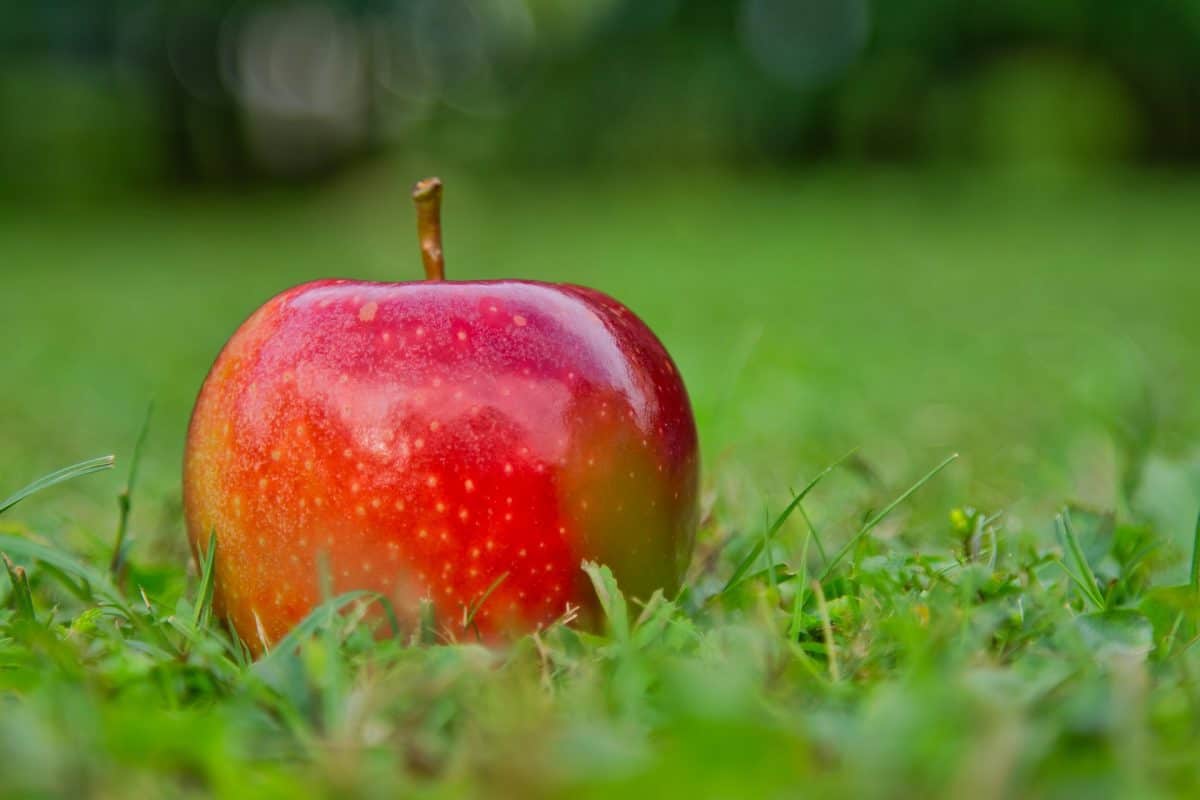 Gala
Gala apples are a relative newcomer, developed in New Zealand in the 1930's. Now a grocery store staple, they're well-loved by almost everyone for their dense, fine-grained flesh with sweet, aromatic flavor.
ACW, Fedco, Grandpa's, GN, TA
Ginger Gold
Antother newcomer, Ginger Gold was developed in the 1960s. For a golden apple, it's got both great fresh-eating flavor, but also resists browning more than many varieties. It's so popular and resilient that it makes a good commercial apple, and in the Virginia Extension Service is quoted as calling it "the best apple that we have evaluated that ripens before Gala".
Fedco, Grandpa's
Gravenstein
I am nearly positive that the heavenly apple growing in our stone wall - the one that started my love affair with early apples - is a Gravenstein. This would make sense, since according to Fedco, Gravenstein was once the most popular summer apple in Maine. It's a very old apple of contested origin - I've read everything from Italy to Germany, Denmark, and Austria...though the Wikipedia entry that traces it to a monastery in France may be the most convincing. Truly a remarkable apple, Fedco says it was rated "'very good to best' by Beach in The Apples of New York. Probably the most famous of all summer apples and usually considered the best of all pie apples."
CFO, ACW, Fedco, BHC, GN, TA
Henry Clay
Dating back to the late 1800's, this Kentucky apple was bought by Stark Bro's Nursery and sold as an early season alternative to the ubiquitous Yellow Transparent. Greenish white with a slightly acid flavor profile.
BHC
Hightop Sweet (or Hightop Sweeting)
Hightop Sweet is actually said to have originated in the Plymouth Colony in the 1600's. Greenish-yellow, blushed with red, it's a dry and very sweet apple that's great for both eating a cooking.
BHC, GN
Lodi
One of the earliest of the early! This is the first apple that's commercially available at any of the heritage orchards near us, here in Maine. Larger than the more commonly Yellow Transparent, these are larger, finer-grained, and keep better.
ACW, Grandpa's
Lowland Raspberry
Also frequently listed as "Liveland Raspberry" this variety originated in eastern Europe - both Lithuania and Russia are often listed as its birthplace. Fine-grained and juicy, with very white flesh, Lee Calhoun in his Old Southern Apples described it as so tender it's "almost like eating foam."
ACW, BHC, GN(as Liveland Raspberry)
Mollie's Delicious
Mollie's Delicious is a newer cultivar, dating only back to the 1960's. It grows well in northern climates, and its large size and sweet flavor make this prized as a dessert apple.

CFO, Fedco
Moses Wood
Moses Wood is the "local boy" on this list, since it seems to have arisen right here in Maine, sometime before 1847. Considered both a fine dessert and cooking apple, Fedco describes it as "medium-to fine-grained tender very juicy flesh, definitely subacid. Excellent tart fresh eating. That tartness also adds a kick to its early season pies." They also include a delightful bit of trivia about this apple, sharing that it was "named for the itinerant Winthrop grafter who traveled on horseback spreading apple varieties around central Maine long before the days of Fedco."

Fedco
Paula Red (or Paulared)
Both sweet and tart, here's what Wikipedia says about the origin of this shapely red apple: "The first 'Paulared' apple tree was discovered in 1960 by grower Lewis Arends near a McIntosh block in his orchard in Sparta Township, Kent County, Michigan." As a lifelong McIntosh fan, I'm eager to get my hands on this one just to have a similar flavor profile earlier in the season!

Fedco
Pristine
These gorgeous yellow apples seem to have a reputation for one of the best extra-early yellow varieties for fresh eating flavor. It's also reported to be very productive, and a better keeper than many of the early harvest apple tree varieties.
ACW
Red Astrachan
Originating in Russia, and brought to the US in the 1870's, this popular variety seems to be particularly well-loved in the south. It has delicate yellow skin streaked with red, and it's coarse-grained subacid flavor makes it a great cooking apple.
CFO, ACW, Fedco, BHC, GN, TA
Spice Sweet
Fedco calls this "one of the best of all pie apples." Outstanding for both fresh eating and cooking.

Fedco
St. Lawrence
Another great all-purpose early apple, this one hails from Canada. I feel like a lot of early apples tend to be on the small side, but this one's larger, with pale yellow skin, marbled and streaked with red. Juicy and tender, with fine-grained flesh, it's considered a fine pie apple.

Fedco
Summer Rambo
Another popular apple that has many names - this one's also known as Lorraine, Summer Rambour, and Rambour Franc. An old French clultivar, it was recorded as early as 1535. A large apple, Summer Rambo sports light ribbing, and red-streaked pale yellow skin. Lightly sweet flavor, with sub-acid profile, it has a fine grained flesh, and historically was favored as a dessert apple. This is another variety that's often harvested slightly green for cooking purposes.
CFO, ACW, GN, TA
Summer Rose
This one originated in New Jersey in the early 1800's. Being a later bloomer, it's another good variety for northern climates since it escapes most late spring frosts. Big Horse Creek calls Summer Rose, "an attractive fruit with smooth, waxy, yellow skin blushed with red streaks and blotches. The fine-grained white flesh is tender, crisp, and juicy."
BHC, GN, TA
Summer Queen
Summer Queen is another variety that was developed in New Jersey early in the 19th century. A good cooking and drying apple, it has coarse-grained yellow flesh, and a spicy side to its flavor profile. Medium sized fruit has pale yellow skin striped with red.
CFO, BHC
William's Favorite
The variety originated in Massachusetts in the 1700's, but is especially beloved in the south. Century Farm Orchards says, "this prized, early season apple is absolutely beautiful. Conical in shape and medium to large in size, its bright red apples catch the eye of friends and neighbors each July." With a mildly subacid profile, and white juicy flesh, William's Favorite is great for both cooking and fresh eating.
BHC, CFO
William's Pride
William's Pride is good and crisp - more so than many summer apples. It also has a longer ripening period, which is really nice. Many summer apples ripen quickly all at once, and aren't great keepers - so you have to hustle to make use of them and then they're gone.
With its dark, almost purplish skin, it's visually a more unique summer as well. The flesh is light with a red staining under the skin, and a good tart-sweet flavor balance. All around, this sounds like just a delightful apple to me, and I can't wait to get my hands on some to try. I feel sure I'll be ordering one of these to plant next spring!
Fedco
Taylor Sweet
Ald old North Carolina variety, Taylor Sweet is fairly uncommon, and if you google its name, most of the results will have something to do with Taylor Swift. It's not a great keeper, but but it's sweetness, and reputation for being a delight as a dessert and cooking apple, definitely make it worth looking into!
BHC, GN
Yellow Horse, or Horse
This one is known by quite a few names (including Summer Horse, Green Horse, Oldfield Horse, Mammoth Horse, Hoss and Old Fashion Horse), but most commonly it seems to be known by simply "Horse" or Yellow Horse. Large for a summer apple, it's yellow (no surprise there!), and even the flesh is yellow. A tart, acidic apple, it's a gem for cider-making, and is also enjoyed as a cooking and drying apple. It's also supposed to be quite productive, which is also a plus!
CFO, ACW, BHC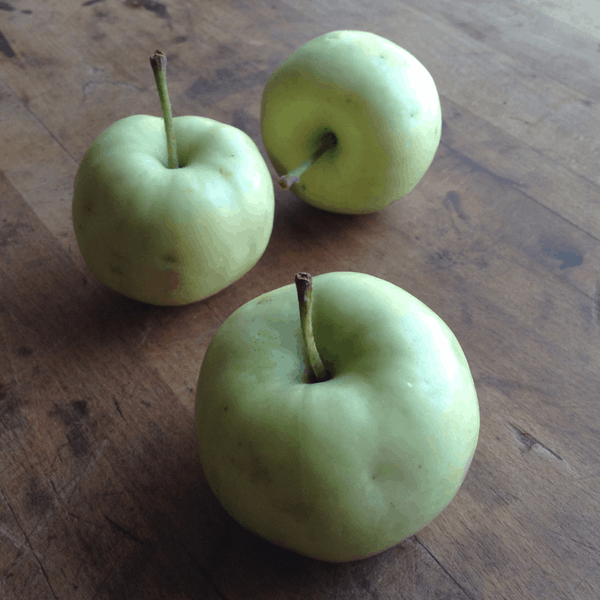 Yellow Transparent
Though exact parentage of this apple is unknown, it generally seems to be agreed that it's quite old and originated in Russia. At one time, it was extremely popular in Maine, and here in Oxford county, unappreciated old trees quietly drop their bounty by the side of many an old country road.
The apples in the photo above came from a very old tree just down the way from us, that never gets a lick of care, but still bears apples by the bushel every year. These are one of those varieties that ripen all at once, then almost immediately drop and start to rot. The season is prolific and short!
The skin is so lightly yellow and thin, it really does seem nearly transparent. They're tart and while "sweet" isn't what you'd think of when eating them fresh, they make a flavorful sauce that cooks up quickly and doesn't need sugar. If you want them in pie, they're better picked slightly green. Fedco calls them "incredibly hardy" and I'd readily concur!
CFO, ACW, Fedco, BHC, GN, TA (as White Transparent)
There are a LOT of early apple varieties out there, but these 30 are the ones that I either know and love, or that stand out to me as "must-try" varieties. Wondering where you can get your hands on these captivating cultivars? The nurseries listed below all ship by mail, and offer heritage apple varieties. Check out the codes next to the apple varieties, to see which nurseries offer them! (These are based on the lists currently available. Please do be aware that most nurseries to change their offerings from year to year.) If you're anything like me, finding a place to order is actually the easy part...narrowing down the list of apple trees I want? Now that's hard!!
Here's where you can order these early season heritage apples:
Century Farm Orchards (CFO) http://www.centuryfarmorchards.com
Albermarle Cider Works (ACW) https://www.albemarleciderworks.com
Fedco Trees (Fedco) https://www.fedcoseeds.com/trees/
Grandpa's Orchard (Grandpa's) https://www.grandpasorchard.com
Big Horse Creek Farm (BHC) http://bighorsecreekfarm.com
Greenmantle Nursery (GN) http://www.greenmantlenursery.com
Trees of Antiquity (TA) https://www.treesofantiquity.com
How about you? Do you have a favorite early harvest apple tree that didn't make it on this list? Please let me know in the comments! I'd love to hear about it!