Can you plant garlic in the spring? The short answer is yes! While garlic is usually planted in the fall, and you'll get the best results that way, you can still get a lovely harvest from planting garlic in spring.


This article contains affiliate links. Click here to learn more.
Sometimes life just doesn't shake out how you plan it. Can anybody say amen?
I always plan to plant my garlic in the fall, but sometimes it hasn't worked out that way. Whether because of moving, or surprise early snow storms, or just bad planning and being too busy, there have been a few years that my garlic hasn't made it into the ground before winter set in, and it was just too late.
While garlic is usually planted in the fall, and you'll always get the best results that way, sometimes it's just not in the cards. And that's ok. It's still totally possible to get good (even great!) garlic, if you can't plant it until springtime.
Here are a few tips from the trenches on how to get the best possible harvest from spring-planted garlic.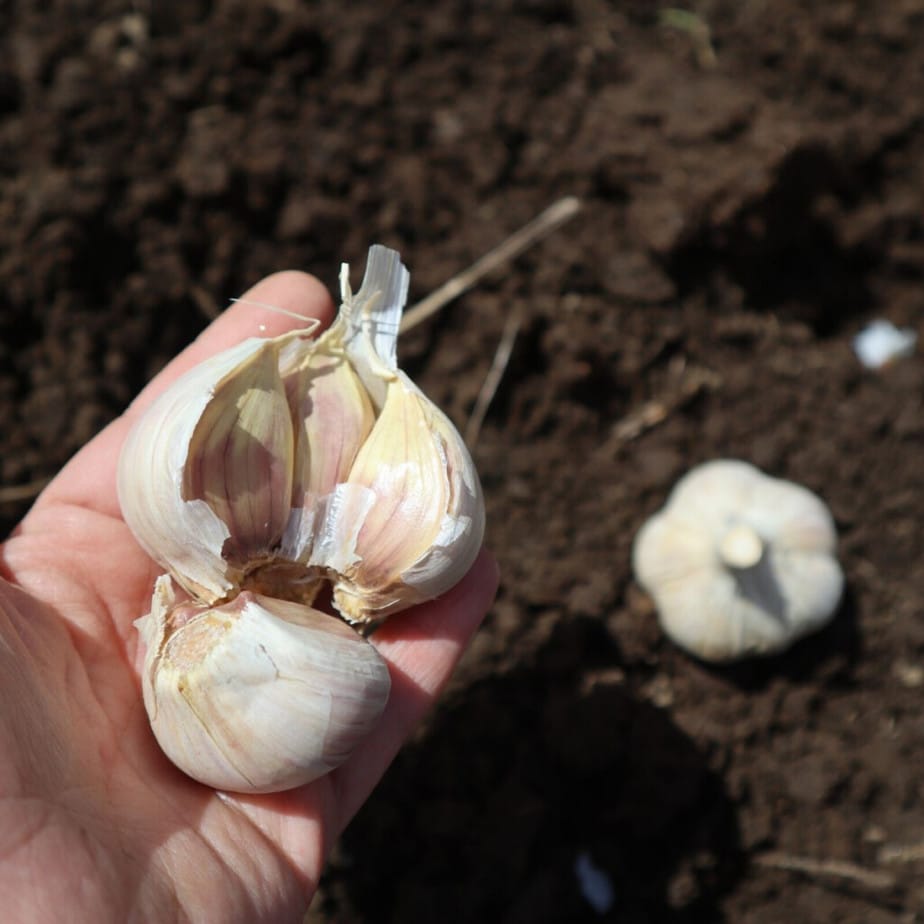 How to successfully plant garlic in the spring
1. Start as early as feasibly possible
I've found that getting garlic in the ground as early as it can feasibly be worked, is really a key part of getting a good crop from spring-planted garlic. One common problem with garlic planted in spring instead of the previous fall, is that often the bulbs will form not a cluster of cloves, but just one big single clove. These look more like a scallion or green onion, and they're still tasty - but not what you're hoping for when you plant garlic.
In my experience, this is most likely to happen when planting garlic late in spring (around the last frost date, for example), rather than very early, as soon as the soil can be worked. Here in Zone 4, when I've planted garlic cloves in March or early April, it has grown to properly form cloves, and has grown to a very respectable (though less-huge than usual) size.
If you're reading this in May and still want to get garlic in the ground, don't lose all hope. While you will most likely end up with garlic that just forms a single, clove-less bulb, it's still edible and delicious. From everything I've read, you can even plant it in the fall for the next year, and have it grow into properly cloved bulbs of garlic.
2. Carefully choose a planting site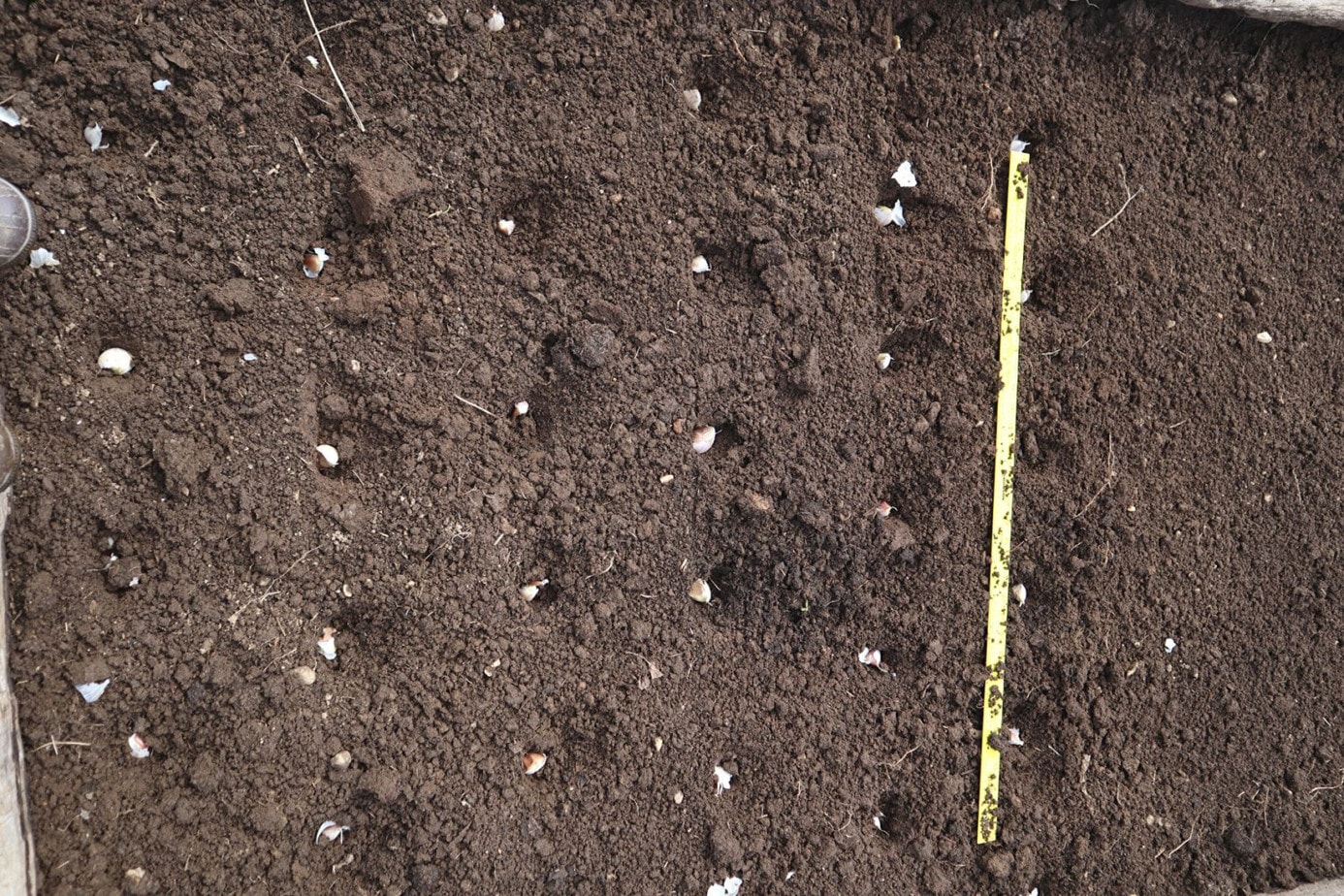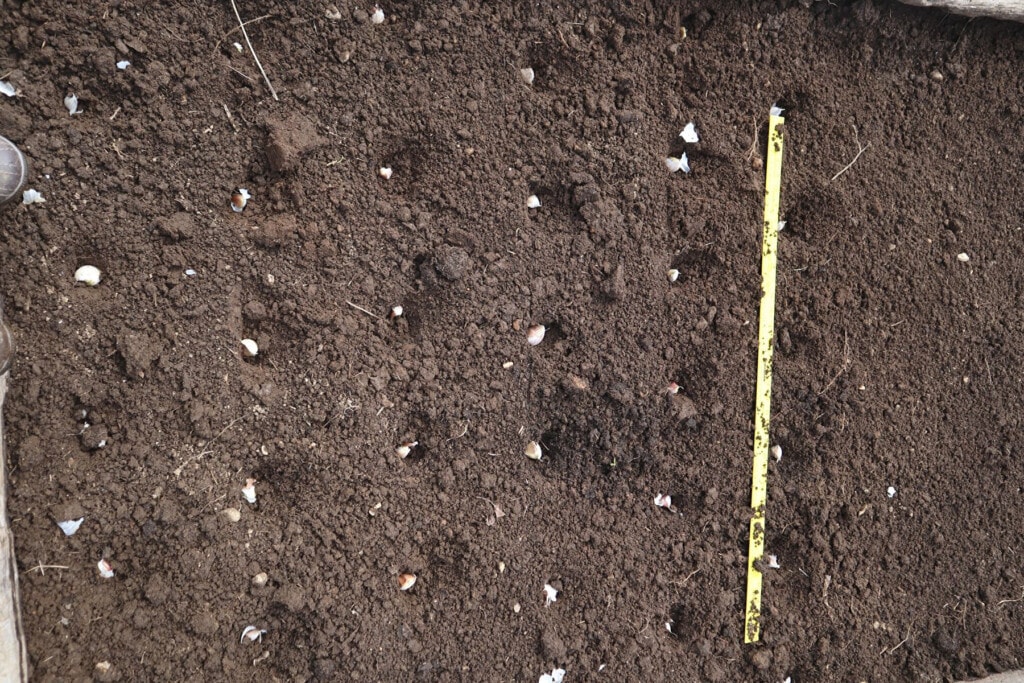 More than ever, it's important to choose a prime location for your garlic if it's going to have a shorter than usual growing season, because of being started in the spring. Choose a location with well-drained soil that gets full sun - at least 6-8 hours daily.
It's usually good practice to also use a garden bed that hasn't been used for onions, garlic, or other alliums within the previous year. But in my opinion, I'd always prioritize the quality of the location over the rotation aspect, if you're faced with having to make that choice.
3. Use the best seed garlic you have available
Great garlic comes from great bulbs of garlic. While it might be tempting to cook the most beautiful bulbs of garlic from your supply and plant any scrawny leftovers, it's really worth sacrificing the largest, best, most beautiful cloves for planting.
If you're buying "seed garlic" in the spring, it's often much harder to find, and more picked-over than in the fall. Just source the best seed garlic that you can. If you can't find any, there's always the grocery store. I know that many, many posts have been written about how worthless it is to plant grocery store garlic, but in truth - I've grown some absolutely beautiful, luscious garlic from grocery store cloves that I used in a pinch. Don't skip growing garlic just because you can't get your hands on good "seed garlic." Just get some garlic in the ground and give it your best.
4. Prepare the soil well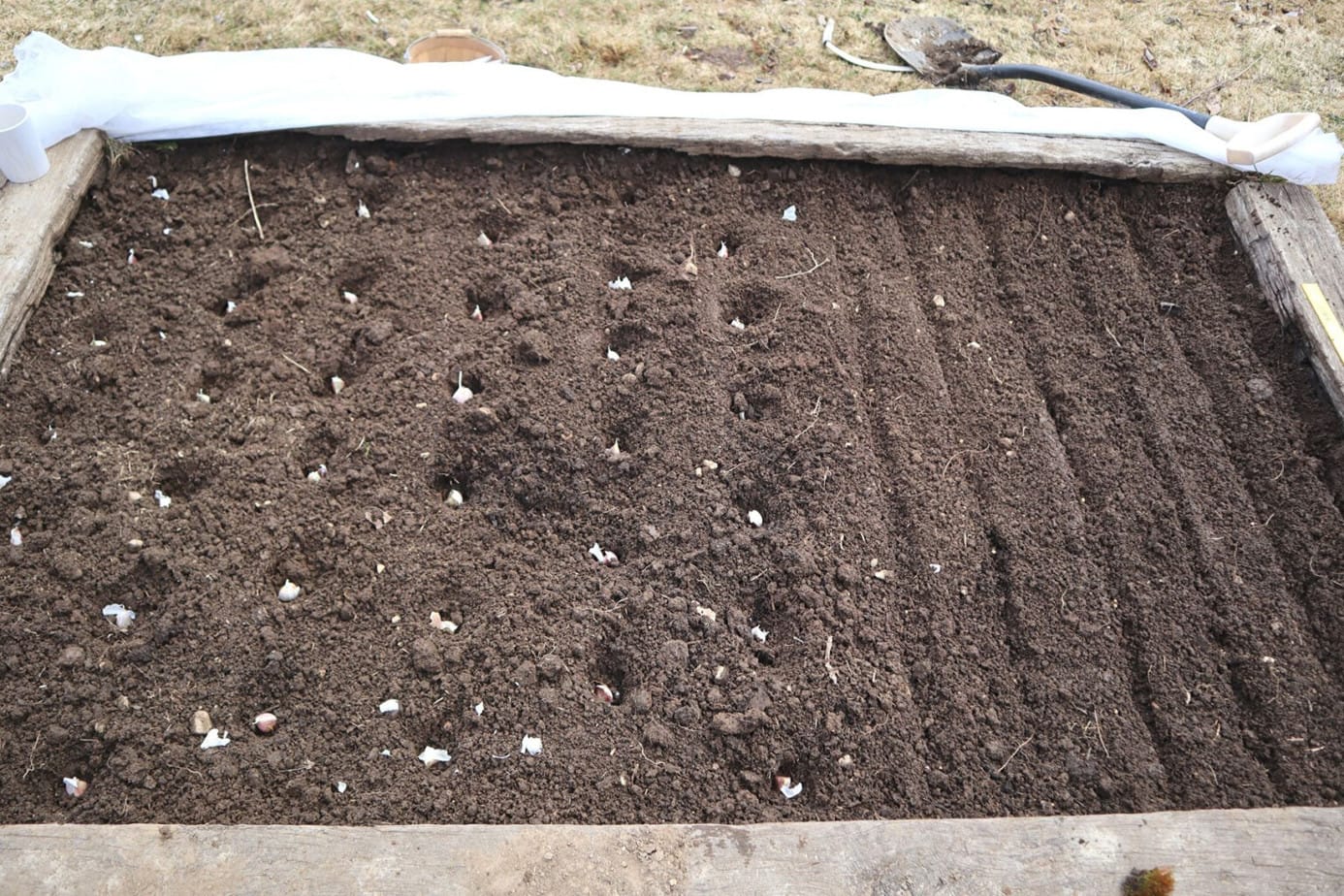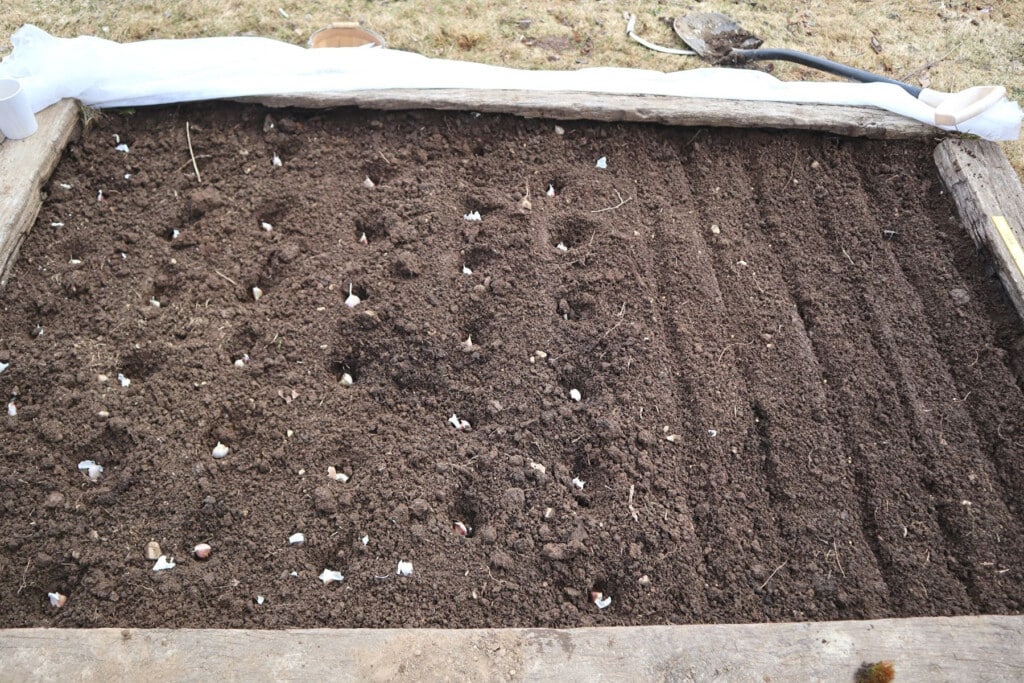 Garlic is a heavy feeder, and it loves loose, well-worked soil. Take some time to really prepare your soil deeply. Add several inches of good quality compost and thoroughly work it in before planting. The extra effort at this step will really pay off.
5. Plant the garlic cloves with optimal spacing
It can be tempting to crowd garlic in, with the idea that it's not going to grow as large as fall-planted garlic anyway. But in opinion, I think that can turn into a self-fulfilling prophesy. I've had good luck with giving spring-planted garlic the same space that I use when planting garlic in the fall.
Traditional spacing typically dictates planting cloves 4-6" apart, in rows 1' apart. My favorite spacing, which has always given me exceptional garlic, is planting the cloves 8" apart, in staggered rows that are also 8" apart. It's a efficient way to evenly fit as many cloves of garlic as possible into a large raised bed, while giving each plant plenty of space.
To plant the garlic, you'll need to start be separating each bulb of garlic into separate cloves. Each clove will become its own plant.
Plant each clove, fat end down, to a depth such that there's about 1.5" of dirt covering the tip of each clove.
6. Caring for garlic once it's planted
If you were planting garlic in the fall, you'd now pile several inches of mulch over the bulbs to help insulate it over the winter. In spring, you'd pull off all but an inch or two of mulch to allow the garlic to grow up through the mulch, unhindered.
Planting garlic in early spring, you'll want to skip the deep layer of mulch, but it will still benefit from a thin, even layer of straw or other mulch, if you have some. This will help retain moisture, and slightly moderate the temperature of the bed, helping it to get a good start.
As the garlic begins to grow, ensure that it stays well-watered. It doesn't like to stay soggy, and you want the garlic bed to be in a well-drained area, but it's important to not let the garlic bed get too dry between waterings. Especially since spring-planted garlic has a shorter time to grow, you'll want to keep conditions as optimal as possible.
Don't be temped to boost growth throughout the summer with fertilizer. If you've worked a good thick layer of compost into the soil before planting, the garlic probably has all that it needs to thrive.
If you skipped this step, and planted in soil that's lacking in nutrients, you may want to give your garlic a boost every couple of weeks with a natural fertilizer (I like this one.) Once the plants are about 8" high, you'll want to stop applying any fertilizer so that they stop pouring energy into growing lush foliage, and start diverting that energy into bulbing up under ground.
7. Remove scapes as they appear
In mid-summer, you'll start to see those beautiful curly scapes starting to form from each garlic plant. Cut or break them off as they start to form a full circle. Doing this will help keep all the plants' energy going into forming cloves, instead of making seeds. You'll get bigger garlic bulbs when you remove the scapes - and they're delicious! Try making garlic scape pesto, or adding them to stir fry.
8. Harvesting spring-grown garlic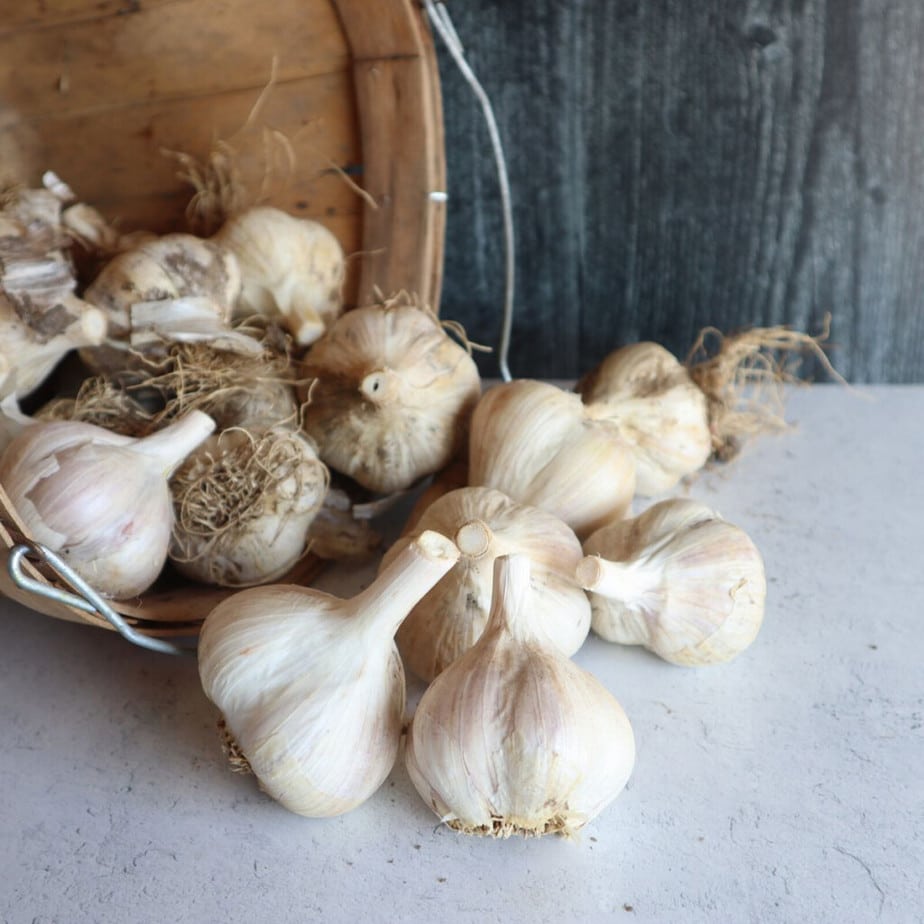 Garlic is usually ready to harvest in mid-summer, around the end of July or beginning of August. When you start to see the lower leaves beginning to yellow, you're getting close. A good rule of thumb is to harvest your garlic when the bottom three leaves on most plants have turned brown.
Waiting too long to harvest won't give you larger garlic. The cloves will start to loosen and separate from the center stalk, and it won't store as well. This growing guide from the University of Maine says that once those bottom three leaves turn brown, you have about two weeks to harvest your garlic.
After harvest, cure your garlic for 3-4 weeks by trimming the tops off an inch or two above the bulb, and leaving them in a warm, dry, well-ventilated place to dry. Store garlic in a cool, dark, and dry place. (Cold and high humidity promote sprouting, so you won't want to store it in the fridge.)
Those are my best tips for planting garlic in spring, and still getting a decent harvest - I really hope they help! Happy growing!
Read Next: Growing Asparagus From Seed