You know me. I'm a tomato girl. So I was super-bummed when my tomato patch didn't exactly thrive this year, with the cool, wet summer we had. Thankfully, my onions on the other hand, went bonkers for the cool and damp weather. This was by far my best onion crop yet.
Yellow, red, white - they all did well. And what especially made me happy was that some of my best specimens were from seeds I'd saved myself.
Since onions are a biennial crop, they take two years to grow to seed-bearing maturity - thus monopolizing garden bed space for two seasons rather than one. So I only plan to over-winter onions for seed-saving every 2-3 years, and when I do, I save enough for a couple years at a time.
Saving my own onion seeds is a cost-effective way of having high-quality, heirloom seeds for my garden every year, and it's really easy to do!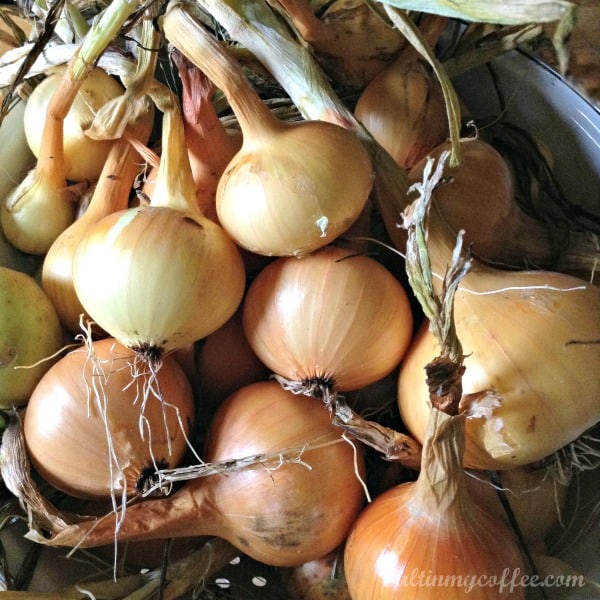 Seriously. If you're daunted by the prospect of saving seeds from a biennial crop, don't be! It's so easy. There are just some simple principles to keep in mind. Here's how I go about it:
YEAR 1
In the first year, start any onions that will be for seed-saving a little later than you usually would (April or May works well for me.) The reason for getting them a later start is that smaller, immature bulbs are more cold-hardy, and fare better through the winter than larger, mature bulbs.
Cultivate and fertilize them just like you would a usual onion crop.
As fall comes, and the weather gets cold, cover them with a good thick layer of mulch. About 4-5 inches of straw or shredded leaves works well - exactly like you would with garlic. This will help ensure they survive the winter!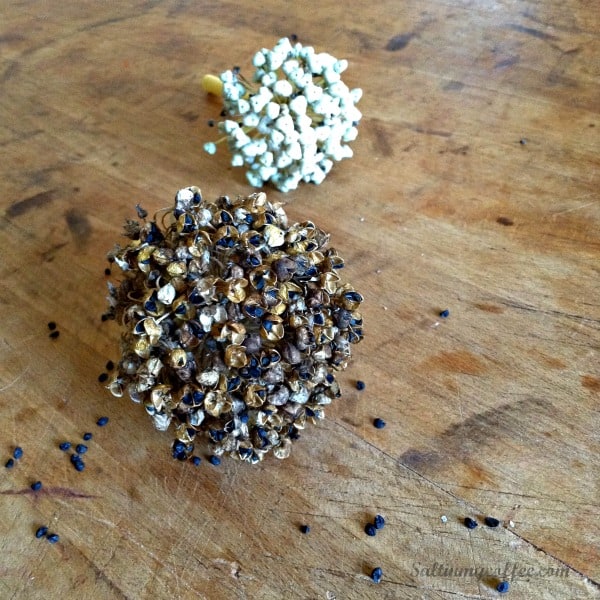 YEAR 2
In the spring, pull away most of the mulch, so the onions will be able to send up their new shoots.
This is the year when you need to worry about cross-pollination, because it's when your onions will be flowering. There are four main species within the onion family, and varieties within a species can cross-pollinate with each other. While it's uncommon, cross-pollination between species has been observed, (particularly between the "fistulosum" and "cepa" families, from what I have read.)
These are the four major species:
Allium schoenoprasum: Common chives
Allium tuberosum: Garlic chives
Allium fistulosum: Japanese bunching onions
Allium cepa (Comprised of three groups):
Aggregatum: shallots, potato onions, and multiplier onions belong to this group
Cepa: "regular" biennial bulb onions, for slicing and storage
Proliferum: this group includes Egyptian or "walking" onions
What all this means is that's important to take precautions to prevent cross-pollination if you're growing other kinds of onions that might be flowering in the same year as those you'll be saving your seeds from.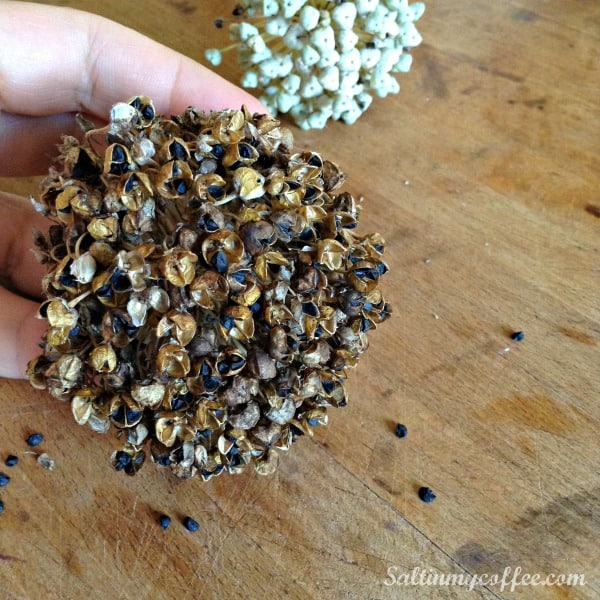 There are a few ways to accomplish this!
The most straight-forward is to make sure that your seed-saving onions are planted at least 1,000 feet away from any other alliums within the same species. If you're saving these to sell, with a guarantee of perfect purity, the isolation distance is drastically more - a full mile!
But - if you're addicted to alliums, and spacing same-species crops at least 1,000 feet apart isn't an option, you can always use caging to prevent cross-pollination. This article has solid tips to get you started, if you're new to using caging methods for seed purity.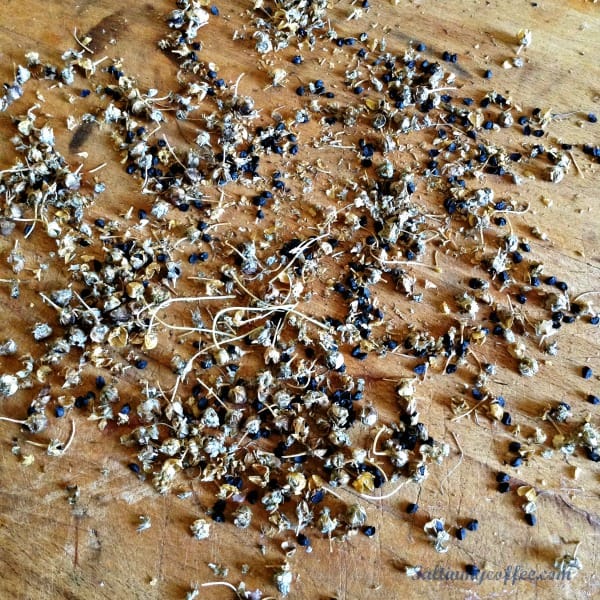 Once your onions flower, all that's left is to wait for harvest time! When nearly all of the flowers have dried and fallen off on their own, you can grab a pair of pruning shears, and snip the seed heads into a bowl or bucket - something without holes, so you don't lose any precious seeds! (Can you tell I made the mistake of harvesting into a loosely-woven basket once?)
Let them sit in a cool, dry location for a couple of weeks. Each little tiny seed head will start to open up, and the clean black seeds will separate easily from the umbels. You can rub them between your hands to make sure you get all the seeds out.
Separate seeds from the chaff, and store them in a cool place, just like the rest of your seeds. Onion seeds only maintain a high germination rate for 3 years at most, so it's important to save fresh seed every 2-3 years.
The one last thing to keep in mind is that onions are prone to what's called "inbreeding depression" after 2-3 generations. What this means is that if you were to save the seeds from only a single plant, for several years in a row, the resulting onions would tend to be smaller and less robust. It's important to save and mix seeds from several plants, to maintain some genetic diversity and prevent this from happening.
That's really all there is to it! I always think the most complicated part of seed-saving is taking measures to prevent cross-pollination. Aside from that, saving seeds from biennials really is easy peasy. And the joy and pride when you're harvesting beautiful vegetables from seed you bred and saved yourself is really one of prime thrills of gardening, I think!
Happy seed-saving, my friends!
Read Next: Printable Packet for Saving Seeds
Pin for later:
Save
Save
Save
Save
Save
Save
Save
Save