This cheap and easy DIY vinegar gel cleaner has revolutionized my bathroom cleaning. It's completely safe and natural, and costs just pennies to make.
This article contains affiliate links. Click here to learn more.
I'm really excited to share today's post, because this quick and easy DIY cleaner recipe is one that's honestly made a huge difference in my day-to-day cleaning routine!
Since I'm brutally allergic to bleach, and can't even be near products that contain it, many of the common tub and tile cleaners are off-limits to me. Finding a safe and effective all-natural cleaner that actually does justice to grubby shower walls and soap scum rings in the tub, has proven downright frustrating.
This winter, I picked up a bottle of Mrs. Meyer's Vinegar Gel cleaner on a whim. I saw it on sale, gave it a try, and for a moment I was smitten. It really does work, you guys, and it does a great job on tough shower scuzz. For a product that lives in the "all-natural-ish" section of the cleaning aisle, it's effective.
But then I spent a little more time with the label. I realized there were ingredients in there that I have chosen not to use in my home, for significant reasons. You know, sometimes, with these multi-syllabic ingredients, I have to sit down and remind myself what's what, and why I've made the decisions I have about whether to use them or not. Please tell me I'm not the only mom who has to look up ingredients again and again!
Sure, this gel cleaner didn't contain bleach and using it didn't make me feel lightheaded, nauseous, or dizzy, as many cleaners do. But that doesn't mean I'm ok with using ingredients that disrupt the endocrine system, promote cancer, and have been linked to nerve and brain damage - all of which are on that label.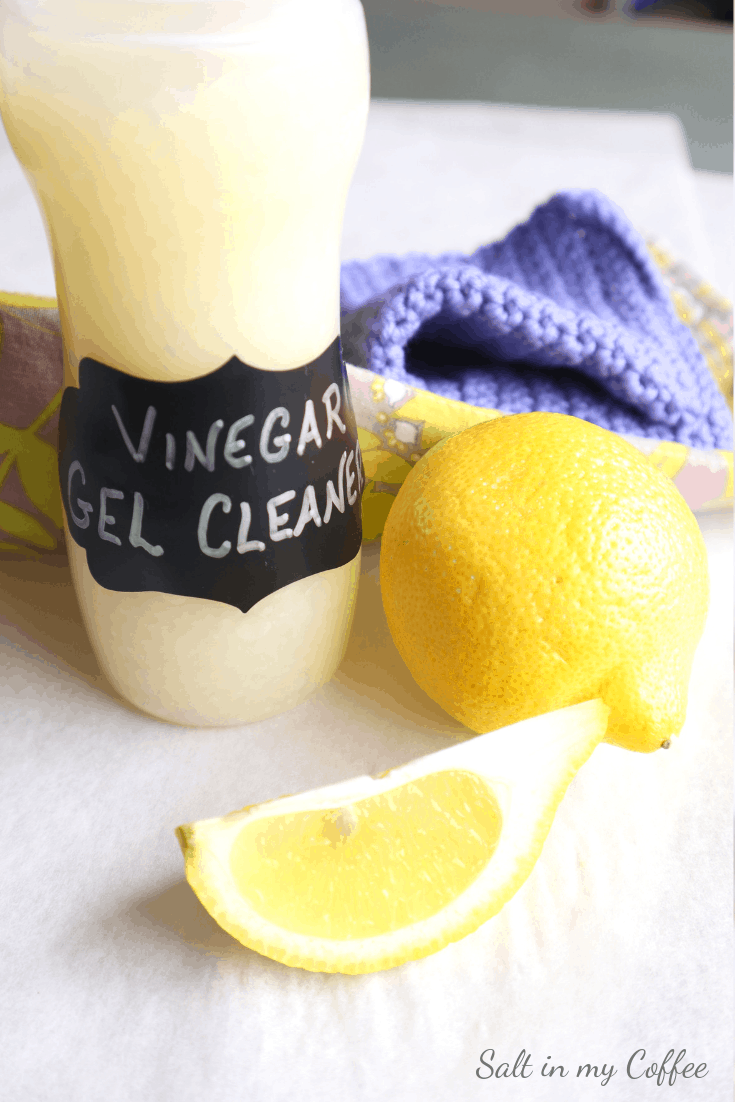 My kids are 3 and 5, and they LOVE cleaning with me. And I'm not talking dusting and sweeping. These kids want to clean the toilet, scrub the floor, and deep-clean the shower.
I'm thrilled to raise kids that are hard workers and good cleaners, but it's also my job as a mom to keep them safe. I cannot in good conscience let them be near things like petrochemical-derived hormone disruptors (aka "fragrance"). Polysorbate-20? That's linked to cancer; developmental, endocrine, and reproductive effects, and damage to DNA. I'm not picking on Mrs. Meyers, here - these ingredients are in many, many products touted as natural.
As I sat with the bottle, and read through the safety concerns on the Evironmental Working Group website, I felt a pang of guilt for letting this stuff in my house. And...for loving it so much.
Argh. Now that I'd realized what a fantastic cleaner vinegar gel can be, I had to find a replacement. Vinegar is a great cleaner, but it's such a thin liquid that it's tough to use for cleaning anything other than a flat surface. Turn it into a gel that can cling to vertical surfaces though, and we're back to having a miracle in a bottle.
Thankfully, turning vinegar into a gel takes less than three minutes, and just one all-natural ingredient: xanthan gum. And since a little goes a long way, making up a 12 ounce bottle of powerful vinegar gel cleaner costs less than 35 cents (compared to $4.99 in my local grocery store for the product I was endeavoring to replace).
Dirt cheap, with zero toxic chemicals? WIN-WIN.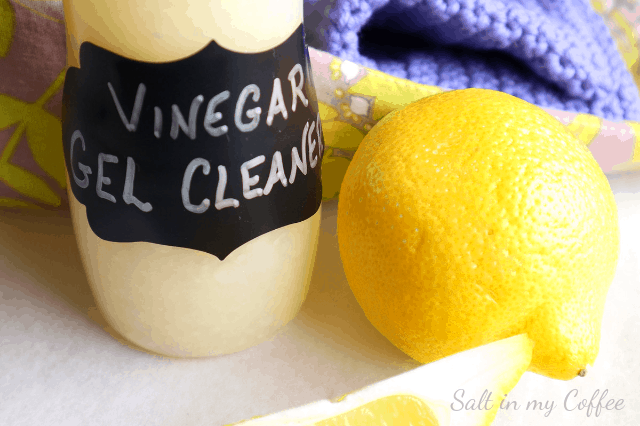 How to make DIY vinegar gel cleaner
You'll need white vinegar, xanthan gum, a blender, and optional essential oils.
1. Add one cup of white vinegar, with 2 scant teaspoons of xanthan gum to your blender. If you'd like, add 10 drops of essential oils. I really like grapefruit, citrus fresh, lemongrass, or fir needle oils for this recipe.
2. Blend until the mixture is a smooth gel, about 1-2 minutes in a powerful blender. Check the consistency. This makes a fairly thick gel, which I like. If you prefer your vinegar gel cleaner slightly on the thinner side, add a bit more vinegar and blend again for a moment, until smooth.
3. Add to a BPA-free squeeze bottle like this one. This cleaner stores just fine at room temperature, and can be stored with your other cleaning products.
To use, squeeze the gel directly on the dirty surface, and wipe clean with a damp cloth.
For tough cleaning jobs like large areas of hard water residue or soap scum, use a cloth to evenly spread gel over the dirty surface, and allow to sit for 20 minutes or longer. You'll be amazed at how much the vinegar gel lifts the scum while it's sitting!
If you've been frustrated by the search for a non-toxic gel cleaner than can bust through hard water stains and soap scum, I really hope this cheap and easy recipe works as well for you as it does for me!
Happy cleaning!
If you liked this post, you may enjoy:
✦ Lime & Lemongrass Room Spray
✦ 7 Steps to a Paper-Free Kitchen
✦ How to Naturally Clean a Stained Mug
✦ What to Do With Clothes You Don't Wear
✦ DIY Wood-Rejuvenating Spoon Butter