This one-ingredient, no-scrub trick makes it easy to naturally remove stubborn coffee and tea stains from mugs and tea cups. Here's how to naturally clean a stained mug.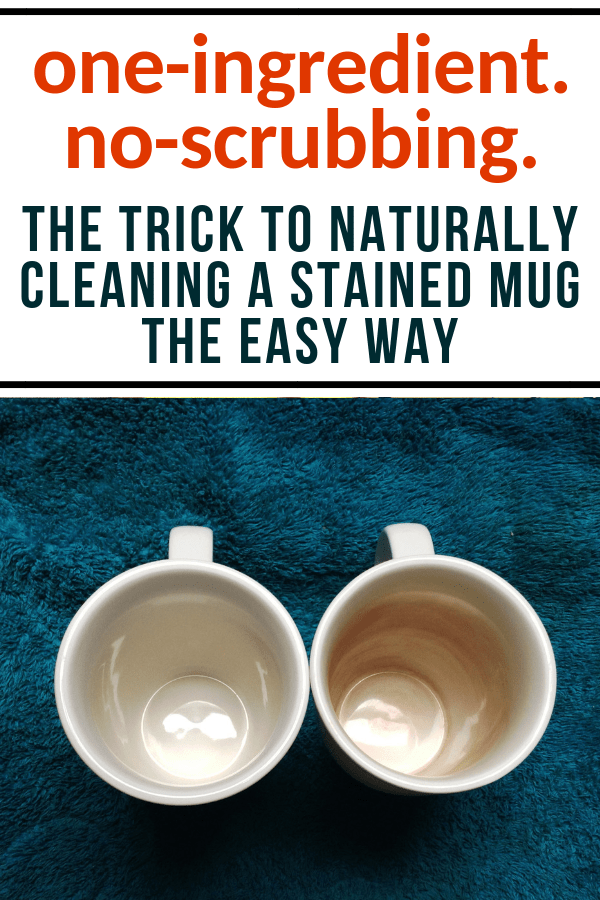 This article contains affiliate links. Click here to learn more.
Do you ever have those "Aha!" moments where you find a solution to a nagging little problem, and the answer is so simple, it's embarrassing? I tend to feel like surely, everyone has known how to do this all along, and I'm the only one who doesn't innately know this stuff...like, how to clean between the gunky-gross glass panes in the oven door. Not impossible, it turns out.
That's pretty much how I feel about this one little tip I'm sharing today.
I have a set of white mugs that I received as a gift 10 years ago. They're just the right size, and a nice friendly shape for holding, so they get a lot of use on a daily basis. But these poor dear mugs have become so terribly coffee stained inside, it's shameful.
Even fresh out of the dishwasher, they're an awful dingy brown inside. Now and then I really do give them a rigorous scrub when I'm handwashing dishes, and they get marginally better. I've even tried using white vinegar, because I'd seen that tip pop up in my Pinterest feed, and it seemed worth a try. But honestly, they haven't looked like new in a long, long time.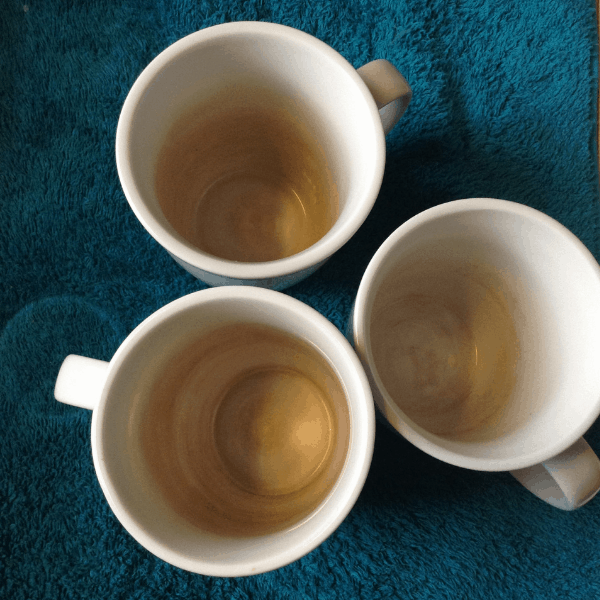 Then this morning I was drinking coffee, and giving the kids a baking soda bath to help my youngest with a tinge of diaper rash he's fighting.
There's nothing like sitting on the potty, keeping your kids company, with a box of baking soda in one hand and a stained coffee mug in the other, to give a mama ideas.
Turns out, baking soda works magic on coffee and tea stains. Absolute magic. And you don't even have to scrub. Here's how.
How to naturally clean a stained mug with one ingredient
Start by rinsing your stained mug with water, to get the inside damp.
The, dump in a little baking soda, and swirl it around to coat the whole inside. It will stick to the damp sides of the mug. Allow about 1/4 cup of baking soda for each average-sized mug.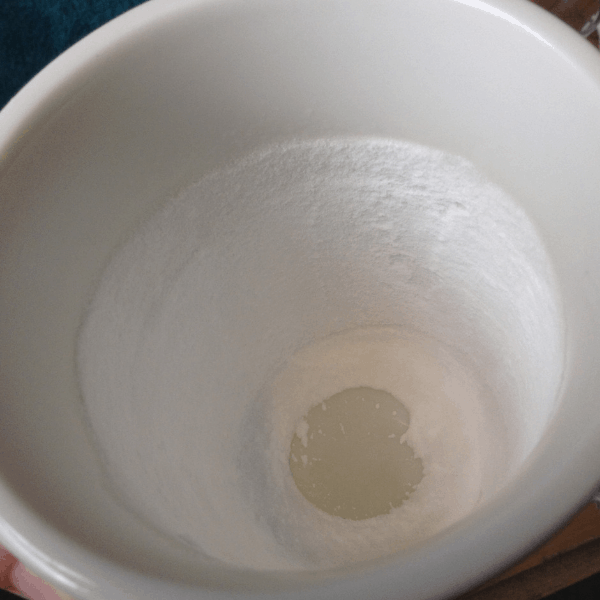 Let it just sit there for 20 minutes.
Then come back, take a cloth, and wipe out all the baking soda. If your mug was good and stained, it will be light brown - like cappuccino foam. And the inside of the mug will be white again - or whatever color it used to be. Go ahead and give it a wash to get rid of any baking soda residue, but you'll find that you really don't have to scrub. Those stains will lift right out.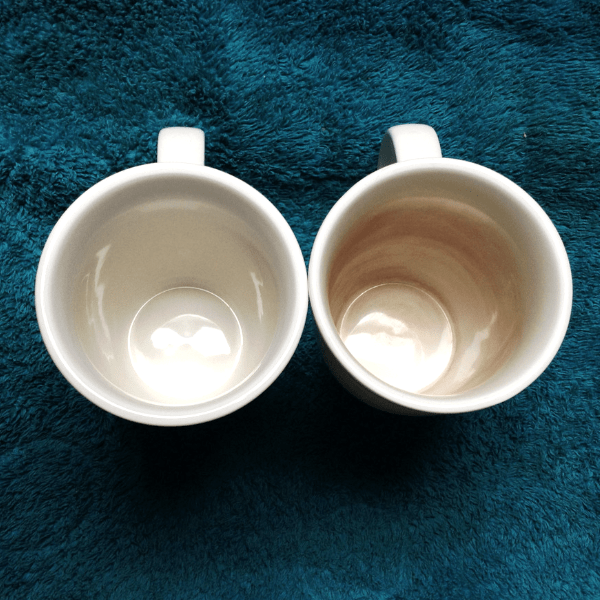 That's all there is to it! You and every other coffee drinker out there probably already knew this trick (I mean - it's so easy, surely everyone does, right?) But to me, this was a happy little revelation that finally put the spic and span back in my mug cabinet - so I had to share!
Coffee, anyone?