This soothing plantain and peppermint salve works wonders on scrapes, bruises, and even burns. The peppermint also helps relieve itching from bug bites other irritations.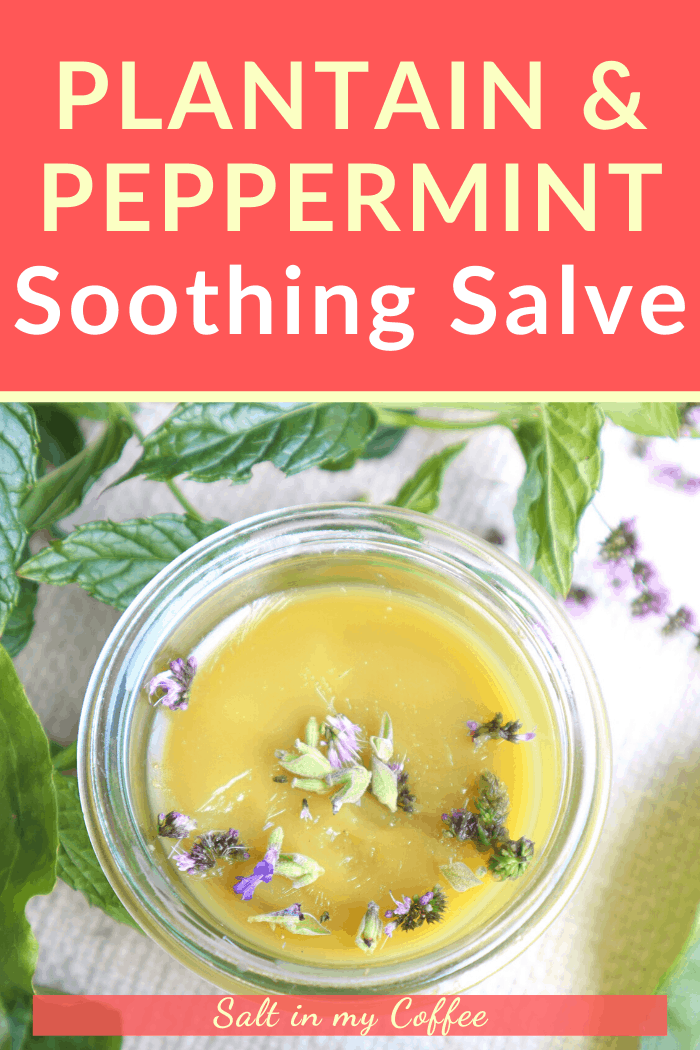 This article contains affiliate links. Click here to learn more.
In our family, there are two things that fix a kid's scraped knee. Mama's kisses, and BooBoo Cream.
A kiss from mom, a schmear of this plantain and peppermint salve (a.k.a. BooBoo Cream) - and my kids are usually ready to jump right back into whatever rough-and-tumble outdoor adventure gave them the scrape in the first place.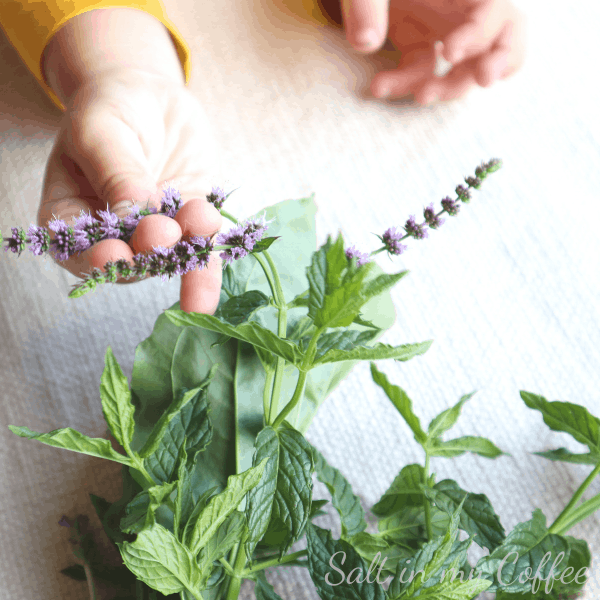 I'm pretty sure every mom needs a magic salve in their arsenal that can soothe the majority of bumps, bruises, itches and irritations that happen in an active, outdoorsy family. This one is mine.
I love this particular recipe because it's easy to make, and it really does speed the healing process, while quickly helping to soothe discomfort. It also has a soothing scent, which I always feel brings some calm into the fear and sadness that often follow a minor injury.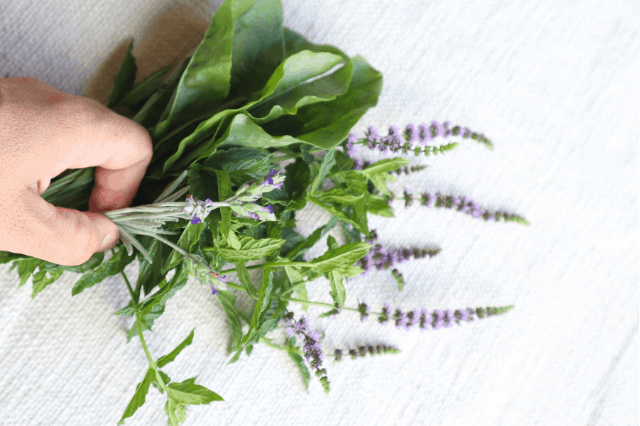 The scent of peppermint has been shown to help alleviate anxiety and stress, and for a kid that's just had a collision with the walkway - well, that can't hurt.
Peppermint also does an amazing job of soothing itches - it's really pretty remarkable. I make a version of this salve that contains more lavender and no peppermint, and while that one works very well for abrasions and diaper rashes, it doesn't push the pause button on itching the way this one does.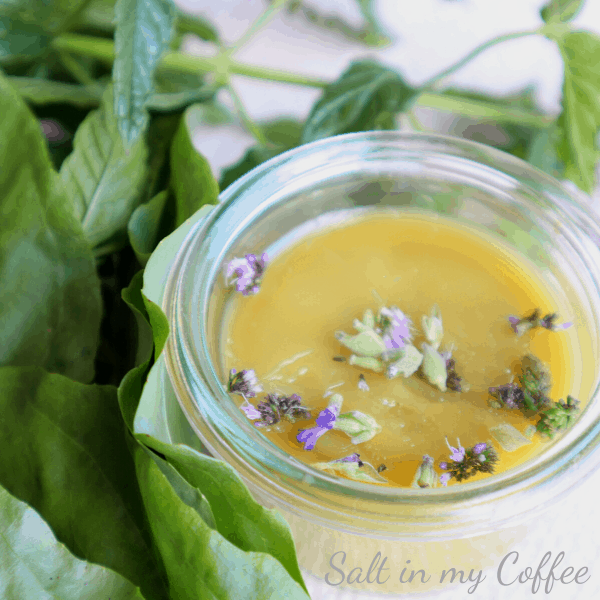 The other key ingredient in this salve is the plantain. Most of the peer-reviewed studies that have investigated the healing benefits of plantain have been done on "Great Plantain" - also known as Common Plantain, or Broad-Leaf Plantain. Among many other benefits, it's been proven to have strong disinfectant and antibacterial properties, has effective anti-inflammatory and anti-allergic effects, and it helps skin to heal more quickly and more perfectly than without it.
Want to be absolutely blown away by what one plant can be used for? Read this study on the many proven healing benefits of plantain. It's full of footnotes that reference study after study after study that have been done on this remarkable plant.
To make this plantain and peppermint salve, you'll need oil that's already been infused with plantain. It's very easy to make. Follow these instructions to make plantain-infused oil, and you'll be ready to go.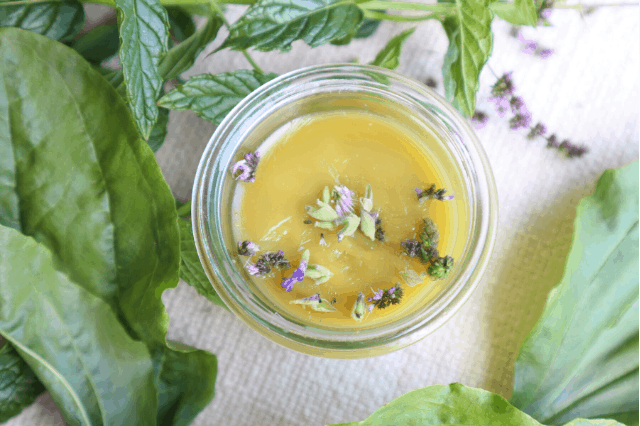 I have found plantain to be such a wonderfully healing herb that I try to make a good store of plantain-infused oil to keep on hand throughout the winter. I use it in many of my skin and lip-care recipes, and consider it one of the most important things I make over the summer. This summer I made 1.5 quarts of it, and I'm already telling myself that next year I should make more!
This plantain and peppermint salve takes less than ten minutes to make, and stores very well when kept in a cool location out of direct sunlight. I hope you find it as useful as we do!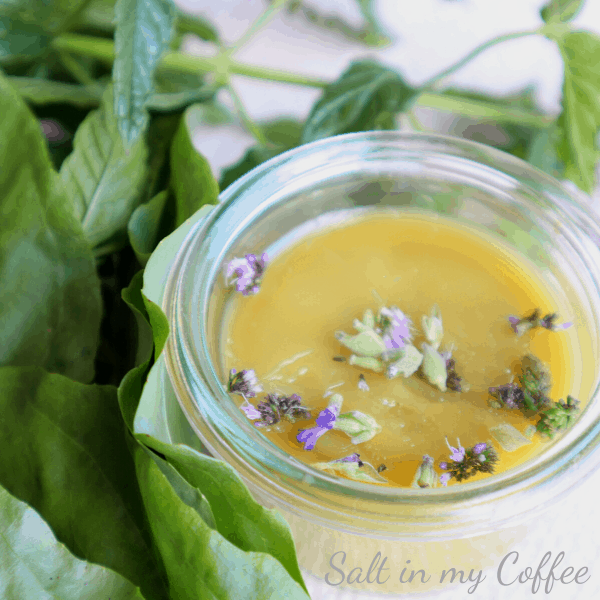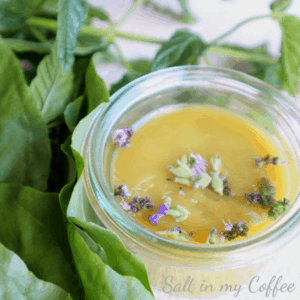 Plantain and Peppermint Salve (BooBoo Cream)
This plantain and peppermint salve works wonders on scrapes, bruises, and even burns. The peppermint also helps relieve itching from bug bites other irritations.
Print
Pin
Rate
Equipment
Small jar

Small pan of water
Ingredients
1/4

cup

plantain-infused oil

1

tablespoon

organic beeswax pellets

12

drops

peppermint essential oil

6

drops

lavender essential oil
Instructions
Add beeswax and oil to a small glass jar, that allows enough room for gentle stirring.

Set the jar into a small pan with enough water to come partway up the sides of the jar. Simmer lightly, stirring until beeswax melts completely.

Remove jar from heat, and stir in essential oils.

Allow to cool fully at room temperature.

Store tightly covered in a cool place, out of direct sunlight.
If you liked this post, you may enjoy:
✦ Healing Calendula, Lavender and Frankinsence Balm
✦ Easy Peppermint Lip Balm
✦ Homemade Grapefruit Lip Balm
✦ Horehound Cough Drops with Honey and Grapefruit
✦ Paleo Elderberry Lollipops