This post was originally written September 2018, and has been updated September 2019.
Elderberry syrup is well-known for boosting the immune system to fight off illness, and get well quickly. These heavenly elderberry lollipops made with elderberry syrup, lemon balm, and lavender are just the thing to help little ones through a nasty cold!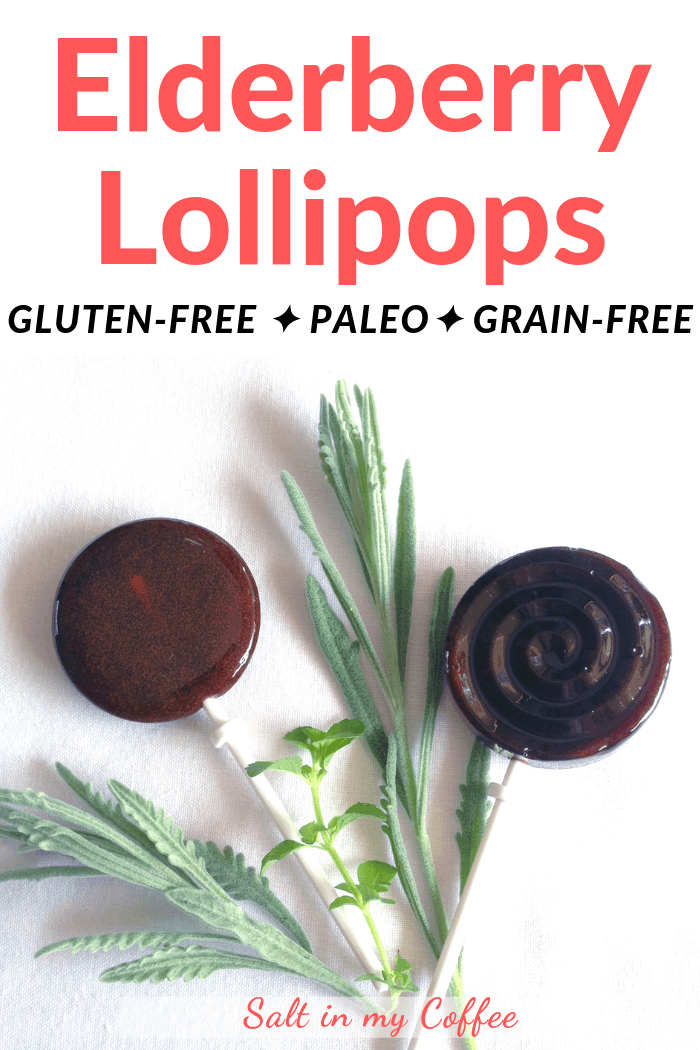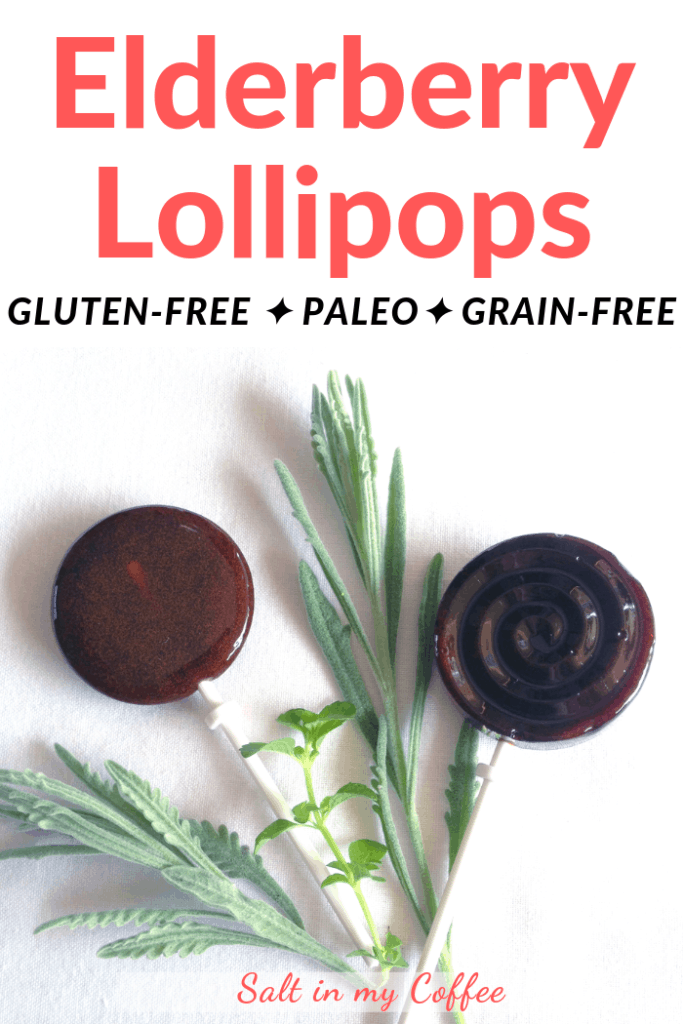 In the fall, I like to make up a big batch of our horehound cough lozenges to have ready for cold and flu season. It feels great to have some good natural herbal remedies on hand, so I can reach for them at the first sign of illness.
I was remembering though, about how much my kids LOVE those cough drops...and how very quickly they can eat them when they get one!
"What I really need", I thought, "is a lozenge on a stick...something to slow them down so all that goodness can actually get a chance to be savored, and coat their little throats instead of going right down the hatch."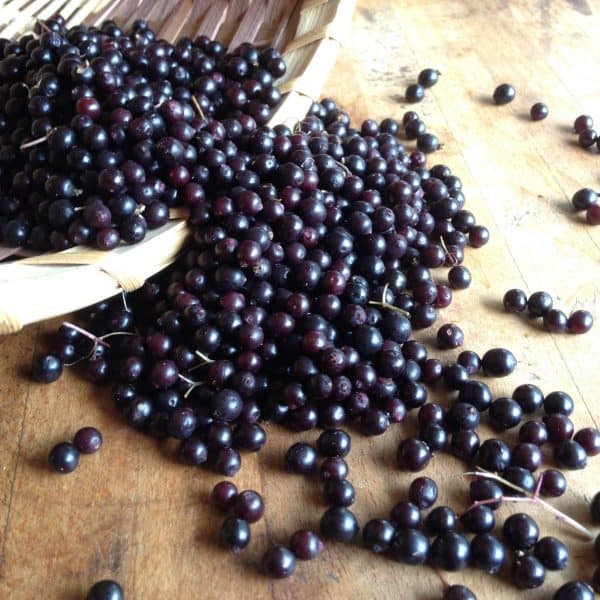 Well, it finally hit me after the next cup of coffee, that the world has already thought of "lozenge on a stick", and it's called lollipops.
We're not big on sweets around here, so my poor daughter was 4 before she got one for the first time, and even the organic brands are still very much a rarity. This means when lollipops do happen, they're really something special!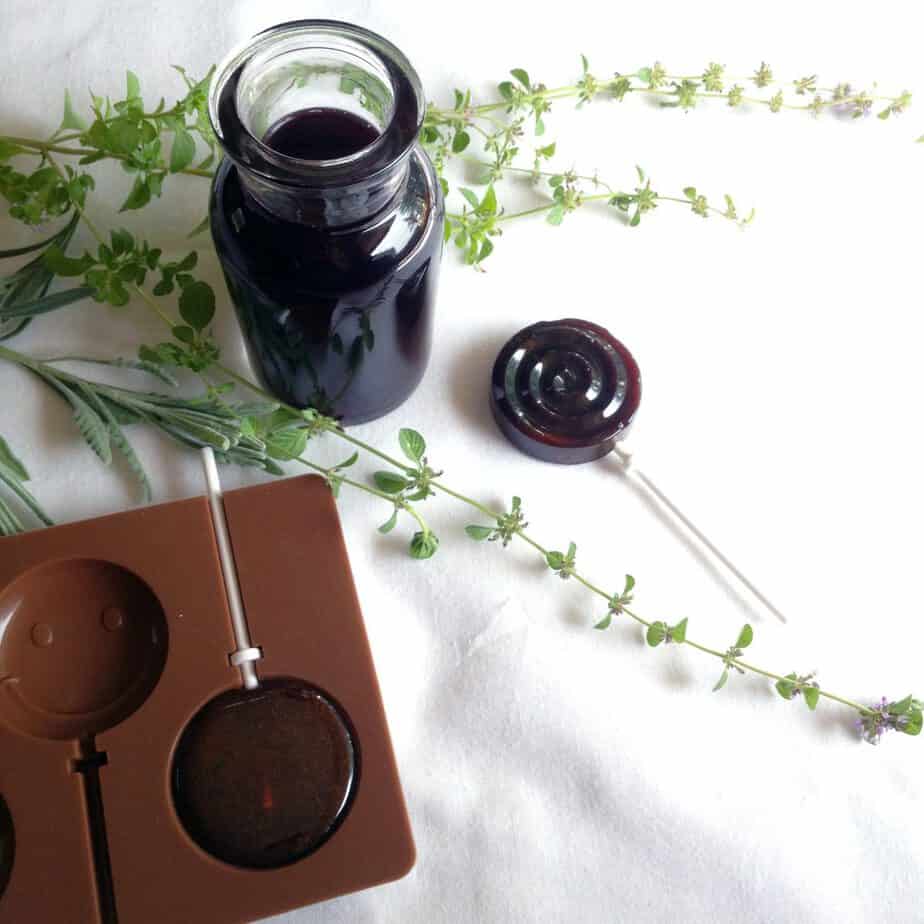 Rather than just recreate a horehound lozenge type recipe, I thought it would be fun to make up something without the bitter edge of horehound, but with a potent immune-boosting kick. Something to really savor and enjoy, when a little one isn't feeling well - but not loaded with refined sugar, and with all kinds of good stuff for helping a body rest and heal.
Elderberry is just the thing when it comes to immune-boosting, and I'd just made up a big batch of elderberry syrup, so that was an easy ingredient decision.
I knew I also wanted to include some other herbal illness-support, so I started researching kid-friendly herbs that are good for supporting the body during illness, and that would complement the flavor profile of the elderberry.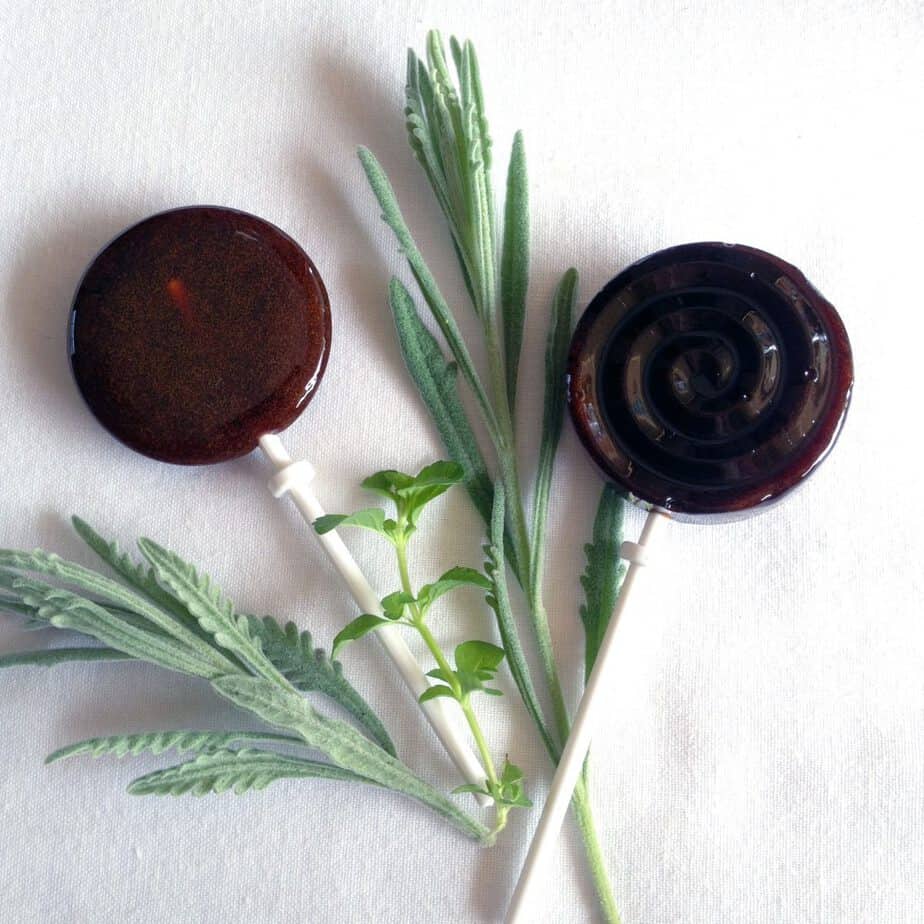 I settled on lavender (for its mild calming effect) and lemon balm (which helps exhaustion and restlessness), but honestly, you could use any combination of herbs in this recipe, based on your particular health needs, and the contents of your herb garden or pantry.
I opted for herbs that are "nervine relaxants" (see also here) - meaning that they calm the nervous system, which I feel is a very helpful property when littles aren't feeling well. Other great choices with a similar function would be chamomile or spearmint.
The Herbal Academy's page about choosing safe herbs for children is an unbeatable resource for deciding which herbs to work with, when you're creating a recipe for the whole family.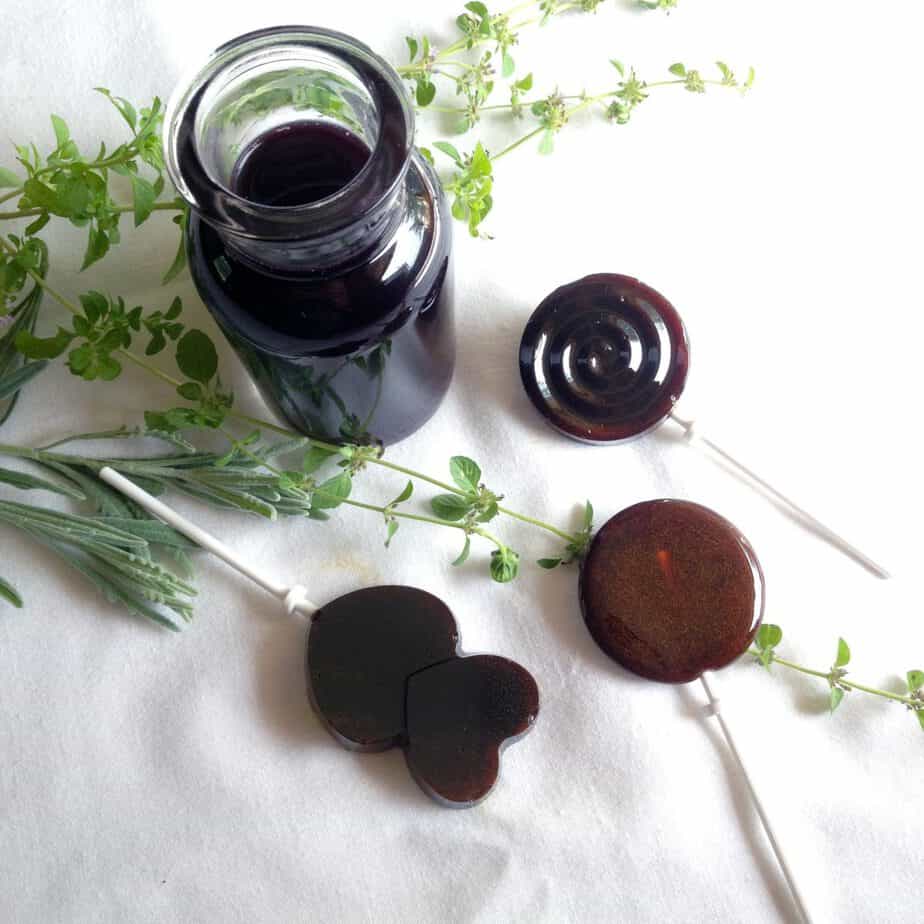 I've made a few batches of these now, and feel like I've nailed down my recipe. The kids absolutely adore them, and Izzy is old enough to really help with making them, which is a lot of fun. (Setting up the lollipop molds, measuring ingredients, and picking herbs are all great tasks for little hands, that don't involve super-hot honey syrup.)
Elderberry lollipops recipe, with lemon balm and lavender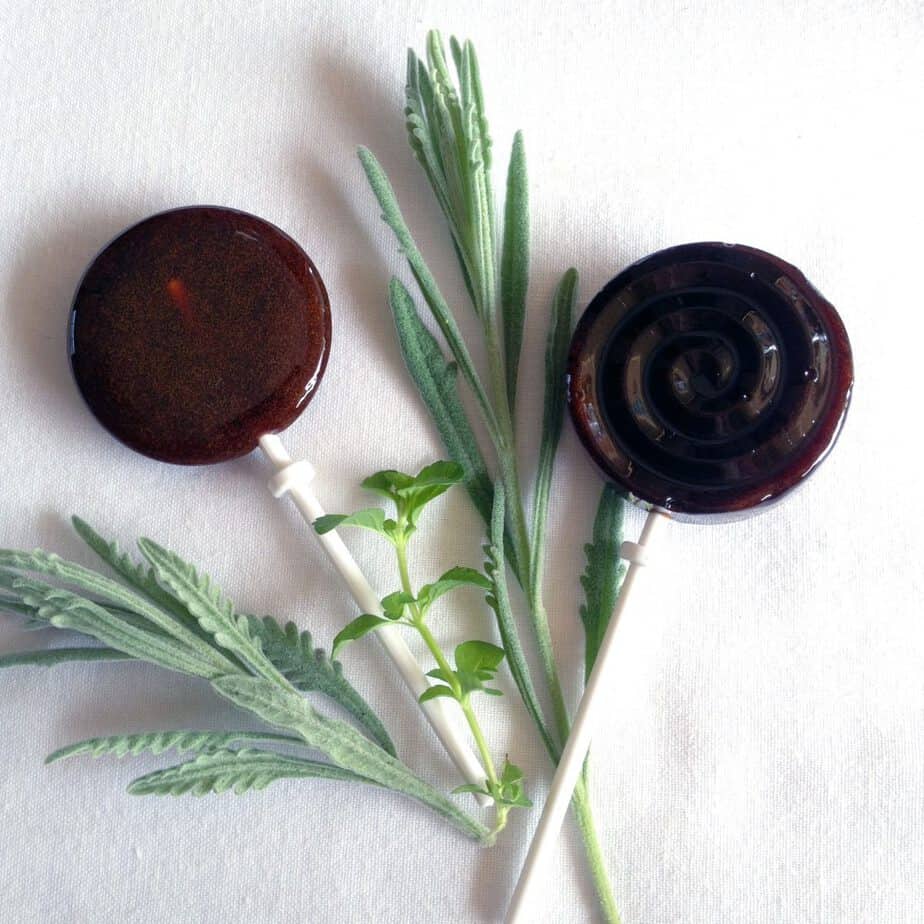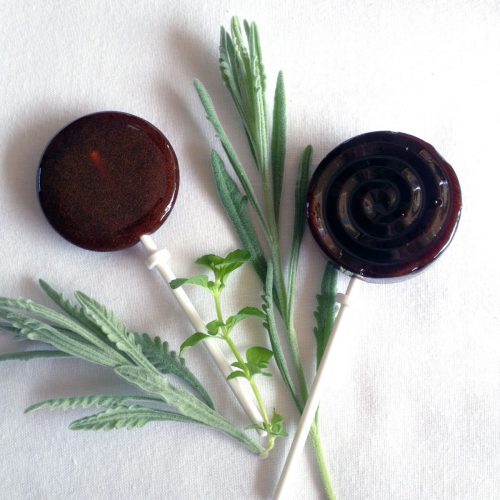 Elderberry Lollipops (with lemon balm & lavender)
These heavenly elderberry lollipops, made with elderberry syrup, lemon balm, and lavender, are just the thing to help little ones through a nasty cold!
Print
Pin
Rate
Ingredients
1/4

cup

fresh lavender (or heaping tablespoon dried)

1/4

cup

fresh lemon balm (or heaping tablespoon dried)

1/2

cup

elderberry syrup

1

cup

organic honey

candy thermometer, or glass with cold water (to test for hard-crack stage)
Instructions
Start by brewing a very strong tea with the lavender and lemon balm. Add herbs to a small pan or kettle with 8 ounces of water, and simmer for ten minutes, or until you feel you have a good, very strong tea. Strain.


While your tea brews, it's a good chance to set out your lollipop molds on an even, flat surface. Place the lollipop sticks in each mold.


Now, add 1/2 cup of the strained tea, along with the elderberry syrup, and honey, to a small saucepan.


Simmer on low, stirring frequently, until mixture starts trying to foam up. At this point, start stirring constantly (with a spoon, rather than a whisk), and closely monitor the temperature. You want to reach 300 degrees and the "hard-crack" stage - but not go past it!
If you don't have a candy thermometer, follow the guidelines here to start testing using the cold water method, and test every couple of minutes. You're looking to reach the "hard-crack" stage.
Even if you have a candy thermometer, it's a GREAT idea to have a glass of cold water on hand anyway, to double-check that your mixture is in fact at the hard-crack stage when your thermometer reads 300 degrees.


When the mixture reached hard-crack, at 300 degrees, remove pan from heat. Working quickly, pour into lollipop molds. I find a soup spoon also works really well for this if you're nervous pouring from the pan. A heat-resistant spatula can be helpful for coaxing the last of the mixture from the pan.


Lest lollipops rest perfectly still until fully cool and hard - about half an hour.

Little bags like this work great for storing lollipops. I generally keep them in the fridge - though any cool and dry location should be just fine.
I hope your family enjoys these as much as mine does. Here's to a healthy cold & flu season - but being ready just in case!