Do you love the idea of stocking your pantry with homemade healing teas and tinctures, but aren't sure where to start? Here are some great recipes for easy and effective herbal remedies you can make right at home, to get your natural medicine cabinet ready for winter!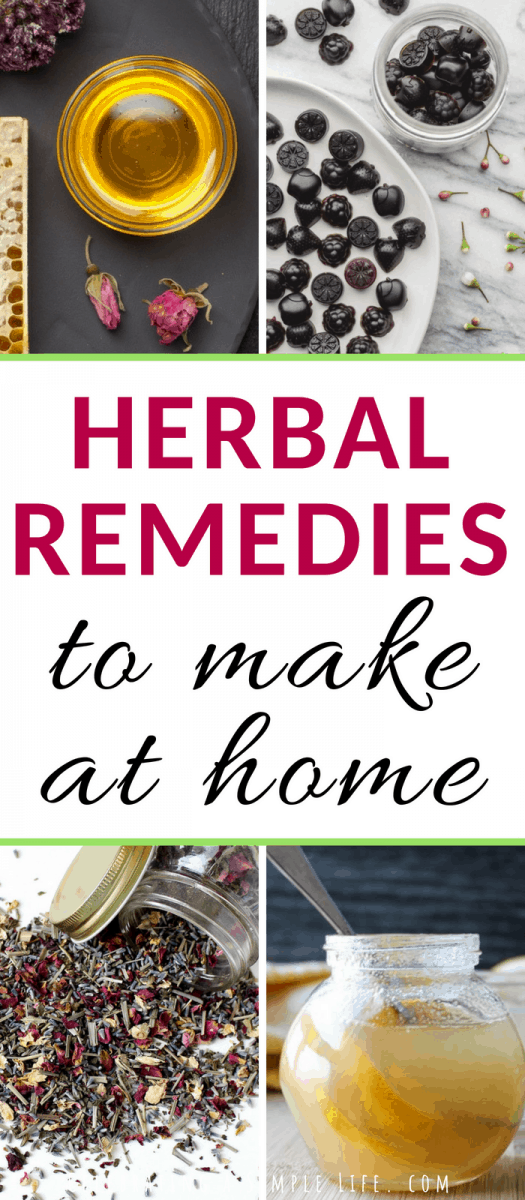 This article contains affiliate links. Click here to learn more.
A few days ago, I was gathering an armful of aromatic, furry-leaved horehound from my herb garden, getting ready to make up a big batch of horehound cough lozenges. As I was snipping away at the stems, I started thinking about how, for someone who really loves making things from scratch with real ingredients, I honestly make very few of our own herbal remedies. Cough drops and fire cider are pretty much the extent of my repertoire when it comes to homegrown herbal healing.
Thankfully, my family is almost never sick. We've always been very fortunate that way. But still - a mama likes to be prepared!
I'm incredibly blessed to have an amazing "tribe" of knowledgeable, herbal-savvy mamas in my life. So I started hitting them up for some of their go-to recipes that they make for their own families. I asked them for the recipes they like to have made up well before cold season strikes, so they have remedies on hand in the pantry, ready to grab at the first signs of illness.
From cough remedies, to balms for dry and chapped skin, to immune-boosting teas and tinctures - I now have a stash of wonderful recipes that I'm working my way through. And I'm super excited to be sharing them with you as well! Check out this list of herbal remedies that you can make now, as you're harvesting and foraging your herbs, so you'll have a stocked natural medicine cabinet before cold and flu season arrives!
Herbal Remedies You Can Make at Home
You've probably heard about the incredible flu-fighting benefits of elderberry syrup, but did you know you can easily make it at home? It's so much more affordable than buying it, and this way you can avoid the unnecessary sugars and preservatives that are in many of the commercially available brands.
While the previous recipe teaches how to make elderberry syrup on a stove-top, if you have an Instant Pot this can be an easy and fast alternative. AND - how adorable are these elderberry gummi bears?!
The extra cool thing about this version of elderberry gummies is that it also uses astragalus - another potent adaptogen that's traditionally credited with reducing the severity and longevity of illness.
When the family gets sick, it's important to keep from passing the germs around as much as possible. But nearly all store-bought hand sanitizers are full of ingredients that can wreak havoc on long-term health. I try to avoid ever using them for my family. But - a natural, essential oil based hand sanitizer than I can feel good about? That I'll keep on hand!
Much like with a hand sanitizer, this wonderful spray helps keeps the germs at bay, and is great for freshening up a room, or to use on pillow cases!
I LOVE this recipe. It's got all the soothing, healing relief of the store-bought vapor rub we grew up with, but none of the petroleum or other nasties. I find this is soothing even when I'm just struggling with a bit of seasonal allergies.
Did you know that many essential oils just are not proven safe for use with small children? Essential oils are incredibly powerful, and sometimes it's easy to forget what potent substances we're working with. This recipe contains only oils that are safe for kids, in amounts that make this perfectly fine to use on your little ones.
There are SO many ways to use this homemade "Thieves" oil blend! From diffusing it to kill airborne bacteria, to inhaling with steam for congestion relief, to topical application for flu and bronchitis support - this is really a powerful a blend, and one that I want to have on hand.

For a common, "ordinary" spice cabinet staple, cinnamon is some pretty amazing stuff. This soothing cinnamon and honey remedy can be made up way before cold season even strikes, so you have it ready at the first sign of a sore throat!
Here's another honey based recipe that stores well and can be made up well before flu season. The honey and lemon combination is hard to beat for soothing a sore throat, and it's so tasty stirred into a hot cup of tea!
I absolutely love it that red onions play a leading role in this beautiful, natural cough syrup. Growing up, my mother always said onions are "good for what ails ya!" And they truly are. The powerful antibacterial and anti-inflammatory properties are well-recognized, and the great thing about this recipe is that it's made slowly without heating the onions, so none of those incredible health benefits are lost!

My dear friend Heidi is an honest to goodness master herbalist, and this is the herbal tea blend that she recommends for lung support. Aside from being incredibly healing and beneficial to the whole body, I think it's just gorgeous to look at.
Echinacea may be almost as well known for its less-than-lovely taste as it is for its powerful support of the immune system. Try this carefully concocted blend of herbs that compliments the echinacea medicinally, and also makes it much more enjoyable to sip as a tea. I'm making up a big tin of this to keep in the tea cabinet, so it'll ready at the first hint of a cold!
My hands-down favorite lozenge. That hint of grapefruit is so very refreshing, whether you really are sick yourself, or you're just pooped from taking care of sick little ones and need an immune-boosting pick-me-up. I like to make about 4 batches worth of this recipe to get our family through the winter, and picking the horehound for my yearly giant batch is what got me started writing this post in the first place!
This is another great cough drop recipe, that's honey based. Peppermint is another soothing and refreshing herb, and especially for those who just don't like horehound, these are a great alternative!
I'm a little bit embarrassed to admit this - but I'd never heard of electuaries until my friend Catherine sent me this post. These are shelf-stable herb and honey blends that can be mixed up ahead of time, and kept on hand for when you need them.
Burdock root has potent anti-inflammatory properties, and it also plays the important role of strengthening and cleansing the lymphatic system. Along with her recipe for this wonderful, healing tincture, my friend Ashley shares her own experience with the healing benefits of this amazing root. She also does a top-notch job of sharing all about the traditional uses and benefits of burdock, as well as some valuable growing and harvesting tips. If the shaggy roots in that picture don't look appetizing, reading this post will make you want to get your hands on some anyway!

The proven medical benefits of reishi mushrooms are just amazing. Reishi mushroom extracts are anti-viral, anti-bacterial, even anti-tumor. They lower blood pressure and blood sugar...the list of health benefits just goes on and on. The more I learn, the more I'm blown away. This surprisingly easy and straightforward recipe will walk you through a double extraction process, to make your own reishi mushroom tincture, combining water and alcohol extracts for maximum health benefits.
Here's another tincture to have ready in the cabinet - this is one is made from echinacea, astragalus, and oregon grape root. It's a great blend for supporting the immune system and fighting off cold symptoms.

Packed with Vitamin C, rose hips are perhaps one of the tastiest of natural medicinals. This recipe walks you through creating an infusion with rose hips and vinegar that can be used as an herbal remedy, and immune-boosting addition to your pantry. Doesn't a simple salad dressing made with rose hip vinegar sound tantalizing? I'm thankful for our enormous rose hedges, and can hardly wait for the rose hips to be ready in a few weeks!
Did you know you can make alcohol-free herbal extracts, using vegetable glycerin? Such an extract is called a glycerite, and my friend Heather walks you though exactly how to make one, using dried echinacea to support the immune system.

Like many folks in the colder climates, we heat with wood in the winter months, so our house gets very dry. It's easy to end up with dry, cracked skin and lips, it can get pretty miserable. Many winters, my husband's hand have gotten so bad they've bled at the knuckles, poor guy. So having a good herbal healing salve on hand is a must!
Along with those dry hands, it's common to end up with dry and chapped lips in the winter. I like to keep plenty of these little tubes of handmade peppermint lip balm on hand, so we never run out!
There are so many recipes on this list for remedies I'd never have thought of making. I'm really looking forward to cooking and crafting my way through this list, adding to my stash of herbal remedies. I think I'm going to start with a big batch of elderberry gummies and some burdock tincture. Then...on to those rose hips!
Pin for later: