Trying to sneak some super healthful turmeric into your kids? These mango turmeric freezer lollipops pack a nutritional punch, and transform immune-boosting turmeric into a kid friendly treat!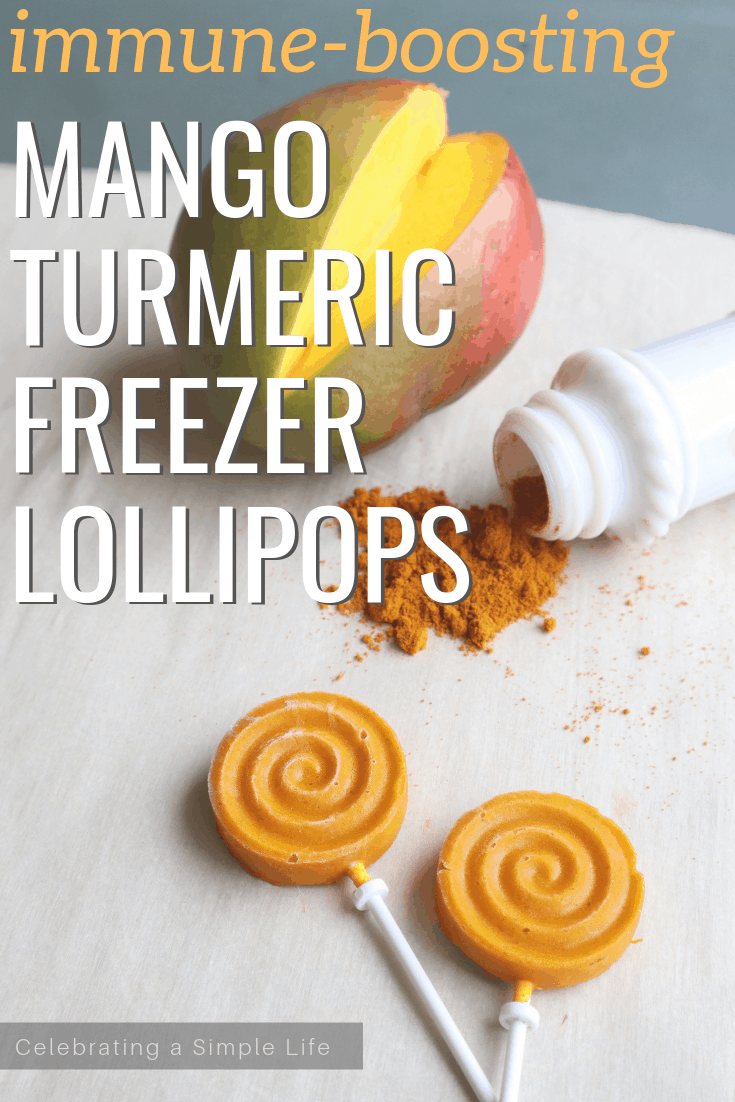 This article contains affiliate links. Click here to learn more.
This last week I found myself quickly trying to boost my kids' immune systems. We'd just had a big family party with more sugar than we're all used to, and one of the cousins had a cold that I was really hoping to fend off.
After letting our immune systems get depressed with that extra sugar, I wanted to make every meal and snack really count toward boosting our immunity and keeping us healthy.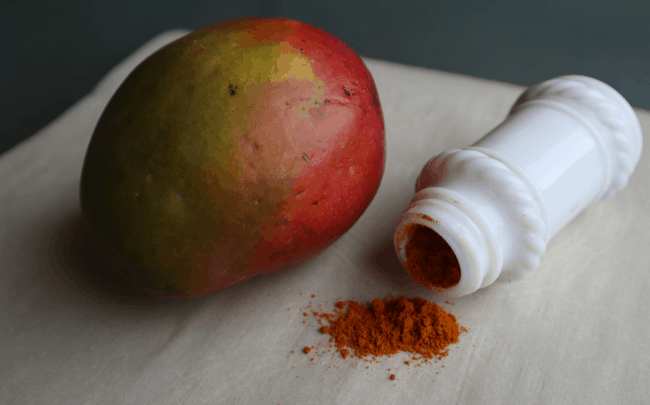 It's pretty widely known that turmeric has some wonderful health benefits (this article from the University of Michigan is a great place to start if you'd like to learn more.)
But turmeric can also be a spice that's difficult for the younger set to fully appreciate - especially if they're not raised eating it on a regular basis.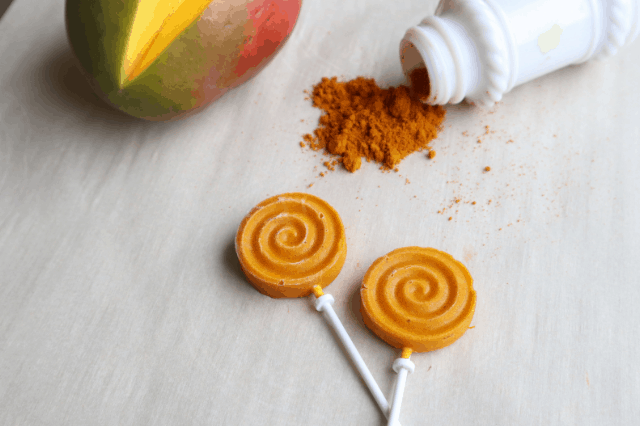 To get some immunity-boosting turmeric into all of us, in a way that we'd really enjoy, I grabbed a good ripe mango and a bit of honey. Into the blender they went, along with a lovely dash of turmeric.
The kids had just been reminiscing about the elderberry lollipops I sometimes make them, so I decided to make a quick freezer version of a lollipop.
Full-sized popsicles seemed a bit too large anyway, for something with a powerful flavor profile. So these little lollipop molds were perfect.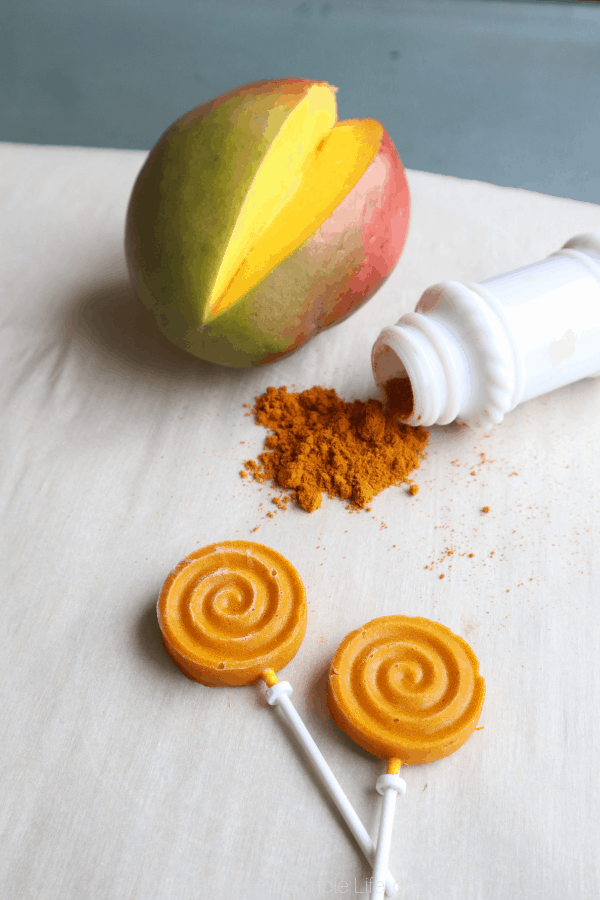 A little more than an hour later, and they were ready! Both kids were surprised at the different flavor, but they really enjoy these mango turmeric lollipops!
They're a quick and easy immune-boosting treat, and I love having one more "sneaky" recipe up my sleeve for helping my kids to enjoy this marvelous spice. I hope your family loves them as much as we do!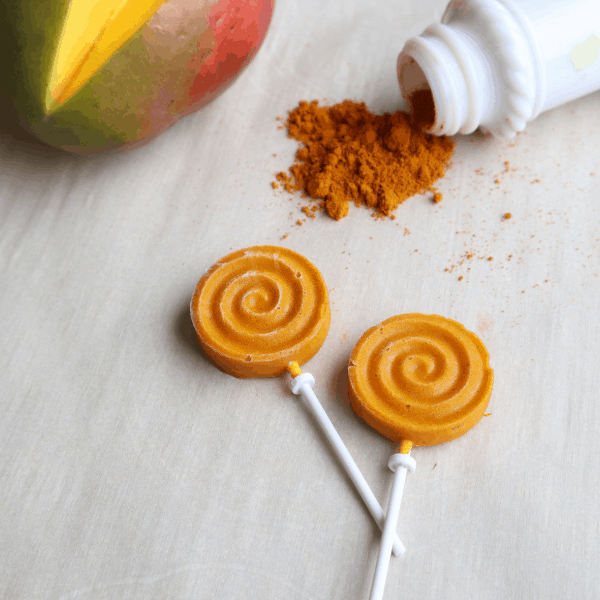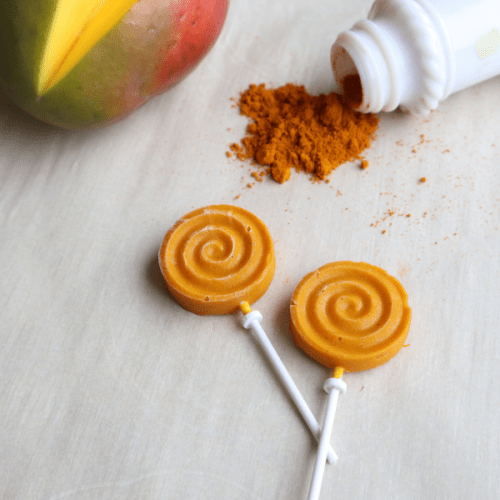 Mango Turmeric Freezer Lollipops
These mango turmeric freezer lollipops pack a nutritional punch, and turn immune-boosting turmeric into a kid friendly treat!

Print
Pin
Rate
Ingredients
1

medium-sized

mango

(Can substitute 1 cup frozen mango chunks slightly thawed, or 3/4 cup mango puree)

2

tsp

organic turmeric

2

tsp

honey
Instructions
Peel the mango, and roughly chop it into chunks small enough to easily blend.


Add all ingredients to a small blender or magic bullet. Blend until smoothly pureed.


Place mold on a cutting board or baking sheet, then insert popsicle sticks in popsicle molds.


Carefully spoon mixture into each mold. Depending on the size of your molds, this makes about 10 popsicles.

When molds are all filled, carefully lift the cutting board or baking sheet and gently lift and drop on the counter a couple of times to get out any air bubbles.


Place the mold flat in the freezer for about 90 minutes or until freezer lollipops are fully hard.