If your bedtime lullaby routine feels a little stale, try learning some of these beautiful movie lullabies! These are 13 of my favorite lullabies from movies, that I love singing to my kids, and think you will too!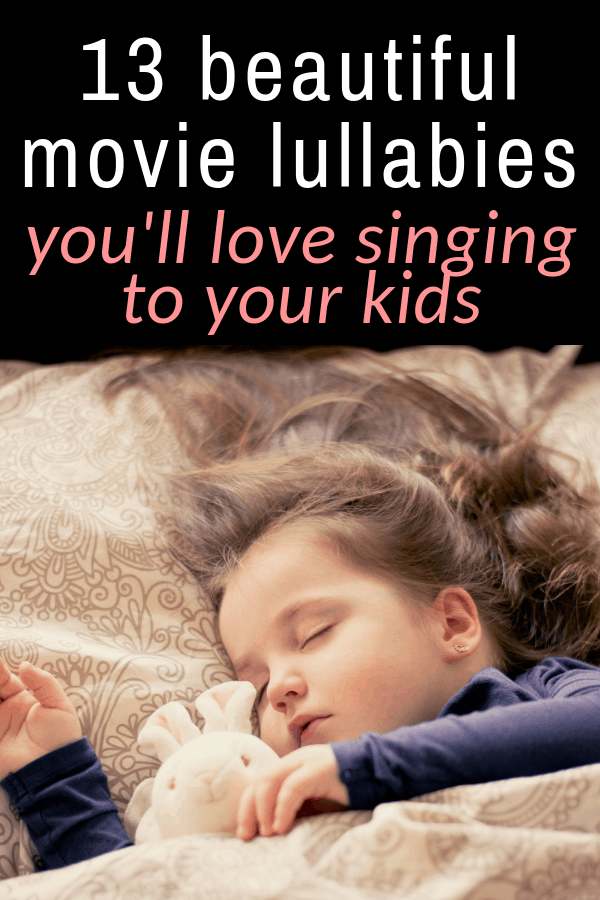 This article contains affiliate links. Click here to learn more.
I've never been all that much of a singer, but I absolutely adore singing lullabies to my babies. Our bedtime lullaby routines have been such a precious part of parenting, and the hours of peaceful snuggles that we've logged together over tunes like "Baa Baa Black Sheep" and "Brahms' Lullaby" are a treasure to me.
At four years old, though, my firstborn recently went through a phase of not wanting our regular lullaby routine. Instead, she wanted us to sing together every song we could remember from episodes of Sofia the First. A week or two later, she started asking if I could make up new lullabies about fairies. And kittens. And dragons. And while part of me did rather miss our usual routine, I also enjoyed the changing landscape of our bedtime ritual, and told myself that all this musical improv was probably good for keeping my brain young and flexible...or something.
But then she came down with a bad cold, poor little love. Through the sniffles, she asked "Eidelweiss, please Mama?" She suddenly wanted all of the "real" lullabies again. And when our usual repertoire was exhausted, she asked if I knew I any "new different ones, too, Mama. Real ones."
I have a fair few lullabies memorized, but suddenly found myself in need of new fodder. I've been meaning to learn some new ones for ages, so the challenge was honestly a welcome one. Even a sizable repertoire does get a little mindless after a while.
So I started thinking of all the wonderful, soothing movie songs that have caught my heart and stuck with me enough to remember at least a few lines. And I did what we all do these days - Googled the lyrics and looked them up on YouTube to learn the melody. What an age we live in!
Favorite Movie Lullabies
Here are my absolute favorite lullaby-worthy tunes from films I've seen. Some of these I've been singing to the kids since before they were even born, but most I'm just learning now. Hope you enjoy them as much as I do!
1. How Does a Moment Last Forever
Beauty and the Beast (2017)
Of all the wonderful elements from the new Beauty and the Beast film, this gorgeous little tune is perhaps my favorite. It's charming and sentimental, short and perfectly sweet. I was smitten from the first time I heard it.
Sometimes our happiness is captured
Somehow, our time and place stand still
Love lives on inside our hearts and always will...
You can read the full lyrics here, and listen to it in Kevin Kline's soothing voice from the movie, here. (I've also created a YouTube playlist of all the songs included in the post here, in case you'd like them in one place.) This is one of the tunes I've just recently learned enough to add to our routine, and it's a particular favorite of my 2 year old.
2. Ivy's Lullaby
The Village (2004)
Baby sleep, gently sleep
Life is long and love is deep
Time will be, sweet for thee
All the world to see...
The first time I saw this film in the theater, I knew I wanted to learn that beautiful lullaby that Ivy sings so gently to her sobbing sister.
Unfortunately, it's a little bit hard to hear the song perfectly in the clip from the movie, which you can watch here. It's pretty easy to learn the simple tune though, and you can read the lyrics here. It's also worth giving a shout out to this cover version, which might be easier to learn the tune from, than the original movie clip.
3. I Don't Want to Live on the Moon
Sesame Street (1978)
Ok, I know this isn't from a film, but this precious little Sesame Street gem written by Jeff Moss is just too much of a treasure to leave off the list. I could watch the clip of Ernie singing this song about 12 times straight. Which I may have done when I was learning the lyrics. I also might have shed a tear or two, because it's just so sweet...and also I have sick kiddos and haven't slept in days. Coffee?
Though I'd like to look down at the earth from above
I would miss all the places and people I love
So although I might like it for one afternoon
I don't want to live on the moon
You can read the full lyrics here.
4. Mother Earth and Father Time
Charlotte's Web (1973)
I grew up watching this beautiful classic almost every Autumn, but it wasn't until I watched it as an adult the the beauty of this particular tune really struck me.
How very special are we
For just a moment to be
Part of life's eternal rhyme

How very special are we
To have on our family tree
Mother Earth and Father Time
The lilting, peaceful melody is almost enough to put me to sleep, even while I'm singing it. This is a great one to put toward the end of your bedtime routine, as little ones are getting heavy eyelids and really settling in for sleep.
You can read the full lyrics here, and listen to it from the original soundtrack here.
5. Eideweiss
The Sound of Music (1965)
This is another one that I've been singing since my babies were tiny. It's always been a very special favorite of Izzy's, and many nights she'll ask for it to be sung more than once. Thankfully, it's so sweet and simple, it's a pleasure to sing and never wears out.
Blossom of snow
May you bloom and grow
Bloom and grow forever
Here is the beautiful clip from the movie where you hear Christopher Plummer sing it, and here you can read the full lyrics.
6. Moon River
Breakfast at Tiffany's (1961)
Two drifters, off to see the world
There's such a lot of world to see
We're after the same rainbow's end, waiting, round the bend
My Huckleberry Friend, Moon River, and me
So dreamy and wistful, this beautiful number is another classic lullaby tune that holds up to being sung over and over and over again. It's one of the first songs Izzy learned to sing, with great earnestness: "Two dwifters off to see the world..."
You can read the full lyrics here, and watch the gorgeous film clip of Audrey Hepburn singing it here.
7. Bless Us All
A Muppet Christmas Carol (1992)
I love this song so very much, I can't believe it's taken me so long to fully learn the lyrics. The words are so earnest and pure, they feel almost like a prayer...
Let us always love each other
Lead us to the light
Let us hear the voice of reason, singing in the night
Let us run from anger and catch us when we fall
Teach us in our dreams and please, yes please
Bless us one and all
With a sweet and peaceful melody to match, it's just a perfect lullaby. The full, beautifully-written lyrics are available here, and you can watch the adorable clip from the film here. This song gets extra points with my kids because it's sung by "precious baby Robin"...they think that little frog is absolutely the cutest thing!
8. Hushabye Mountain
Chitty Chitty Bang Bang (1968)
A gentle breeze from Hushabye Mountain
Softly blows over Lullaby Bay,
It fills the sails of boats that are waiting,
Waiting to sail your worries away.
This is another song from a movie I enjoyed as a kid, but never fully appreciated until my adult years.
You can read the lyrics here, and watch the charming film clip with Dick Van Dyke singing the song here.
9. Baby Mine
Dumbo (1941)
Baby mine, don't you cry.
Baby mine, dry your eyes.
Rest your head close to my heart,
Never to part, baby of mine.
To be honest, Dumbo has never been a favorite film of mine - it's just too hard for me watching all those references to circus animal cruelty. The beautiful lullaby scene is so incredibly touching though, as Mrs. Jumbo manages to comfort her precious baby in spite of her chains - it's just perfection. The song itself is sweet, old-fashioned sounding, and just lovely.
You can read the lyrics here, and watch the touching lullaby scene here.
10. Somewhere Over The Rainbow
The Wizard of Oz (1939)
This song is old enough that it's served as a soothing lullaby to more than one generation of little sleepy-heads.
Somewhere over the rainbow
Skies are blue
And the dreams that you dare to dream
Really do come true
The full lyrics are listed here, and you can watch the original movie clip, with Judy Garland singing the song here.
11. Goodnight My Love
Stowaway (1936)
I remember watching the movie Stowaway as a kid, and thinking the scene where Shirley Temple sings her own lullaby was cute. But it's been so long since I've seen the movie, I could hardly remember the lyrics. Thank goodness for the internet!
Goodnight my love, your mommy is kneeling beside you
Goodnight my love, to dreamland the sandman will guide you
You can watch the adorable scene from the movie here, and read the lyrics here.
12. The Rainbow Connection
The Muppet Movie (1979)
Why are there so many songs about rainbows and what's on the other side?
Rainbows are visions, but only illusions, and rainbows have nothing to hide
So we've been told and some choose to believe it
I know they're wrong wait and see...
Another beautiful lullaby-worthy song from the Henson team. You can watch Kermit the Frog earnestly serenading the swamp with this beautiful tune in the movie clip here. Lyrics are available here.
13. Sigh No More
Much Ado About Nothing (1993)
Then sigh not so
But let them go
And be you blithe and bonny;
Converting all your sounds of woe
Into hey nonny, nonny
Patrick Doyle did such a lovely job turning Shakespeare's lyric into this song, for the 1993 film version of Much Ado About Nothing. Whimsical and lighthearted, I may be alone on this, but I think it makes a nice lullaby. I find it's a nice one for putting toward the beginning of our lullaby routine, just as we're settling down and starting to get peaceful.
The lyrics can be read here (or in your copy of Much Ado!), and the film clip with the song can be found here.
Alright, friends. Those are my favorite movie lullabies. I've created a YouTube playlist of the film clips for all the songs on this list here, if you'd like to be able to find them all in once place. Now - what am I missing? I know there are a lot of movies out there I haven't seen. Do you have favorite lullabies from the silver screen that you love singing to your kids? I'd love to hear about them! Share your favorites in the comments below, and if I love them too I'll add them to the list! Thanks for reading!
Pin for later: