Need some help narrowing down a long list of amazing-sounding heirloom tomatoes to try this year? After growing more than 150 varieties, I'm sharing my list of all-time favorites - the best tasting heirloom tomatoes I grow year after year.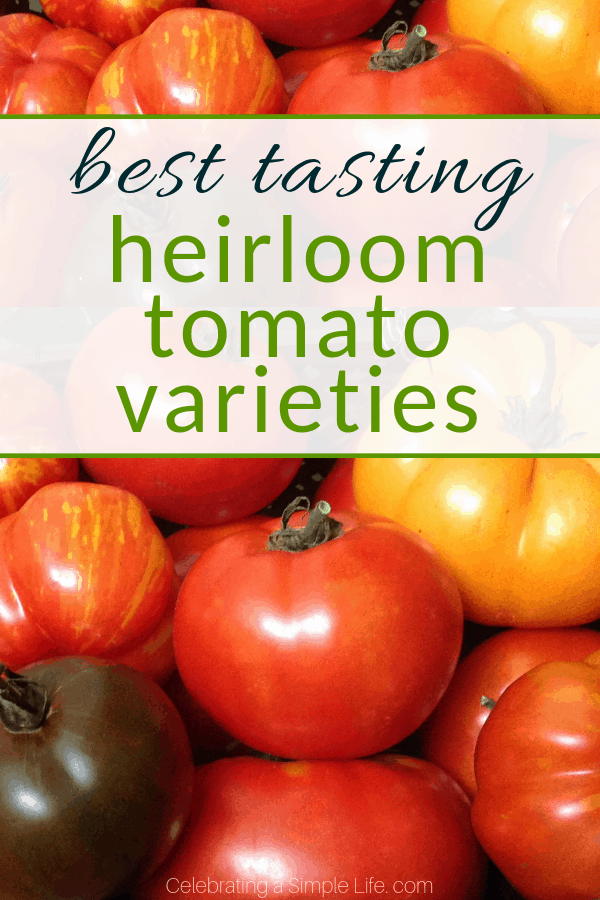 This article contains affiliate links. Click here to learn more.
I've come to the conclusion that tomato math is a little bit like chicken math. For the non-chicken-lover (is there such a thing?), explaining chicken math is simple. You always just round way down. So if there are a dozen chickens in your coop, and someone asks how many you have, the answer is "two, maybe three". Twenty hens would be "four, maybe five". Anything over 30 is always "Ten, maybe 12". And, with tomatoes, as with chickens, any afficionado will agree - you always just need a couple more.
So when my husband saw me with my seed starting supplies the other day, and asked how many varieties of tomatoes I was starting this year, I said "oh, a few." And I meant it. 26 is a few, right?
Now, there are REASONS a body has to have 26 varieties of heirloom tomatoes. Just hear me out. You need some good early, middle, and late season varieties to keep the tomato-y goodness coming as long as possible. You need your paste tomatoes for really good ketchup and barbeque sauce. You need orange tomatoes, because those ones have the highest levels of Lycopene (gotta get those antioxidants!). You need your slicers, and your cherry and grape varieties for the kids. You need at least one good stuffing tomato. And it's prudent to hedge your bets by planting a few that do well even if the summer proves overly wet, dry, cool, or hot. And you've got to try some new kinds every year, because, where would be the fun in not trying a few new varieties? So, you can see that I really was being rather conservative this year, limiting myself to only 26.
How do I stake up all those tomatoes? With the Florida Weave:
Of course, seven of those 26 are my hands-down, absolutely-favorite, "dream team". Over the years, I've grown countless tomato varieties, and these are seven that I just keep coming back to. Let me introduce you to these favorites!
Oregon Spring
(58 days) The first ripe, red prize from my garden every year is always Oregon Spring. Perhaps because of its Russian heritage, this tomato performs very well even in the coolest and dampest of summers. The remarkable thing about this mid-sized beauty is that the taste is also divine! I feel that most early tomatoes earn a place in peoples' gardens simply because they are so early. Most have unremarkable flavor, and plenty of them are downright bland. But this one is delectable in its own right. And it's a beautiful first tomato - generally quite blemish free, with minimal seeds when you slice into it. Especially after a long winter of store-bought tomatoes, the taste of this is rich and bright. It's a wonderful first taste of summer!

Schimmeig Striped Hollow
(75 days) These show-stopping, softball-sized tomatoes are dazzling red, with bright orange stripes. In shape, they rather resemble a bell pepper, with their four distinct lobes. Because they're virtually hollow inside, and the few seeds are easily scraped out, they make an ideal stuffing tomato. We enjoy stuffed tomatoes about twice a week, as long as these are in season. In fact, when stuffed and then frozen, these actually make a fantastic freezer-to-crockpot meal. When I sell my heirloom tomatoes in the summer, these are the ones that catch everybody's eyes, and get customers chatting (and smiling!).

Soldaki
(75 days) The perfect burger tomato. These hefty tomatoes slice beautifully into substantial, juicy slabs - perfect for adorning any summer sandwich or burger. The flavor is complex, but balanced - a full-bodied blend of sweet and tart. Originally from Poland, Soldaki is always a very reliable performer for me. While I've heard they can be prone to cracking in wet seasons, I have yet to see evidence of it in my garden. I also think the potato-leaf plants have an especially hearty beauty to them. All-around, they're such a joy to grow!

Goldie
(75 days) You may also find seeds for this one sold under the name "Dixie Golden Giant." These are a big, showy, heavy tomato. Individual fruits easily average over a pound in my garden. Many consider it the best of all the orange tomatoes, and so far, I'm in total agreement. Look for a rosy-colored blush on the bottom as it ripens. It's tempting to pick these a little too soon, but resist the temptation, to avoid missing out on the full depth of sweetness and character of flavor. The texture, as well as the color, is remarkable on this tomato. I've heard it aptly described as "velvety", and I think of is as a very fine-fleshed fruit. It's also extremely productive - in terms of sheer pounds of tomato per plant, Goldie's always high on the list in my garden.

Cherokee Purple
(77 days) The tomato I love to hate. Or hate to love. Or something like that. It drives me crazy that this otherwise gorgeous tomato is so prone to cracking. But the flavor makes it absolutely worth it. That flavor will keep me planting Cherokee Purple as long as I have dirt to plant things in. Like a deeper, duskier Brandywine, these have a richly sweet taste that's been described as almost "winey". These are a really juicy tomato, but their complex seed cavity structure makes it so they hold up well for slicing. Keep an eye on these - it's easy to wait to long, expecting those green shoulders to turn reddish purple, only to find the bottom starting to rot by the time it looks fully ripe. Pick when the top still has significant green on the shoulders, but the bottom has gained that signature purplish blush.

Wapsipinicon Peach
(80 days) My go-to snacking tomato, this is the one I grab off the vine and snack on in the garden, while I'm picking. I just adore these lemony-yellow, pint-sized cuties! The word "peach" in their name comes from the fact that they have slightly fuzzy skin, like a peach. The flavor of these is wonderful, and I always have such a hard time describing it. Sweet and juicy, with a strong fruity element to the taste, these even have an almost spicy subtlety. Hard to describe, easy to enjoy! They're only about 2" across, so it's easy to eat several in a sitting - and that's ok, because each plant is almost unbelievably productive. I am flabbergasted every year at the number of tomatoes we get from these! They have a nice long growing season too - continuing to set fruit right through until frost.

Rose de Berne
(80 days) If looks alone could win a tomato pageant, Rose de Berne would take home all the glory. Swiss, by heritage, the size of each fruit is modest, only about 5 ounces. But the flavor is bold as can be. A perfect balance of sweet and tart, it's bested many larger competitors in several seed-company taste trials. I find that nearly every tomato is perfectly round, and perfectly unblemished. It's a pretty sturdy little tomato, making it capable of transporting well, and earning it a spot as one of my absolute favorites for selling.

Hog Heart
(86 days) Hog Heart definitely bears a resemblance to its namesake. This Italian heirloom is my favorite large paste tomato, and it's extremely dry with very few seeds. I find that it has a heartier flavor than many paste tomatoes I've tried, and I love the results when I use this in my homemade ketchup recipe. Size really does vary depending on the growing season - I've had great-tasting 6 ounce fruits, and wonderful 1lb+ specimens. I fully enjoy using them either way, and the flavor is always excellent
So those are my favorites! These are the seven tomatoes I'll probably be growing as long as I have a garden to plant in, and strength to hold a trowel. How about you? What are your must-have tomato varieties? You know me - I'm always looking for a couple more to try!
Pin it for later:
Save
Save
Save
Save
Save
Save
Save
Save
Save
Save
Save
Save
Save
Save
Save
Save
Save
Save
Save
Save
Save
Save