Canning peaches at home is so much easier than you might think! And it's a fantastic way to put up a bountiful harvest for those long winter months. These easy instructions will walk you through easily processing your own beautiful canned peaches at home.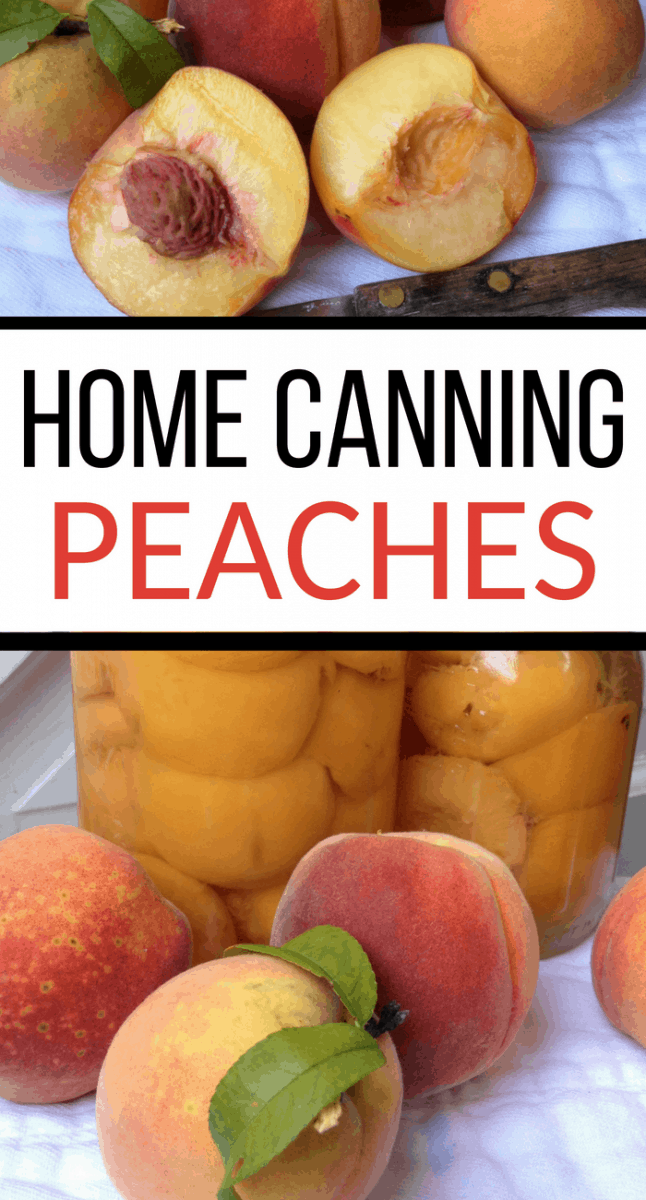 This article contains affiliate links. Click here to learn more.
When we bought our home a few years ago, one thing that delighted me so much about the property was the mature fruit trees scattered around. We have several apple trees, and one wonderfully productive Reliance peach tree.
Even here in the Maine foothills, where we're in plant hardiness zone 4b, that peach tree has been amazingly resilient and vigorous. Usually about the last week of August or the first week of September, I'm able to plan on staging a peach-canning-marathon in my kitchen, with all the peaches we can't keep up with.
If you've never canned peaches, it's really one of those joyfully "domestic" things I think everyone should try at least once. The steamy kitchen smells of sweet peaches, peach juice manages to find its way everywhere, and your hands inevitably cramp up from cutting peaches and removing pits. It's good times.
It's also a good frugal way to store an abundant harvest, or can up organic peaches while they're on sale, so you don't have to worry about pesticides or bpa in commercially available canned ones. I have a great grandmother who was known for her resourcefulness, and during the tough depression era (even with a busy job and a houseful of children) she'd buy bushels of "speckled" peaches that were getting too ripe for market. She was able to get them cheap because of their condition, and then can them up, stocking her pantry full of nutritious fruit for her little ones. I think of her every time I'm canning peaches - now with two pairs of little helping hands of my own!
Ready to stage your own peach canning marathon? Here's how!
Canning peaches at home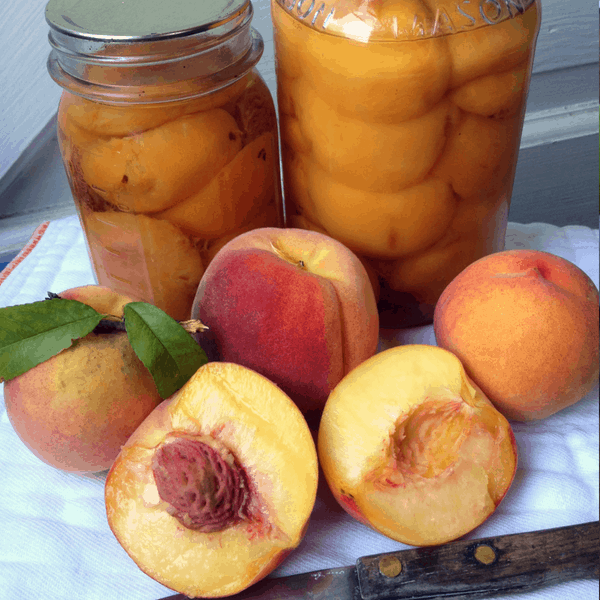 Start by selecting your fruit
Peaches should be perfectly ripe for best results when canning.
If you have your choice of fruit, choose peaches that are ripe, but not over-ripe. Under-ripe fruit just won't be as sweet, and can be downright frustrating as you struggle to peel and pit each individual peach. When you're working with perfectly ripe peaches, those skins will just slip right off with the method below. And ripe peaches are always easier to pit than unripe fruits.
If your peaches are a bit past prime, don't despair! So are quite a few of mine, by the time I get to the stragglers in the bottom of the last laundry-basket-full of peaches! (Please tell me I'm not the only one who resorts to laundry baskets for handling a bumper fruit crop!) Simply cut out the bruised or bad spots, and they'll be fine. The canned peaches might not be quite as firm as those processed when just barely in their prime, and the cut edges of the processed fruit tend to be a little "shaggy" looking compared to less-ripe peaches - but they're fine. Still a perfectly delightful treat for the winter months.
Choose yellow peaches for canning, not white peaches.
In June of 2018, the National Center for Home Food Preservation updated their recommendations about canning peaches, to include the following advisory:
CAUTION: Do not use this process to can white-flesh peaches. There is evidence that some varieties of white-flesh peaches are higher in pH (i.e., lower in acid) than traditional yellow varieties. The natural pH of some white peaches can exceed 4.6, making them a low-acid food for canning purposes. At this time there is no low-acid pressure process available for white-flesh peaches nor a researched acidification procedure for safe boiling water canning. Freezing is the recommended method of preserving white-flesh peaches.
The term "high-acid" as it pertains to canning, is defined as having a pH of less than 4.6. Yellow peaches have a pH of 3.30 – 4.05, so they are classified as a high-acid fruit. This means they can be safely canned on their own, without the addition of extra acid.
How many peaches do you need for a canner load?

Quite a few! If you're buying peaches for canning, and trying to estimate how much you need for a few canner loads, these are the "rules of thumb" generally used for canning peaches:
For a canner load of 7 quarts, you'll need about 17.5 pounds of raw, whole peaches.
For a canner load of 9 pints, you'll need about 11 pounds of raw, whole peaches.
A bushel weighs right about 48 pounds, so a bushel of fresh peaches will give you somewhere around 18 quarts of canned peaches - or just a bit less than three full canner loads.
Gather your canning supplies
Here's what you need for canning peaches.
Peaches
Sugar, honey, or fruit juice (optional)
water bath canner, or pressure canner
clean jars, lids, and rings - enough for the amount of peaches you're processing
kettle or saucepan
large pan or stock pot
slotted spoon
canning funnel (optional)
canning tongs
Prepare jars and lids
Many folks sterilize jars before canning anything, and there's nothing at all wrong with that practice. However, since we'll be pressure canning our peaches, or processing them in a water bath for 10 minutes or longer, it's entirely adequate to just use perfectly clean jars right out of the dishwasher, or jars freshly washed by hand.
I'm going to quote the National Center for Home Food Preservation again for that information, so you don't have to take my word for it! Here's what they've said about this:
Empty jars used for vegetables, meats, and fruits to be processed in a pressure canner need not be presterilized. It is also unnecessary to presterilize jars for fruits, tomatoes, and pickled or fermented foods that will be processed 10 minutes or longer in a boiling-water canner.
And here's what the Ball website now says about sterilizing or preheating lids:
After many years of research, it was determined that preheating Ball® and Kerr® lids is no longer necessary. The sealing compound used for our home canning lids performs equally well at room temperature as it does pre-heated in simmering water (180° F). Simply wash lids in hot, soapy water, dry, and set aside until needed.
In light of these current recommendations, I simply put my clean lids and rings in a large bowl right next to the stove, where they're handy to grab when I need them.
Here's what I do with the jars. When I'm canning peaches, I start by putting my pressure canner on the stove (this works with a water bath canner as well). Add the amount of water prescribed by the instructions in the manual that came with your canner, for the amount of jars you'll be processing. (For my canner, this is 2 quarts for a full canner load of 7 quart jars). Set a canner load's worth of clean jars in the canner, then slowly heat until the water's hot but not simmering.
The benefit of doing this, is never having to worry about cold jars shattering when the hot canning liquid is poured in. When it's time to fill the jars, remove one empty jar at a time, fill and seal it, then add it right back to the canner and move on to the next empty jar.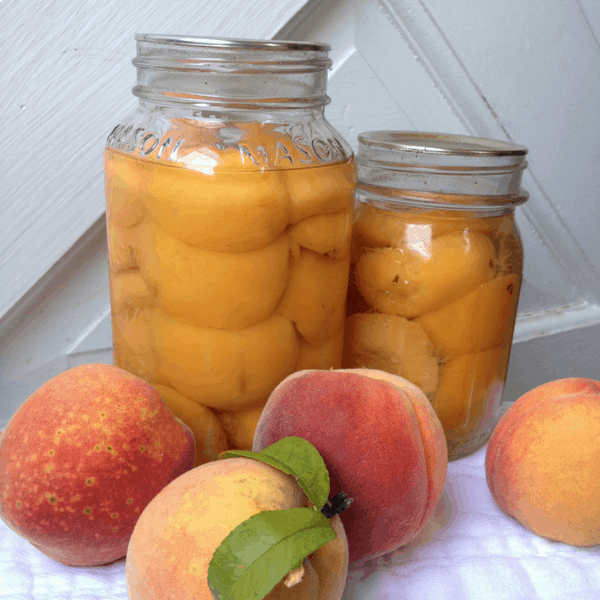 Prepare your liquid for canning peaches
Now that your jars and lids are ready, it's time to heat the liquid you'll be using to fill your jars.
For liquid, there are three different options. Each works just fine, and results in safely-canned, wonderful peaches for your pantry. The liquid you choose is entirely a matter of your own personal taste. While many folks prefer a sweetened syrup, sweetener is not vital to the preservation process for canned peaches.
Canning peaches in syrup
The canned peaches that most of us grew up with were canned in a sweet syrup made from boiling sugar and water. I believe this is still by far the most common method. If this is the method you'd like to try, the chart below will help you determine how much water and sugar to use. To make the syrup, simply simmer the water and sugar together in a saucepan, stirring until sugar is fully dissolved.
Not keen on adding all that refined sugar to your fresh peaches, but still want a lightly sweet syrup? Try canning peaches with a syrup made from water and honey. For a lightly sweet syrup, try 1 tablespoon of honey for each cup of water.
Simmer the honey and water together just like you would with sugar syrup. If it's not quite sweet enough, you can add more honey until it tastes the way you want it. Dana, over at Pretty Little Apron, recommends canning peaches in a light honey syrup, and her photos of the process are just gorgeous.
Canning peaches in juice
Another lightly sweetened option that doesn't involve refined sugar is canning peaches in fruit juice. As our culture learns more about the effects of sugar on our bodies, canning peaches in juice is becoming more and more common, and it's a great healthier alternative.
Unsweetened apple juice, white grape juice, and even pineapple juice are popular choices for canned peaches in juice. You could also trying blending different varieties of unsweetened fruit juice to come up with a blend that creates the perfect compliment to your canned peaches. It can be fun to experiment!
Canning peaches in water
The other option is to simply use water as the liquid for canning your peaches. It's probably the least popular method, but as I've been drastically reducing the sugar in my family's diet, it's become my personal favorite.
The first time I tried canning peaches in water, I was concerned that my peaches would taste really bland - that the natural sweetness of the peaches would leach out so much into the water that the canned peaches would be tasteless. I actually haven't found this to be the case at all.
Most canning sites will caution you that using sweetened syrup helps to preserve the peaches' color and texture, which would be lost to some degree when canning peaches in water. But...one of these bowls in the photo below contains peaches canned in water. The other bowl has peaches canned in sugar syrup. Both were canned on the same day, 12 months ago, using the raw pack method. Can you tell which is which?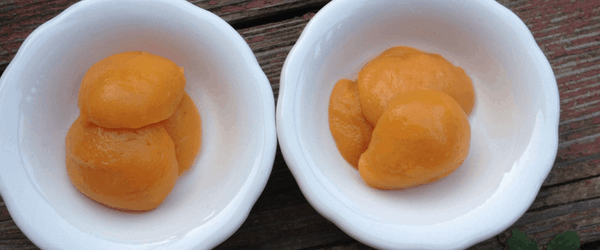 While they are much less sweet that the canned peaches in syrup we're all used to, I find that peaches canned in water taste like sweet, natural, wonderful peaches, and I'm very happy with the result.
Whichever method you choose - syrup, juice, or water, you'll want to heat your chosen liquid to the point of simmering, and keep it hot and ready. I like to use a tea kettle for this, since it makes pouring into the jars very easy. A sauce pan works fine though too. While you're at it, fill your large pan or stock pot with water, and bring it to a gentle boil. This will be for peeling your peaches.
Keep your canning liquid hot on the stove, your stock pot at a gentle boil, and now you're finally ready to start working with those peaches.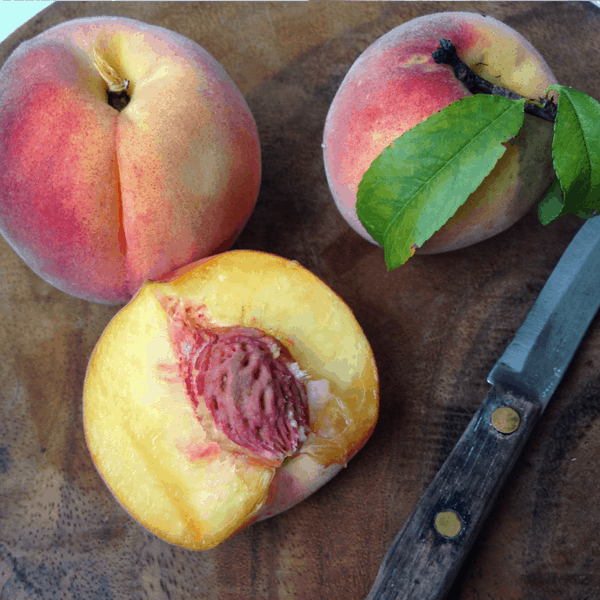 Remove skins and pits from peaches
Virtually every tutorial you read will tell you to remove the skins first, then cut the peaches in half and take out the pits. I grew up doing it the other way around, and it's just so much easier. There's no trying to slice a hot slippery peel-less peach, and then having to pry a stubborn pit out of it while it's slipping through your fingers. If you try it both ways, you will see exactly what I mean.
Prepare for this step by filling a stockpot or large pan with water, and heating it to a gentle boil. Fill another large pan (or your kitchen sink!) with cold water and ice cubes. The ice cubes aren't strictly necessary, but they really help keep the water cold when you're processing many quarts-worth of peaches.
Now, working in batches (I do about 5 peaches at a time), cut peaches in half. Remove the pits. Then put the peach halves in your large pan of gently boiling water for about 30 seconds until skins loosen, and slip easiy. If your peaches are perfectly ripe, this should take about 30 seconds. If they're still just a tad on the firm side, it could take up to a minute. You'll quickly figure out exactly how long the batch of peaches you're working with requires. Using a slotted spoon, remove all of the peach halves to the cold water.
Now it's very easy to slip the skins right off each peach half. If there's a stubborn spot (sometimes skins are tough to remove where there's been a bit of insect damage, or fruit grew against a branch), you can use a paring knife to trim that bit. If the whole skin is just very hard to remove, put the peach half back in the boiling water for a few seconds longer - it's probably a bit less ripe. Once the peach halves are free of skin, you can slice them if you'd like, and add the slices or halves to your prepared jars using either the raw pack or hot pack method:
Raw pack
(My preferred method) This is as simple as filling your jars with peach slices, or carefully placing in the peach halves cut-side down. Then add your hot liquid (syrup, juice, or water). Be sure to leave ½-inch of headspace. Wipe jar rim clean with a damp cloth, then carefully place the jar lid. Screw on the ring, just until it's "fingertip tight", and your jar of peaches is ready for processing in the canner. Working one jar at a time, the raw pack method is a very efficient way to quickly process a lot of peaches.
While sometimes considered the less-desirable method, this is my method of choice. My theory is that because my peaches go into the boiling water in halves for removing their skins, rather than whole, I do not at all see the difference in quality referred to by the NCHP on their page about canning peaches.
Hot pack
With this method, you'll add both your liquid and drained peaches to a large saucepan, and bring it all to a boil. Fill jars with hot peaches and cooking liquid, leaving ½-inch of headspace. Wipe rims clean with damp cloth. Place lids and rings on jars, and you're ready to process.
If you've never used your canner before, please read either this introduction to water bath canning or this introduction to pressure canning, depending on which method you are using, prior to processing your peaches. Then follow the processing timetables below.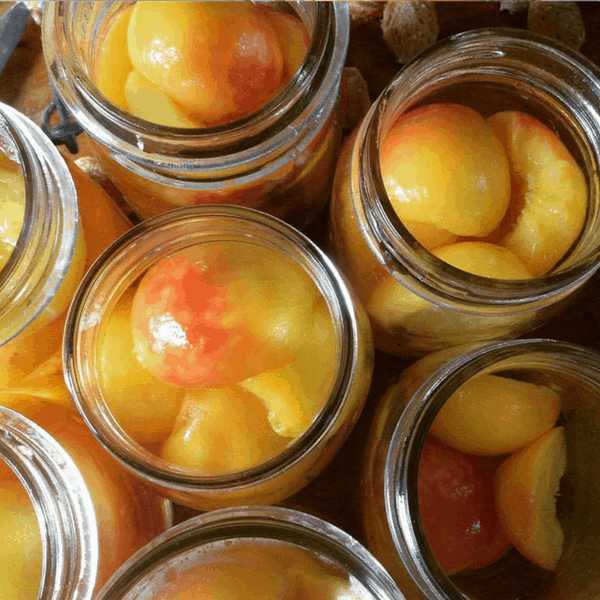 Processing times for canning peaches in a water-bath canner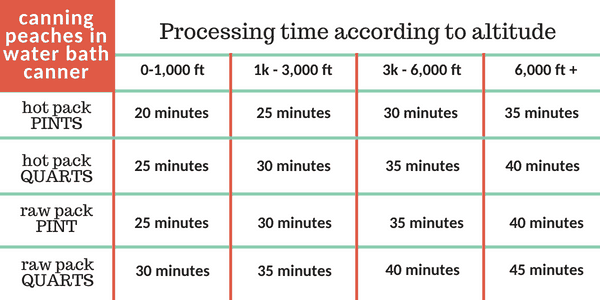 Processing directions for canning peaches in a pressure canner
Use this table if your pressure canner has a dial gauge

Use this table if your pressure canner has a weighted-gauge

That's really all there is to stocking your pantry shelves with your own home-canned peaches! I know this has been a long post, so it may seem like a lot. But if you have a laundry basket full of peaches sitting in your kitchen, it can absolutely be as easy as:
Gather your supplies. Add water and empty jars to canner, heat and keep hot on the stove.
Fill a kettle with simmering water, juice, or sugar syrup. Keep hot.
Fill a large pan with boiling water, and your sink with cold water.
Slice peaches in half, remove pits, dip in boiling water 30 seconds, dump in sink, remove skins
Put peach halves cut-side down in a hot empty jar, top with simmering water (remember 1/2" headspace)
Wipe rim, place lid and ring on jar, and add jar back to canner. Repeat until canner is full.
Process according to the timetables.
It's easy. Pinky swear. Once you get through a laundry basket or two, you'll be doing this in your sleep. Or, if you're like me, at midnight while the kids sleep. Coffee, anyone?
Pin for later: