Looking for easy DIY rustic Christmas decoration ideas? Try these ideas to quickly add a little rustic charm to your home, with just a bit of creativity and a little time!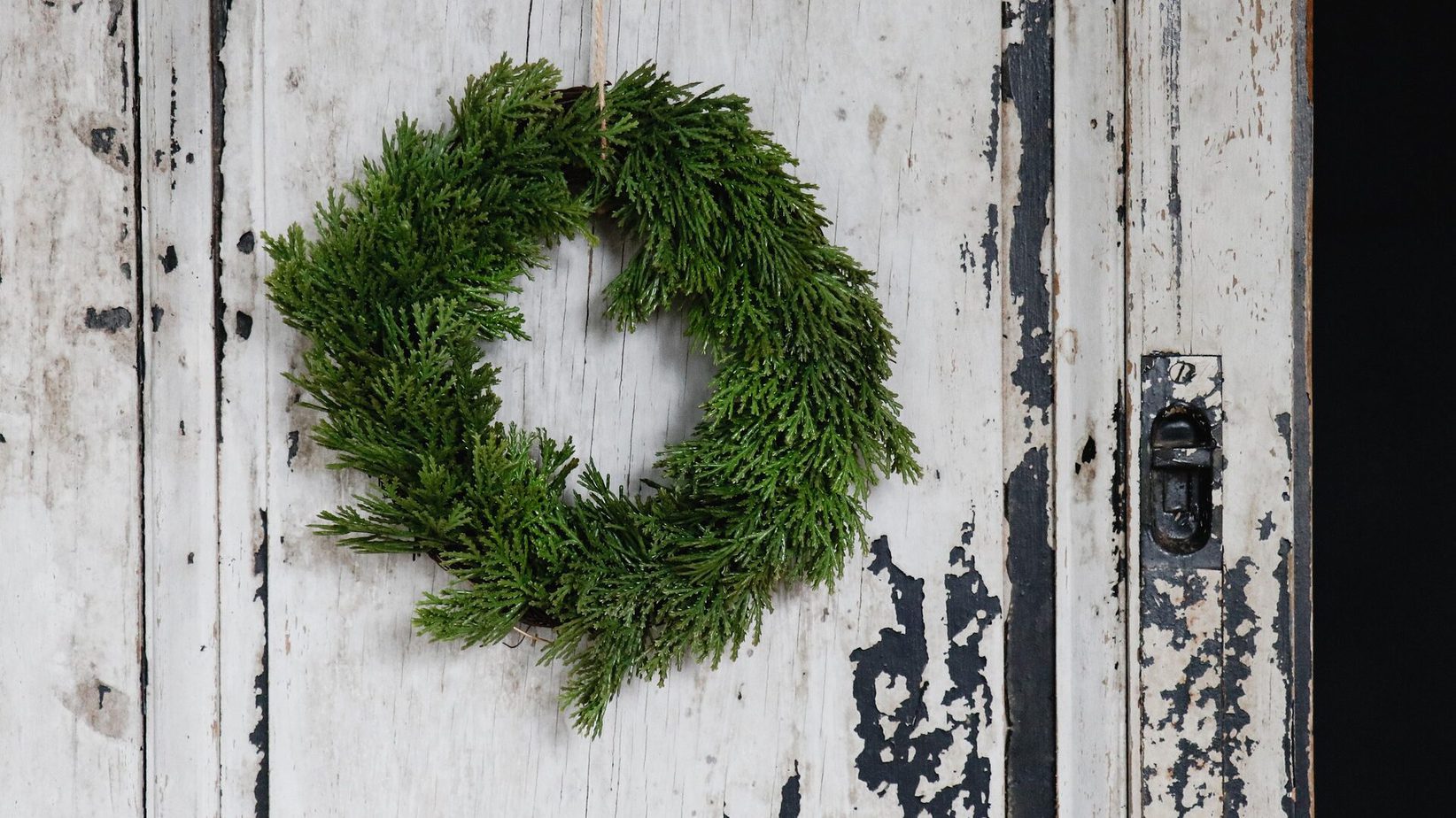 Rustic Christmas decor always feels so cozy to me! I adore the holiday season, and every style of diy decorating warms the cockles of my heart. But when I see burlap and plaid, twigs and mason jars, pine cones and vintage ornaments...it's enough to make a country girl swoon.
A wonderful thing about rustic farmhouse style decorating, is that it can really be done without spending anything at all. Most of these decorations make use of natural, foraged items, or supplies you may already have.
And all of them come together in just ten minutes or less! Try a few of these fun DIY projects, and don't forget to give yourself permission to keep things simple this year!
Easy, rustic Christmas wreaths
Set the tone for the whole house, right from the moment guests arrive at your front door. With a little hot glue and a touch of creativity, it's SO easy to whip together a simple wreath from natural items - no bows needed!
These gorgeous pomanders may not fall in the wreath category, but they can be hung almost anywhere you'd display a wreath. Try tying two together with a length of red ribbon, then hang over old horseshoe nails on the front porch! Or put several in a bowl (a small vintage mixing bowl works great!) and display them anywhere you want your house to smell amazing!
Simple, rustic Christmas ornaments
Sometimes I think my favorite Christmas trees are the scraggly natural ones that look like they grew in the middle of a forest. Kept simple, with some natural accents like a berry garland, and a flock of little birch bark birds, they feel so peaceful and woodsy.
Any of these easy ornaments can whipped together in a flash. A few pinecones tucked into the branches, and old plaid blanket as a tree skirt can finish the look.
For a vintage flair, try adding some mini candles in little candlesticks that latch right onto the branches, like these ones. A friend who used to live in Switzerland turned me onto this tradition, and I just love it!
Farmhouse style mantle decorations
There's no part of a house that's more fun to decorate than a mantel, if you're lucky enough to have one! (Unless, perhaps, it's the front porch! Here's a whole Pinterest board full of favorite ideas for outdoor Christmas decorations!)
For a farmhouse mantle look, try using a wide burlap ribbon as a multi-layered backdrop for a simple collection of easy rustic holiday decorations. Using a few miniature crates can be a cute way to achieve different heights, if you're trying to add dimension to your display!
---
There are so many ways you can quickly add a little rustic charm to your home, with just a little creativity and few minutes of time.
Other fun touches can be rustic stars (sometimes these are SO cheap at yard sales!), a simple printable rustic sign in a vintage frame, or old barn ladders. (Try placing an old ladder in a corner behind a big crock or vintage bucket, with a few evergreen boughs. EASY perfection.)
I hope you've had fun breezing through this list of easy rustic holiday decorating idea! Have other great tips to share? Please feel free to leave them in the comments below!
Happy decorating!