Carrots, yo.
The vegetable I absolutely love to pick...and kinda hate to plant.
It wasn't always this way. It used to be that I'd blissfully (and pretty haphazardly) sprinkle those teensy little seeds all over my impeccably prepared raised garden bed. As thickly as the seedlings would come up (having been so liberally and haphazardly sown) I'd need to spend a lot of time carefully thinning them out so they'd have adequate space to grow. And that was fine by me. Hours in the sun thinning seedlings. My idea of a happy summer afternoon!

This article contains affiliate links. Click here to learn more.
But these days, with two small kids, and almost 6,000 square feet of gardens to tend, I don't have time to painstakingly thin out carrot seedlings - which means I can't haphazardly sow those tiny seeds like I used to. I need to pay a little more attention to my planting methods and get them spaced correctly the first time.
"That seems simple enough", you say. One would think.
And really, it could be. But carefully planting teensy tiny carrot seeds during the middle of black fly season, while trying to get as many rows planted as humanly possible during naptime, is not my favorite.
This year, I'm trying a different strategy. SEED TAPE.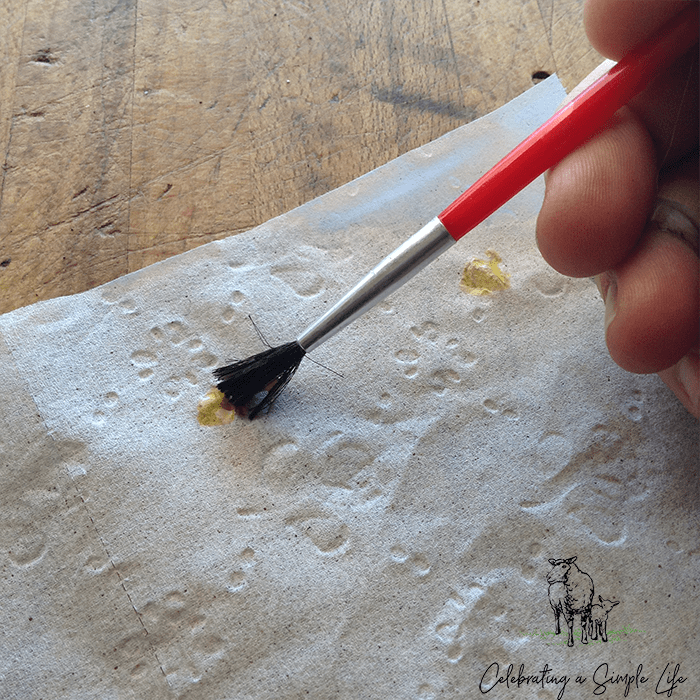 The idea behind seed tape is that it's the most geniusly speedy way to plant anything ever. You just lay the thin, papery tape down in your garden bed, cover lightly with soil, and voila! Your row is planted, and the seeds embedded in the tape are perfectly spaced. And you have time leftover to take a shower before naptime is over!
The catch? It's outrageously expensive stuff.
The solution? Make. My. Own.
INSIDE. Before planting season even starts, before black flies are even a thing, and not even during naptime...because this is a fun project for little helping hands! DIY seed tape is super easy - and it's cheap!
All you'll need is:
Unbleached toilet paper
Seeds
Egg yolk
Small paintbrush
Pen for labeling
If you've read a few tutorials about making homemade seed tape, you might be a little surprised not to see the ubiquitous school glue or flour paste listed. Here's my reasoning for not using those.
While the popular school glue method might be easy, there's no way I'm embedding my heirloom seeds, bound for my organic garden, in a cozy blanket of polyvinyl acetate. Thank you, no.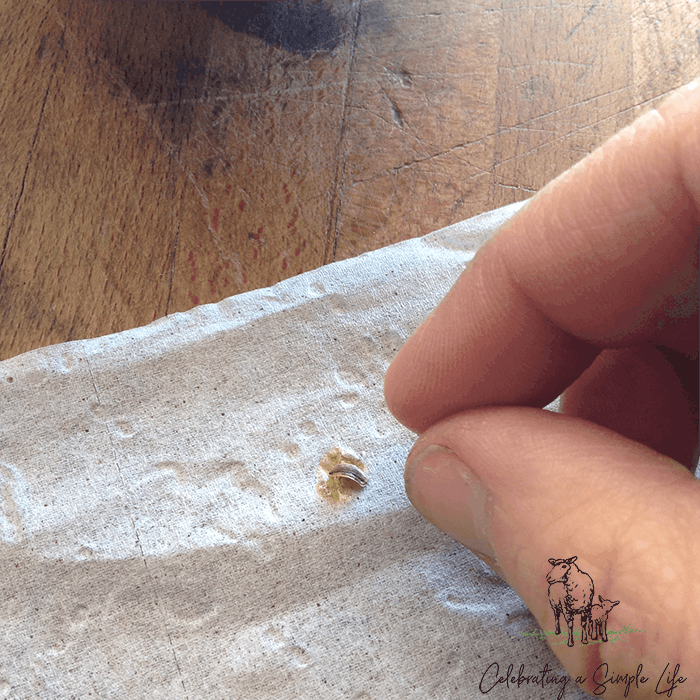 The more natural option seems to be sticking the seeds to the toilet paper with a flour and water paste. But - have you tried this? I did. With regular wheat flour, as well as a couple of gluten-free flours that I keep on hand. When the paste was thin enough to easily dab, it soaked tiny holes right through the toilet paper. When I made it thicker, it was unwieldy for dabbing onto each seed spot, and really quite slow to work with.
In the end, every version of the flour and water paste method had the same drawback. It really didn't nicely "glue" the seed to the paper, nor did it glue the paper to itself. This makes it necessary to very carefully handle the dried seed tape, so as not to dislodge the seeds in the planting process.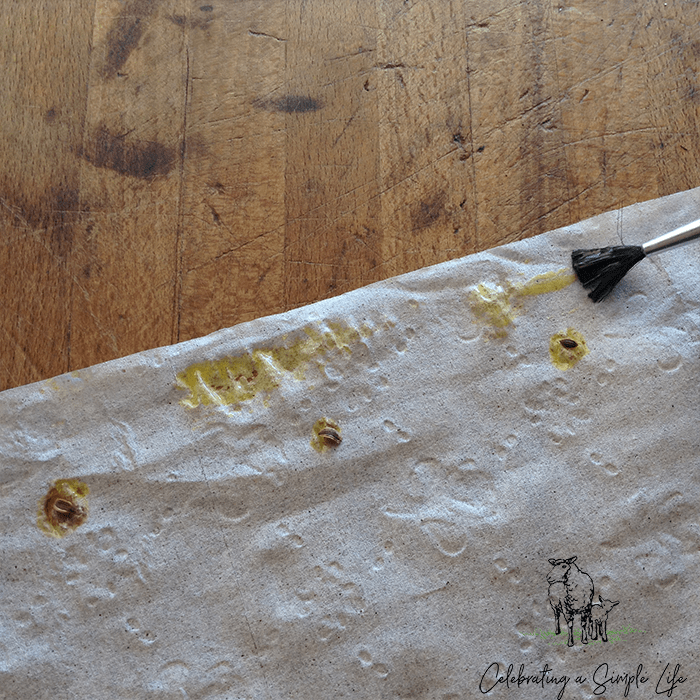 Have I mentioned that I plant like a crazy garden fiend, in the middle of black fly season? Fragile seed tape is not what I'm going for, and will probably make me say words that a virtuous homesteading mama shouldn't have in her vocabulary.
I was a little frustrated after my flour and water efforts, and almost ready to give up on the idea of homemade seed tape, when I got an idea from an old out-of-print book about Ancient Egyptian Materials and Technology. Egg Yolk. The ancient Egyptians used egg yolk as one of their forms of adhesive.
This seemed worth a try. Egg yolk is smooth and easy to work with. It can be applied thinly so that the seeds don't soak up excess liquid, and the seed tape can dry quickly. And it actually really adheres the seed to the toilet paper, and the paper to itself, if you want to do the folded-over version that I like.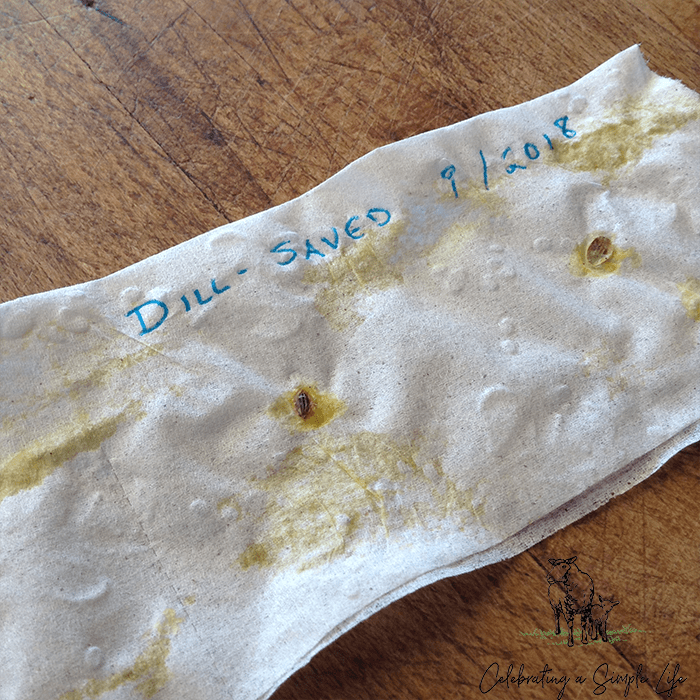 Now that I've found a natural method that's easy and works well, I'm making up seed tape for many of the smaller-seeded crops I'll be planting in May and June. Here's the step-by-step instructions for how I'm doing it:
How to make seed tape
You'll need:
Unbleached toilet paper
Seeds
Egg yolk
Ruler
Small paintbrush
Pen for labeling
Roll out a comfortable length of toilet paper for working with. I like to do about a yard at a time. If you're working with two-ply toilet paper, go ahead and separate it into two sheets.
On the back of your seed packet, determine the correct spacing for your seeds. About an inch in from the edge of the toilet paper, lay down your ruler. In each place a seed should go, use the paintbrush to put a tiny dab of egg yolk. So if your seed spacing should be one inch, you'll dab a little egg yolk at every inch mark along the ruler - about an inch in from the edge of the toilet paper.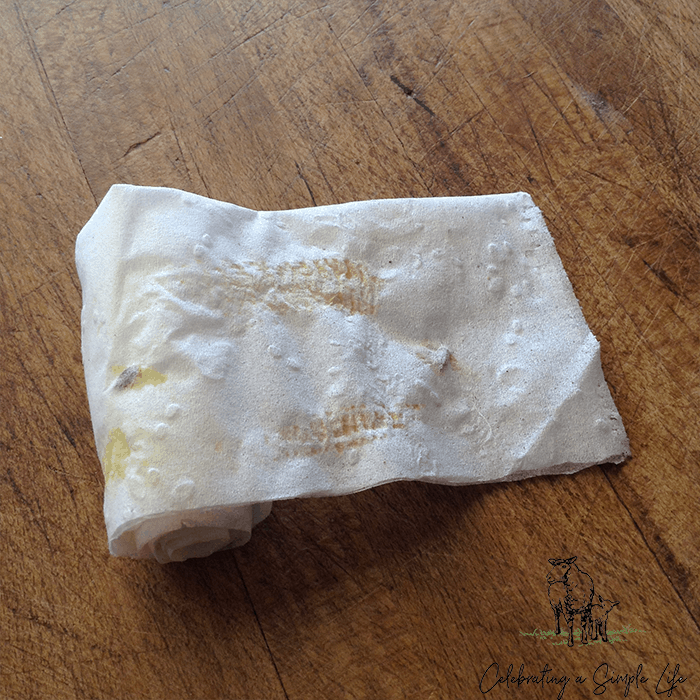 Gently press a seed into each spot that's been dampened with egg yolk. Then very lightly brush a little egg yolk along the top edge, and also right below the line of seeds, all along your length of toilet paper. Lift the bottom edge up to the top edge, folding the paper length-wise on itself. Very gently press down, all along the length of your seed tape.
Leave it flat until it dries. For me, in a fairly warm and well-ventilated room, I find that my seed tapes are always dry within about half an hour.
You can write right on the edge of your seed tape with pen, to identify which seeds you've used in it. Then roll it up, and store in a cool, dry place until it's time to plant. You can store your seed tapes in ziploc bags, rolled-up in a mason jar, or you can grab your vacuum sealer and seal them up in vacuum bags.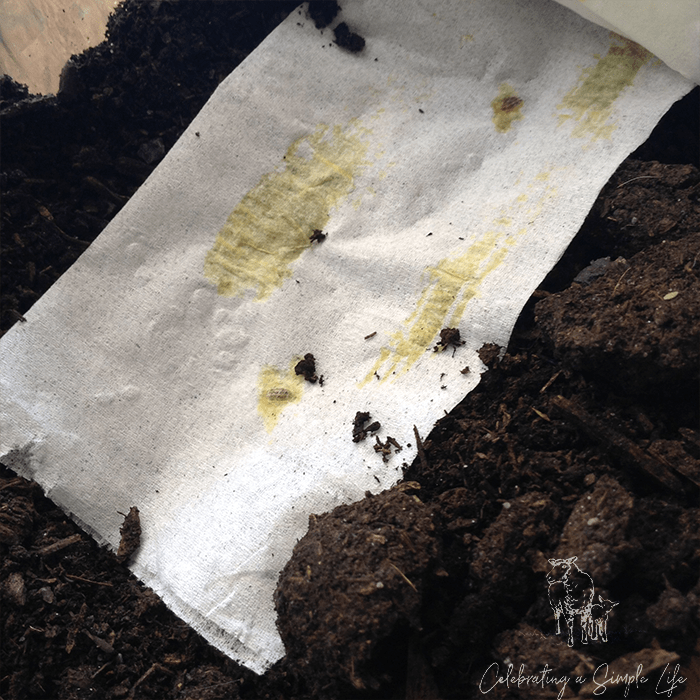 When it's time to plant, just lay them down in your prepared garden bed, and cover with soil to the depth specified on your seed packet.
I hope you find this project as easy and fun as we do, and that it saves you time and energy come planting season! Happy gardening!!
Quick Update, 2/9/18:
I had to share a quick testimony of just how sturdy this seed tape can be. My cat just finished playing with a freshly dried strip of seed tape that he stole off my kitchen counter. Aside from the one seed that he deliberately chewed out - every seed was still in place. Little knucklehead cat...