Ever wonder if it's tough or tricky to make your own organic onion powder? It's SO EASY! This post will walk you through how to make onion powder at home, and it's so wonderful you might never use store-bought again!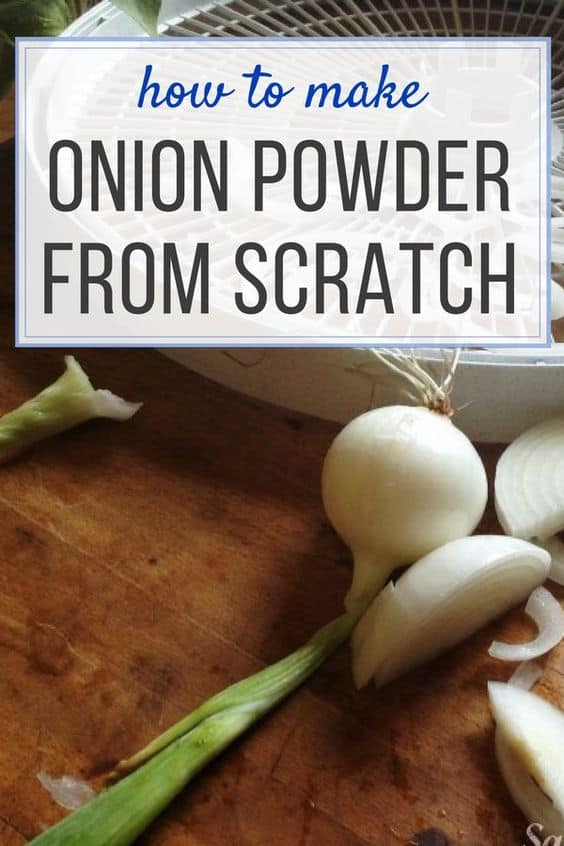 This article contains affiliate links. Click here to learn more.
I was walking through the garden a few days ago, and was caught by surprise when I noticed that all my onion tops had slumped over.
It hardly seems possible that we're already at onion harvest time - but those flopped over tops are a signal that just can't be ignored. Time to pull the onions!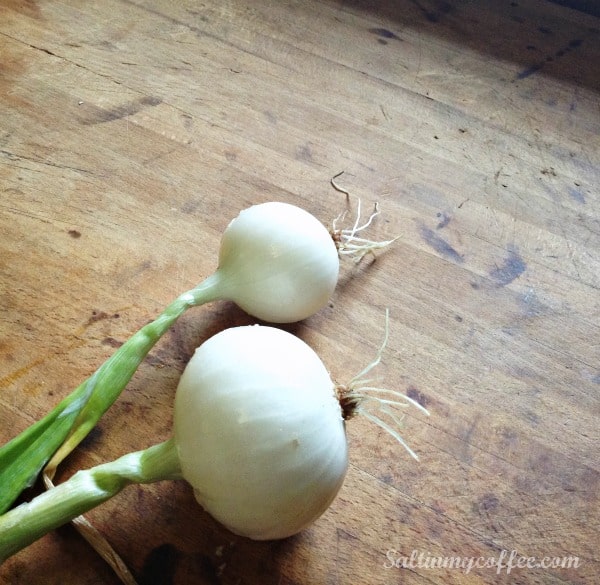 This would generally be a pretty quick and easy, one-woman job. I only planted 600 onions, after all. But I had four little hands helping me this time around, so it took all morning. Which was perfectly fine by this mama.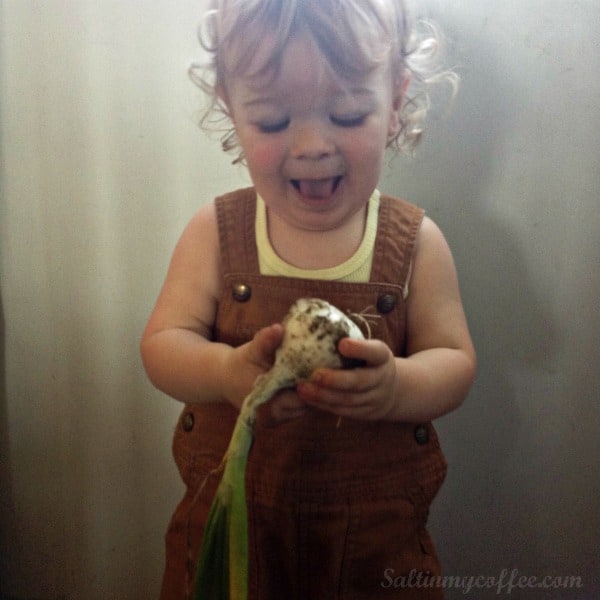 Most of the harvest is in and curing now, preparing to be stored away for winter. But there were quite a few bulbs that had mysterious blemishes on them.
You really can't cure and store onions that have been nibbled on by varmints or toddlers.
So we needed to do something to use the blemished onions right away. And we ended up with quite a heap that fell into that category, since poor Duncan seemed determined that ONE of those onions had to be a real treat...if only he could taste enough of them to find it.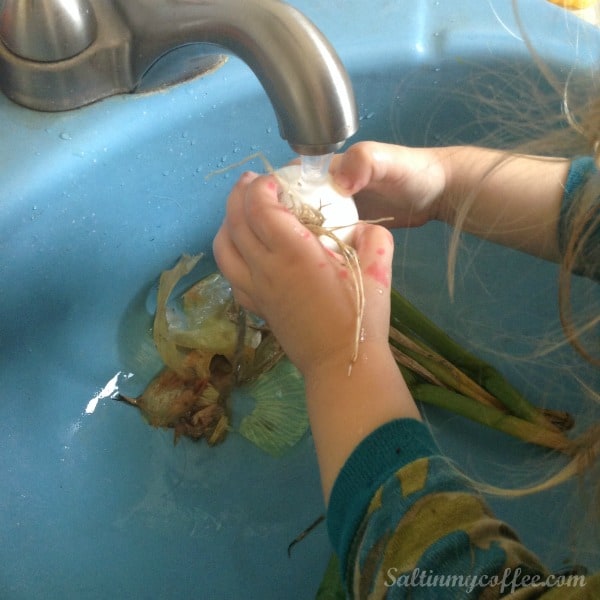 I use quite a lot of onion powder through the year, and my supply had just run out. So making a huge batch of onion powder was an easy choice.
It's really the simplest stuff to make, and the difference between homemade onion powder from homegrown onions, and store-bought onion powder is pretty life changing.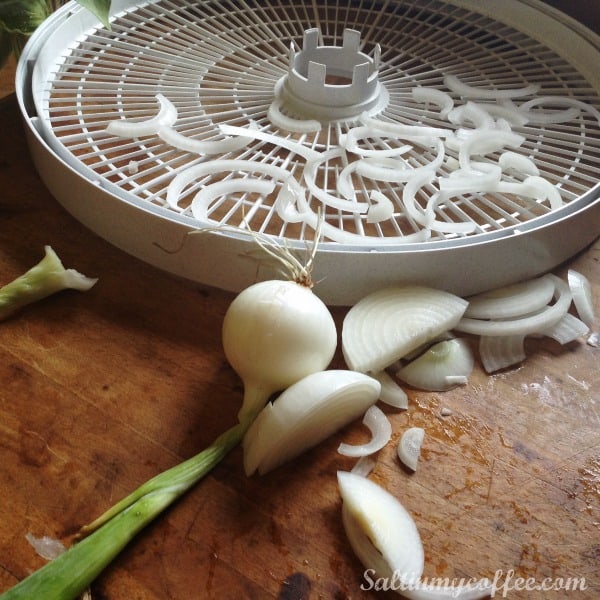 How to make onion powder from fresh onions
Clean your onions, and slice thinly - I shoot for 1/4" or less. The thinner the slices, the more quickly they'll dehydrate.
Separate the slices into rings, before laying them out on the dehydrator trays. (This is the dehydrator I use...it's a workhorse!!)
Separating the onion layers makes an enormous difference in drying time. I tested this, because I can't help myself when it comes to kitchen experiments. Separate rings took 4 hours. Slices...ELEVEN HOURS. It is ok if the rings overlap though!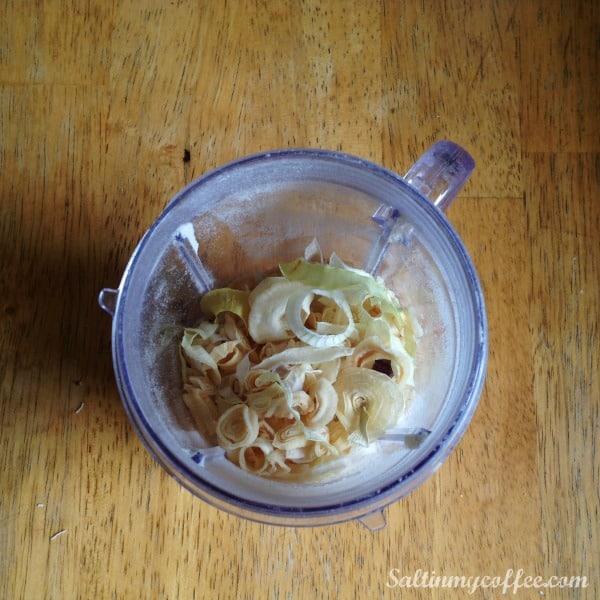 Fill those dehydrator trays, then dehydrate at 135 degrees, for 4-6 hours. When onion pieces are completely dry and brittle, they're ready.
Fill the bowl of your food processor, or large cup of a magic bullet, with the dried pieces.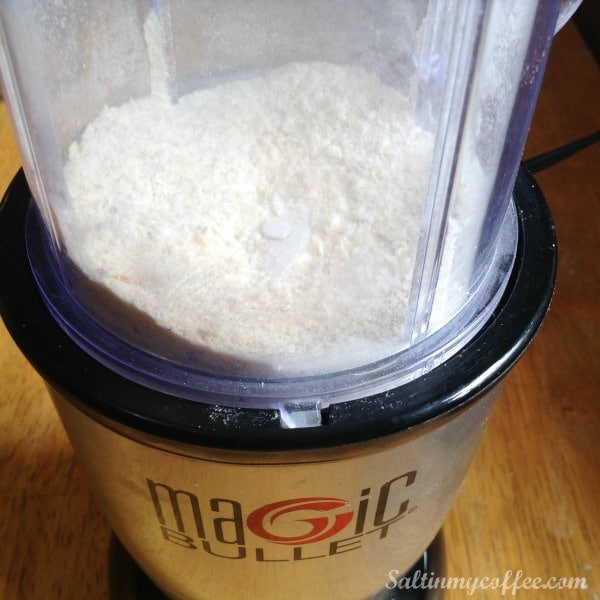 Process until the onion pieces are finely ground into powder.
Pour into a perfectly dry container with a tightly sealing lid. As with all spices, keep covered tightly and store in a cool, dry location.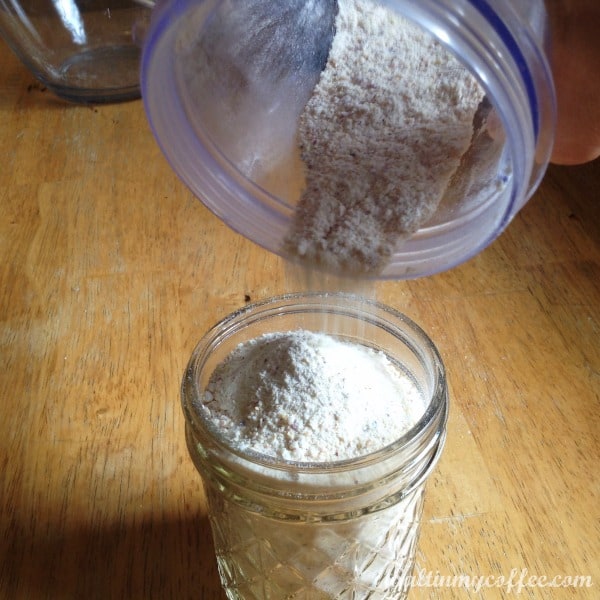 It's really that easy! The onions do dehydrate WAY down. I found that six comfortably-filled trays of my dehydrator ground down into a scant two pints of onion powder.
It's worth noting though, that I feel my homemade onion powder is more flavorful and potent than anything store-bought that I've tasted, and a little goes a long way!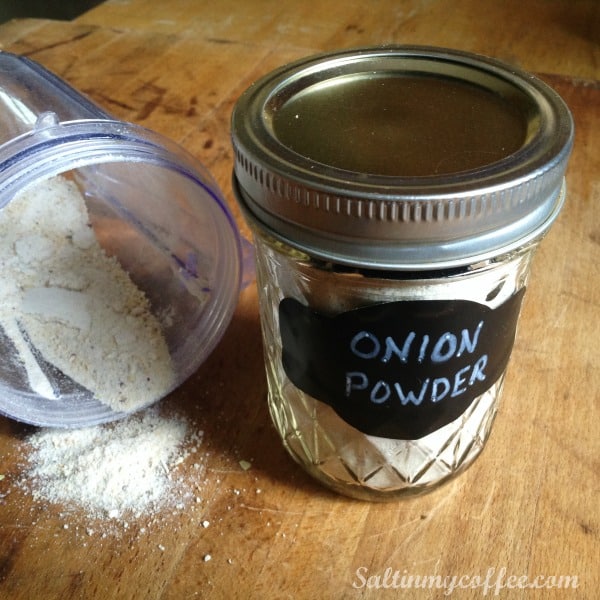 Here's a printable version of this method for making your own onion powder from scratch, in case you'd like to have a printed copy handy: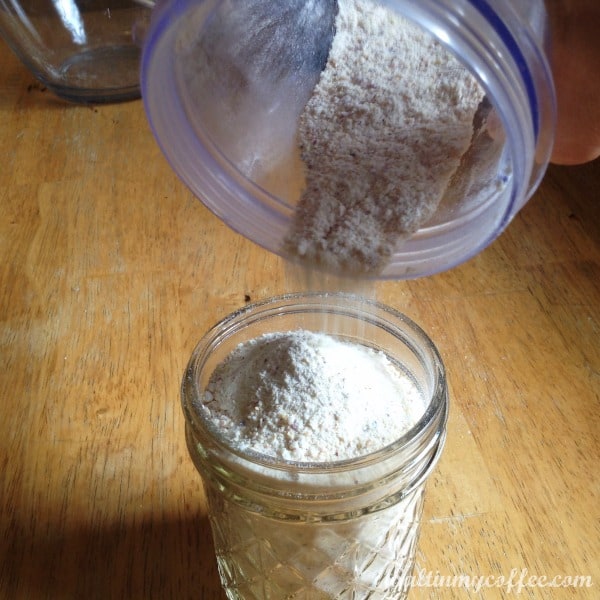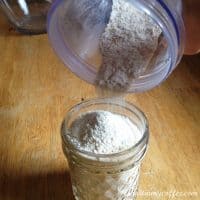 How to make onion powder from scratch
Making your own onion powder from scratch is so easy, and it tastes SO much better than store-bought, you just might never buy it again!

Print
Pin
Rate
Instructions
Slice onions thinly. 1/4" or thinner works well.


Divide slices into rings - rings dehydrate MUCH faster than whole slices.


Lay rings out on dehydrator trays - it's totally ok for them to touch and overlap.


Dehydrate at 135 degrees, for 4-6 hours, until onion slices are dry and brittle.


Using a food processor, blender, magic bullet, or even a mortar and pestle - grind dried onion rings into powder of the consistency you'd like. For coarse powder, this doesn't take long at all! Finer powder takes a few extra seconds.


Store in a tightly-sealed container, in a cool, dry location.

Nutrition Facts
How to make onion powder from scratch
Amount Per Serving
Calories 24
Calories from Fat 9
% Daily Value*
Fat 1g2%
Sodium 5mg0%
Potassium 68mg2%
Carbohydrates 5g2%
Protein 1g2%
Vitamin C 2mg2%
Calcium 27mg3%
Iron 1mg6%
* Percent Daily Values are based on a 2000 calorie diet.
Nutrition
Calories:
24
kcal
|
Carbohydrates:
5
g
|
Protein:
1
g
|
Fat:
1
g
|
Saturated Fat:
1
g
|
Sodium:
5
mg
|
Potassium:
68
mg
|
Fiber:
1
g
|
Sugar:
1
g
|
Vitamin C:
2
mg
|
Calcium:
27
mg
|
Iron:
1
mg
I really hope you enjoy making your own onion powder! It's so easy, and the taste difference is so significant - I'll never go back to buying it again!
Read Next: How to Dry & Use Lambsquarter
If you liked this post, you may enjoy:
✦ How to Make "Sun-Dried" Tomatoes in a Dehydrator
✦ How to Make Leek Powder
✦ Duck Egg Mayonnaise
✦ Salted Maple Honey Caramels
✦ 18 Amazing Fruit Leather Recipes

Pin it for later: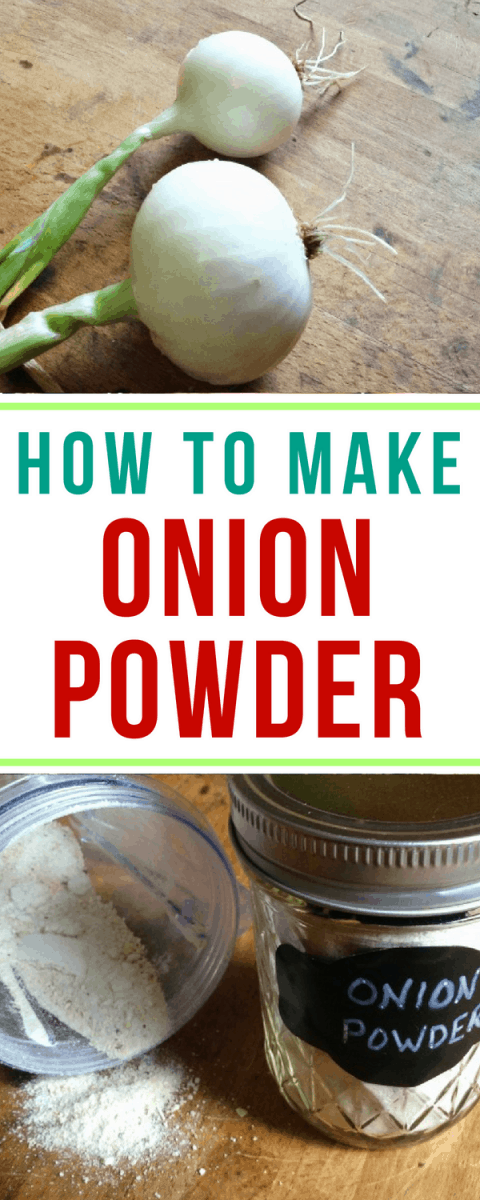 Save
Save
Save
Save
Save