Making your own yeast for baking bread is easy. It's how people baked for generations, and now that commercial yeast is getting hard to find on grocery shelves, it's a great way to keep making wonderful homemade bread in your own kitchen!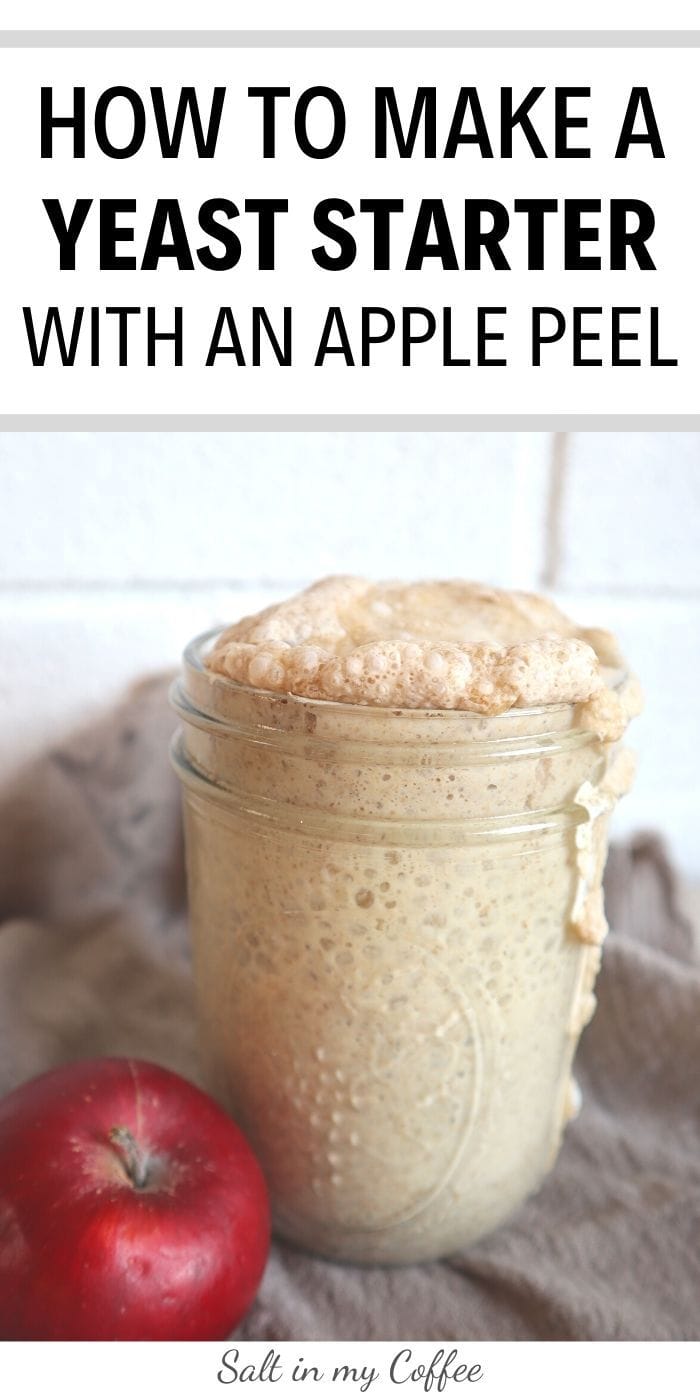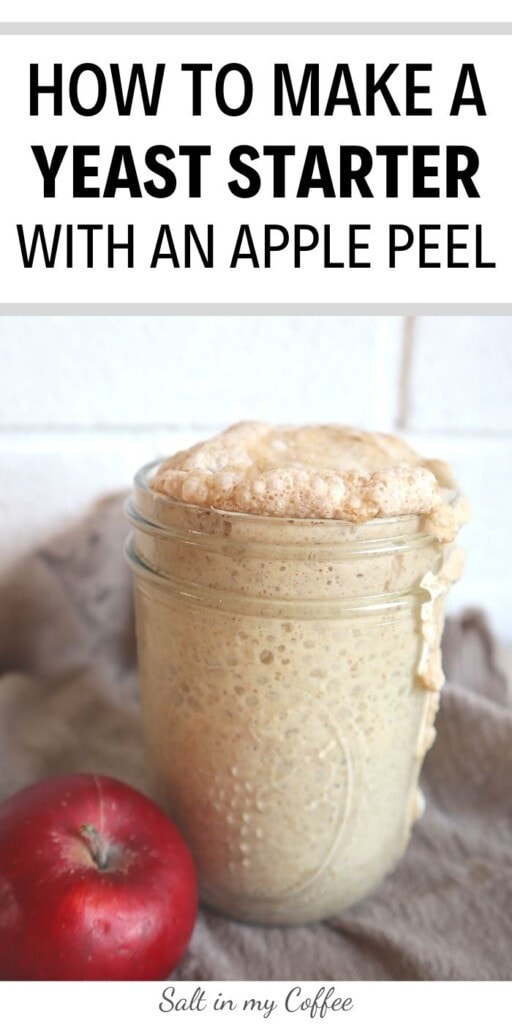 There's a shelf in my cookbook cupboard that's reserved for dingy, dog-eared, beat-up volumes. It's my 1800's shelf, and that's where I keep cookbooks that were printed before most of my great-grandparents were born. They're worn and a little brittle, but I find myself turning to them as often as the modern volumes that sit on the shelves below them - especially in times like these.
The bread section in most of them is robust, usually containing many different recipes for homemade bread, with different characteristics and qualities. Of course, they all call for yeast, but not the powdered commercial yeast that we rely on today. Homemakers back then kept their yeast in a corked jug in the cool cellar, and when they ran out, they made a new batch. And we can too.
While in modern times, we've come to think of homemade yeast starters as "sourdough", bread made this way doesn't actually need to taste sour. What we think of as "sourdough bread" is really just one way of using homemade yeast to create a particular style of loaf. If you think you hate sourdough, don't rule out baking with homemade yeast. Chances are, you can create a loaf you'll really love.
How to make your own yeast for baking
Yeast is something that's present in the air around us, and it's technically classified as a fungus. So while baker's yeast might be in short supply, the critical ingredient for creating light bread that rises well is already all around us - we just need to capture and culture it.
Doing this creates a starter, which you can keep going almost indefinitely. You'll probably only need to follow these steps to create a yeast starter one time, and then you'll be all set until well after the grocery shelves are fully stocked again.
If you're anything like me though, you may find yourself experimenting... I've started so many batches of yeast in my kitchen, trying different ingredients and methods. The beauty of harnessing wild yeast through a handcrafted process, is that each batch of starter ends up with subtle individualities of flavor and rising properties...it's kind of like making wine at home. Always a tiny bit different, and almost always great.
What you'll need to make a yeast starter
Flour (preferably whole wheat or rye)
Water (non-chlorinated)
A few peels from an organic apple (optional)
While technically, all you need for getting yeast starter going is flour and water, my favorite yeast starters are the ones I've made using a few peels from an organic apple. The natural yeasts on the apple peel work so beautifully to jump-start what I always find to be a particularly starter.
When it comes to flour, white flour can work just fine in a pinch (we all have to work with what we have right now), but whole wheat is better because it contains more nutrients to feed the yeast. If you happen to have rye flour, try using half rye and half whole wheat - that's really a winning combination! The key here is, use what you have, and it's going to come out just fine.
Do keep in mind that this starter will take about 4-5 days before you're able to bake the first loaf, so you'll want to start this before you need to start baking with it.
Step 1
In a pint jar, or similar container, place a few peels from an organic apple, then add 1/3 cup of flour, and 1/3 cup of water. Mix it up well - it should be about the consistency of pancake batter. (Add a little flour if it's too thin, or water if it's too thick.)
Step 2
Cover the bowl loosely, and leave it at room temperature. A slightly warm place is good, since that helps to speed up the process, but I've found that keeping the starter out of continual direct sunlight is beneficial. Leave your starter to sit quietly until the next day.
Step 3
Starting the next day, add 2 tablespoons of flour and 2 tablespoons of water twice each day, in the morning and again in the evening - giving the mixture a good stir when you do. Adding fresh flour and water feeds the yeast, and helps it to become more active and robust. In a couple of days, you'll notice bubbles starting to form in your yeast. That process of creating little air bubbles is exactly what makes your bread rise, so this is what you want to see! You may want to start putting a little plate under your jar of starter, in case it starts to rise more vigorously. At some point you'll walk away, and next time you look at it, it will be bubbling up so wildly you'll be amazed! It's not unusual for a jar to flow right over when it rises more than you expect.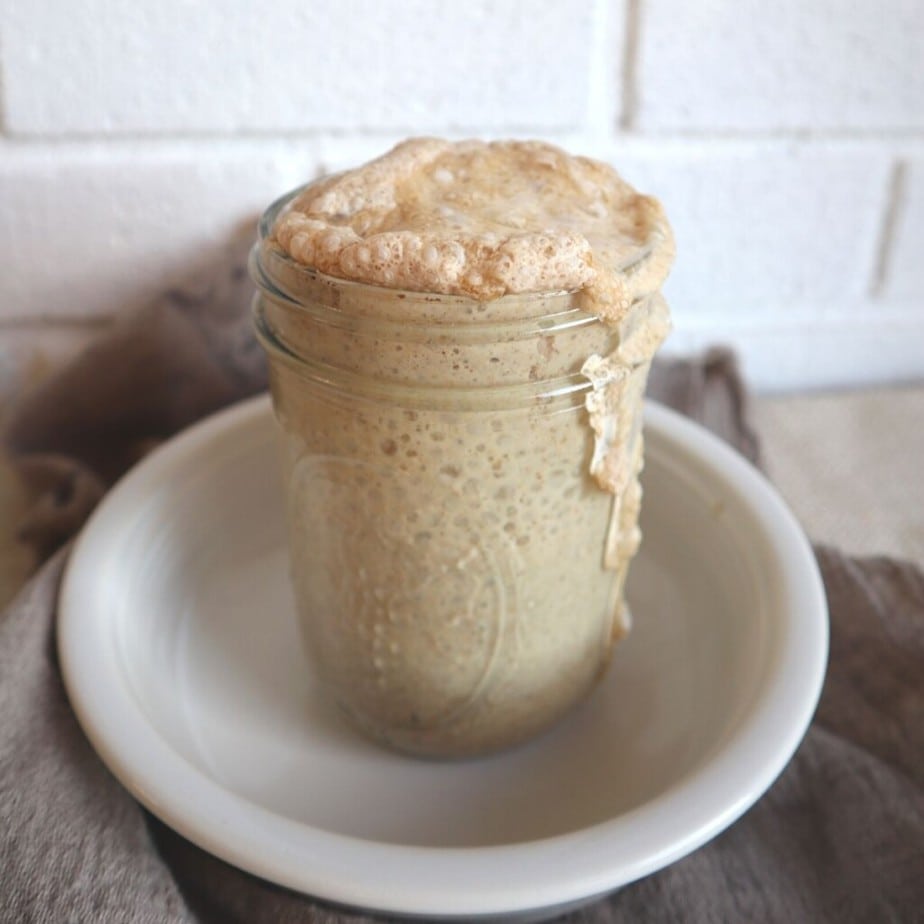 Step 4
When the jar starts getting full (around day 4), I like to pour off half of it into a fresh container, fishing out the apple peels as I do. The starter in the new jar is what I'll keep going. The apple peels have done their job, and they go into the compost, along with the last scraping of starter from the first jar. Keep feeding your starter in the same way for another day or two. By about day five, it should be ready to use. When it's consistently rising very actively each time you feed it, you're good to go!
Using your homemade yeast to bake bread
You won't be able to directly substitute homemade yeast starter for the rapid-rise yeast that we're used to buying in the store - you'll need to use a recipe created for slower rising yeast. You can use this starter in any sourdough bread recipe (like this whole wheat sourdough loaf), or if you happen to have an old 1800's cookbook kicking around, this starter will be your ticket to making ALL those lovely vintage bread recipes.
You'll only need part of your starter for each loaf that you bake, so you can keep it going indefinitely. Keep it active and ready to use, by feeding it once a day. If you're taking a little time off from baking, you can keep it in the fridge and feed it just once a week. Bring it up to room temperature two days before you want to bake, and feed it twice daily for a couple of days, to get it back to full, active vigor.
There are a lot of sourdough starter recipes out there that require getting out your kitchen scale, precisely weighing flour and water, and carefully counting days for irregular feeding schedules. I've made a lot of those over the years, and lots of them are great. There's no harm in getting our your kitchen scale and if you feel like going that route - go for it! But please know that good, reliable, delicious bread can be EASY. No scale needed.
I keep coming back to this method for making yeast, because it's simple, and always results in a starter that I've found to be reliable, and nearly fool-proof. I think especially right now, simple is good.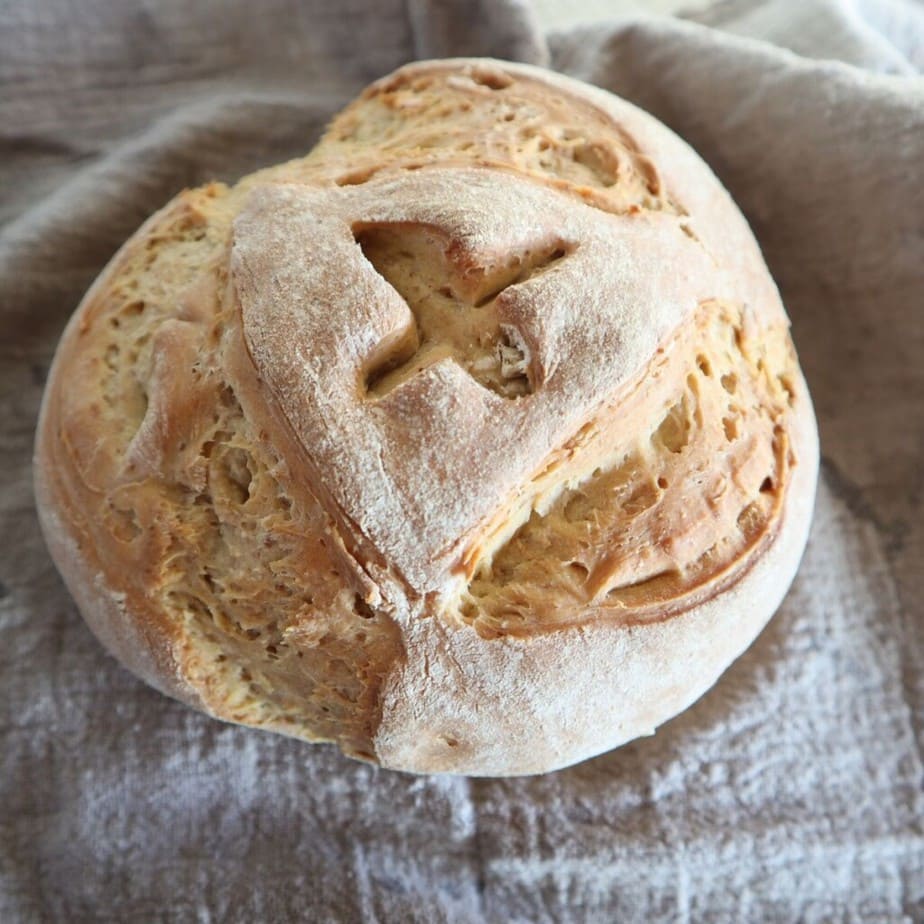 Do you have any questions about getting started with baking, using homemade yeast? Drop me a line in the comments below and I'll help however I can!
Read Next: Double Chocolate Fudgy Einkorn Brownies