This spicy, maple-sweetened apple butter boasts all the flavors of fall (but without the loads of refined sugar you'll find in most recipes!)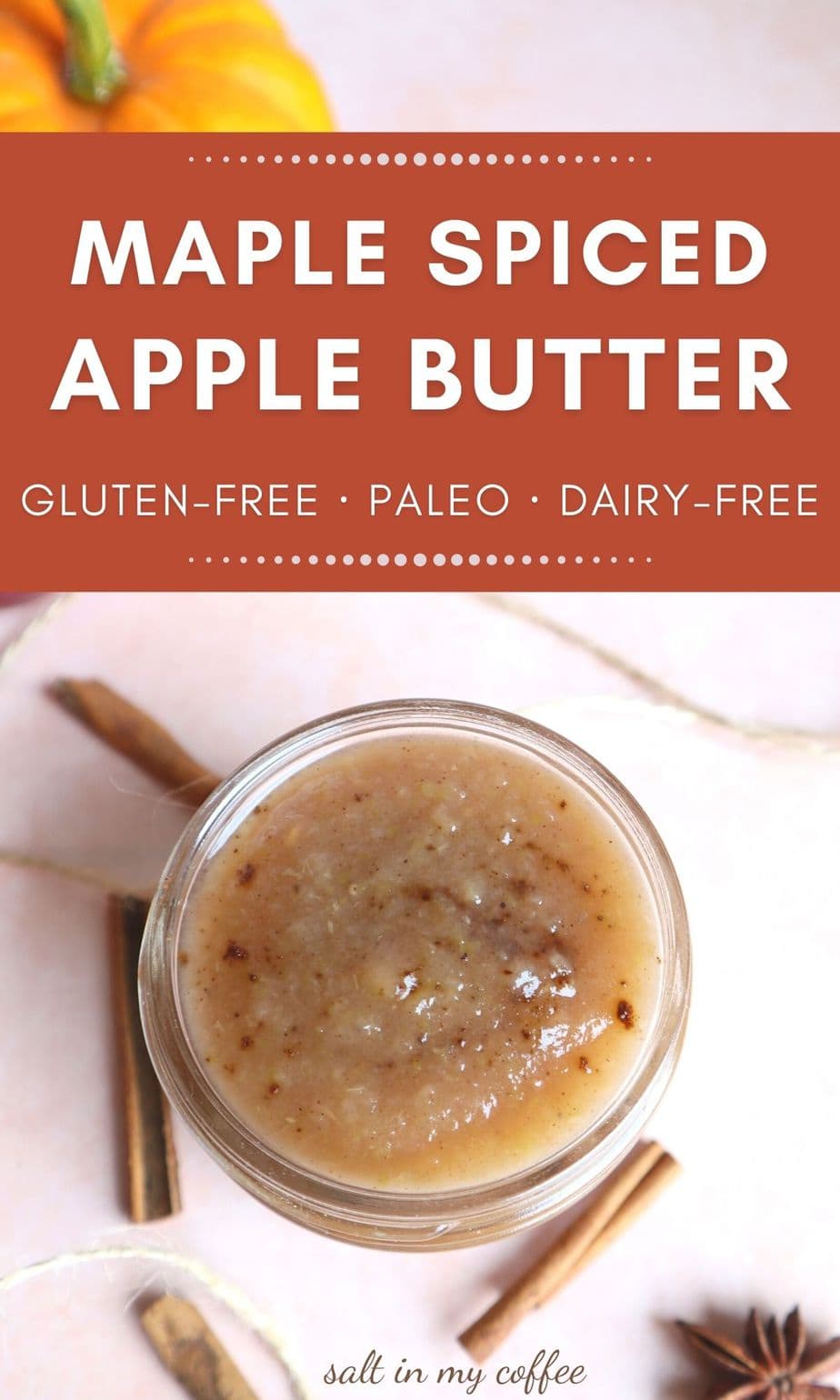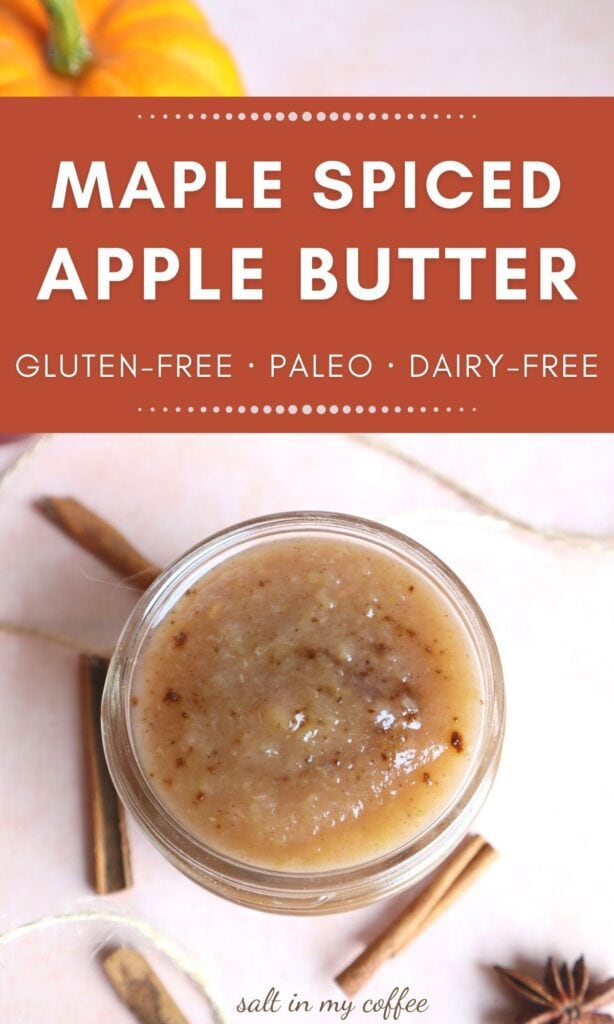 This article contains affiliate links. Click here to learn more.
Just before pumpkin season, and right after "all things blackberry", apple season comes creeping stealthily in.
The apple harvest season begins in August here in Maine, and lasts right through November, after the first few hard frosts. So we have a good long chance to work with fresh apples!
First the early apples, with their thinner skins and sweet, often more-simple flavor profiles. Then the bulk of the harvest which peaks in September, and is full of all the colors and flavors of the orchard. Then the really late apples, with their thick skins and hard flesh - these don't truly start to come into their own, until they've been in storage for a month or two.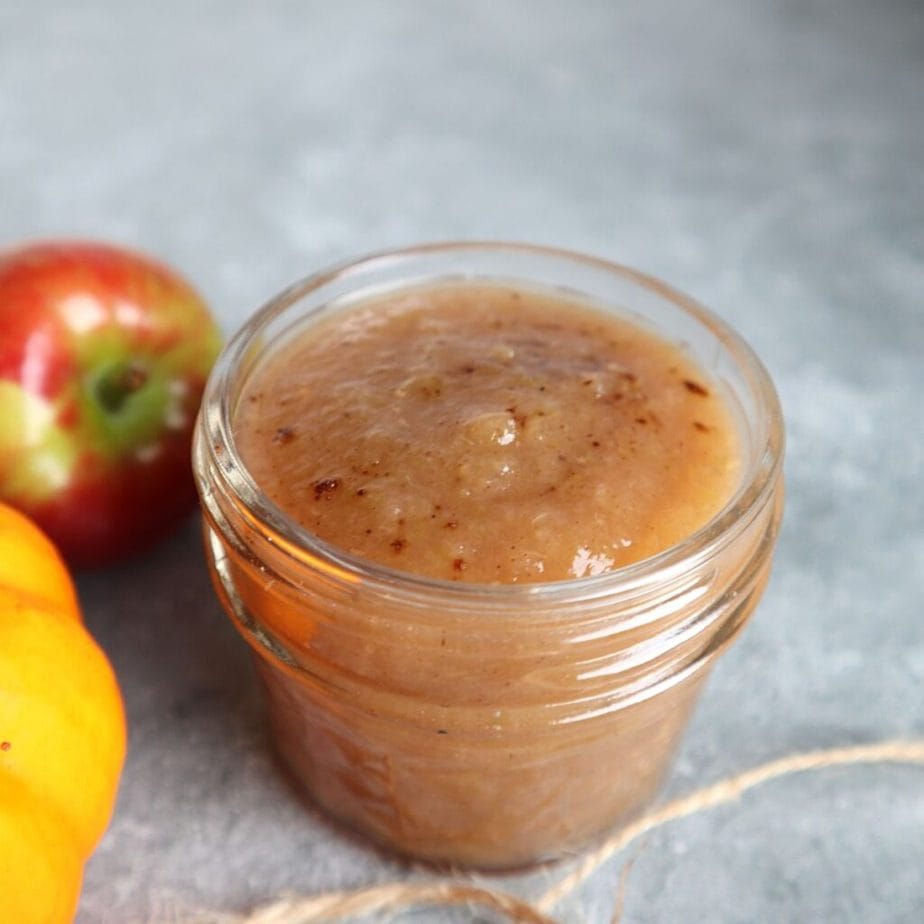 From August to November, we put up many, many quarts of apple products! We line the shelves of our basement with jars of apple sauce, fill bins with dried packets of apple rings, and tuck whole apples all peeled & cored, into the freezer for making dumplings and baked apples.
But of all the things I put up for winter, the one that most speaks "comfort" to my little hobbit heart, is this recipe right here. Thick, spicy, maple-flavored apple butter. On toast, or pancakes, or just straight from the spoon, this apple butter seems to conjure all the fall magic of wood stoves and colorful leaves, chilly mornings and first frosts, favorite mugs and good books, all in one jar.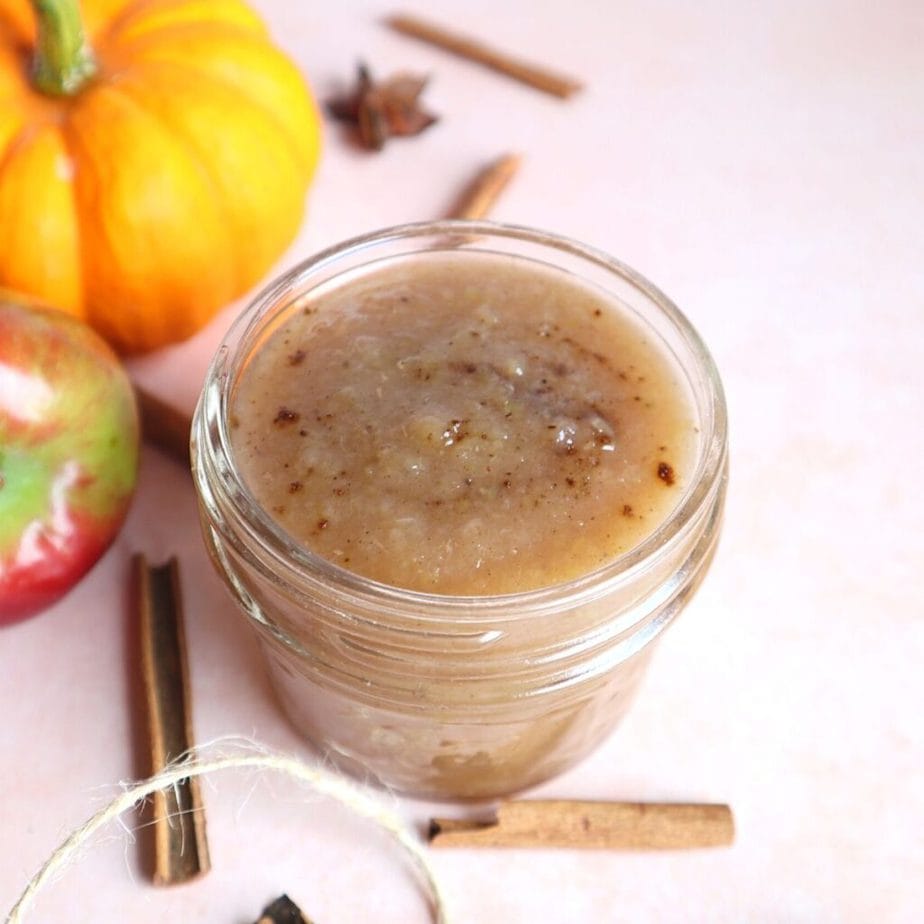 Choosing the right apples for apple butter
By all means, make this recipe with whatever you have available. BUT - if you get to be a bit choosy, opt for any good-quality cooking apples that you can get your hands on.
I especially love Cortland, Gravenstein, Thompkin's King, and Northern Spy, but regular old Granny Smith work well also!
Making apple butter - a three step process
Even though apple butter is very easy to make, it really needs to be done in three steps for the best possible result.
Simmering the apples
For the first step, simply wash the apples, quarter them, and simmer with a little water until they're thoroughly soft.
You'll want to remove any bad spots, but don't be temped to peel or core your apples. The peels contain so much of the good apple flavor, and you'll want every bit of pectin from those cores!
Removing the peels, cores, and seeds
Once the apples have simmered into a soft, fragrant, mush, it's time to put them through a food mill to remove the skins, seeds, and pieces of core.
(If you don't have a food mill, you can use a wide-meshed food sieve, and scrape the apple sauce through with a spoon.)
The second simmer
Once the cores and peels have been removed, the resulting applesauce is returned to the stove along with the maple syrup, apple cider, and spices. Now it needs to simmer low and slow, until it thickens to a smooth and buttery consistency.
While you absolutely can make this recipe without the addition of apple cider, it really adds a special tangy, cider-y, something to this apple butter that's hard to describe and even harder to replace. I've made it without the cider once, and I won't let it happen again!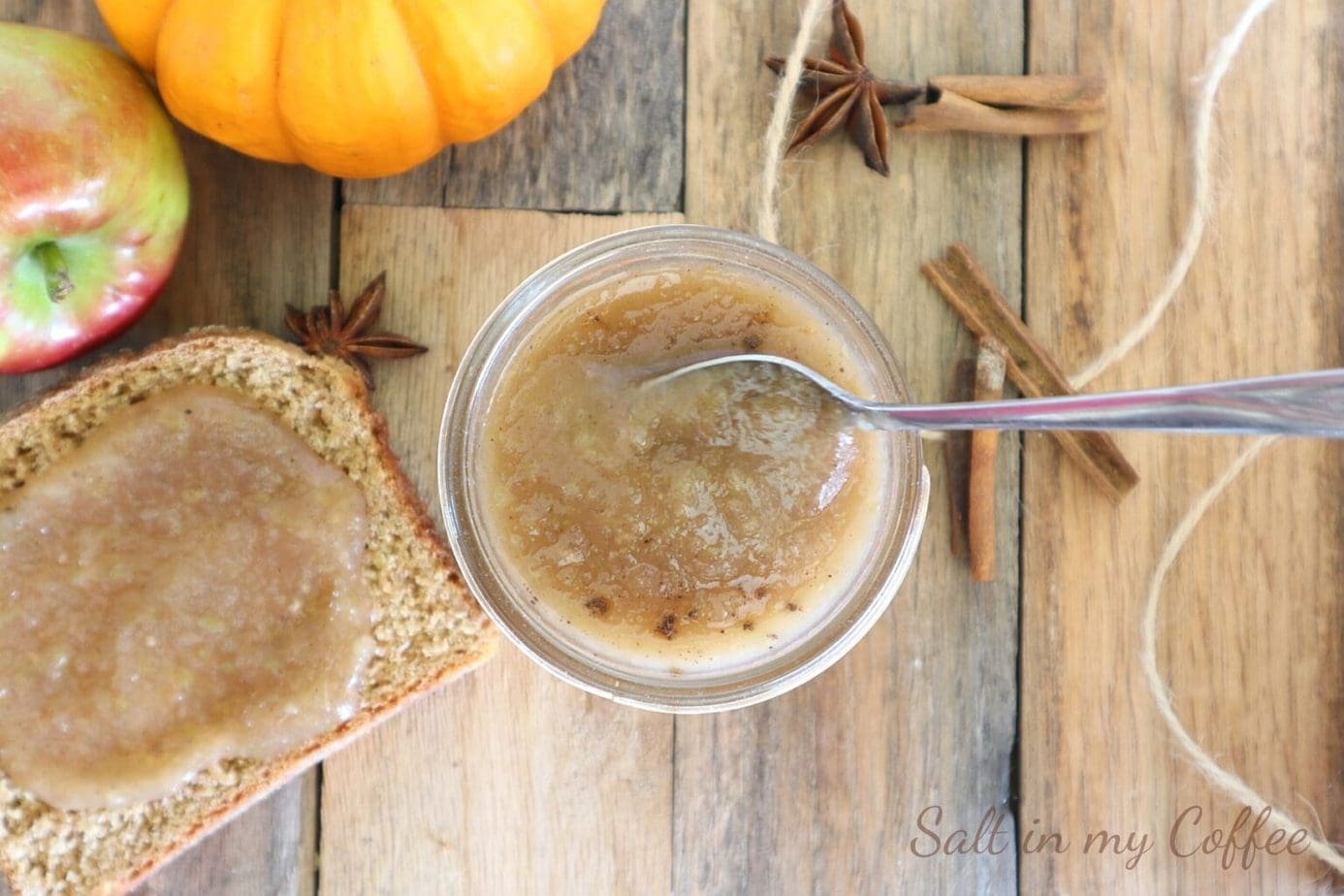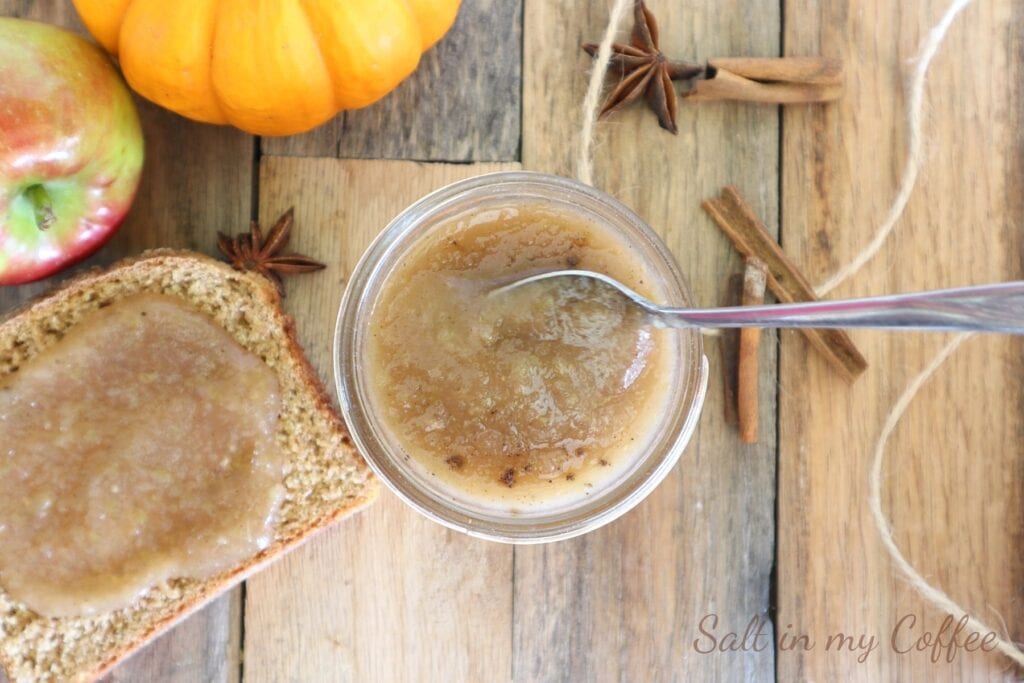 That's really all there is to making heavenly, maple-sweetened apple butter! You can read or print the full recipe below, and I've also included instructions for canning, in case you'd like to put up a big batch for winter.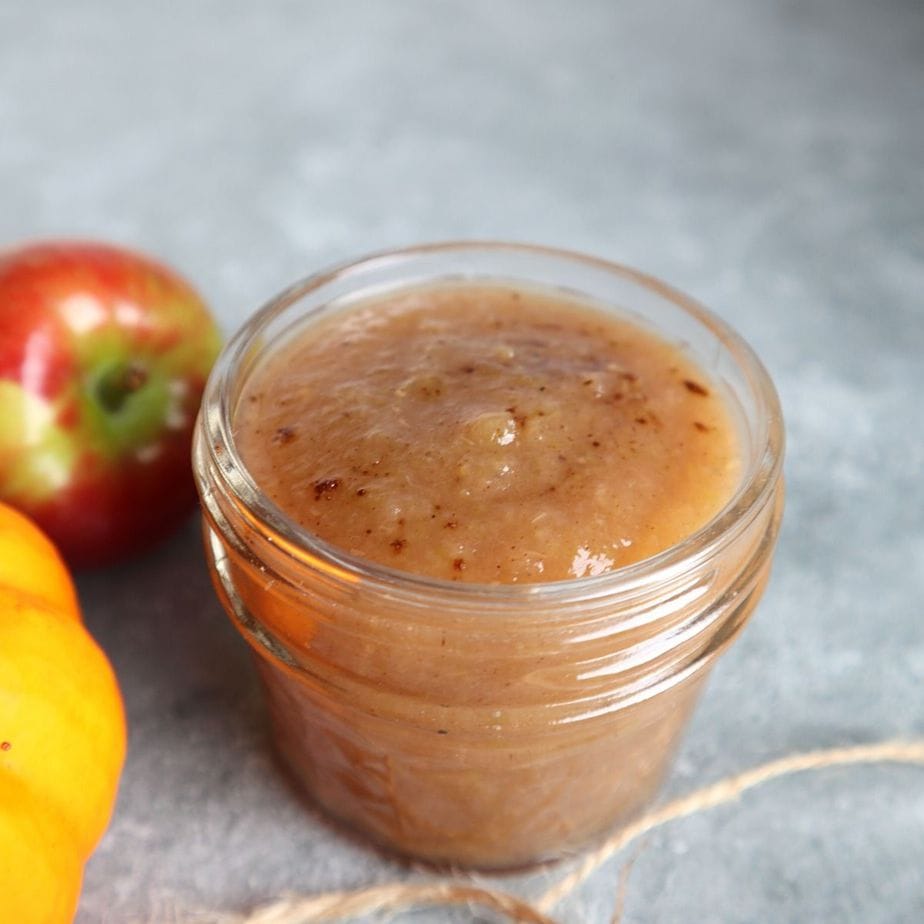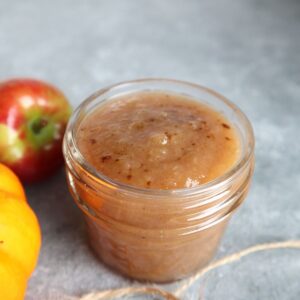 MAPLE SPICED APPLE BUTTER (Paleo & Refined Sugar-Free)
EASY MAPLE APPLE BUTTER - no refined sugar, sweetened only with maple syrup. This spicy maple apple butter is less sweet than the sticky, sugar-laden versions, but boasts the full flavors of maple, and spices.
Print
Pin
Rate
Equipment
Large sauce pan

Food mill

Paring knife
Instructions
Wash apples, and remove any bad spots. Roughly chop into quarters, and add to sauce pan, along with the water. (Don't peel or core the apples - you'll want the wonderful flavor and color from the peels, and the pectin from the cores.)

Simmer gently over medium heat, until apples are thoroughly soft. (This will greatly depend on the ripeness and variety of the apples you're using, so this could take anywhere from 20-40 minutes.)

Remove cooked apples from heat, and let cool slightly. Run the whole mixture through a food mill to remove stems, peels, cores, and seeds. Return the smooth apple mixture to the sauce pan, and discard the peels and cores.

Add maple syrup, cider, and spices, to the cooked apple mixture, and return to the stove. Simmer very gently over low heat, stirring occasionally, until the apple butter is very thick and smooth. As it thickens, you'll need to stir it more frequently to ensure that it doesn't burn on. I find it really helps to use my lowest-heat burner for this stage of the cooking.

Ladle apple butter into jars, and store in the refrigerator, or follow the canning instructions below.
To Can Apple Butter
Fill hot apple butter into clean hot jars, leaving ¼-inch headspace. Wipe jar rims with a clean, dampened paper towel and adjust two-piece metal lids and bands. 

Process in a boiling water canner, for 15 minutes. For elevations 1,000-6,000 feet, process for 20 minutes. Above 6,000 feet, process for 25 minutes.

Let cool undisturbed for at least 12 hours, then check seals before storing.
Nutrition Facts
MAPLE SPICED APPLE BUTTER (Paleo & Refined Sugar-Free)
Amount Per Serving
Calories 41
Calories from Fat 9
% Daily Value*
Fat 1g2%
Sodium 2mg0%
Potassium 65mg2%
Carbohydrates 10g3%
Protein 1g2%
Vitamin A 24IU0%
Vitamin C 2mg2%
Calcium 11mg1%
Iron 1mg6%
* Percent Daily Values are based on a 2000 calorie diet.
Nutrition
Calories:
41
kcal
|
Carbohydrates:
10
g
|
Protein:
1
g
|
Fat:
1
g
|
Saturated Fat:
1
g
|
Sodium:
2
mg
|
Potassium:
65
mg
|
Fiber:
1
g
|
Sugar:
8
g
|
Vitamin A:
24
IU
|
Vitamin C:
2
mg
|
Calcium:
11
mg
|
Iron:
1
mg
I hope you enjoy this spicy maple apple butter as much as we do!
Happy apple season!
Other fall recipes you might enjoy:
✦ Paleo Maple Caramel Apples
✦ Paleo Maple Caramel Pecan Turtles
✦ Gluten-Free Pear and Mascarpone Galette
✦ Salted Maple Honey Caramels
✦ 18 Amazing Fruit Leather Recipes